With lakhs of travellers exploring this Arab city each year, Dubai needs no introduction. With advanced architecture, luxury, lively nightlife, stunning aerial views, and an endless list of Dubai sightseeing places, Dubai makes a must-visit place for every traveller. As you begin to plan your travel, you will be spoilt with choices of Dubai sights to see. From the world-famous Burj Khalifa to Dubai Frame, it offers some spectacular attractions to make the trip memorable and exciting. Here is a Dubai sightseeing list of famous places that you should not miss on your Dubai trip. Scroll down to take a look-
1. Burj Khalifa-
Burj Khalifa needs no introduction when talking about Dubai sightseeing places. This landmark building in Dubai is on a list of places to visit for every traveller. Being the tallest building in the world, Burj Khalifa is a must-visit place to get a staggering bird-eye view of the city. Head straight to Observation decks on the 124th and 125th floor of the building, which offer the city's skyline. It is once in a lifetime experience that one shouldn't miss when in Dubai.
2. Jumeirah Beach-
Jumeirah Beach is another Dubai sightseeing place you must visit during your Dubai trip. The site is suitable for every kind of traveller. Whether you are going for a honeymoon, a family vacation, or a bachelorette, it offers one of the best views of Dubai. Beach bums and sunset lovers, add this place to your list for your next Dubai trip. Jumeirah beach is the largest public beach. Further, it is an ideal place to spend the day sunbathing and lounging. You can also enjoy water sports like doughnuts, banana boating, and more.
3. Burj Al Arab-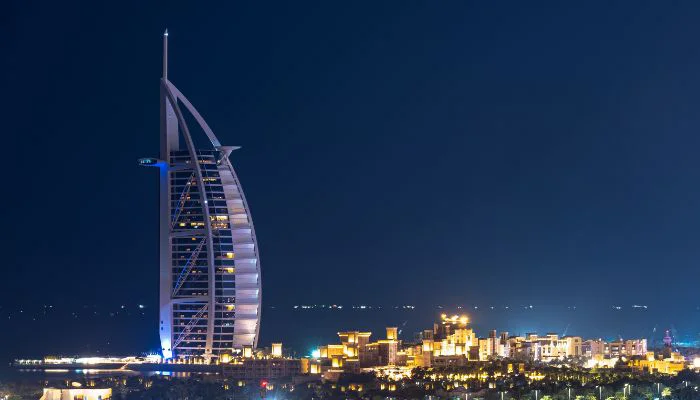 Burj Al Arab, the most expensive and extravagant 7-star hotel in the world, is a must-visit Dubai sightseeing place. It is the most luxurious hotel in Dubai, with 24-carat Gold embellished interiors and world-class facilities. Not just the interior, the sail-shaped exterior of Al Arab makes it to the list of Dubai sights to see, which is stood tall against the pristine blue waters. The place is well-lit in the evening, offering myriad experiences like a choreographed lighting show. The building has many high-end restaurants where you can enjoy a traditional Arabian meal.
4. Dubai Mall-
The place is one of the famous Dubai sightseeing places known for shopping. If you want to shop for souvenirs, then add this place to your Dubai sightseeing list of places to visit in Dubai. Moreover, it is the best place for shopaholics who want to be spoilt by endless choices, with over 1200 stores and 120 restaurants, and cafes at the mall. Dubai Mall also provides entry to Burj Khalifa and has the famous Dubai Aquarium. The mall has various entertainment options available at the mall, like an ice skating rink, a theatre, and a gaming zone. The place is ideal for friends, family, kids, and couples.
5. Museum Of the Future-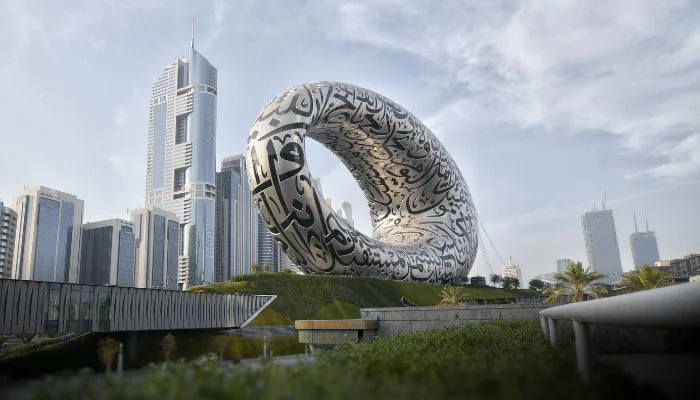 Another in the list of Dubai sightseeing places is the Museum of the Future which should be on every traveller's list. It is one of the unique and best places to go in Dubai, dedicated to the possibilities of the Future. This new-age museum brought a unique concept showing how the world will be in 2071. The admirable exterior design of the museum has walls engraved with stances from Arabic poetry, whereas inside, you can take a Journey to the Future. Museum of the Future is one of the places on Dubai's sightseeing list. Here, you can explore Amazonian forests, learn about climate change effects on the Human body, and more in Vault of Life and DNA Library.
6. Dubai Aquarium and Underwater Zoo-
A must-visit amongst Dubai sightseeing places, Dubai Aquarium, and Underwater Zoo, will give you a chance to witness tons of marine species. The world's largest suspended aquarium with an underwater zoo offers many fun activities. One of the famous Dubai sightseeing places, it offers various activities such as cage snorkelling, shark diving, glass-bottom tours, and more. You can even witness endangered marine species like the tiger shark preserved here in enormous tanks. You can also see the world's giant reptile, King Croc, weighing 750 kg.
7. Dubai Fountain-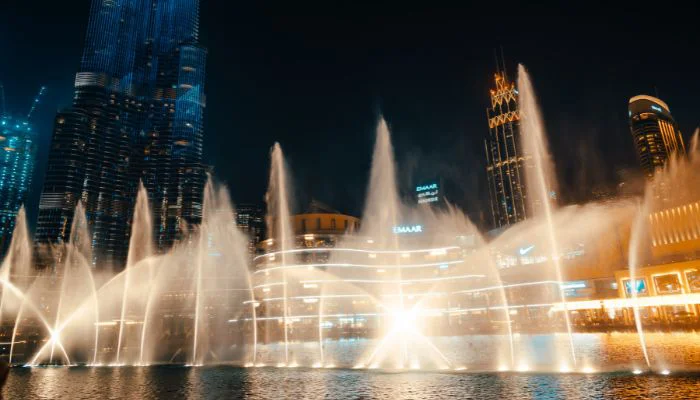 One of the best Dubai sights to see, Dubai Fountain conducts the tallest fountain show in the world. Moreover, it is well-choreographed in the world as a whole. It is one of the unique places to visit in Dubai, where you can see the fountain going up to 900 feet, which you don't get to see everywhere. Dubai Fountain offers one of the best views of Dubai and Burj Lake and attracts tourists annually. The sweet amalgamation of rhythmic music, the dance of water, and nightlife will add a marvellous experience to your Dubai trip. The area has 25 colour projectors and 6600 super lights, with songs making it an unforgettable experience.
8. Dubai Marina-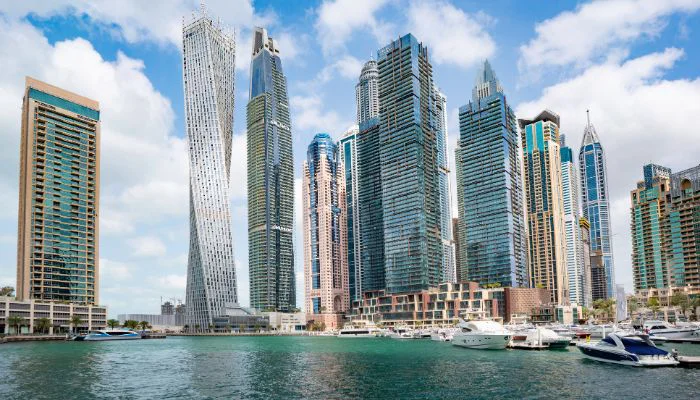 Next on the list of Dubai sightseeing places list is Dubai Marina. Take a stroll along Dubai Marina, which has become one of the most exotic places to visit in Dubai over the years. With the beautiful landscapes, fantastic cafes and eateries along the Marina, dinner cruise on Dhow Boat, and deep sea fishing, Dubai Marina has a lot to offer tourists. You can also witness the best views of Dubai's illuminated skyline from here while cruising at Arabian Gulf.
9. Dubai Miracle Garden-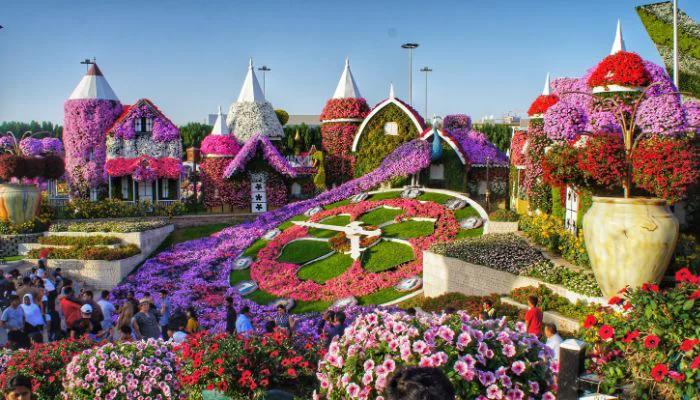 If you love vibrant flowers and how beautiful they can take the shape of anything, then Dubai Miracle Garden is the place for you. If your Dubai tour itinerary does not include this Dubai sightseeing place in the list, then alter it. The lush green, vibrant flowers and unique shapes on display will leave you amazed. Dubai Miracle Garden is the most extensive flower garden in Dubai, where you can witness distinctive models of popular Dubai sightseeing places made from natural elements. There are over 150 million flowers here.
10. Dubai Frame-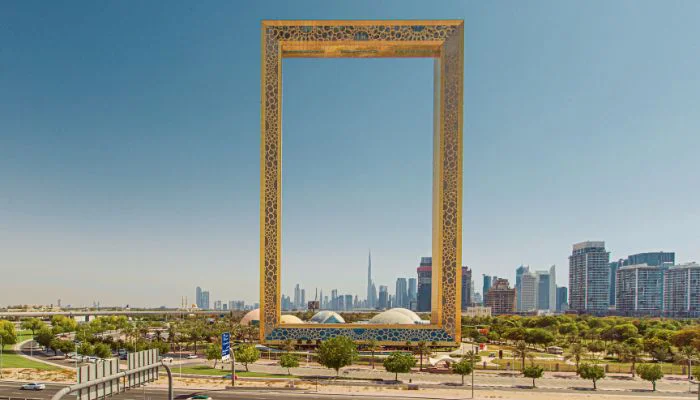 The latest addition to the Dubai sightseeing list is the Dubai frame, another architectural marvel of the city. Dubai Frame is 150 meters in height and 93 meters wide and displays the past and Future of this city using the latest techs, animations, and graphics. Getting a memorable photo clicked in front of a Dubai frame is one of the mandatory pictures of the Dubai trip and a thing to do in Dubai. A skywalk also offers magnificent views of Old Dubai and New Dubai.
11. Dubai Garden Glow-
Dubai Garden Glow is one of the unique theme parks and a famous Dubai sightseeing place that must be on the list of every traveller. Here, you can witness how technology and art combine to create unique things that glow in the dark. The various art installations across the park, glow park, magic park, art park, and dinosaur park are some of the highlights of Garden Glow. The dinosaur park is the largest outdoor-themed park in Dubai, where you can learn about dinosaurs and their evolution.
12. Deira Souks-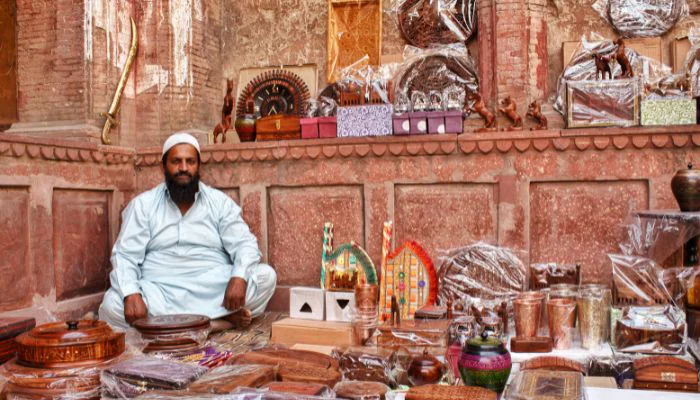 We know Dubai is known for its rich culture, luxury, and Gold. When travelling to Dubai, paying a visit to Deira Souks is mandatory. Deira Souks is a place where you will find Gold everywhere. It is heaven for shopaholics and a place for unlimited shopping. Also, you can witness the essence of business culture in Dubai. Deira Souks is a place where you can shop till your drop.
13. Ferrari World-
Although it is located in Abu Dhabi, Ferrari World, along with Warner Bros, is on our list of Dubai sightseeing places for all the right reasons. Ferrari World is a Ferrari-themed based park in Abu Dhabi. It allows you to get behind the wheel of a Ferrari on F1 tracks. Also, you can drive Ferrari across the park, ride on the fastest roller coaster ride in the world, experience the F1 race track with the F1 simulator, learn about the making of Ferrari, and a lot more in Ferrari World. The place is for travellers of all ages, from 08 to 80.
14. Dubai Dolphinarium-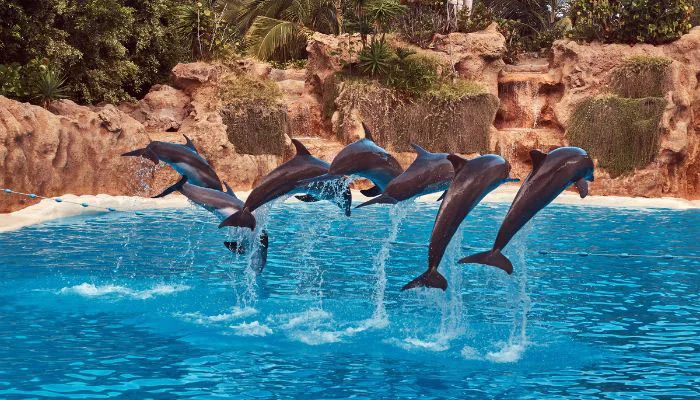 Who doesn't love watching Dolphins showing their talents and doing tricks? Dubai Dolphinarium is one of the famous Dubai sightseeing places and is considered among the best amusement parks, that includes coral reef aquariums and fish farms. The place is more than a tourist place in Dubai; it was constructed to educate people about the conservation of dolphins worldwide. You can enjoy the live performance of dolphins and fur seals, play with them, feed them, and even swim under supervision.
15. Desert Safari-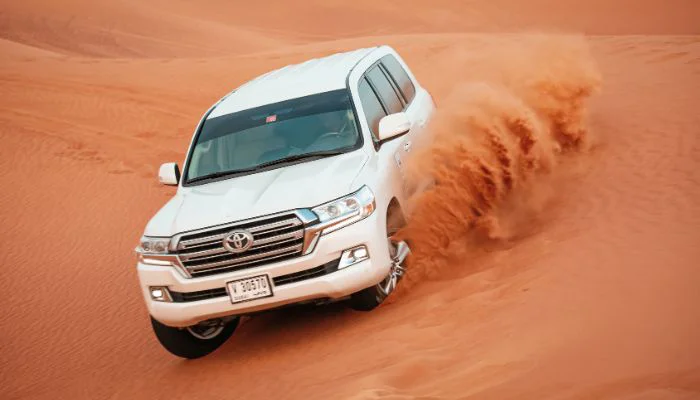 Dubai, sightseeing places list, is never-ending, and so is the list of things to do. Talking about Dubai and not mentioning Desert Safari would be a crime. With incredible Dubai sights to see, desert safari offers a unique and unforgettable experience. Exploring the desert is something that will provide the best views of Dubai. Moreover, it is a thing you cannot miss.
Conclusion
Dubai's sightseeing list is endless. These were our top 15 Dubai sightseeing places to add to the Dubai travel package. The city is famous among all travellers and a popular tourist destination in the world. Book travel packages for Dubai in advance to save from last-minute hassle. Contact Roaming Routes for more details.