The vibrant and dynamic Southeast Asian city, Singapore, is well-known for its thriving economy and unique shopping experiences. Singapore's economy continues to flourish, attracting tourists from all over the world. Apart from the modern architecture, beautiful islands, and prominent attractions, the night markets in Singapore also attract tourists here. These markets offer a range of goods, from traditional crafts and delectable local delicacies to high-end fashion and electronics, at the best rates.
The Best markets in Singapore support Singapore's thriving economy, promote tourism, preserve cultural heritage, and showcase the nation's vibrant diversity. From iconic shopping malls to street and flea markets to hawker centres, Singapore offers plenty of experiences to shoppers.
In this post, we will mention 13 markets in Singapore. Let's check.
List of Best Singapore Markets
Chinatown Street market
Little India Arcade
Bugis Street Market
Tekka Center
Lucky Plaza
So Galam Market
Far East Plaza
City Plaza
Mustafa Centre Singapore
Newton Food Centre
Clarke Quay Central
Katong Square Lifestyle & Vintage Market
Arab Street
1. Chinatown Street market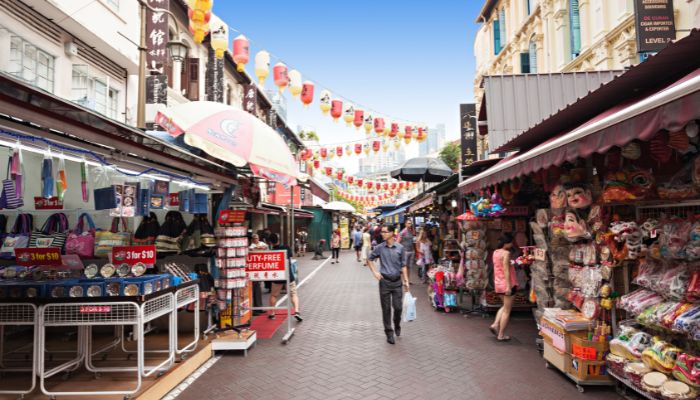 One of the biggest street markets in Singapore is Chinatown, and Chinese culture dominates this market. Singapore's Chinatown is famous for being culturally diverse and harmonious. Some religiously important sites here are the Jamae Mosque, Sri Mariamman Temple, and the Al Abrar Mosque.
Regarding shopping, Chinatown offers several fashion items, antiques, electronics, and souvenirs. Everything is made in China, so if you are searching for authentic Chinese products, visit here. Apart from shopping, there are also food stalls jam-packed here. Hence, you can try chicken over rice, Satay, dim sum, laksa, and stingray at pocket-friendly prices.
Location – 5 Banda St, Singapore 050005
Timings – 10:00 AM to 10:00 PM
Famous For – Traditional clothes, Chinese tea, herbal medicine, antiques, decorative items, trinkets
---
2. Little India Arcade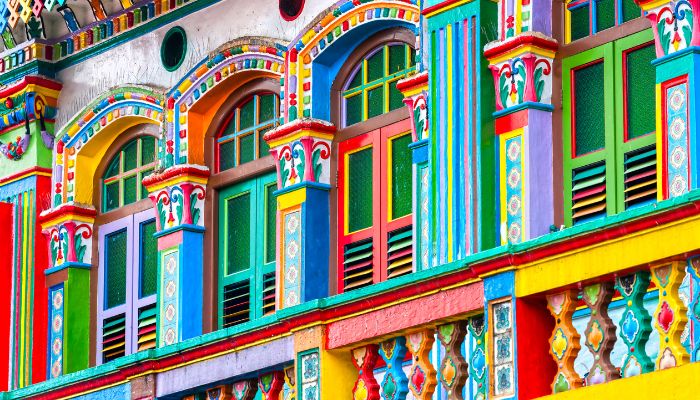 As the name suggests, Little India Arcade is the Indian market in Singapore. It is one of Singapore's vibrant districts with colourful streets, and the area shines bright orange. Here, you will find Arabic and Indian clothing, fabrics, and homeware. The place has little alleys, with tons of shops. You can also find spices, herbs, dresses, aromatic incense, accessories, artwork, and traditional sweets here. Also, food lovers can indulge in some Indian cuisines at restaurants here.
Location – 48 Serangoon Road, Singapore
Timings – 09:00 AM to 10:00 PM
Famous For – Clothing and fabrics
---
3. Bugis Street Market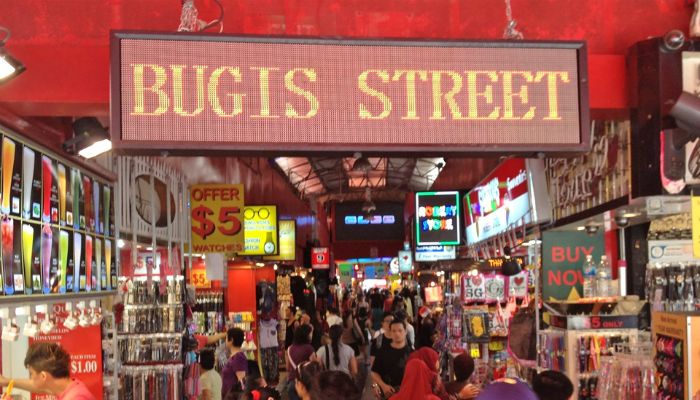 Next on the list of popular street markets in Singapore is the Bugis Street Market. It is also among Singapore's busiest and cheap markets, where one can shop for souvenir needs. The items start at a whopping SGD 1 at the shops here, selling souvenirs, little trinkets, stationery, and postcards. You can also find decent clothing, cheap jewellery, sunglasses, vibrant and colourful bags, and more. For those on a budget shopping, Bugis Street is a must-visit. You can also find food options here.
Location – 3 New Bugis Street
Timings – 11:00 AM to 10:00 PM
Famous For – Budget shopping for fashion, souvenirs, and other accessories
---
4. Tekka Center
If you want food markets in Singapore, the Tekka Centre in the Little India neighbourhood is an ideal option. A few steps from the Little India MRT station, the Tekka Centre serves various fresh foods. It is a favoured place for all those searching for good food at the best prices. Here, the food stalls serve Indian food and also other halal dishes. The Tekka Centre setup is similar to any hawker centre, featuring individual store rows and seating arrangements. From simple dishes to curries to sweets, and beverages, the Tekka Centre is a great food market in Singapore for all food lovers.
Location – 665 Buffalo & Serangoon Roads, Little India, Singapore
Timings – 06:30 AM to 09:00 PM daily
Famous For – Variety of food options
---
5. Lucky Plaza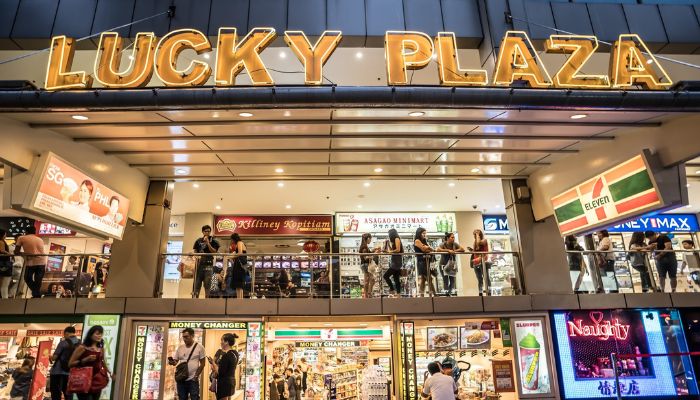 One of the most popular markets in Singapore among locals and tourists is the Lucky Plaza, situated within a 30-year-old building. Budget shoppers can find several things here at affordable prices. Orchard Street has several high-end shops. However, this is one of the cheap options to shop. Here, you can get simple accessories, casual clothing, low-end watches, sunglasses, sweet and chocolate, souvenirs, and more. However, Lucky Plaza is popular for offering branded perfumes at a lower price and also can get branded perfumes of sample sizes.
Location – 304 Orchard Road, Singapore
Timings – 10:00 AM to 10:00 PM
Famous For – Perfumes and other items at low prices
---
6. So Galem Market
One of the vibrant flea markets in Singapore is the So Galem Market. Here, you can find the most unconventional arts and crafts. The market has a dynamic ambience because of the constantly changing pop-up stores. Visitors can find several products on the stall, including henna, flowers, homemade beauty products, and candles. Also, there are food stalls here, and visitors can enjoy delicious food and drinks.
Location – Baghdad St, Singapore
Timings – 08:00 PM – 11:00 PM (Fri)|02:00 PM – 11:00 PM (Sat & Sun)
Famous For – Beauty goods, flowers, candles, etc.
---
7. Far East Plaza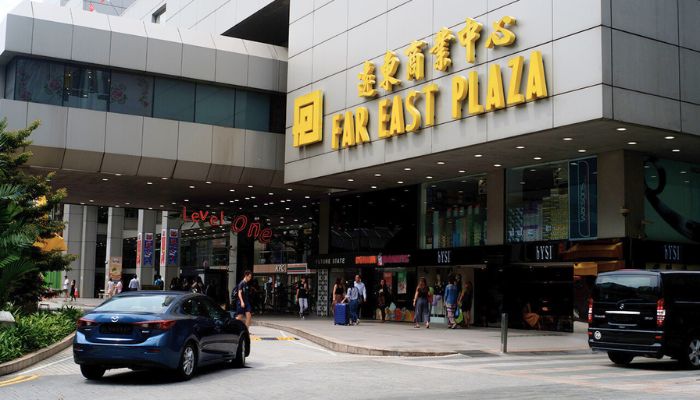 The Far East Plaza is another on the list of cheap markets in Singapore, which is also one of the oldest shops. Offering one-off bargain buys, the store remains crowded with locals and tourists alike. This mall has six levels with 800 stores, and one can find footwear, trendiest apparel, and accessories. If you are looking for branded stuff, this isn't the right place.
People visit here because of the exciting deals on electronics and gadgets. You can also find belts, bags, and jewellery at affordable rates. You can also find several beauty shops offering services like massages, facials, and manicures.
Location – 14, Scotts Road, Singapore 228213
Timings – 10:00 AM to 10:00 PM
Famous For – Electronics and gadgets
---
8. City Plaza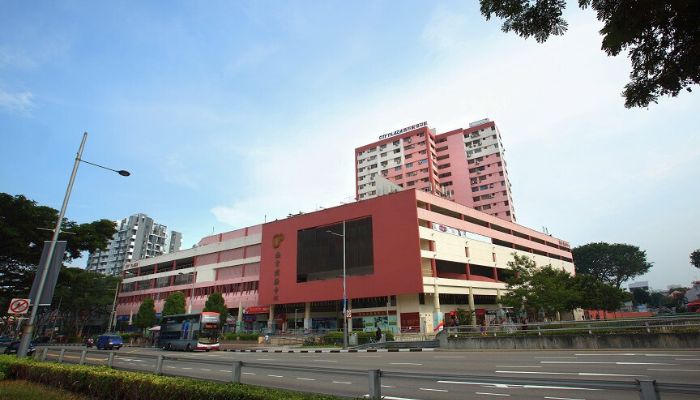 One of the oldest markets in Singapore, the City Plaza is famous for selling affordable and cheap products. The look of the mall might not be appealing from the outside. Yet, from inside, the mall has so much to offer. So the mall has beauty salons, jewellery shops, fashion shops, and photo stores. Also, there is an entire floor here filled with dining options.
Now comes about the shopping. Shoppers can find pre-loved clothes, bags, shoes, and accessories. Also, one can sell their pre-owned clothes here to make a decent amount. The products here are low-priced and of the highest quality.
Location – 810 Geylang Rd, Singapore 409286
Timings – 10:00 AM to 10:00 PM
Famous For – Pre-loved fashion
---
9. Mustafa Centre Singapore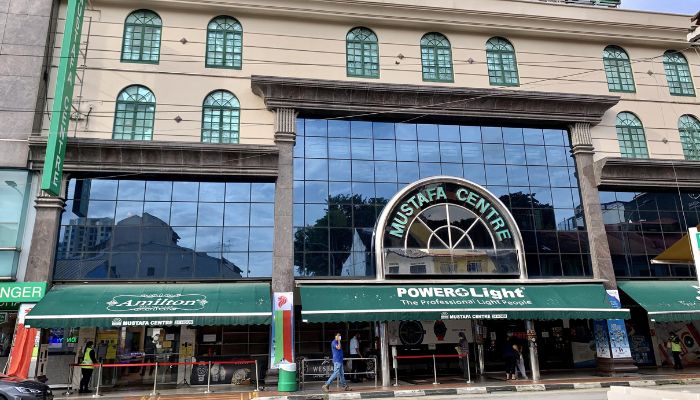 Mustafa Centre Singapore offers a great shopping experience to its visitors. You can find everything here at the best prices, from consumer electronics, fashions, shoes, cosmetics, watches, perfumes, medicinal products, household items, toiletries, stationery, furniture, and more. Also, gold prices are quite low here, and one can get the best prices on gold jewellery. The shop remains open for 24 hours. The accessories have an ethnic touch, making it a great souvenir option.
Location – 145 Syed Alwi Rd, Mustafa Centre, Singapore 207704
Timings – 24 hours
Famous For – Electronics, textiles, souvenirs
---
10. Newton Food Centre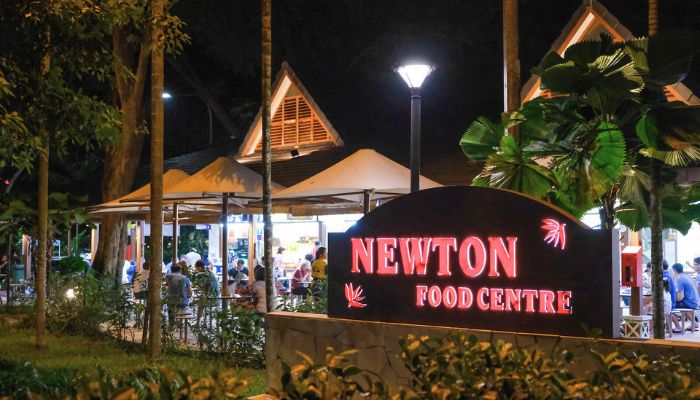 If you are craving hawker food, the Newton Food Center is one of the best food Markets in Singapore that will satisfy your cravings. With about 100 stalls, you can find various food options that satisfy your palate. The Newton Food Center is featured in Crazy Rich Asians. You can try Oyster Omelette, grilled seafood, Satay, noodles, and more here.
Location – Newton, Singapore
Timings – 24 hours
Famous For – Various food options
---
11. Clarke Quay Central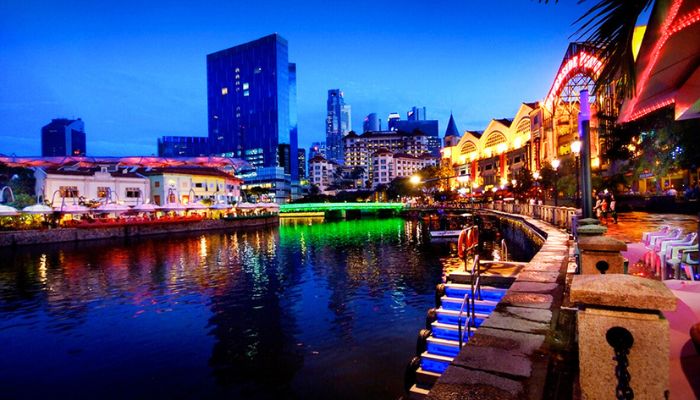 Clarke Quay is a lively and vibrant hub for wine bars, restaurants, entertainment spots and retail shops. You will feel the bustling market ambience through the pushcarts, quaint shophouses, and five-foot-way merchants. The Clarke Quay Central has over 150 retail stores & F&B outlets dispersed over five levels.
Location – 3 River Valley Rd, Singapore 179024
Timings – 11:00 AM to 11:00 PM
Famous For – Clothes
---
12. Katong Square Lifestyle & Vintage Market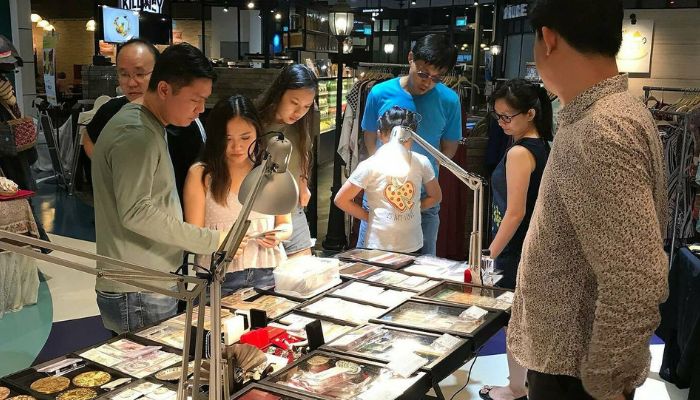 At this market, one can find a vintage home decor collection to intricate pieces of jewellery that attract all the vintage collectors. Apart from shopping, you can also try Katong laksa or kaya toast.
Location – E Coast Rd, #86-88, Singapore 428788
Timings – 07.30 AM to 12.30 AM
Famous For – Vintage items like household items and delicate jewellery.
---
13. Arab Street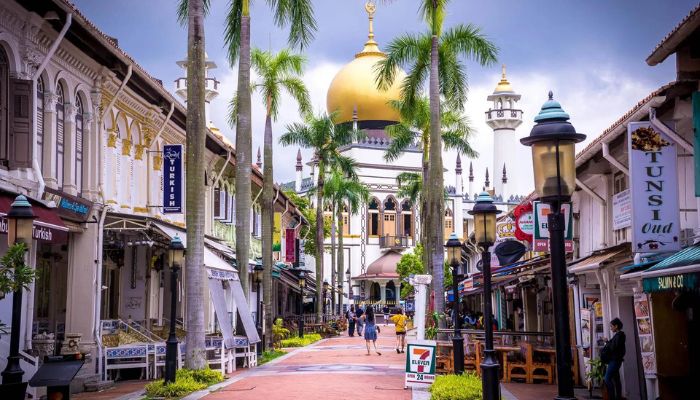 Arab Street, as the name suggests, is dominated by the Arab Community and is one of the famous markets in Singapore. So Arab Street is in the Kampong Glam neighbourhood. The streets are full of tiny shops that sell Islamic dresses, accessories, fabrics, rare gems and crystals. Also, you can enjoy Arab delicacies like Halal food. Also, you can buy classic Persian rugs, aromatic scents, and high-quality royal fabrics. Moreover, you can also see the Grand Sultan mosque, which is close to the shopping site.
Location – 23 Arab Street, Singapore 199722
Timings – 11:00 AM to 09:00 PM
Famous For – Islamic dresses and fabrics
---
Conclusion
So, in this post, we covered 13 famous markets in Singapore that offer great culinary experiences along with a great shopping experience. You can buy souvenirs, electronics, perfumes, watches, apparel, accessories, and more. So are you excited to go on a shopping spree? Then book your Singapore holiday packages with Roaming Routes.
Roaming Routes offers the best Singapore Cruise Packages from reputable cruise operators. The luxury cruise packages are ideal for families, couples, solo travellers, and friends who wish to enjoy their time in the vast ocean and experience cruise life. The packages start at @Rs 85,000/per person.
So, let's plan your amazing vacation!
Frequently Asked Questions
Q-1. Which is the Best Singapore Market?
The best Singapore Market is as follows:
Bugis Street Market
Chinatown Street Market
So Galem Market
Bugis Street Market
Little India
Q-2. What is the Best Time to Visit the Singapore Market?
The best time to visit the Singapore market for a great shopping experience is during the late afternoon, so you have enough time to explore the shops and shop around.
Q-3. Which are the Best Things to Buy in Singapore Markets?
Miniature Merlion Souvenirs, Orchid Perfumes, Ya-Kun Kaya Spread, Laksa Spread, Orchid Gold Jewellery, etc., are a few of the best things to buy from the markets of Singapore.
Q-4. Which are the Famous Food Markets in Singapore?
The famous food markets or hawker centres in Singapore are as follows:
Lau Pa Sat Hawker Centre.
Old Airport Road Food Centre.
Maxwell Road Hawker Centre.
Chinatown Food Street.
Tiong Bahru Market.
Tekka Centre
Q-5. Which are the Singapore Markets to go with Kids?
Chinatown Complex Food Centre, Vivo City Mall, City Square Mall, and Jurong Point are some Singapore markets for kids.