Singapore is a shopper's paradise popular for its vibrant shopping scene. Over the years, Lion City has established itself as the premier destination for retail therapy. Singapore has become renowned as a paradise for shopping enthusiasts, providing a vast range of shopping choices that satisfy every preference, fashion sense, and financial plan. Shopping in Singapore is indeed a great experience.
The city of Singapore boasts a diverse and exciting shopping experience that attracts visitors worldwide. There is something for everyone to enjoy, with various options ranging from local markets to high-end luxury boutiques and sprawling shopping malls. Whether it's international brands, local designers, or traditional crafts, Singapore's shopping scene has it all.
Iconic shopping destinations like Orchard Road feature luxury flagship stores and trendy fashion boutiques. Meanwhile, Chinatown and Little India are street markets where visitors can discover authentic souvenirs and traditional crafts. No matter what shoppers seek, Singapore has options to cater to their desires.
Shopping centres are frequently impressive feats of architecture, featuring exceptional designs and innovative ideas that enhance the shopping experience.
No matter what you are looking for, Singapore offers everything. In this post, we will look at the best shopping places in Singapore.
List of Best Shopping Places
Vivo city
Lucky Plaza
Chinatown
IMM
Tanglin Mall Bazaar
Far East Plaza
The Editor's Market
City Plaza
Pasarbella
Anchorpoint Shopping Center
Bugis Street
Scape Underground
Orchard Road
Little India
Haji Lane
Marina Bay
Clarke Quay
Holland Village
Mustafa Center Singapore
Tiong Bahru
20 Best Places For Shopping In Singapore
1. VivoCity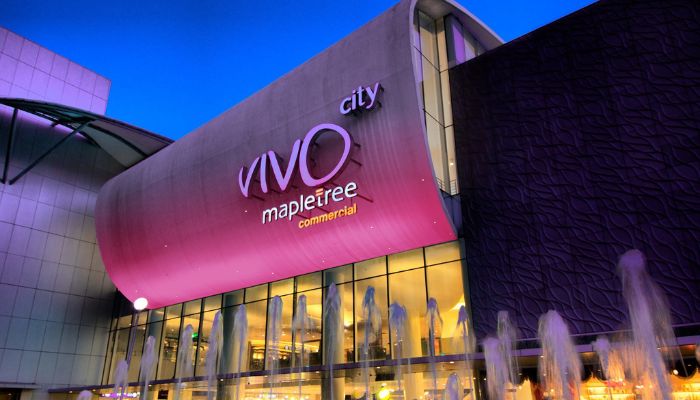 If you want the ultimate shopping experience in Singapore, head to VivoCity. If you want shopping and entertainment in one place, visit VivoCity. It is one of the largest Singapore shopping malls. Think of any local or international brand- you will find it here, making it a paradise for shopaholics. If you are tired of roaming around, take a break and check out the amphitheatre and sky park on the top floor.
Location– 1 HarbourFront Walk, Singapore
Timings– 10 AM-10 PM
What to buy– Clothes, homewares, and accessories
---
2. Lucky Plaza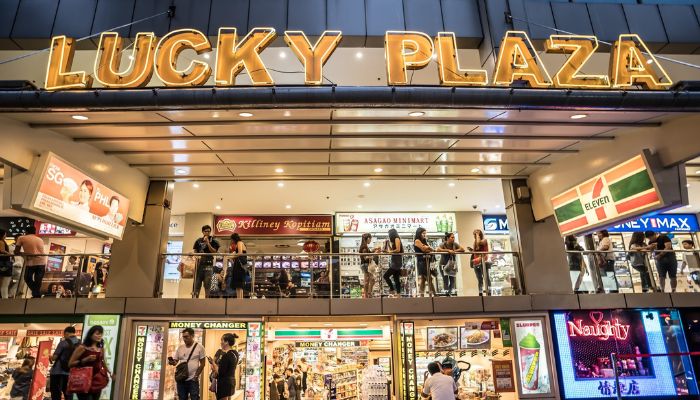 If you want to have a redefined shopping experience, visit Lucky Plaza. The place is a reminder of how shopping malls in Singapore were in the past. Located in a 20-year-old building, it is one of the best places for Shopping in Singapore among locals and tourists. One can find the best quality products at a very affordable price here.
Location– 304 Orchard Road, Singapore
Timings– 9 AM-9 PM
What to buy– Souvenirs, watches, and sunglasses
---
3. Chinatown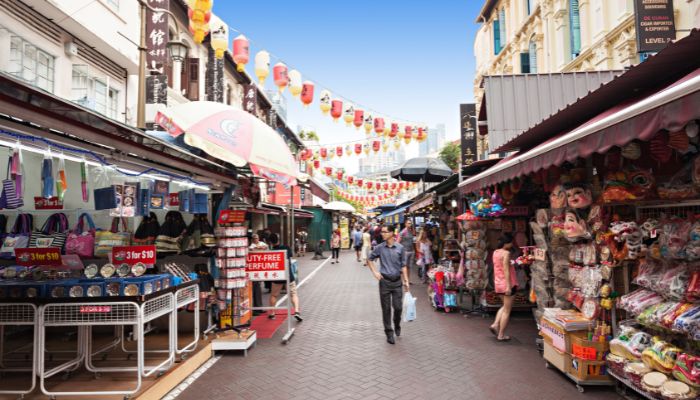 It is one of the places to go in Singapore if you are looking for cheap shopping in Singapore. Chinatown is a great place for people looking for a budget shopping experience in Singapore, and if you are a hearty bargainer, you can score some best prices here for excellent quality items. Ann Siang Road, Chinatown Point, and Books is the best place to shop here. For Singapore shopping streets, head to Chinatown.
Location– 75 Pagoda Street, Singapore
Timings– 10 AM-10 PM
What to buy– Satin Chinese robes, Souvenirs, and Spices
---
4. IMM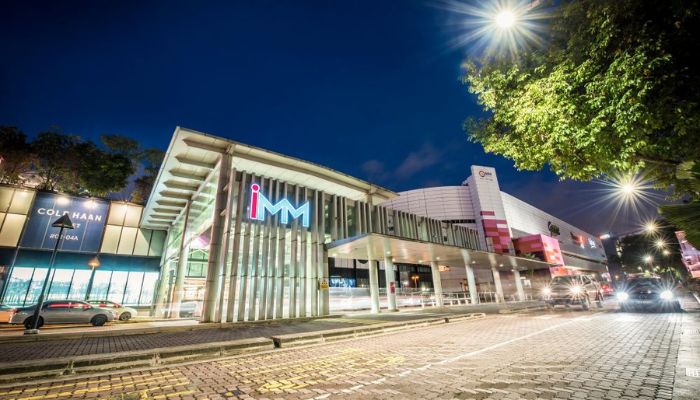 It is one of the largest shopping malls in Singapore and a must-visit place to have the ultimate shopping experience in Lion City. Whether or not you are a shopaholic, visit IMM to find amazing deals on local brands like Charles & Keith and big international brands such as Sacoor, DKNY, and COACH. There are various home furnishing stores where you can grab some good stuff to upgrade your home.
Location– 2 Jurong East Street 21, Singapore
Timings– 10 AM-10 PM
What to buy– Accessories, Branded Clothes, and Home Furnishings
---
5. Tanglin Mall Bazaar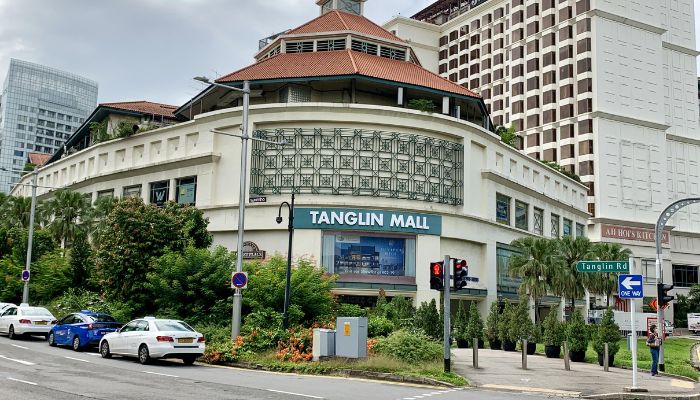 What makes this shopping centre different from others is what it offers to its customers. If you enjoy the retro era and its style, add this place to your shopping places list. It is one of the quirky places to shop in Singapore, where you can check for vintage CDs, retro clothes, vinyl, and such items.
Location– 163 Tanglin Road, Singapore
Timings– 10 AM-10 PM
What to buy– retro clothes, vinyl, and vintage CDs
---
6. Far East Plaza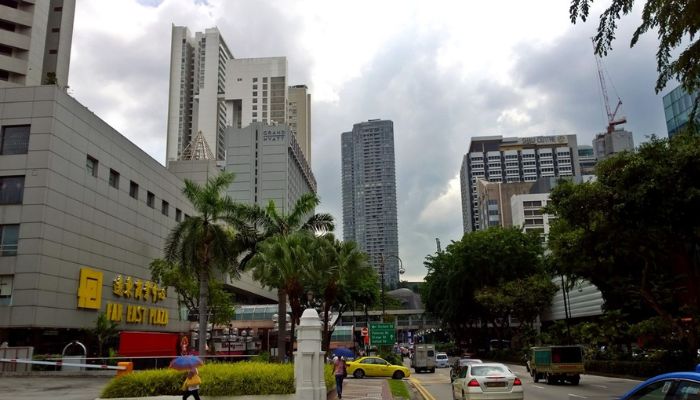 It's a place for shopping in Singapore if you are a fashion freak. Far East Plaza is one stop destination for budget shopping for clothes, accessories, footwear, and all things related to fashion. The place is known to be home to shops where one can find styles directly from Hong Kong and trendy Korean attires to apparel throwing retro vibes. It's not a place for you if you are looking for brands.
Location– 14 Scotts Road, Singapore
Timings– 10 AM-10 PM
What to buy– trendy footwear, accessories, and apparel
---
7. The Editor's Market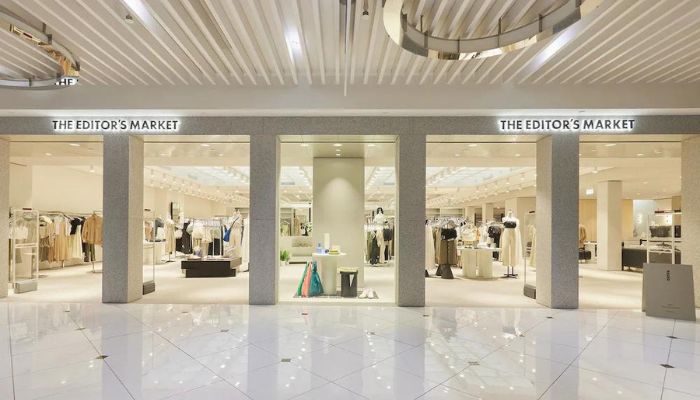 It is one of the best places to go shopping in Singapore, where you can buy multiple brands without hampering your budget. The Editor's Market is where you can indulge in retail therapy or binge shop. It is one of the places to go if you want budget shopping in Singapore, as it follows a step pricing policy, which means the more you shop, the less you pay.
Location– 313 Orchard Road #03-01 to 08, 313@Somerset
Timings– 10:30 AMto10 PM
What to buy– Women's clothing, accessories, home fragrances, home décor
---
8. City Plaza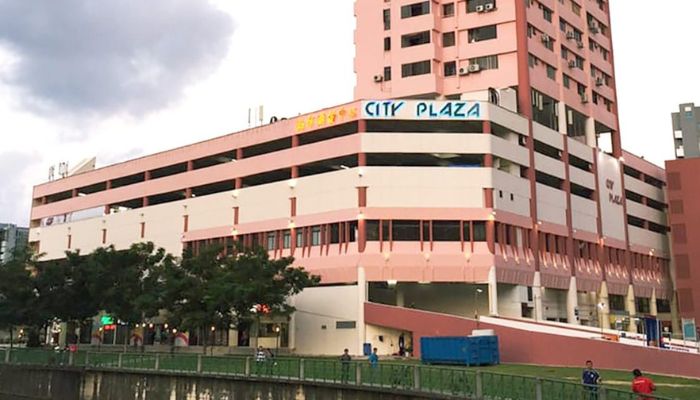 City Plaza is one of the oldest shopping malls in Singapore, where tourists can buy several things within a budget. One can spend hours shopping on five different plaza floors, searching for their perfect pick. Gadgets, clothes, and accessories, and it serves the need of every kind. After a tiring stroll here, one can eat delicious food in the food court.
Location– 810 Geylang Road, Singapore
Timings– 9:30 AM-10 PM
What to buy– Makeup, clothes, accessories
---
9. Pasarbella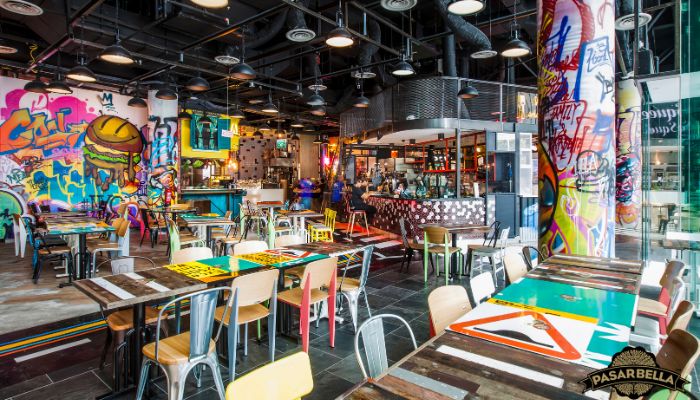 If you want to know and experience a typical Farmer Market, visit Pasarbella. It is one of the experiences you must have when in Singapore. Pasarbella is one of the best places for shopping in Singapore for delectable food items at cheap prices. From various beers and meat items to fresh produce, one can find everything related to food.
Location– 01-455-461 North Wing, Suntec City, 3 Temasek Blvd
Timings– 10 AM-9 PM
What to buy– craft beer, seafood, fresh produce, meat
---
10. Anchorpoint Shopping Center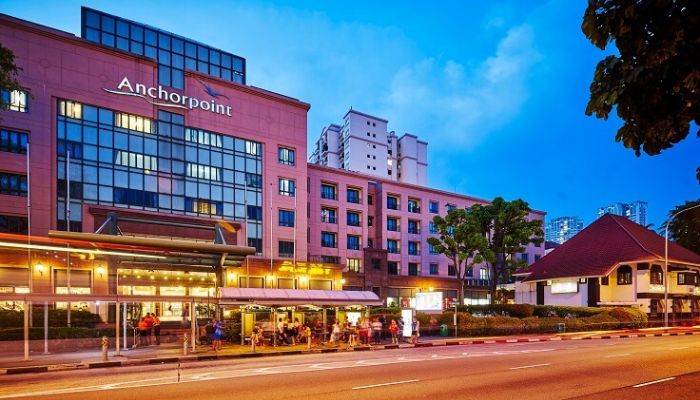 To go on cheap shopping in Singapore, visit Anchorpoint shopping centre, known for exclusive branded luxury materials at very affordable prices. Plan your visit to this shopping place in Singapore during weekends when everything is available at throwaway prices in weekly sales. It is also known to be a place where one can find supermarkets, food courts, clinics, and launderettes in one place.
Location– 370 Alexandra Road, Singapore
Timings– 7:30 AM-1 AM
What to buy– Clothes, accessories, footwear
---
11. Bugis Street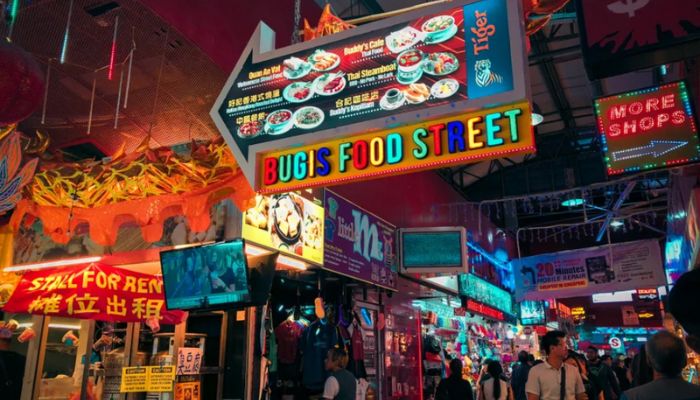 Bugis Street is a famous shopper's paradise and one of the great places to go shopping in Singapore. It is Singapore's most happening and biggest shopping destination, which always remains busy, and the prices here are incredibly low. This bustling area is a popular destination for shopping, enjoying delicious meals, and relaxing at trendy cafes and bars open late.
The Bugis Street Market is located in the heart of it all, conveniently situated next to the malls near the Bugis MRT Station. You get souvenirs, clothes, accessories, electronics, houseware, and cosmetics. The products start at just SGD 1.
Location: 3 New Bugis Street, Singapore 188867
Timings: 10 am to 10 pm
What to buy: Souvenirs, accessories, electronics, clothes
---
12. Scape Underground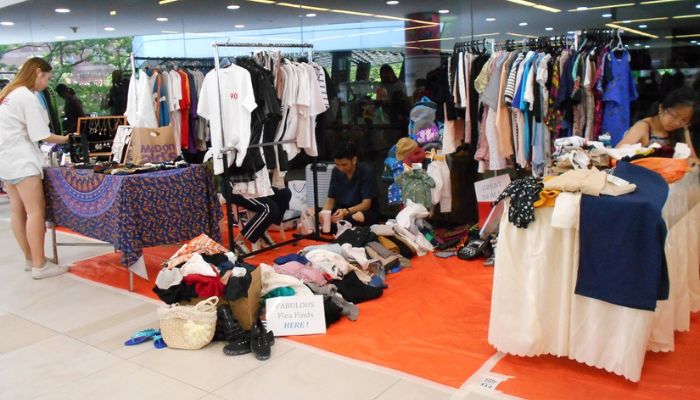 This five-story lifestyle hub was designed specifically for and voted on by young people. It includes recording and rehearsal studios on the third floor, a dance studio on the fourth floor, an art gallery, and a performance theatre. For those looking for affordable clothing, gifts, and novelty items, the basement houses *Scape Underground is home to many small stores selling cosmetics, mobile accessories, trinkets, and more.
Location: 2 Orchard Link, Singapore 237978
Timings: 10.30 am to 10.30 pm
What to buy: Mobile accessories, trinkets
---
13. Orchard Road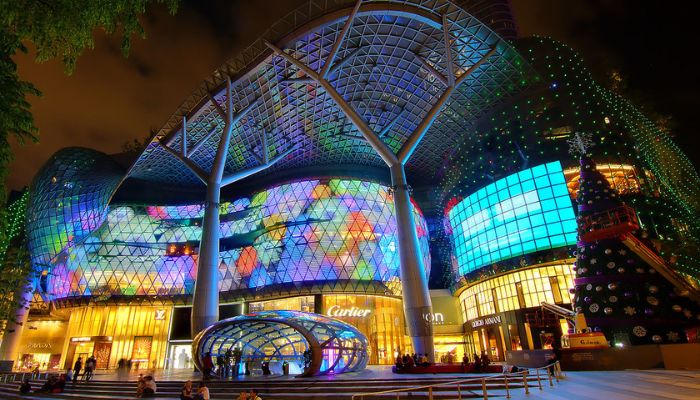 Undoubtedly, Orchard Road is a shopper's and diner's paradise that offers luxury retail to world-class global cuisines. There are several established shops here that provide visitors and locals with a great shopping experience all together.
Here, you can buy fashionable clothes, branded items, accessories, shoes, etc. Also, there are many affordable shopping options here. You can head to the Ion Orchard Mall, a multi-storey building where you can buy designer outfits. Lucky Plaza, Tangs Plaza, and Paragon are also a few malls here.
Location: Orchard Rd, Singapore
Timings: 9 am to 10 pm or 11 pm
What to buy: Renowned fashion labels
---
14. Little India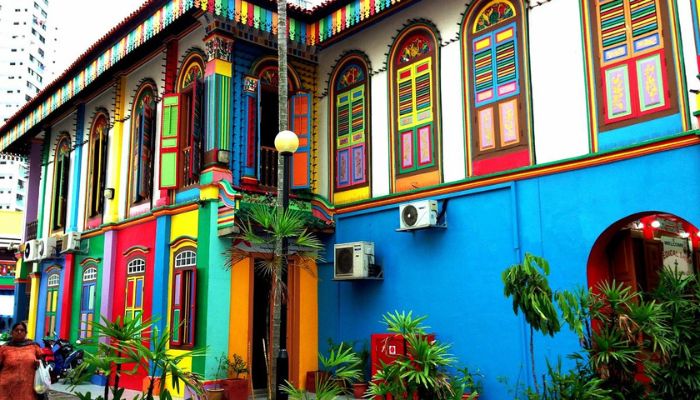 One of the vibrant destinations of Singapore is Little India which also presents rich cultural experiences because of the presence of religious sites. As the name suggests, Little India showcases Indian culture and is a small area with cafes and shops.
Although Little India is famous for shopping in Singapore for Indian things, you can also have a great food experience here. You can also visit the Mustafa Center here, providing a 24-hour shopping experience. Make sure you grab a bite at the Tekka Center, Banana Leaf Apolo, or any other nearby restaurant for the best Indian food.
Location: Orchard Rd, Singapore
Timings: 24 hours
What to buy: Towards the East Of Singapore
---
15. Haji Lane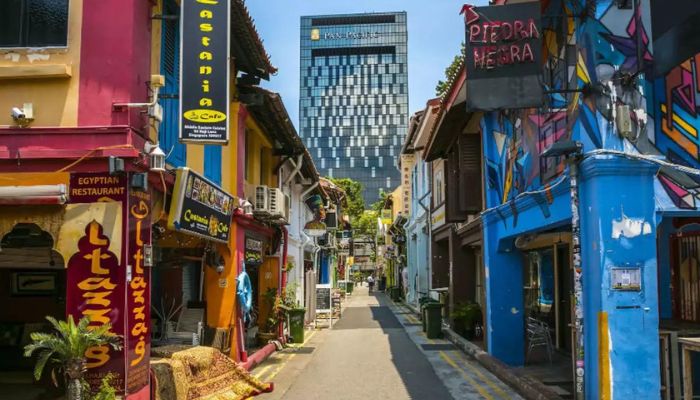 Located in the heart of Kampong Glam, Haji Lane is a stylish alleyway filled with unique independent boutiques, cafes, and quirky stores. It is known for being one of the narrowest streets in Singapore and is adorned with vibrant colours.
For those seeking unique additions to their wardrobe, Haji Lane has become a popular shopping destination. This lane boasts numerous quirky stores, each inspired by various regions and periods. These shops offer exclusive and exotic products that cannot be found elsewhere.
Location: Kampong Glam neighbourhood
Timings: 9 am to 10 pm or 11 pm
What to buy: Clothing and accessories
---
16. Marina Bay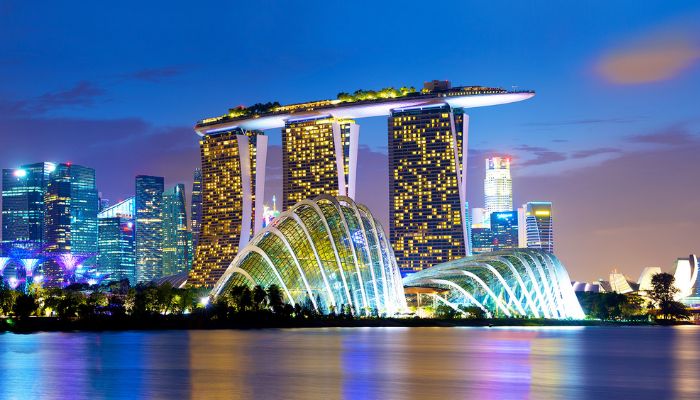 If you want luxurious shopping in Singapore, head to Marina Bay, where you will find some of the finest malls. These malls offer a blend of modern convenience with various high street and luxury brands.
For the ultimate luxury shopping in Singapore, head to the Shoppes, a part of the remarkable Marina Bay Sands complex that houses flagship stores by well-known luxury brands. There are hundreds of shops, great cafes and bars, and world-class restaurants here. Other shop options include the Suntec Center, Esplanade Mall, Marina Square, etc.
Location: Marina Bay
Timings: Varies from shop to shop. You can visit them from 10 am.
What to buy: Luxury shopping from renowned brands
---
17. Clarke Quay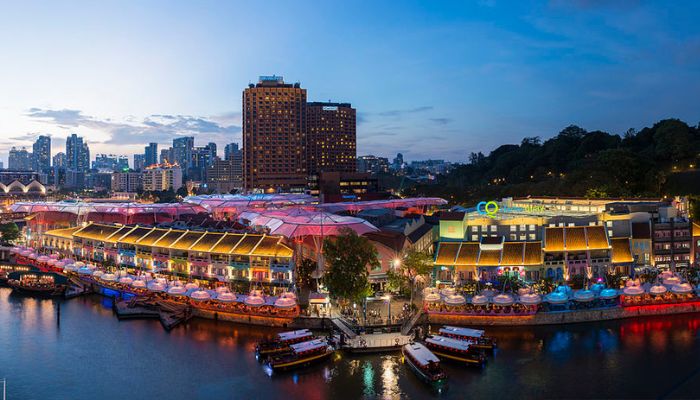 The Clarke Quay and Riverside area is a popular tourist destination in the city for good reasons. While it's widely known for its diverse range of restaurants, bars, and clubs, it also offers several malls and boutiques that cater to the needs of all kinds of shoppers.
Clarke Quay and Riverside Point have shops for shopping. Apart from that, there are also malls nearby to shop. So this includes Clarke Quay Central, Funan DigitalLife Mall, etc.
You can shop for clothes, homeware, accessories, electronics and souvenirs. You need to explore the shops and then shop for your needs.
Location: 3 River Valley Rd, Singapore 179024
Timings: Varies from shop to shop. You can visit them from 10 am to 11 pm.
What to buy: Clothes, homeware, accessories, and souvenirs
---
18. Holland Village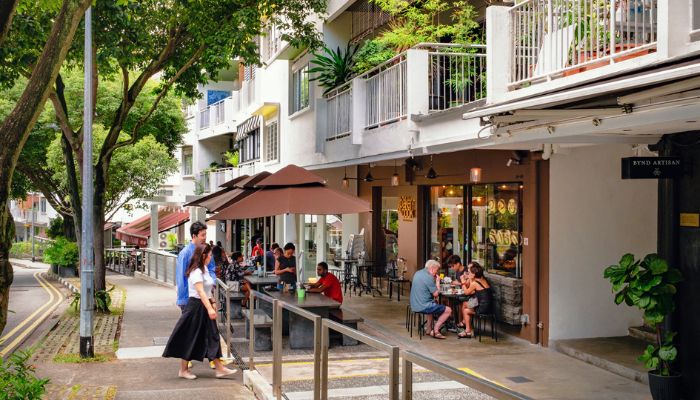 Holland Village used to house British Army personnel and their families. The European influence on its architecture is still evident in the charming shophouses and low-rise buildings that remain today.
You can visit the Holland Village Shopping Centre when shopping in Singapore in the Holland Village area. This centre offers retail and grocery shopping, banks, and more. Here you can shop for carpets, antiques, furniture, arts and crafts, fashion, and footwear.
Also, you can find Asian-influenced furnishings, exotic homeware, and accessories. Get some souvenirs, too, if you are looking for one.
Location: 211 Holland Ave, Singapore 278967, Singapore
Timings: 10.30 am to 9 pm
What to buy: Asian-influenced pieces
---
19. Mustafa Center Singapore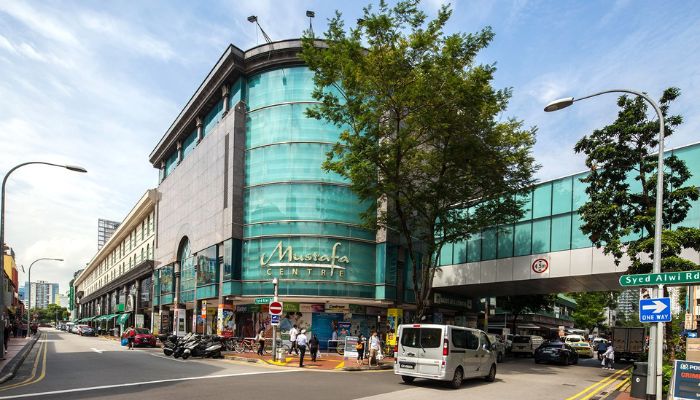 Are you looking for a one-of-a-kind shopping experience in Singapore? Look no further than Mustafa Centre, a 24-hour market-style mall offering a wide range of products at affordable prices. There's something for everyone here, from designer textiles to watches and electronics. The mall is two department stores combined, with products organized by type and sold under the Mustafa name.
One of the standout features of Mustafa Centre is its impressive jewellery selection, where you can find affordable gold pieces. Additionally, the centre is a great place to pick up unique Asian-inspired gifts. Handmade accessories with an ethnic flair, including bags and costume jewellery, are also popular. Mustafa Centre offers you everything so you should go shopping in Singapore here.
Location: 145 Syed Alwi Rd, Mustafa Centre, Singapore 207704
Timings: 24 hours
What to buy: Apparel, electronics, watches, gold jewellery
---
20. Tiong Bahru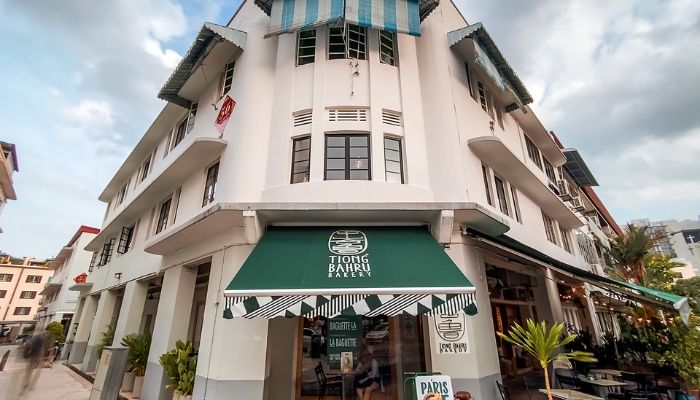 When you visit Tiong Bahru, the oldest housing estate in Singapore, you'll be struck by the fascinating blend of old and new in this charming community. Whether you're looking for shopping, dining, strolls, or adventurous activities, Tiong Bahru has something to offer every traveller.
Fashion boutique DGA Threads is a haven for apparel and accessories alike. Curated Records offers a selection of vinyl for all music lovers, from rare vintage LPs to mainstream hits.
Nana & Bird is a well-known local brand with an exclusive store located in Tiong Bahru, offering a fantastic shopping experience. The cosy and vibrant shop offers trendy clothes, jewellery, accessories, and footwear for women and young children. It's a great place to find stylish items. Tiong Bahru Plaza offers everything from shopping to dining options.
Location: 300 Tiong Bahru Road, Singapore 168731
Timings: 8 am to 12 am; differs from shop to shop
What to buy: Trendy apparel, accessories, jewellery, shoes, etc.
---
Tips For Shopping In Singapore
A few essential things to keep in mind while shopping are:
Carry an umbrella as it rains, or protect yourself from the sun.
Ensure that you remain hydrated throughout your shopping.
Buy electronics from reputed stores only.
Don't miss out on the shops in Changi Airport, too, as you can find liquors, beauty products, apparel and much more.
Have plenty of time when you start shopping to explore every shop well.
Don't miss out on the cultural districts of Singapore, like Little India, Chinatown, etc, during your shopping time.
Also, plan your trip during the major events and sales.
Conclusion
So here are the best places to go shopping in Singapore. Also, we have listed what to shop in Singapore from the famous shopping places. Shopping in Singapore offers a range of experiences, and you can shop for luxury brands, jewellery, cheap and affordable souvenirs, and other edibles worth returning home. If you plan to visit Singapore, check the Best Singapore Cruise packages Roaming Routes offers. 
Shopping in Singapore also brings you close to the diverse culture of Lion City and how we can forget the food options here! So, when planning your Singapore holiday, don't skip shopping! Even after a day of exploring, Mustafa Center is open 24 hours if you wish to shop. Let's plan your Singapore vacation with Roaming Routes and explore what Singapore has, apart from its well-known destinations and landmarks.
FAQs
Q-1. What are the Top Places to go shopping in Singapore?
VivoCity
IMM
IOB Orchard
Mustafa Centre
Lucky Plaza
Chinatown
Q-2. What are the operating hours of shops in Singapore?
Most shops in Singapore are open from 9 AM to 10 PM every day. Some shopping centres are open till 11 PM.
Q-3. What are the payment options available in Singapore?
One can use credit cards or Singapore dollars to pay in Singapore. Indians can use MasterCard or Visa cards to withdraw money from ATMs in Singapore.
Q-4. Which is the Best Shopping Mall in Singapore?
Vivo City is the best shopping mall in Singapore, where you can find everything you need.
Q-5. What are the famous things to buy in Singapore?
Merlion Souvenirs
Orchid perfumes
Peranakan Porcelain
Bakkwa
Laksa Paste
Coconut Jam
Orchid Ornaments
Singapore Sling