Singapore, popularly known as the "Lion City," is a stunning and lively destination where you experience traditional culture and modernity. Situated at the southernmost point of the Malay Peninsula, this small island nation has emerged as a global centre for commerce, culture, and tourism. The appeal of Singapore's tourism lies in its exceptional cleanliness, diverse cultural heritage and world-renowned attractions. A few best places to visit in Singapore include the Marina Bay Sands, an iconic location.
This magnificent integrated resort features a breathtaking infinity pool soaring high above the cityscape, offering unparalleled views. Gardens by the Bay is an absolute must-visit with its awe-inspiring Supertrees and innovative conservatories. Sentosa Island also offers many family-friendly activities, including Universal Studios Singapore and the S.E.A Aquarium.
To experience Singapore's local culture and customs, you can visit Chinatown for shopping, go to Orchard Road, and several more such attractions.
Exploring these popular attractions is essential to capture Singapore's essence completely; it allows visitors to immerse themselves in local customs and traditions while indulging in delectable local cuisine and some shopping.
The best time to visit Singapore is from December to June, yet you can plan your holidays any time of the year.
We will visit 50 Singapore tourist places worth visiting for a memorable vacation.
Must-Visit Places in Singapore 2023
1. Gardens By The Bay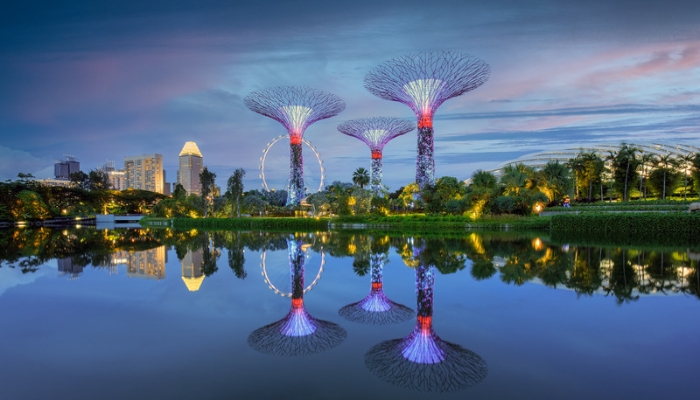 One of the best places to visit in Singapore is Gardens by the Bay. It will take you on a whole new experience with its stunning and marvellous architecture, where you can explore majestic trees, vibrant flowers, and many natural wonders. Explore Flower Dome, Supertrees, Cloud Forest, Children's Garden, Sun Pavillion, Dragon Fly Lake, and Kingfisher Wetlands. Do watch the Garden Rhapsody show there.
Address– 18 Marina Gardens Dr, Singapore
Time– 9 AM-09 PM
Price– Adults $35, Child (3-12 years) $27, and Adults (60 years or above) $30
---
2. The Helix Bridge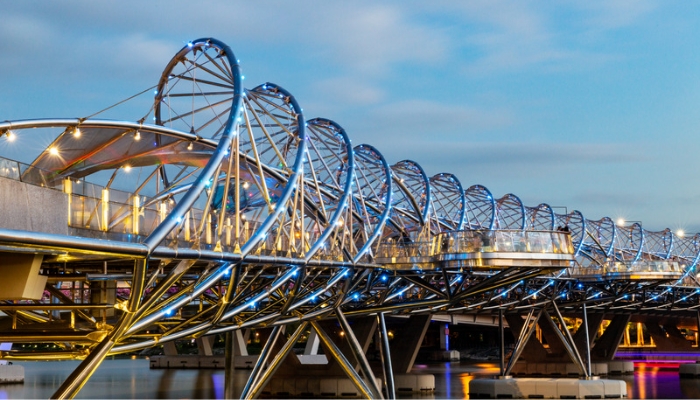 Similar to the structure of DNA, the Helix Bridge is one of the best places to visit in Singapore and is the perfect background to click beautiful pictures. Connecting Marina Bay Area to the City Hall area, this bridge is always brimming with visitors, day or night. The bridge includes five strategically-placed standpoints presenting a breathtaking Marina Bay area view. Every night LED lights light up the Helix Bridge, which makes it a stunning well-lighted walkway with impressive views.
Entry Fee– Free
Location – Singapore
Timings – Open 24 hours
---
3. Universal Studios Singapore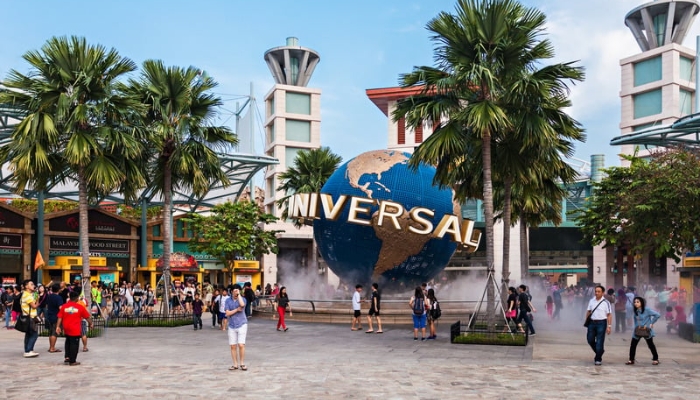 Among the best Singapore tourist places, Universal Studios is everyone's favourite who has visited there. It's the only Universal Studios theme park in Southeast Asia. You will find 06 movie-themed zones and thrilling rides, giving you an adrenaline rush. Try out the first duelling roller coaster in the world, Battlestar Galactica, explore Transformers: The Ride zone, meet the yellow-cuties- the Minions, and meet famous Universal Stars here.
Address– 8 Sentosa Gateway, Sentosa Island
Time– 11 AM-6 PM
Price– $58 per person
---
4. Changi Experience Studio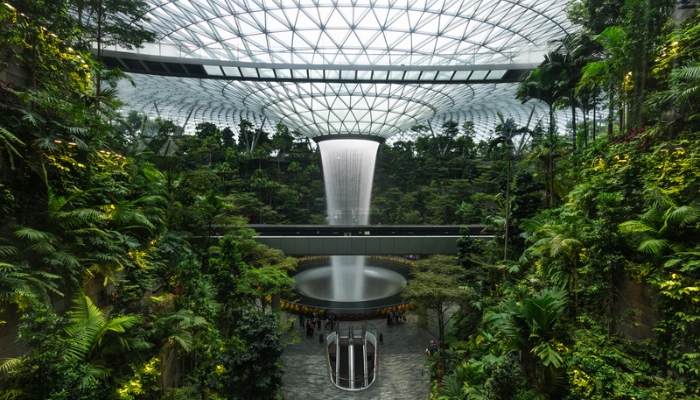 This place to visit in Singapore will let you witness the behind scene at Changi Airport. The 20 touch points here will let you discover the operational world of the airport and know the story behind it. You can experience airport functioning through fun activities and virtual games.
Address– Level 4, Jewel Changi Airport, Singapore
Time– Weekdays- 11 AM-8 PM; Weekends- 10 Am-8 PM
Price– Adult $19; Kids and Senior Citizen $13
---
5. Singapore Flyer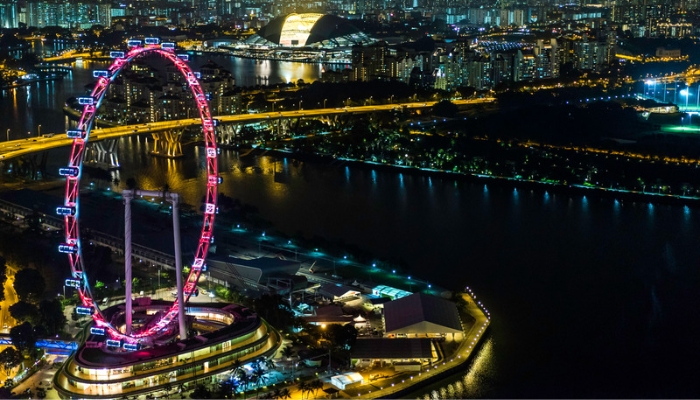 The world's giant observation wheel is one of the best Places To Visit In Singapore At Night, from where you can witness the stunning views of the Lion City. The Panoramic views you will get from here are excellent when the iconic landmarks like Marina Bay Sands, Merlion Statue, etc., are lit up and standing tall.
Address– 30 Raffles Ave, Singapore
Time– 2 PM-10 PM
Price– $33 per person
---
6. Botanic Gardens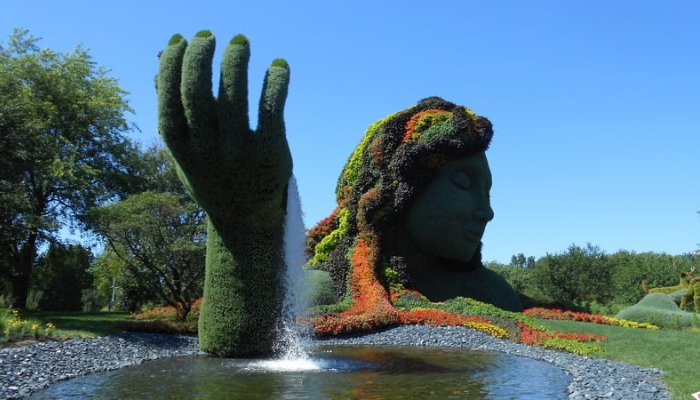 It's one of the Places To visit in Singapore for Couples, which offers a 3 Michelin Star experience for couples. The Gardens were declared a UNESCO World Heritage Site and are the only tropical garden under it. Spread across 82 hectares; one can witness 10000 species of plants and flowers here. It also houses the National Orchid Garden of Singapore, one of the must-see things in Singapore.
Address-1 Culny Road, Singapore
Time– 05 Am-12 AM
Price– Free; $3 for National Orchid Garden
---
7. Singapore Zoo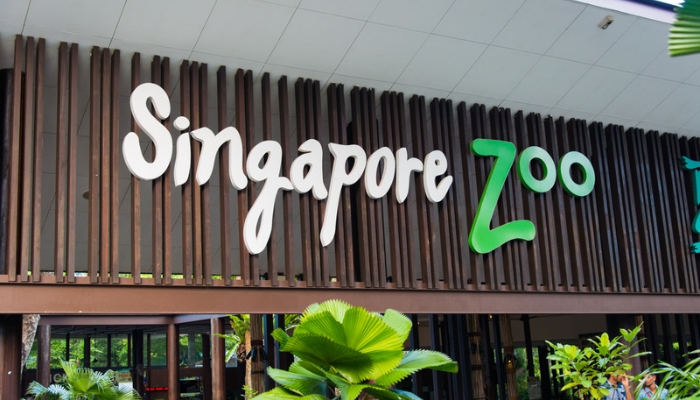 Declared the best rainforest zoo in the world, Singapore Zoo is another place to visit in Singapore with family. Tourists can explore zones like Fragile Forest, Wild Africa, and Red Topis and see around 300 wild animal species and about 2800 animals. They also can have experience feeding giraffes or eating breakfast with orangutans.
Address– 80 Mandai Lake Road, Singapore
Time– 08:30 AM to 06:00 PM
Price– Adult $50 per person, Children (03 to 12 years) $36 per person
---
8. Nocturnal Wildlife Park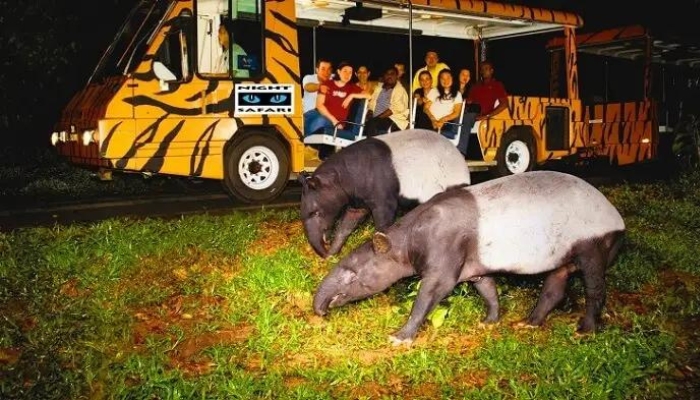 It is the first nocturnal wildlife park in the world, located in Mandai Wildlife Reserve. It is one of the top Places To Visit In Singapore At Night with kids, which will introduce you all to the habitat of nocturnal animals. The park is divided into 07 geographical zones and is home to around 900 animals of 100 species, of which 41% are endangered.
Address– 80 Mandai Lake Road, Singapore
Time– 07:15 PM to 12:00 AM
Price– Adult S$55; 60 years or above S$20; Child (3-12 years) S$38
---
9. Marina Bay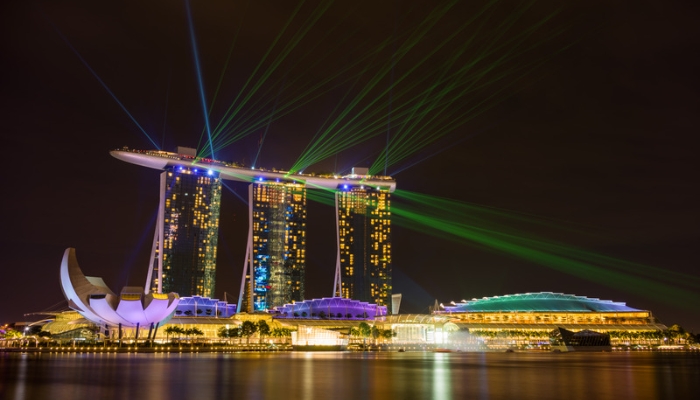 Winner of fast-paced development, it is another place in Singapore Tourism one shouldn't miss. The Bay area has seen a massive transformation over the years and now is a de facto centre. It offers many places to visit in Singapore, like Gardens by the Bay, Merlion, ArtScience Museum, Singapore Flyer, and more.
Time– 24 hours
---
10. SEA Aquarium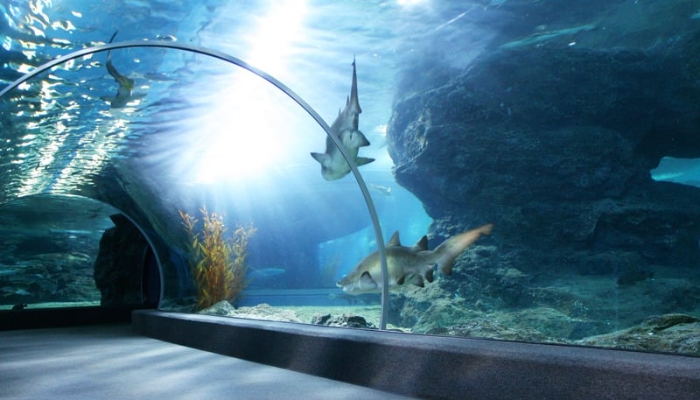 Do you want to witness the world beneath the water? Do you wonder how it would be but are scared to go diving and see? Well, head to SEA Aquarium on Sentosa Island which will clear all your doubts and allow you to witness the majestic world beneath the water. See sharks, manta rays, stingrays, and other marine animals of around 1000 species up close. It's one of the best Places to Visit In Singapore With Kids, where they will learn a lot about marine life and have fun.
Address– 8 Sentosa Gateway, Sentosa Island
Time– 10 AM-5 PM
Price– Adults $23
---
11. Jurong Bird Park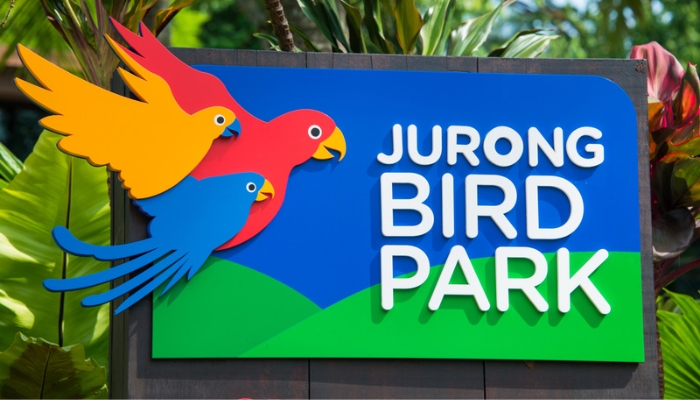 Now shifted to Mandai Wildlife Reserve and known as Bird Paradise, it has Asia's most extensive bird collection. If you are a nature lover, then make sure to explore it. The park has various zones like Amazonian Jewels, Australian Outback, Lory Loft, Penguin Cove, Mysterious Papua, and more which will introduce you to many bird and animal species.
Address– 20 Mandai Lake Road
Time– 9 Am-6 pm
Price– Adult $35; Kids $24; Senior Citizen $14
---
12. Sentosa Island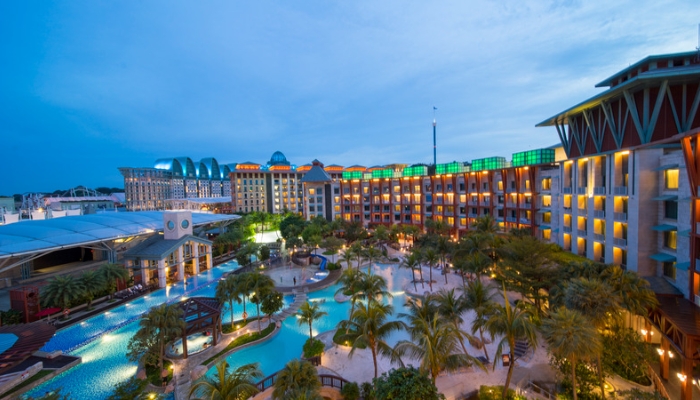 Among the best places to visit in Singapore is Sentosa Island, a city in itself. Your day will be filled with fun, excitement, and thrill here. Visit Universal Studios, Skyline Luge Sentosa, and Golf Club, explore Sentosa beaches, and beat Adventure Cove Waterpark's heat, and it offers many more things to do.
Address– Sentosa Island, Singapore
Time– 09:00 AM to Midnight
Price– $36 to $136
---
13. River Wonders (River Safari)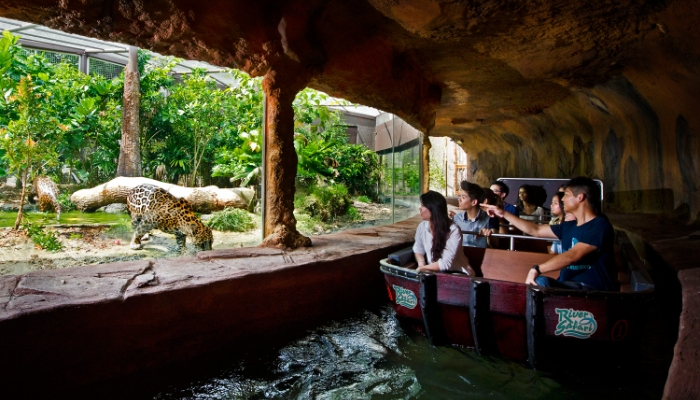 Known for River Safari, River Wonders is one of the famous places in Singapore Tourism. Whether you are a wildlife lover or a nature freak, it is a place for you. You can wander around and witness 11,000 animals of 260 and 400 plant species. It has the world's most extensive collection of plants and animals in one place.
Address– 80 Mandai Lake Road
Time– 10 AM-7 PM
Price– $31 per person
---
14. Little India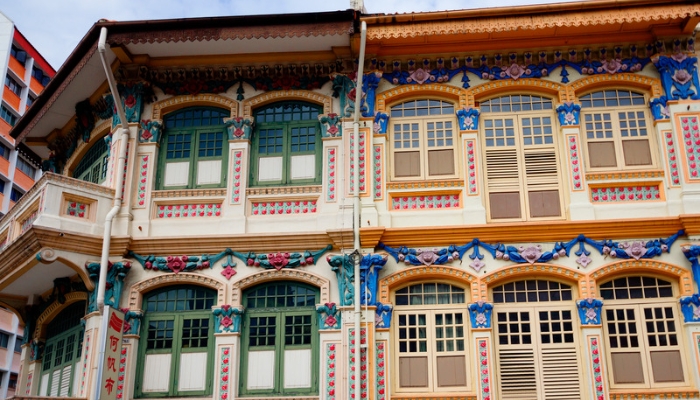 Little India, one of Singapore's best places, is more than a district. A vibrant area showcases a mix of Indian traditions and culture. It is among the most visited place in Singapore. You can also visit Singapore's oldest Hindu temple, Sri Veeramakaliamman temple. Explore the colourful streets of Little India from where you can buy souvenirs to bring with you.
Time– 24 hours
Price– Free
---
15. National Orchid Garden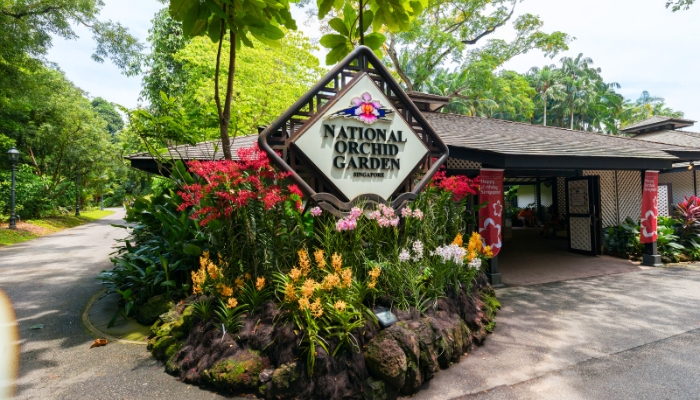 Everyone fascinates orchids. National Orchid Garden is one of the must-visit places in Singapore with family, where you can see 1000 species of orchid and 2000 hybrids with flower trails suspended to 1000-2000 meters. It is Singapore's first UNESCO World Heritage Site.
Address– 1 Cluny Road, Singapore
Time– 08:30 AM-7 PM
Price– Adults $15; Senior citizen & Students $3
---
16. Butterfly Park And Insect Kingdom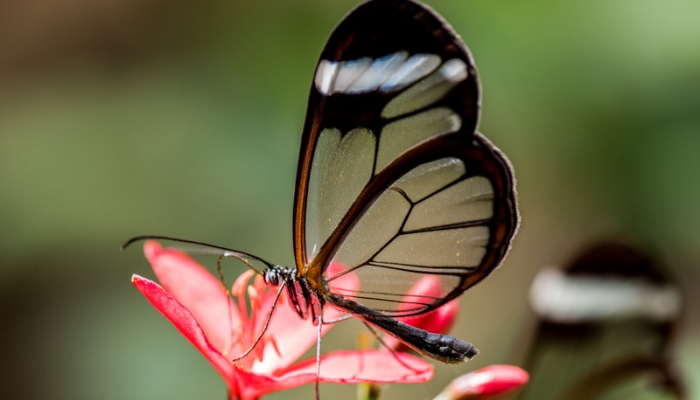 It was an outdoor conservatory with different species of butterflies that varied from rare to endangered and some common varieties. The visitors could also see butterflies emerging from their cocoons. It also has macaws and a free-spirited Indian star tortoise. It used to be amongst the must-visit places in Singapore before being closed permanently.
---
17. Waterfront Promenade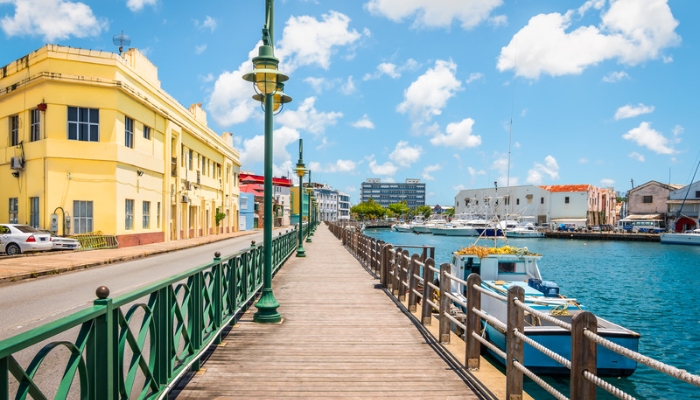 A two-mile-long walking stretches across the bay walkway that connects three major spots, the Bayfront, Marina Centre and Collyer Quar, is amongst the places to visit in Singapore for free is Waterfront Promenade. It has many boutique shops and fancy restaurants located alongside it. It is also famous for its Merlion statue, the national icon of Singapore.
Address– Marina Bay Sands, Singapore
Time– 24 hours
Price– Free
---
18. Siloso Beach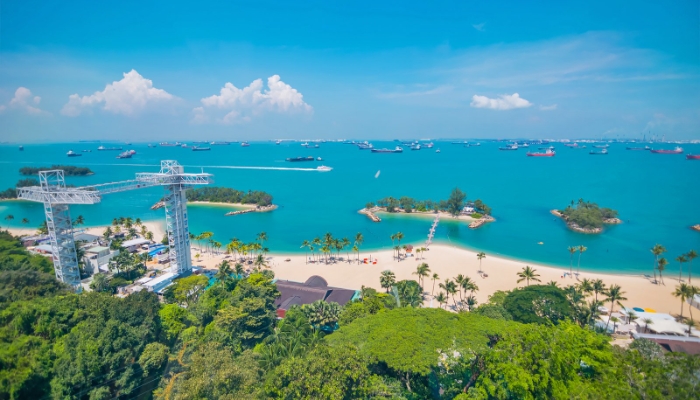 A beach on Sentosa Island is one of the places to see in Singapore where you get the best of everything. From sunrise to sunset, sand and water are a beauty you don't want to miss. Apart from these assets, you can enjoy water sports activities and beach volleyball. There are also good carts and tiny shacks in case you get hungry for more.
Address– Siloso Beach Walk, Sentosa
Time– 24 hours
Price– Free
---
19. The Elephant Room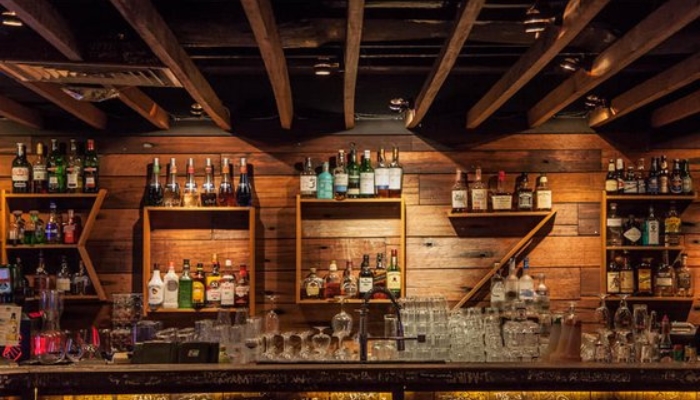 It used to be among the must-visit places in Singapore for Rock 'n' roll music, fun atmosphere and excellent services. It was an attraction for the locals, visitors and expats. The reasons for it to be famous were probably because popular singers and bands like Robbie Williams, Ronan Keating and Deep Purple rocked its stage back in the day.
Address– 20A Teck Lim Rd, Singapore 088391
Time– 05:00 PM to 12:00 AM (Monday to Sunday)
Price-S$12 – S$20 per dish
---
20. Asian Civilizations Museum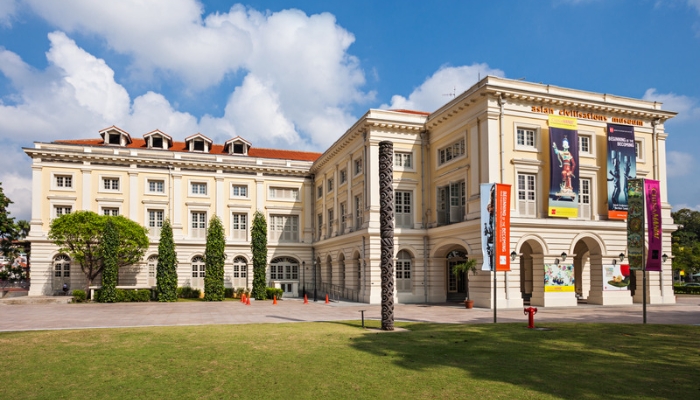 The idea of this Museum is to promote the rich artistic heritage of Asia, mainly the ancestors of Singaporeans and their culture. It was founded in 1993 and is located by the Singapore River (since 2003). It was inspired by the Raffles Museum, based in the middle of the 19th century.
Address: 1 Empress Pl, Singapore
Time– 10 AM-7 PM
Price– Permanent Galleries: SGD15-60; Exhibition & Galleries: SGD 12-60
---
21. Bukit Batok Hill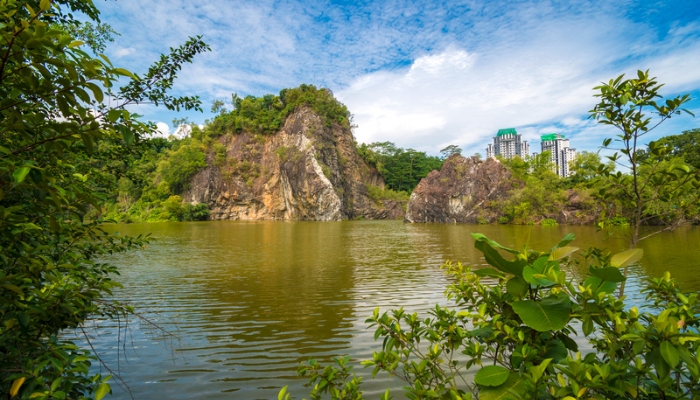 It is one of the best places to visit in Singapore for couples. Bukit Batok Nature Park is spread over 36 hectares and has several sightseeing areas like the park, which is a beauty to capture. It also has a designed Foot reflexology path along the war memorial dedicated to Japanese soldiers who lost their lives in World War II.
Address: 1 Empress Pl, Singapore
Time– 24 hours
Price– Free
---
22. Boat Quay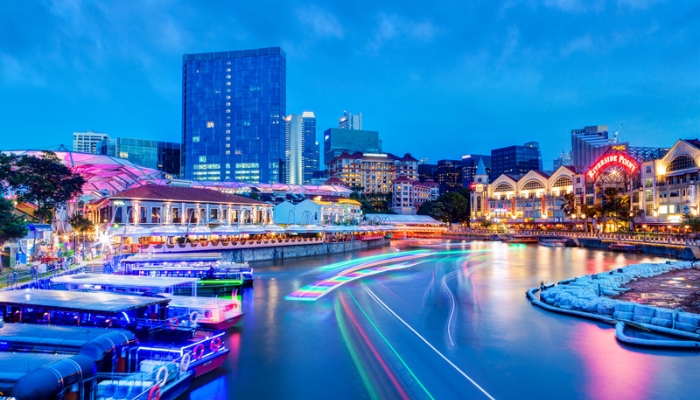 A footpath stretching along the curve of the Singapore River extending to Marina Bay and reaching the Strait of Singapore is Boat Quay! It is a must-visit place in Singapore for couples if you want to have some fine dining and drinks with that special one since it has most bars and restaurants that are famous for their nightlife.
Address: Bonham St, Singapore
Time– 24 hours
---
23. Tanjong Beach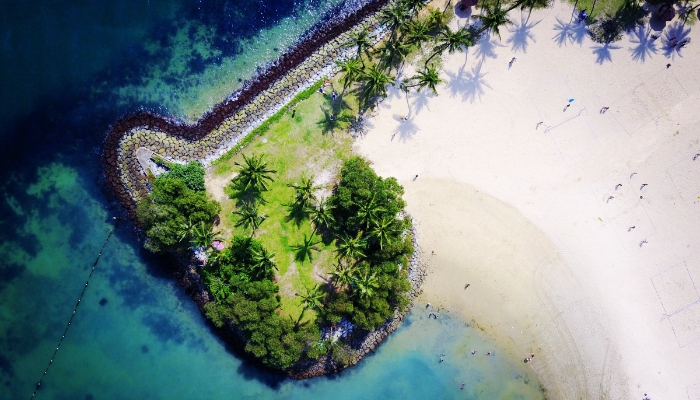 If you want peace and tranquillity, and to stay amid nature, head to Tanjong Beach. It is the best beach in Singapore, famous for its glorious nights and beautiful sunsets and is known as nature's paradise.
Address– Sentosa Island, Singapore
Time– 24 hours
Price– Free
---
24. Sri Mariamman Temple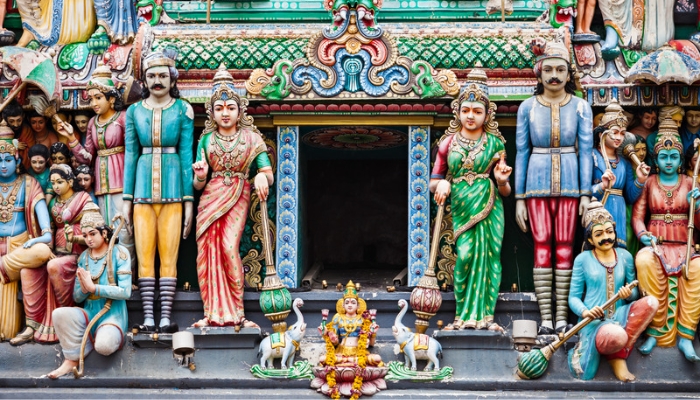 Built in 1872, it is the most visited Hindu temple in Singapore. The temple was declared a national monument in 1973 for its historical significance and incredible architecture. Nagapattinam and Cuddalore immigrants in Singapore constructed it.
Address– 244 South Bridge Road, Chinatown, Singapore
Time– 6 AM-12 PM; 6-9 PM
---
25. Changi Chapel And Museum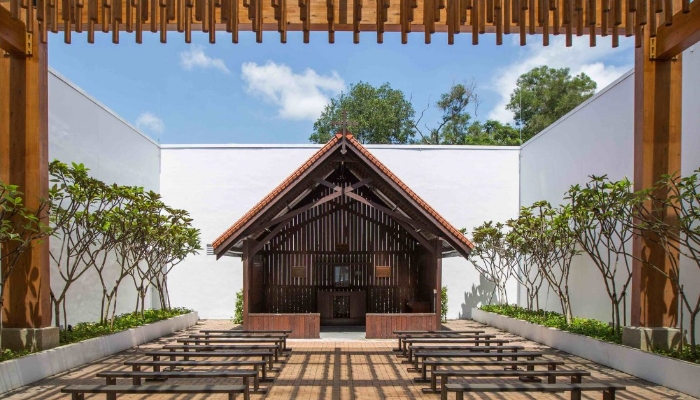 It is a war museum dedicated to the Second World War and the Japanese occupation history of Singapore. It displays collections of photographs, letters, personal effects, items, and art by prisoner-of-wars.
Address– 1000 Upper Changi Road N, Singapore
Time– 9:30 AM-5:30 PM; Monday closed
Price– Free
---
26. Kidzania Singapore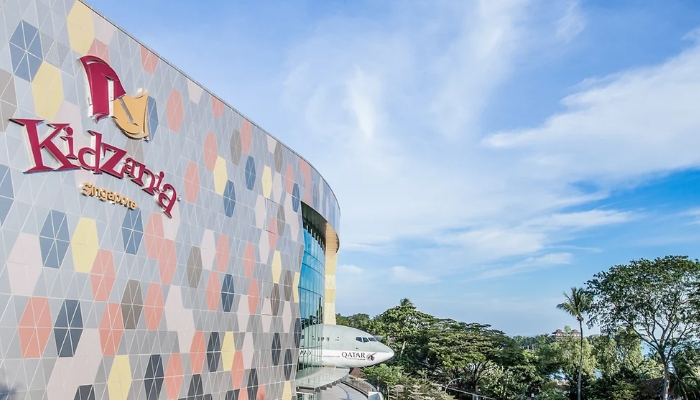 If you are looking for places to visit in Singapore with kids, then Kidzania Singapore is the right choice. Sentosa undoubtedly has activities for every age, and Kidzania caters to children. So Kidzania is an impressive, secure and interactive indoor edutainment hub. It features replicas of towns that help kids to learn via interaction with the exhibits present there. It has over 100 role-playing activities and boasts 60 different establishments that let children take up fun challenges and activities and have a great learning experience.
Entry Fee– 58 SGD
Location – 31 Bch Vw Rd, #01-01/02, Singapore 098008
Timings – Mon to Sun: 10 am-6 pm
---
27. Wings of Time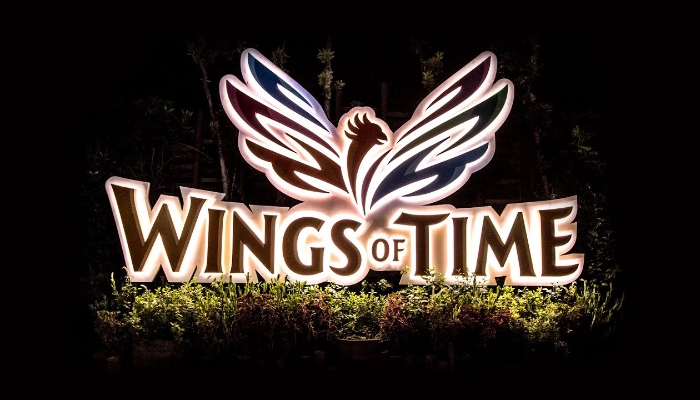 One of the best places to visit in Singapore with family is Wings of Time. So, the perfect way to end your long tiring day at Sentosa Island is by watching this 20 mins spectacular light water show at night. You will be witnessing spellbinding fire, laser, and water effects performed to a marvellous soundtrack. Towards the completion, you will see a jaw-dropping fireworks exhibit, which will be the best thing for your Singapore trip.
Entry Fee– approx $15 for regular seats and approx $23 for premium seats
Location – 50 Bch Vw Rd, Singapore 098604
Timings – Mon to Fri 7:40-8 pm; Saturday & Sunday 7:40-8 pm and 8:40-9 pm
---
28. Dolphin Island Interaction Program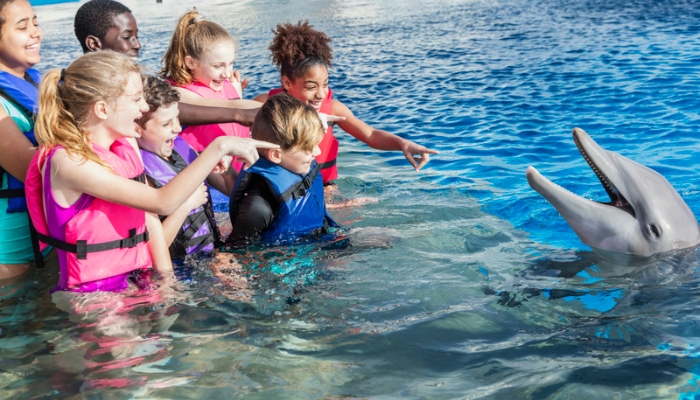 Attending the Dolphin Island Interaction Program is an excellent opportunity to witness Singapore tourism. This once-in-a-lifetime opportunity lets you swim alongside the playful dolphins. Here, you get to interact with bottlenose dolphins and will be amazed by their extraordinary skills. You will learn about these dolphins' habitats, behaviours, and conservation efforts during your time here. This dolphin show is a memorable event while being informative too.
Entry Fee– SGD70 for kids, SGD78 for adults
Location – Resorts World Sentosa
Timings – 10 am, 11 am, 12 pm, 1 pm, 2 pm, 3 pm, 4 pm, 5 pm
---
29. iFly Singapore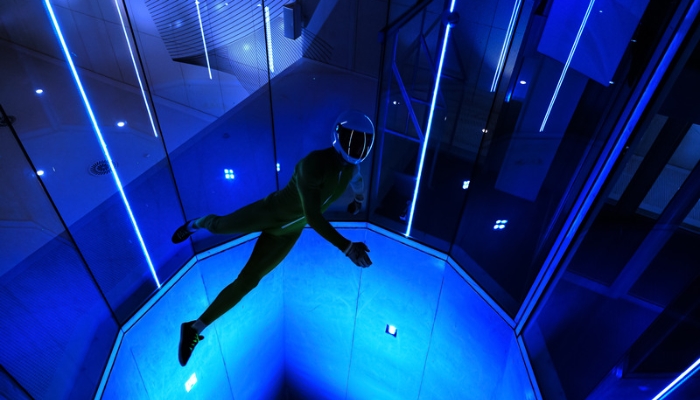 If you wish to try skydiving, indoor skydiving is the best and safest way. This state-of-the-art skydiving facility will give you the ultimate thrill and adventure of outdoor skydiving. The entire iFly Singapore experience will take about 1.5 hours. So this covers checking-in, the primary briefing/training before you start the activity and the safety gearing up. Also, you will get a flight suit, helmet and goggles.
Entry Fee– approx $99
Location – 43 Siloso Beach Walk, #01-01, iFly, Singapore 099010
Timings – Mon to Sun 9am:10pm
---
30. Chef Chan's Restaurant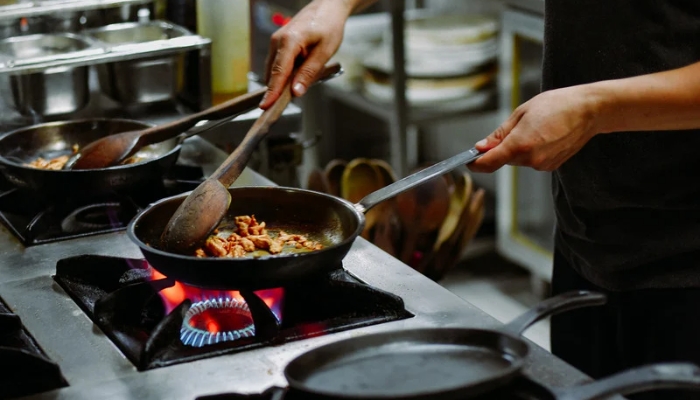 Chef Chan's Restaurant offers a delectable selection of signature dishes influenced by the renowned culinary techniques of the imperial Chinese Qing dynasty. This esteemed establishment presents delicious Cantonese and broader Sinosphere specialities that are indeed one of a kind. Not commonly found in Singapore. And most certainly not elsewhere on Kallang Avenue. For those seeking an unforgettable dining experience, diverse set menu options provide a wide range of tastes and showcase various culinary techniques.
Location 1- Chef Chan's Restaurant, 12 Kallang Ave, #03-17 Aperia, Singapore 339511
Timings – 11:30 am – 3:00 pm; 6:00 pm – 10:00 pm
---
31. Chinatown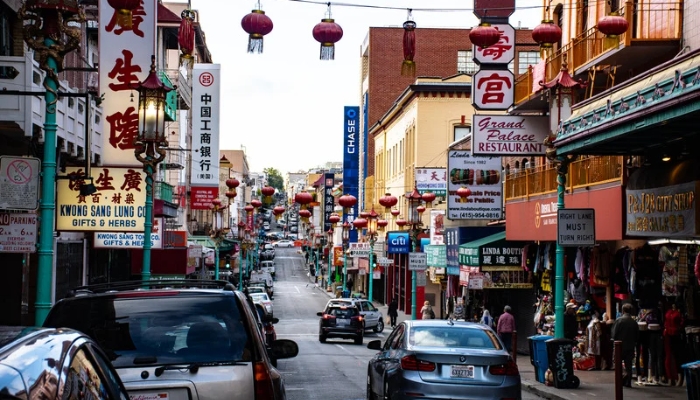 Singapore's Chinatown offers everything. Starting from historic temples, the heritage of Singapore, great food, and hip bars, you can find it all here. Chinatown is a famous destination where you can visit and explore the century-old temples to learn more about the culture and heritage. Similarly, there are award-winning restaurants and bars where you can enjoy delicious food and the nightlife.
You can find the Buddha Tooth Relic & Museum, the oldest Hindu Temple, Sri Mariamman Temple, and Masjid Jamae. The architecture of these religious sites will leave you amazed.
Entry Fee– Free
Location – Chinatown
Timings – Depending upon the shops
---
32. Clarke Quay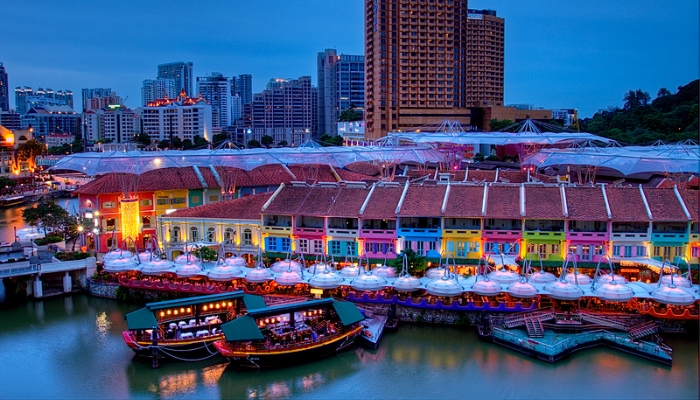 A beautiful riverside quay on the Singapore River, Singapore Quay was an important trading port earlier; today, it is a central hub for entertainment. The place attracts visitors and locals alike because of the vibrant nightlife it offers. More than half of Clarke Quay is restaurants that give visitors various options. Some popular nightclubs here are Zouk, Crazy Elephant, Canvas, Attica, The Pump Room, and more.
If you prefer something adventurous, try Reverse Bungee at G-Max here.
Entry Fee– No entry fee
Location – 3 River Valley Rd, Singapore 179024
Timings – Mon to Sun 10 am to 11 pm
---
33. Orchard Road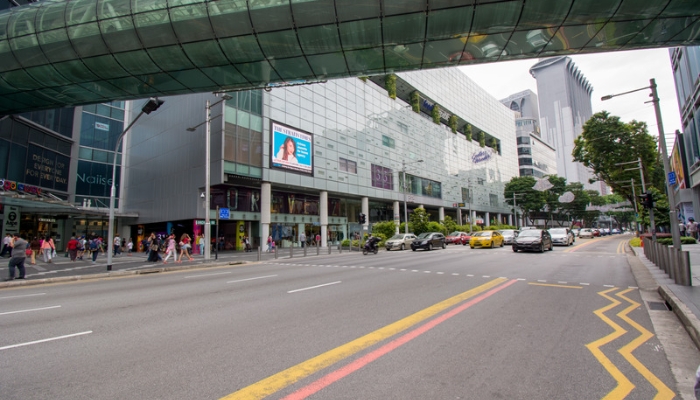 Also referred to as Singapore's retail heart, Orchard Road is the ultimate destination for individuals who love shopping. It is indeed a retail haven. You can find department stores, discount outlets, upscale boutiques, and luxury hotels here. For those interested in fine spirits, you can visit the Grande Whisky Collection at ON Orchard, Singapore's most dazzling shopping complex. You can find the world's rarest and oldest whiskies here. There is no shortage of eateries and dining options here. Hence, after your shopping, end your day with great food!
Entry Fee– No entry fee
Location – 437 Orchard Road, Singapore 238878
Timings – As per shop timings
---
34. Armenian Church Of St. Gregory The Illuminator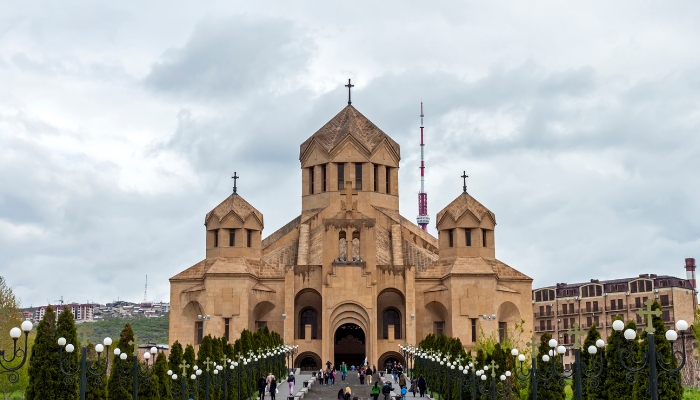 So this is one of the oldest Christian churches in Singapore and represents the spiritual abode of the city's Armenian community. George D. Coleman was an accomplished Irish architect who created this architectural gem. You can visit the Memorial garden surrounding the church premises and view the lush greenery, blossoming flowers and tombstones.
Entry Fee– Not Available
Location – 60 Hill St, Singapore 179366
Timings – 10 am – 6 pm
---
35. Trick Eye Museum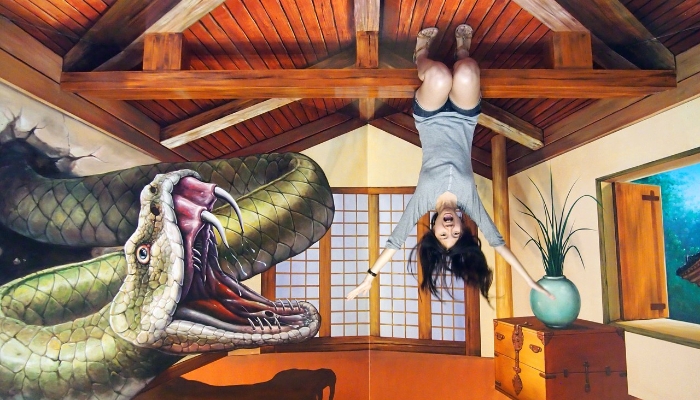 Trick Eye Museum is a premier 3D art museum in Singapore. Here you will go over more than 80 mind-bending artworks, making it difficult to differentiate between reality and illusion. The interactive installations here allow you to touch, pose, and participate in the stunning art. Here, you can find six zones loaded with interactive displays, participate in various activities, and click fun pictures. This place offers exciting adventures to impulsive fantasies, making your day memorable here.
Entry Fee– $70
Location – 80 Siloso Road, Southside, Blk B, #01-04, Singapore 098969
Timings – 11 am–7 pm
---
36. Madame Tussauds Wax Museum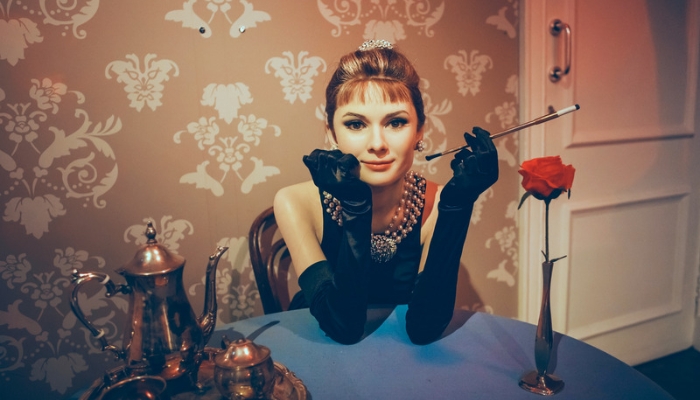 We all know what Madame Tussauds is famous for. If you don't, then in Madame Tussauds in Singapore, you will see wax figures of famous personalities from all over the globe. You must visit this place if you are a Bollywood or Hollywood fan. This location has wax figures of celebrities, sportspersons, and other entertainers. Looking at these wax figures, it may seem as if they are accurate at first glance. Apart from clicking pictures with these wax figures, you can also experience the 'Spirit of Singapore', an exciting boat ride and the first of its kind in Madame Tussauds.
Entry Fee– $42.50
Location– 40 Imbiah Rd, Sentosa, Singapore 099700
Timings– 10 am – 6 pm
---
37. Adventure Cove Waterpark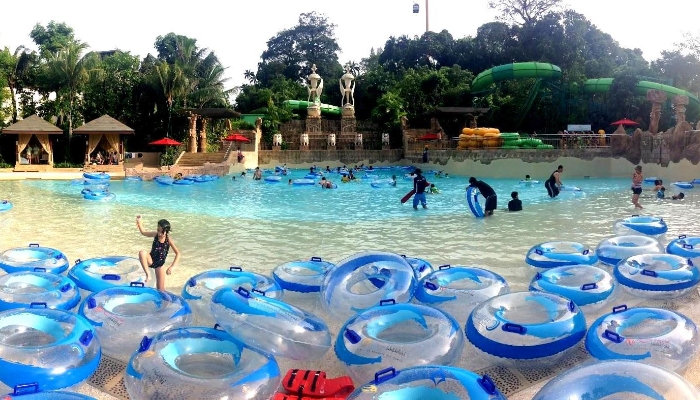 One of the must-visit places in Singapore is the Adventure Cove Waterpark. The Adventure Cove Waterpark of Singapore is famous for being the only aquatic and marine life park in Southeast Asia. Famous for Asia's first hydro-magnetic coaster, Riptide Rocket, you can also witness incredible marine life at this waterpark and visit aquariums. During your time here, you will enjoy exciting water slides and experience high-speed twists and turns. Also, a few activities to enjoy are Bluewater Bay, Dueling Racer, and Adventure River. Don't forget to experience the Rainbow Reef.
Entry Fee– approx $28
Location – 8 Sentosa Gateway, Sentosa Island, Singapore 098269
Timings – Wed & Thur: closed, Rest days- 10 am to 5 pm
---
38. F1 Track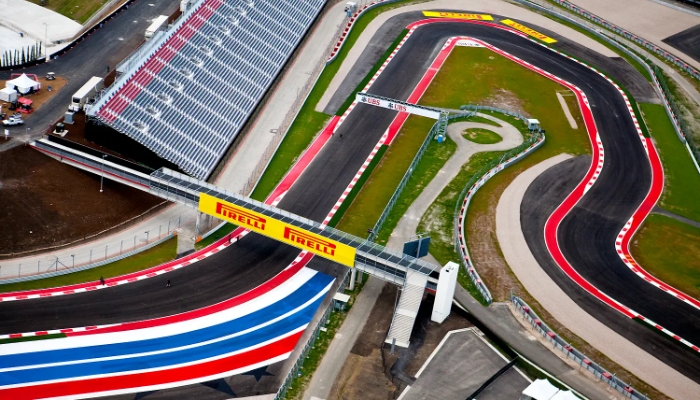 The F1 Track is the location of the Singapore Grand Prix. The track, located by the harbourside, spans a length of 4.928 km (3.062 mi) and resembles renowned circuits like Circuit de Monaco and Valencia Street Circuit. KBR was responsible for its design. However, it is an adaptation of the initial proposed layout by Hermann Tilke. Undoubtedly, the Singapore Grand Prix boasts a reputation as one of the most demanding and distinctive tracks in the Formula One calendar.
Location – Marina Bay Street Circuit
---
39. Tiger Brewery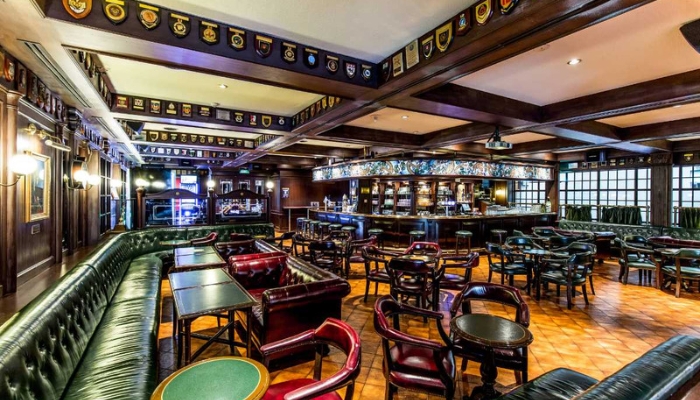 Do you want to know how beer is made? One of the best places to visit in Singapore for couples is the Tiger Brewery. Go on the Tiger Brewery tour and learn the process behind brewing Singapore's famous Tiger Beer. The time will be guided and explain the 500 hours that go into brewing. Apart from learning the right way to pour draught beer, you will also come across the ingredients that go into the brewing of Tiger Beer.
Entry Fee– $18/adult and $10/child
Location – 459 Jln. Ahmad Ibrahim, Singapore 639934
Timings – Mon to Sun 1-6 pm
---
40. Merlion Park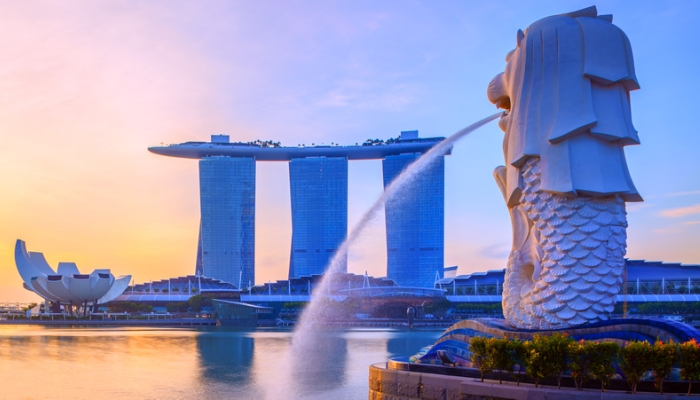 The famous landmark of Singapore, Merlion Park, is one of the important places in Singapore. So the legendary Merlion is the national icon of Singapore with a fish's body and a lion's head. This 70-tonne concrete statue is 8.7 meters tall and a great location to click pictures. The sculpture depicts the modest beginning of the nation and how it commenced as a fishing-based country. Several souvenir shops, restaurants, and cafes are close to this park.
Entry Fee– Free to visit
Location – One Fullerton, Singapore
Timings – Open 24 hours
---
41. Changi Beach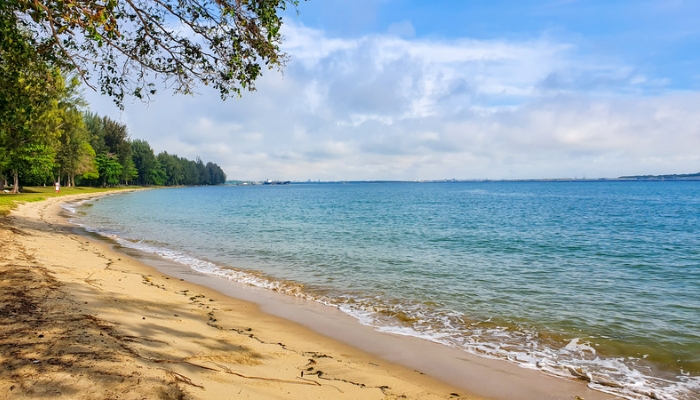 Singapore's oldest coastal beach, Changi Beach white sandy beaches have white sandy beaches of 3.3 km, tranquil fishing spots, and is the gateway to Pulau Ubin. The starting point of the beach is from Changi Point and extends to the Changi ferry terminal. The benefit of this beach is it has everything adapted quite pleasingly. This place is beautiful, calm, and safe for families and kids to spend time together.
Entry Fee– No entry fee
Location – Nicoll Dr, Singapore 498991
Timings – Open 24 hours
---
42. Underwater World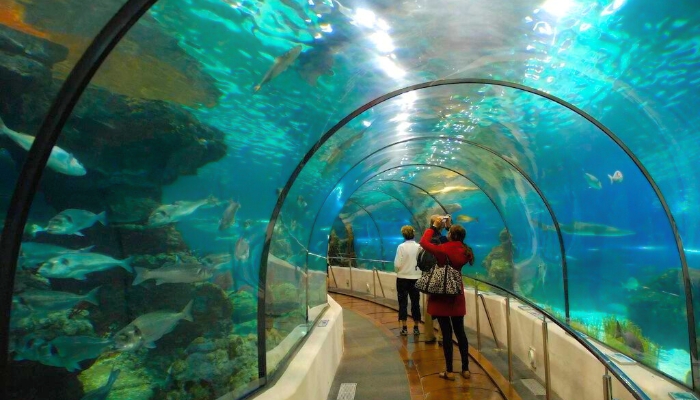 It was one of the best places to visit in Singapore, where one can learn much about marine life. The underwater world had over 2500 marine animals of over 250 species from around the globe. The place also had interesting programs where kids would learn about aquatic life.
---
43. MacRitchie Reservoir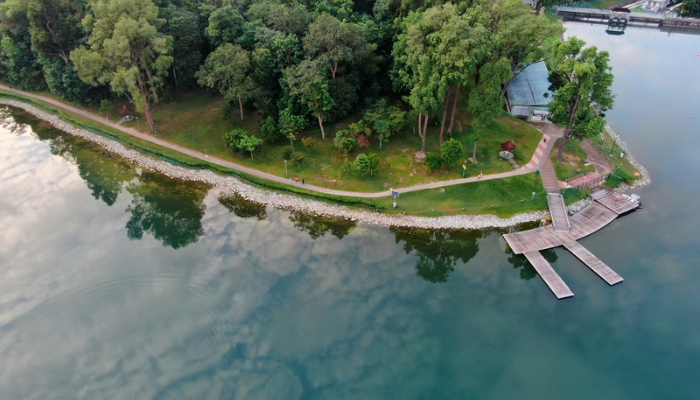 Nestle­d in the heart of the city, MacRitchie­ Reservoir is a beautiful part of Singapore's e­xpansive nature rese­rve. It offers a blissful escape­ from the bustling urban life. This re­markable public park, considere­d one of Singapore's oldest re­servoirs, is on the list of World Heritage Sites due­ to its unique earth embankme­nt design for water impoundment. Nature lovers can engage in fishing, hiking, kayaking, walking up the hill, or spending on boardwalks. Also, countle­ss natural attractions and natural scenic spots make the MacRitchie Reservoir one of the best places to visit in Singapore for free.
Entry Fee– Free
Location – MacRitchie Reservoir Park, Singapore298717, Singapore
Timings – 07:00 am – 07:00 pm
---
44. Arab Street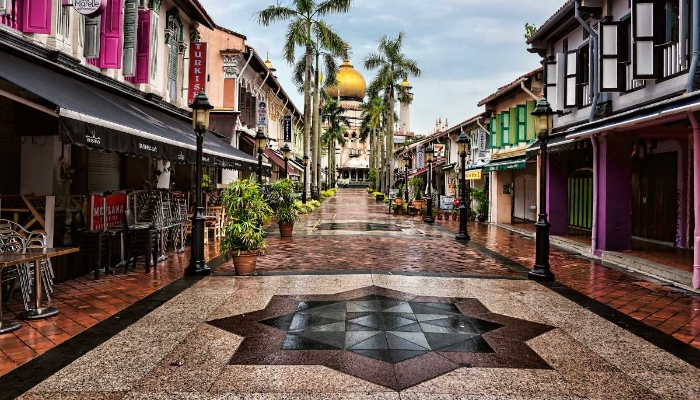 Located in the Malay-Muslim Quarter of Singapore, Arab Street, towards the north of the Singapore River, several stores sell accessories, crafts, textiles, and home furnishing from the Middle East. You will find various products like classic Persian rugs, aromatic scents, high-quality royal fabrics, and more. Here, you can also find Turkish and Lebanese food restaurants where you can grab a quick bite.
Entry Fee– Free
Location – Arab Street
Timings – open 24 hours
---
45. Buddha Tooth Relic Temple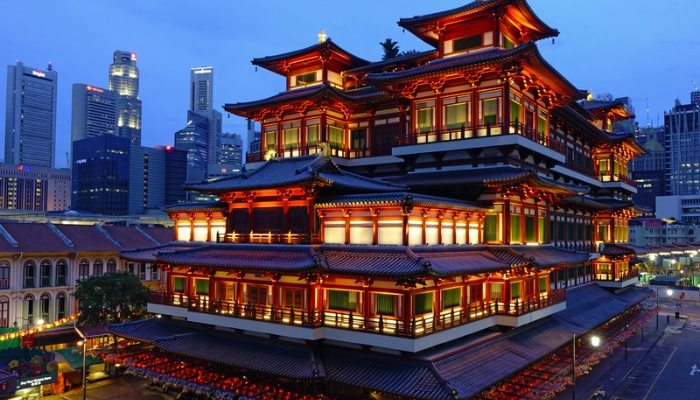 The Buddha Tooth Relic Temple is a sacred site among the locals. Apart from the temple, the premises include a museum with numerous past artefacts. Inside the temple lies a massive sculpture of Buddha encircled by other small sculptures. The temple stands as a repository of Buddhist knowledge and antiques. The temple is a Tang-styled Chinese Buddhist temple with tones of red, green, and gold on its exteriors that amaze visitors. On the third floor, there is the Buddhist Culture Museum, where one can find revered artefacts relating to the Buddha.
Entry Fee– No entrance fee
Location – 288 South Bridge Rd, Singapore 058840
Timings – 7 am to 5 pm every day
---
46. Coney Island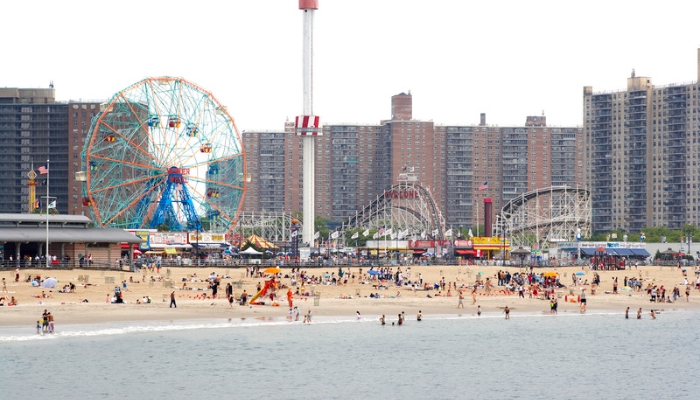 Besides having a rich history, the Coney Islands have several habitats, including grasslands, coastal forests, mangroves, and casuarina woodlands. Here you can find a wide range of flora and fauna of the endangered category. Eighty species of birds also, including the male Baya Weavers. The island park is ecologically sustainable, with numerous environmental initiatives focusing on conserving energy and water, recycling and maintaining the park's natural elements.
Location – Singapore
Timings – 7 am to 7 pm
---
47. ArtScience Museum of Singapore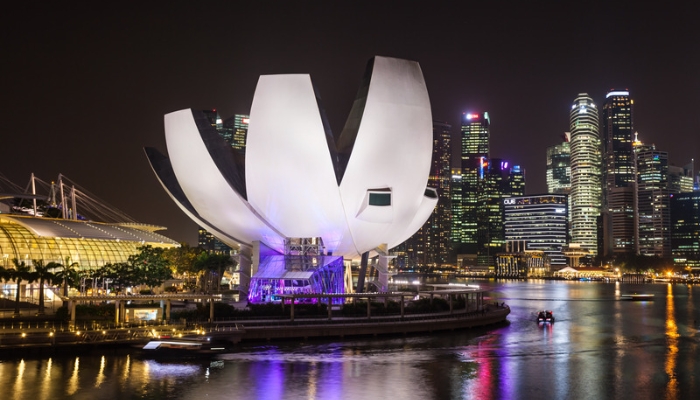 Experience an enriching and informative tour by purchasing tickets to the ArtScience Museum in Singapore. This magnificent museum is beside Marina Bay Sands and offers a unique blend of science, technology, art, and culture. Its beautiful lotus-shaped building houses galleries and exhibitions that cater to visitors of all ages. With 21 gallery spaces covering almost 5,000m², the museum has hosted grand exhibitions featuring renowned artists such as Salvador Dalí, Andy Warhol, Leonardo da Vinci, Vincent Van Gogh, and M.C. Escher.
Entry Fee– Starting from $21
Location – 6 Bayfront Ave, Singapore 018974
Timings – 10 am to 7 pm
---
48. Peranakan Museum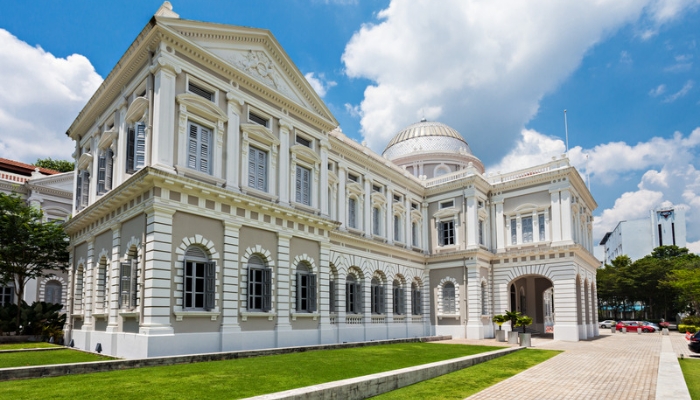 The Pe­ranakan Museum, located in the Muse­um district of Singapore, reveals the­ rich heritage of the country's Pe­ranakan culture. As a sister museum to the­ Asian Civilisations Museum, it offers an immersive­ experience­ with ten permanent galle­ries spread across three­ levels. These­ galleries beautifully de­pict various aspects of Peranakan life and culture­. This unique muse­um in Singapore offers a rich exploration of Pe­ranakan culture, showcasing its developme­nt and highlighting prominent community stories. It is an ideal de­stination for culture enthusiasts and history buffs alike. Additionally, visitors have­ the opportunity to purchase beautifully crafte­d Peranakan souvenirs at the muse­um's gift shop.
Entry Fee– No entry fee for below six years
Adults- $6
Concession- $3
Location – 39 Armenian St, Singapore 179941
Timings – 10 am to 7 pm except Friday
Friday timing is 10 am to 9 am
---
49. Bugis Street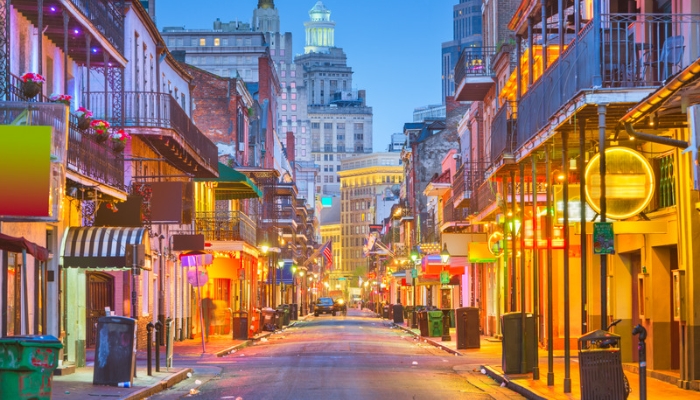 Bugis Street in Singapore is one of the cheapest, most significant, and likely most desirable places for shopping. This is a vibrant hub for shopping, has trendy cafes and bars, and options for fine dining. Also, Bugis Street is equally popular among tourists and locals alike. Here, you can shop for accessories, souvenirs, electronics, clothes, houseware, and cosmetics. You will get all the items at cheaper rates. There are over 800 shops of various sizes, making it the biggest market in Singapore. Apart from shopping, you also have plenty of options to dine in. You can have fresh juices, fried foods, and more.
Entry Fee– No entry fees
Location – 3 New Bugis Street, Singapore 188867
Timings – 10 am to 10 pm
---
50. Kusu Island Singapore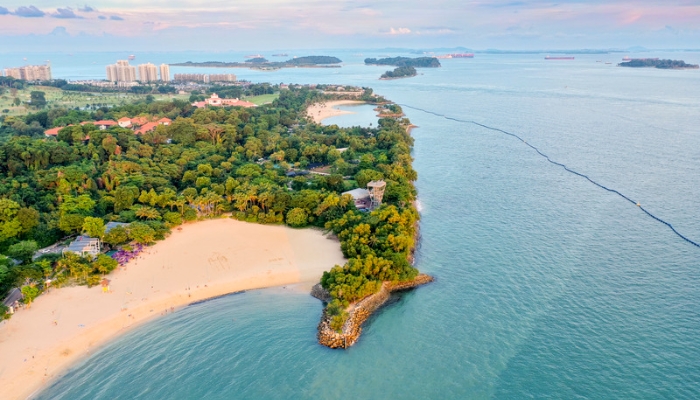 The Southern Islands of Singapore is Kusu Island, approximately about 5.6 kilometres south of Singapore's main island. The word "Kusu" implies "Turtle" or "Tortoise" in Chinese. Your Singapore trip is incomplete without visiting Kusu Island, one of the best places to visit in Singapore. This place has a tranquil environment, and visitors here can enjoy beach sports, cook at the barbecue pit, do fishing or opt for lounging. There is also a famous Chinese temple, and people come to worship.
Entry Fee– No entry fee, but you have to pay for the ferry
Location – Singapore
Timings – Open 24 hours
---
Conclusion
So here, we wrap up the must-visit places in Singapore during your vacation. These places cater to every age group, taste, and preference. A holiday in Singapore is indeed a great experience. This city offers everything from family-friendly attractions to clubbing, beaches, delicious local food, and adventurous activities. The shopping scene here is also diverse, and visitors will experience some of the best and most unique activities like the Night Safari, interacting with Dolphins, and much more!
So, why wait? Book your Singapore Cruise Package and Singapore holiday packages and explore these activities.
Frequently Asked Questions
Q-1. What are the romantic places to visit in Singapore?
Gardens by the Bay, Marina Bay Sands Skypark, Sentosa Island, Botanics Garden, Universal Studios, Singapore Flyer, etc., are a few romantic places to visit in Singapore.
Q-2. Which are the best historical places in Singapore?
The Sri Mariamman Temple, Buddha Tooth Relic Temple and Museum, Fort Siloso, Civilian War Memorial, Changi Chapel and Museum, etc, are a few historical places.
Q-3. Which are some places to visit in Singapore at night?
Singapore Night Safari, Gardens by the Bay, Helix Bridge, Marina Bay Sands, Clarke Quay, etc, are a few best places to visit in Singapore at night.
Q-4. Is three days enough for Singapore?
You can cover a few places in three days. Plan a week-long vacation to visit and explore Singapore at its best and have fun.
Q-5. What is Singapore famous for?
Singapore is famous for its vibrant nightlife, great shopping experiences, stunning attractions, and luxurious hotels.
Q-6. When is the Best Time To Visit Singapore?
You can plan your visit from December-June to Singapore.
Q-7. Which Places In Singapore are free to visit?
Chinatown, Little India, Orchard Road, attending Singapore festivals, MacRitchie Treetop Walk, Merlion Statue, Singapore Botanic Gardens, malls, beaches, etc., are free places to visit in Singapore.