Singapore is a lively and diversified city-state famous for its diverse food culture and rich culinary heritage. Singapore food reflects its multicultural populace, integrating aspects from Chinese, Malay, Indian, and other Southeast Asian traditions. This flavour combination has created a unique gastronomic environment with many delicious dishes and food.
Singaporean food has also become an important component of the city-state's identity and a symbol of its cosmopolitanism. Singapore has diverse dining alternatives to suit every taste and budget, including hawker centre booths, expensive restaurants, and fashionable cafés.
If you are planning a Singapore vacation and wish to explore the variety of food dishes available in Singapore, then in this post, we bring you the Singapore Food List, which will help you understand its local dishes and what makes them unique and must-try. Let's check. Enjoy these Singapore Foods in your Singapore Cruise package.
25 Best Singapore Foods & Dishes
1. Hainanese Chicken Rice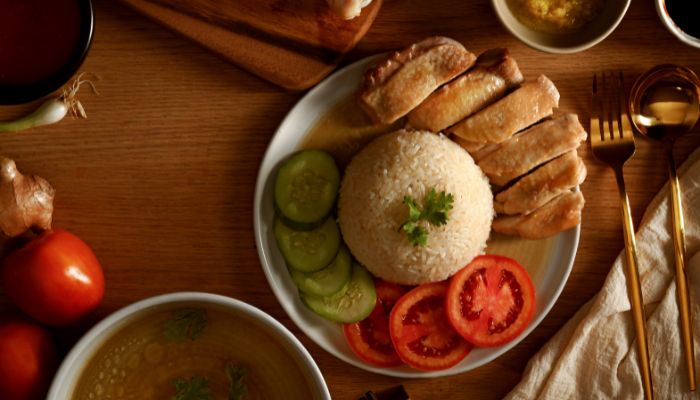 A Singapore famous food is Hainanese Chicken fried rice. You can find any hawker centre or fine dining restaurant serving this dish. So Hainanese Chicken rice consists of poached chicken served with aromatic rice, chilli sauce, other condiments and sliced cucumber. The added sauces and spices make the dish flavorful and worth trying, making the dish lip-smacking. It is a simple yet wholesome dish.
---
2. Chili Crab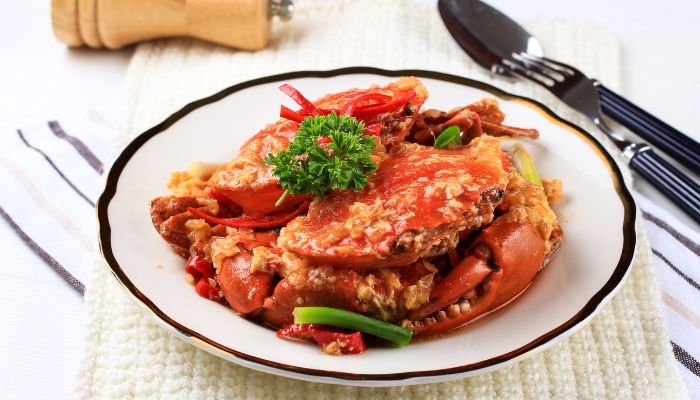 The next Singapore food, also an essential part of Singaporean cuisine, is Chili crab. The dish features mud crab that is wok-fried in a sweet-spicy sauce and savoury tomato sauce. To make the gravy thick and rich, the dish has eggs. The dish isn't spicy, instead gives a rich, tangy, and sweet taste with a hint of spices. The taste is addictive, and you will crave more after having it once.
---
3. Laksa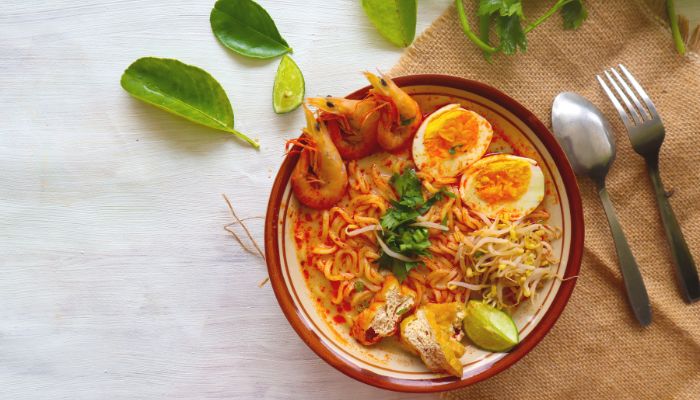 Laksa is a popular Singapore street food and a traditional Peranakan dish comprising noodles. It is a spicy noodle dish with thick wheat noodles, coconut milk, fish cakes, chicken, prawn, and herbs for great taste. Add sambal belachan (chilli paste) for the extra spicy punch.
The dish is a fusion of Malay and Chinese cuisine and is available in two types Asam Laksa and Curry Laksa.
---
4. Roti Prata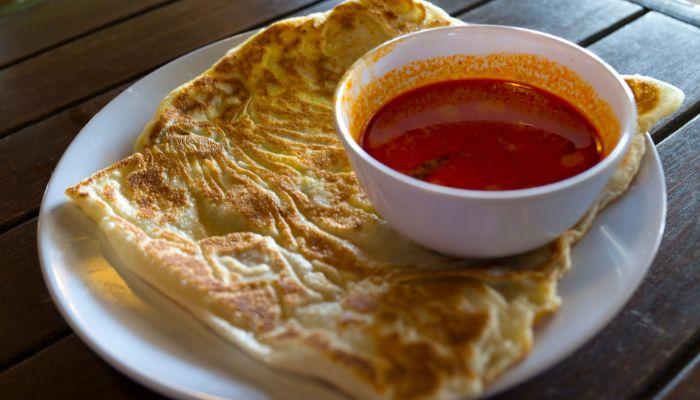 This is indeed Indian food and must-eat street food for tourists. For making roti prata, the wheat flour is stretched to make a large and thin layered flatbread and then put on a grilling pan to cook for 3-5 until it becomes light brown, crispy, and crunchy. You can enjoy it as it is or try it with veg curry options for those looking for veg food in Singapore. Also it goes well with meat-based curries too.
Roti prata has several variations like. It may come with stuffing of eggs, mushrooms, cheese, onion, etc. 
---
5. Satay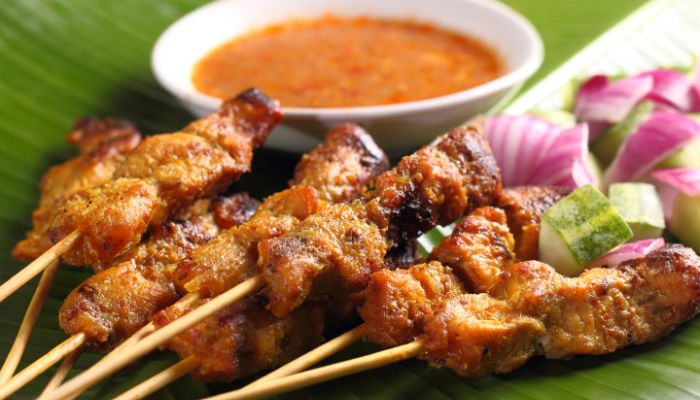 This Singapore street dish is a local delicacy made with skewered poultry, pork, beef, or mutton. Satay has its origins in Indonesia. But it is growing in popularity in Singapore, and one can find it in fine dining establishments and hawker centres. The meat requires before being cooked. You can enjoy this delicacy with peanut sauce and onion rings. Moreover, you can easily find this in street food carts, proper restaurants, and hawker centres.
---
6. Nasi Lemak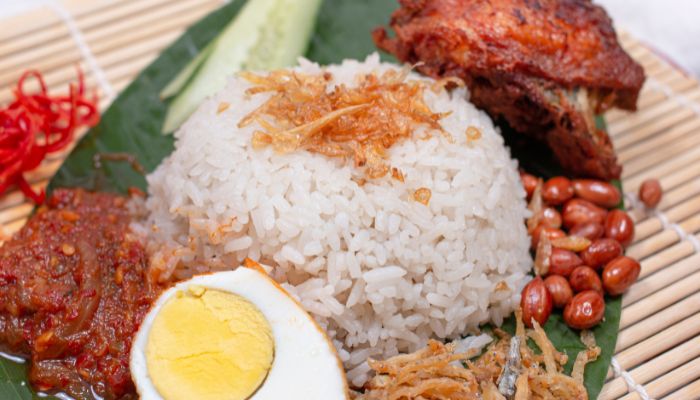 A must-eat food in Singapore is Nasi Lemak. Nasi Lemak is one of Singapore's most popular local meals. It's a Malay cuisine with fragrant coconut rice and side dishes, including ikan billis, peanuts, cucumbers, and sambal. This wonderful meal, traditionally Malay cuisine, is now available in various variations. Other delectable sides available with Nasi Lemak at Chinese stores include sausages, deep-fried fish cake, luncheon meat, and stir-fried veggies.
---
7. Roasted Meat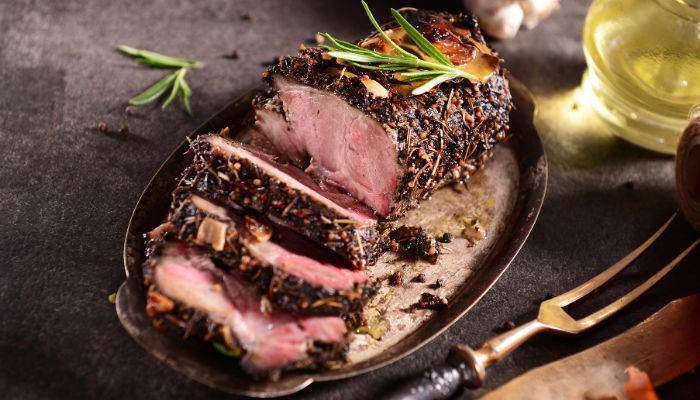 The next Singapore food is roasted meat. You can find a range of roasted meat here, like duck, chicken, pork, and pork belly. Usually, they are served alongside rice, and the roasted meat has various spice seasonings that provide a great taste and flavour. You will experience a charred and smoky flavour and taste the roasted meat of your choice.
---
8. Nasi Biryani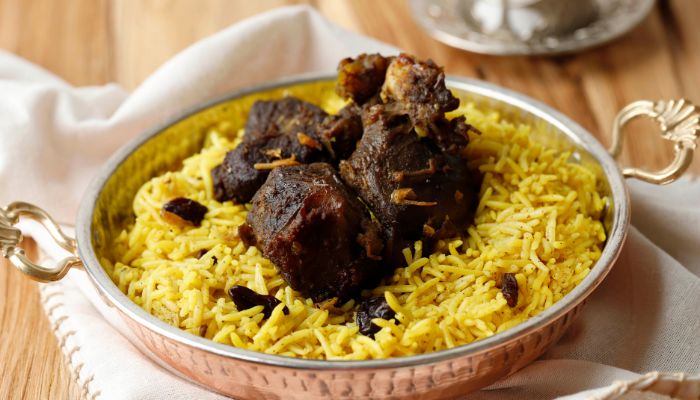 The dish Nasi Biriyani includes basmati rice which gets flavours from various exotic Indian spices and fragrant herbs like cinnamon and star anise. It uses vegetables, meat, rice, and eggs. It goes well with thick curry-based options using coconut milk, chicken, mutton, or beef. The toppings of fried onions and cashews on the rice add to the richness of this entire dish.
---
9. Char Kway Teow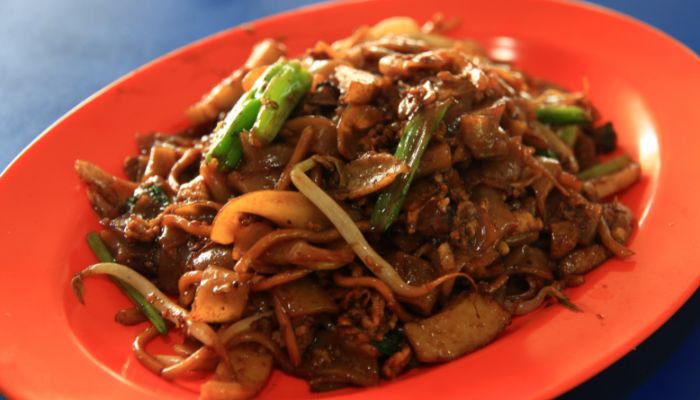 The next famous Singapore food is the Char Kway Teow, which means 'stir-fried rice noodles.' It is among the most popular hawker dishes in Singapore. This dish preparation involves stir-frying flat rice noodles in pork fat, soy sauce, prawn, blood cockles, belachan (shrimp paste), sliced fish cake, Chinese sausage, and bean sprouts. Because of its high-fat content, some may not consider it a healthy option, but there is no harm in trying once.
---
10. Hainanese Curry Rice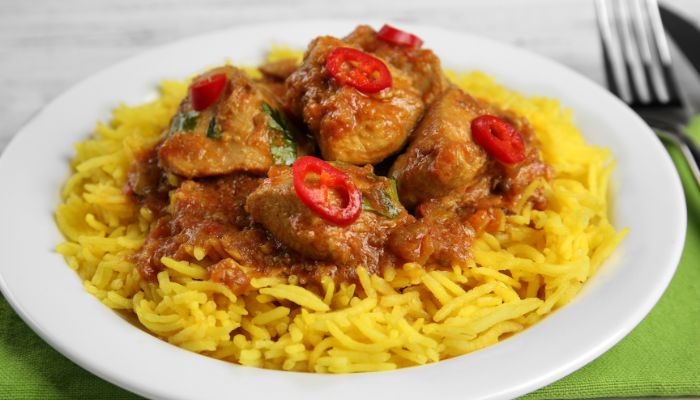 Next on the list of Singapore dishes is the Hainanese Curry Rice. As the name suggests, this dish's main highlight is a rich, thick, savoury curry. The dish consists of white steamed rice with gravy, served with chap chye, fried egg, chicken cutlets, and braised pork. It is a hearty and filling dish.
---
11. Hokkien Noodles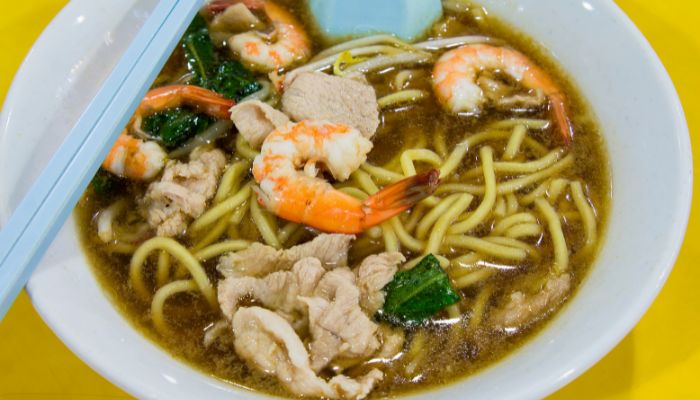 The next Singapore food, a popular hawker food, is Hokkien Noodles, a most-eaten dish here. The dish includes fried rice noodles or egg noodles, including fish cake, squid, prawns, and lean pork belly. One can enjoy this with sambal belachan and calamansi lime, which you can squeeze into the noodles for extra flavour.
---
12. Chai Tow Kway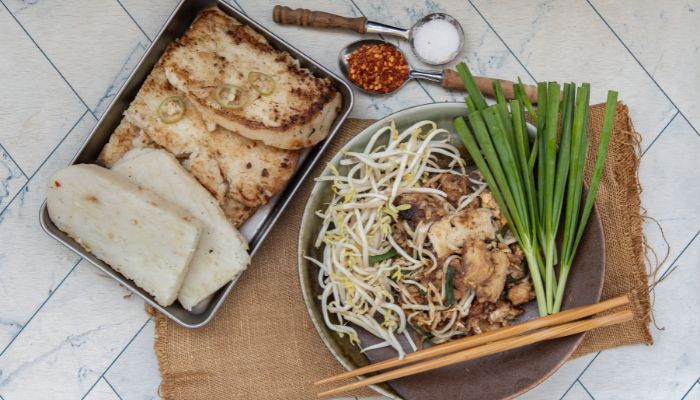 Carrot cake or Chai Tow Kway is a popular Singapore street food, not a dessert option. This is a popular local dish; for many, it is a breakfast option with radish cake. Chai Tow Kway has two variations black and white. So the white variation is fried with eggs, and the black ones use dark soy sauce.
---
13. Oyster Omelette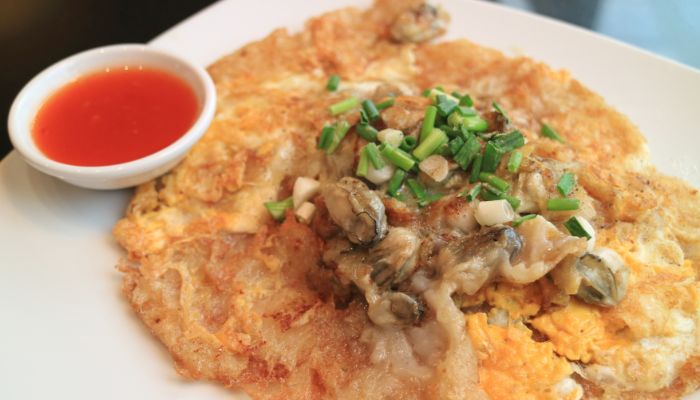 Oyster omelette, or Orh Jian, is another famous Singapore food worth trying. The dish comprises oysters, oil, eggs, and potato starch. For a delicious oyster omelette, starch is put into the egg batter to make the omelette thicker and gooier. It's crispy-fried and eaten with an accompaniment of chilli sauce.
---
14. Chwee Kueh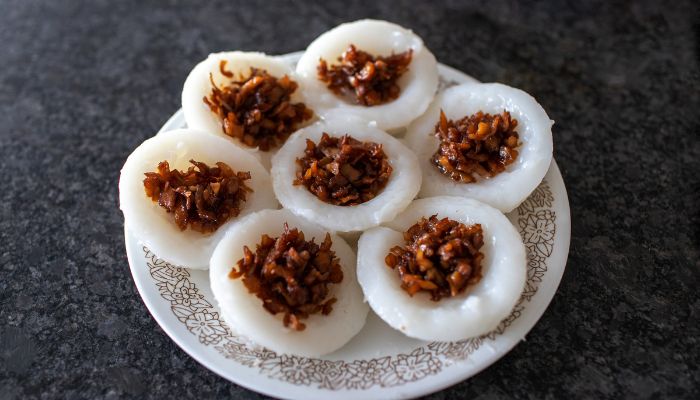 Chwee Kueh, a popular breakfast or snack option, is steamed rice cake with a topping of preserved radish or chye poh and sweet chilli sauce. This is a great bite-sized spicy and salty dish and worth trying.
---
15. Kaya Toast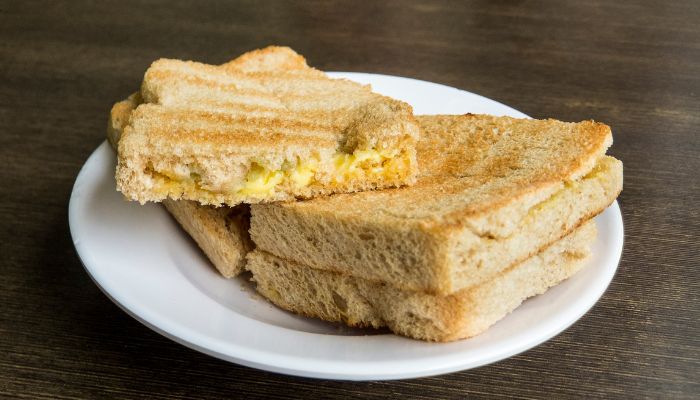 A popular Singapore food that is a great breakfast option is Kaya toast. It is a traditional Singaporean dish with two toasted breads with Kaya spread and butter. Kaya spread refers to a jam with coconut, sugar, and eggs. You can enjoy Kaya toast alongside a cup of kopi and soft-boiled eggs.
---
16. Hae Mee (Prawn Noodles)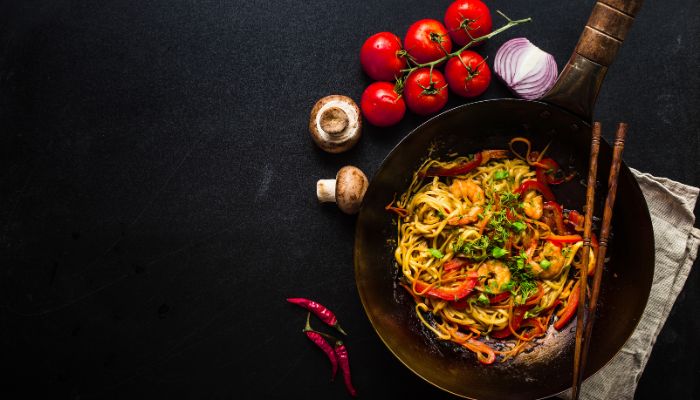 Hae Mee, or prawn noodles, is also a popular hawker food, and delicious prawn noodles have a rich broth with little sweetness because of prawns. This delectable stock preparation involves boiling pork bones alongside prawn heads, tails, and shells. It then goes onto a bowl of yellow noodles, followed by prawns and other components such as pork ribs. These things change on the vendor and what you order, but one thing remains constant: the tasty soup.
---
17. Fish Head Curry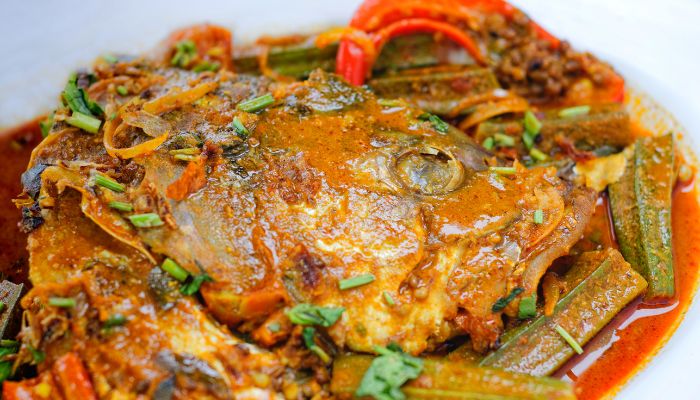 As the name suggests, this famous curry includes half or a head of red snapper fish. So the fish head is simmered with light, delicious curry that includes vegetables like eggplant and okra. This dish originates from Kerala and Malaysia yet is popular in Singapore. The dish tastes flavorful with spices and also has a tangy flavour. This famous Singapore food goes well with rice or roti.
---
18. Kway Chap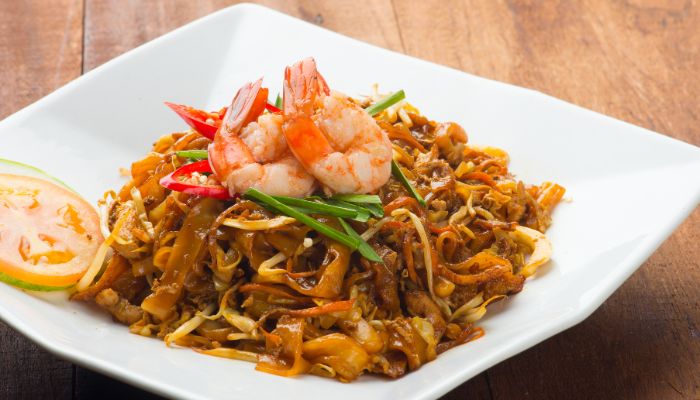 Kway chap consists of broad, flat rice noodles (kway) with a dark soy sauce soup (chap), with sides including bean curd, preserved salted vegetables, fishcake, and cooked peanuts. It also has unusual cuts like intestines, offal, and pig ears.
---
19. Bak Chor Mee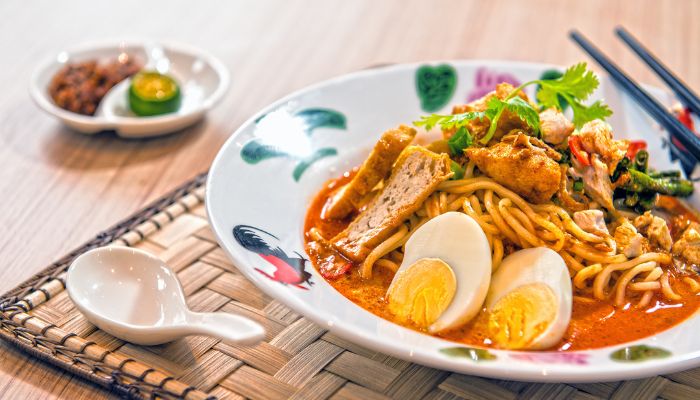 Bak chor mee is a famous Singapore hawker food. It includes vinegar-tossed noodles with various ingredients, such as minced meat, pork pieces, mushrooms, liver, meatballs, and deep-fried lard chunks.
Bak chor mee is available in both soup and dry forms. The dish, seasoned with vinegar and chilli, is filling, spicy, and savoury.
---
20. Ice Kachang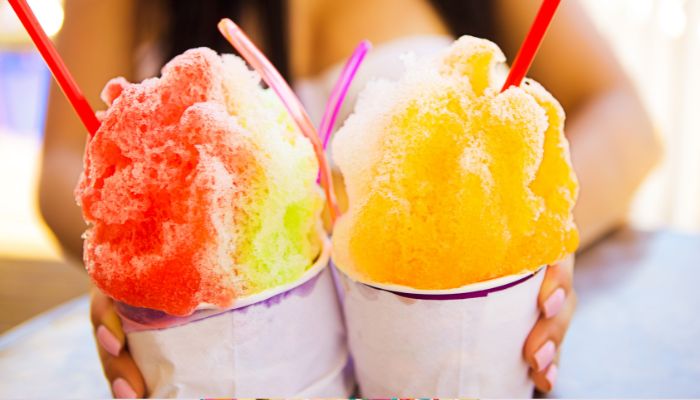 The next famous Singapore food is Ice Kachang, an iced dessert that is an all-time favourite for adults and children. This cold desert has shaved ice, grass jelly or agar-agar, red beans, sweet-flavoured syrups and toppings. Some also add condensed milk or rose syrup after the dessert preparation. Also, ice kachang has several variations.
---
21. Sugar Cane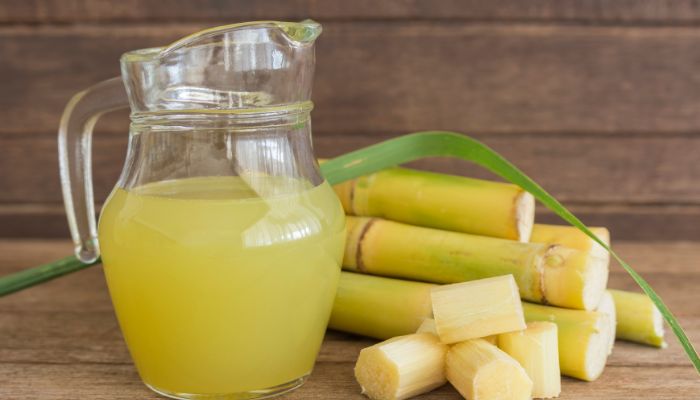 Sugar cane juice is a refreshing and fresh drink you can get from any hawker centre in Singapore. The sugar cane juice-making process starts with crushing large stalks of sugar cane using a machine or press that extracts the juice from the sugar cane. Enjoy it chilled, and for a refreshing and zesty taste, you can also ask for lime juice.
---
22. BBQ Stingray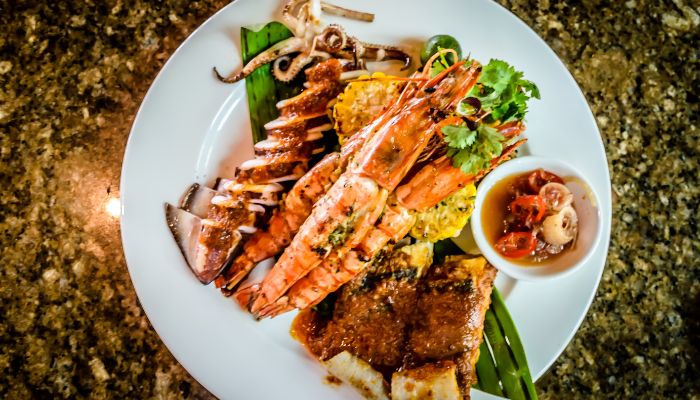 Another popular Singapore food is BBQ stingray which is available almost at any seafood hawker centre. The stingrays are barbecued using sambal sauce comprising shrimp, chilli peppers, shallot, fish sauce, sugar, vinegar, and ginger. Stingray has a strong, meaty feel that distinguishes it from other types of fish. To cook, the stingray goes with a coating of the sambal paste before wrapping it in banana leaves. It is then left to grill over the charcoal. Finally, you can add lime juice over the fish to enhance the flavour.
---
23. Satay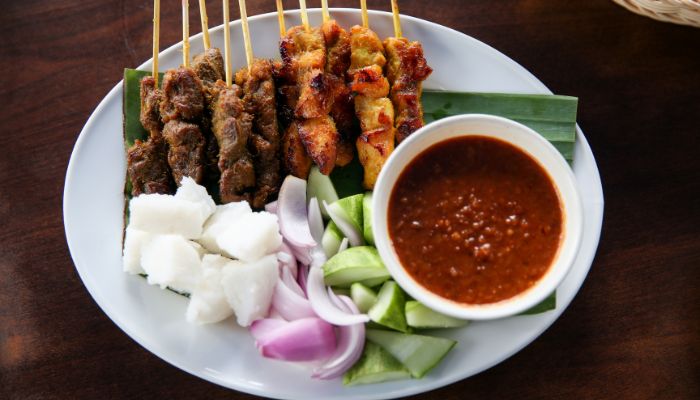 The next popular street food in Singapore is Satay which refers to skewered meat. Satay is a delicious dish of grilled, seasoned, and skewered meat with peanut sauce. Meats like chicken, mutton, pork, and beef are skewered onto bamboo sticks and barbecued over an open charcoal or wood fire. It is a delicious snack, so try it at a hawker centre.
---
24. Rojak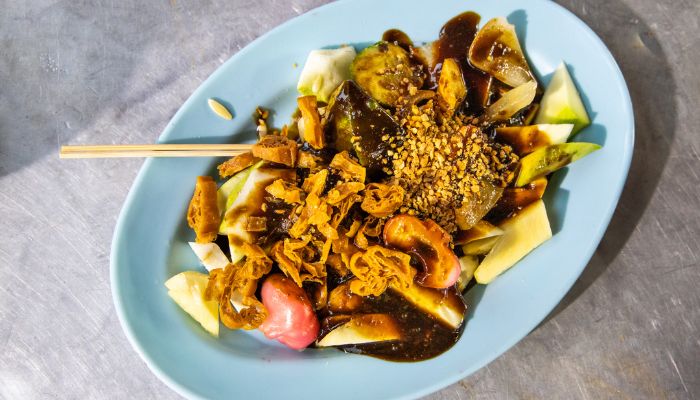 Rojak, another famous Singapore food, is a mix of various fruits, vegetables, and dough fritters that appear like a salad. Pineapples, raw mango, and green apple are assembled in a bowl to make fresh cucumber. After that, it uses a thick brown sauce that includes prawn paste, tamarind, sugar, chilli, and peanuts.
---
25. Durian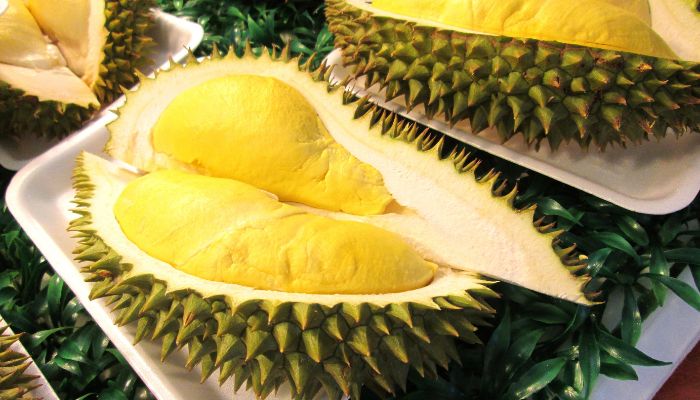 While Durian is not a cooked meal, the fascination with this odd fruit merits its inclusion on our list. It is a spiky, round fruit with a strong odour that tastes sweet, buttery, and creamy. Durian, originally a Malay fruit, now widely grows in Singapore.
---
Things To Check Before Eating Singapore Food
Check Food Hygiene: You must check that the preparation process is of utmost hygiene and only go to stalls or places that maintain a high level of cleanliness and prepare in a safe environment.
Check For Crowd: The crowd at a restaurant might indicate its popularity and quality. If a restaurant is continuously full, it may indicate that the food is great and worth trying. Long lineups, on the other hand, could indicate greater wait times.
Check Veg or Non-veg: If you have certain dietary preferences or limitations, be sure the meal you want is appropriate. Some restaurants specialise in vegetarian or vegan food, while others specialize in meat-based cuisine. Read menus or ask staff to confirm the availability of items that meet your dietary requirements.
Check Fresh Ingredients: Fresh ingredients are essential for delicious and safe meals. If possible, check the food preparation to confirm that the items used are fresh and properly preserved. Fresh ingredients can significantly enhance the taste and quality of the food you consume
Take Local Recommendations: Singapore is famous for its diverse food scene, so asking locals for suggestions can help you find the best local food. Consult your local guide or internet platforms and travel guides for accurate recommendations.
---
Conclusion
So here, we conclude our list of 25 Singapore food options that travellers must consider eating. From humble food stalls to fine-dining options, every place offers great food, and from the local food stalls, you can enjoy authentic Singaporean food. Singaporean food continues to delight locals and visitors with its rich tradition, culinary inventiveness, and delectable ingredient combinations. Each dish has a story to tell, showing the history, customs, and influences that have defined Singapore's culinary identity.
Frequently Asked Questions
Q-1. Which are the best restaurants to try for Singapore food?
Hill Street Tai Hwa Pork Noodle
Tian Tian Hainanese Chicken Rice
545 Whampoa Prawn Noodles
Five-Star Hainanese Cuisine
Red House Seafood Restaurant
Huat BBQ Chicken Wings
Don Signature Crab.
The Banana Leaf Apolo.
Q-2. What is the best time to visit Singapore?
December-June is the best time to visit Singapore.
Q-3. Which are the Top Restaurants in Singapore?
Entre-Nous Creperie, Bar-Roque Grill, The Mind Cafe – Mega Outlet, Grand Shanghai, are some of the best restaurants in Singapore.
Q-4. What is Singapore Famous For?
Singapore is famous for its diverse food scene, exciting shopping options, and stunning landmarks and attractions.
Q-5. Where to Eat Chili Crab In Singapore?
JUMBO Seafood Restaurant, Long Beach Seafood Restaurant, Blue Lotus Chinese Eating House, and Red House Seafood Restaurant are a few places to eat chilli crab in Singapore.