Dubai is becoming synonymous with high-end shopping due to its sparkling skyscrapers and opulent retail complexes. Moreover, Dubai provides a shopping experience unmatched by any other place in the entire globe. With numerous things to buy in Dubai, from gold to spices to electronics, at the best deals, the list stands endless.
Further, You will have endless options, from the gold souks to shopping for intricate gold jewellery at unbeatable prices to traditional Arabic perfumes, exotic spices, luxurious textiles, and handmade carpets.
In addition, The classic souks provide a variety of shopping opportunities. In fact, Modern shopping malls in Dubai include designer shops, high-end fashion stores, and luxury brands from across the globe.
Dubai offers something for everyone, whether you're a stylist, a food lover, or just seeking a unique gift to take home. So, get ready to indulge in retail therapy and discover the 17 things you must buy in Dubai.
If you are Confused about What to buy in Dubai then check out these 17 Best Things to Buy in Dubai.
---
Cheapest Dubai Holiday package awaits your arrival to have a luxury tour in Dubai.
Book our Dubai honeymoon tour package for a romantic getaway.
---
17 Best Things to Buy in Dubai – Exclusive Shopping List
1. Camel Milk Chocolate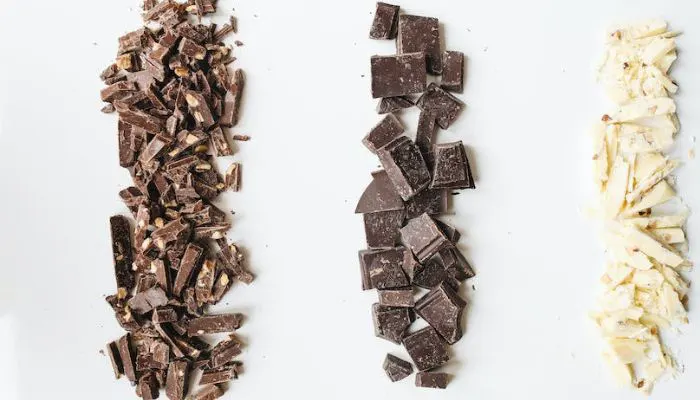 Camel Milk Chocolates, a local delicacy you'll surely enjoy, are one of the tastiest items to purchase from Dubai. These chocolates were originally exclusively available in Dubai but are now being shipped to Europe and Asia. In fact, You can get the original camel chocolates only at Al Nassma. Moreover, Their camel milk chocolate includes macadamia, whole milk, and spicy (Arabia) chocolates.
Brand/Company: Al Nassma
Location: Al Nassma kiosks at Dubai Mall, Burj Al Arab, Burj Khalifa, The Palms, Atlantis, and Duty-free shops,
Pricing: INR 800 – 4,500
Also Check: Dubai Food
---
2. Dubai Dates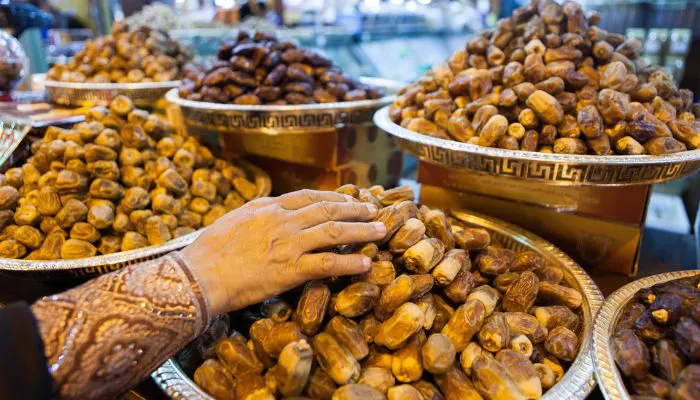 Dried fruits are the favourite snack of the residents of Dubai. Due to the excellent quality of the dates farmed in this region, they have become a tourist favourite. In fact, They may be eaten raw, baked into pastries, served with coffee, brewed into non-alcoholic drinks, and presented as Ramadan presents. Moreover, A few of the famous dates are Kholas, Sokari, and Madjool
Brands: Bateel Dates, Al Barakah Dates, Date Crown
Location: Supermarkets for packed dates; Dates souk at Deira Food Market for fresh dates
Pricing: INR 500 to 3,000
Also Check: Dubai Travel Requirements
---
3. Arabic Attar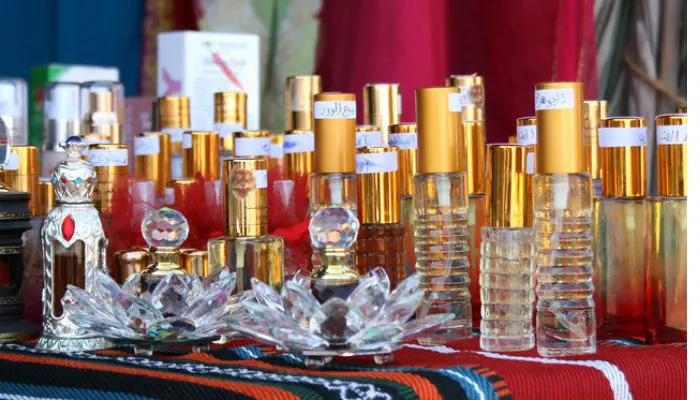 Among the things to buy in Dubai, Arabic Attar is a must. Locally called Arabic Attars, these perfume oils are renowned for their fragrant scent. Moreover, both men and women use alcohol-free oils made from plants in various scents and sizes.
Also, the merchants can assist you in selecting an Attar from the vast selection available and can even create a custom mixture by combining several fragrances. Moreover, this is one of the most excellent items to purchase in Dubai if you're seeking a classic memento to take home.
Brands: Swiss Arabian Perfumes, Rasasi Perfume
Location: Perfume Souk at Deira, Perfume shops in malls and the airport
Pricing: INR 300 to 1,000
Also Check: Street Food in Dubai
---
4. Pashmina Shawls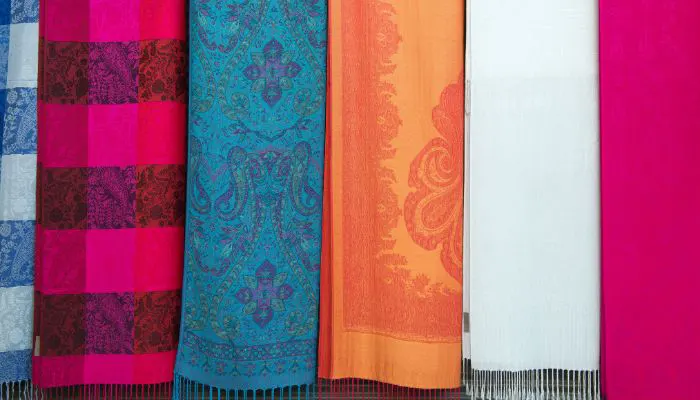 Pashmina Shawls are among the popular things ladies buy in Dubai. In fact, Middle Eastern populations are familiar with pashmina. Crafted from Changthangi goat hair and silk, it is a gorgeous but somewhat pricey item in Dubai.
With so many fake products on the market today, purchasing only original items and paying the appropriate amount is essential.
Brands: No such brands, yet choose genuine shawls.
Location: Textile Souk, Pashmina House, and Karama Market.
Pricing: INR 8,000 to 25,000
Also Check: Helicopter Ride in Dubai
---
5. Electronic Gadgets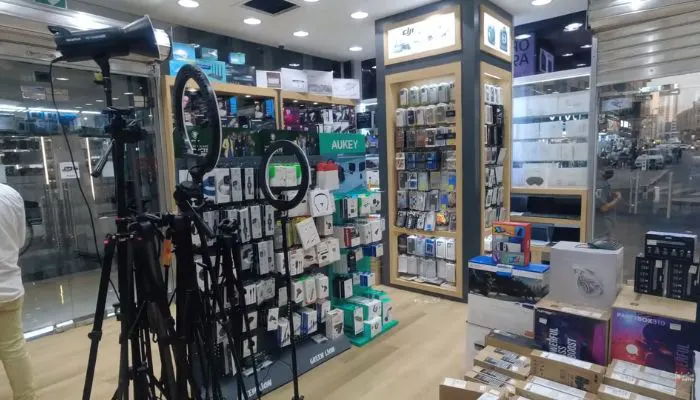 Even though electronic items are not a Dubai speciality, they are much less expensive in Dubai than in many other marketplaces. Hence, electronics can be on your list of cheap things to buy in Dubai.
Everything, including smartphones, LED televisions, tablets, PCs, cameras, etc., looks more inexpensive. Moreover, To maximize the value of your purchase, you should compare the pricing to those in your own country.
Brands: Popular brands of electronics
Location: Sharaf DG store, Bur Dubai area's Al-Fahidi Street, or other electronics stores
Pricing: Depends upon the product you choose.
Also Check: Shopping In Dubai
---
6. Dubai Spices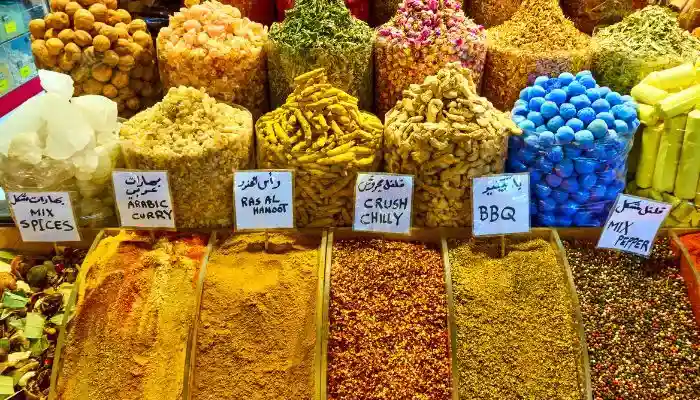 Buying local spices is a great way to bring the flavour of Dubai back with you. In fact, These spices are flavorful and reasonably priced in the marketplace. Moreover, They are recognized for their magical ability to transform an unappetizing meal into a delicious one.
Whether you like cooking or are looking for a gift for a chef, these spices are an excellent option.
Brands: Shop for your favourite spices since you will get authentic spices at any of the places.
Location: Spice Souk
Pricing: INR 200 to 5,000
Also Check: Skydiving in Dubai
---
7. Quran Stands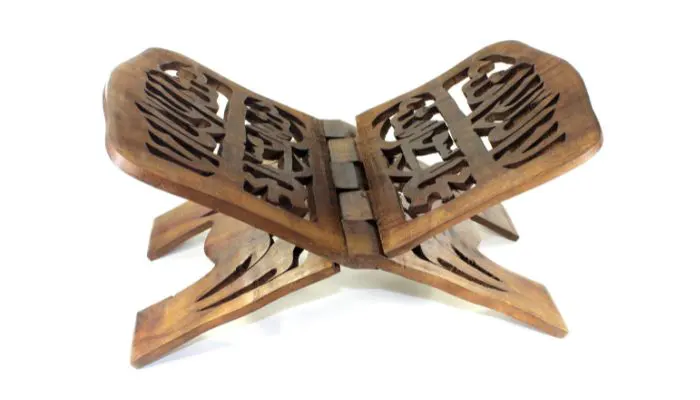 Dubai is an Islamic city and a popular retail destination. Therefore you may purchase a variety of religious products. Finally, the Quran stand is one of the most well-liked goods in Dubai.
Pick from a range of attractive stands for the holy book. Moreover, These stands are mainly composed of wood with marble inlays and are adorned with complex artwork.
Further, these include adjustable, folding, or basic stands for sitting posture reading. Several have Quranic texts engraved on them.
Brands: Choose as per your choice.
Location: Al Abbes Islamic Books Shop, Sarah or Makkah Islamic Book Center
Pricing: INR 500 to 5,000
---
8. Incense Holders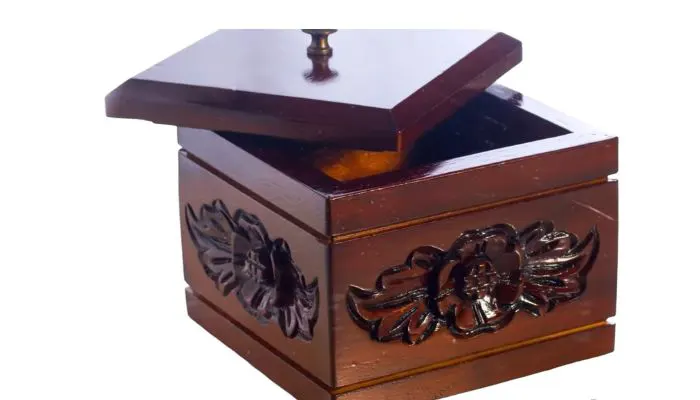 Incense holders are luxurious and culturally significant things to buy in Dubai. They are an integral element of hospitality and culture, and their deep, calming aroma will make your visitors feel at home.
While incense holders are available in Dubai's shopping malls, the best place to get these exquisite presents is in the Spice Souq in Old Deira. Further, you can also find electronic incense burners.
Brands: CULTI Tessuto Scent Diffuser, Amphora Incense Holder
Location: Spice Souq, Al Ras, Dubai, Sikkat Al Khail Road
Pricing: INR 1,000 to 5,000
---
9. Arabian Coffee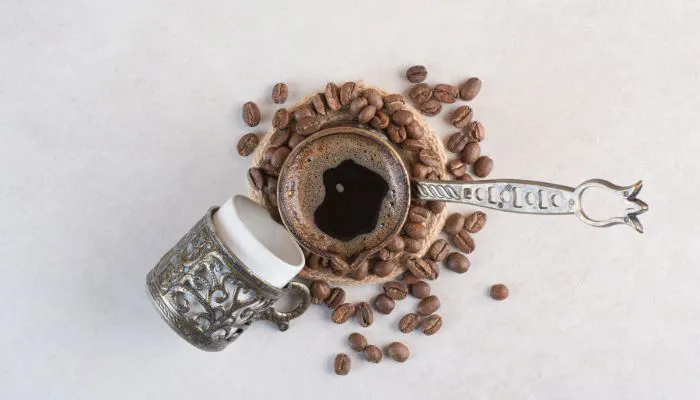 Are you a coffee fanatic who collects exotic coffee at home? If so, you should visit the closest coffee shop in Dubai and get the finest coffee there. Moreover, Arabic coffee is renowned for its rich taste, and Dubai's marketplaces are the ideal locations to purchase it.
Location: Dubai Coffee Museum, Dubai Souks, and significant supermarkets
Pricing: INR 500 to 2,000
---
10. Gold and Diamond Jewellery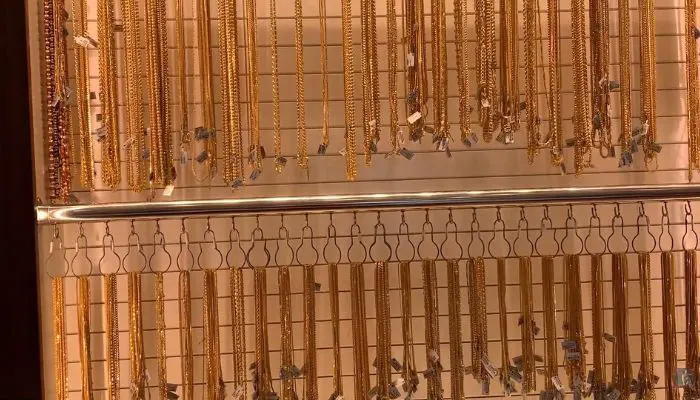 Visiting the "City of Gold" without investing in some gold shopping isn't a fair deal. Moreover, Dubai is the best spot to get gold necklaces and bracelets.
Due to tax rules, the costs of jewels in this city are significantly cheaper than in many other places. In addition to gold items, diamond and platinum jewellery are available at low prices in Meena Bazaar. Negotiation might get you a better deal even if the costs are low.
Brands: Choose any store.
Location: Dubai Gold Souk, Joyalukkas outlets, Gold and Diamond Park, jewellery stores, etc.
Pricing: 22 Karat, Per 10 grams, 48999.70 INR, yet subject to change.
---
11. Oudh & Bakhoor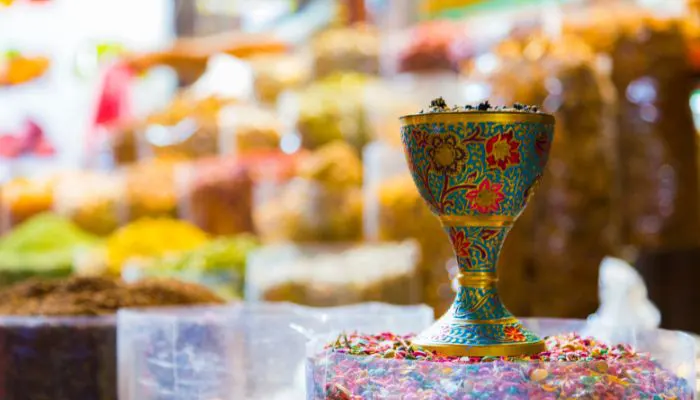 Oudh and Bakhoor are among the famous things to buy in Dubai if you want to take home the distinctive fragrance surrounding the streets of Dubai.
So Oudh is an expensive aromatic oil extracted from the Southeast Asian agar tree. It is among the top items to purchase in Dubai. Moreover, it is available in several forms, such as mixed oil, floral oils, pure oil, and perfume scents.
Bakhoor refers to agarwood chips that, when burnt, provide the same enticing aroma. Moreover, Oudh and Bakhoor are in high demand as substitutes for air fresheners, candles, and incense.
Brands: Oudh Al Anfar
Location: Perfume Souk, Deira for Oudh oils and scents; Malls to perfumes; Spice Souk for Bakhoor
Pricing: INR 5,000 to 20,000
---
12. Persian Rugs & Carpets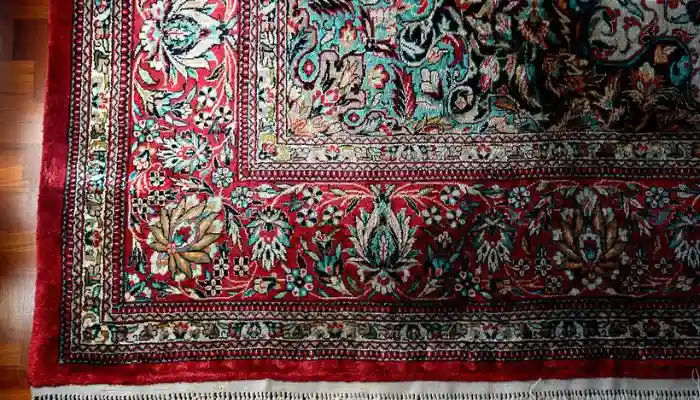 While preparing the list of things to buy in Dubai, the magnificence of Persian rugs and carpets is unquestionable. Although costly and challenging to transport, these carpets are a fantastic floor covering for your house.
Handcrafted carpets are more pricey than machine-made carpets, but the extra charge is well worth it. If you prefer a carpet that is not currently available, you can customize one here in Dubai.
You can get various sizes, and their costs vary proportionally. Moreover, the quality, fabric, and amount of labour done on them also influence their prices.
Location: National Iranian Carpets at Souq Madinat Jumeirah; Persian Carpet House at Souq Madinat Jumeirah, Dubai Mall, Mirdif City Centre, and Souq al Bahar
Pricing: INR 5,000 to 10,000
---
13. Lanterns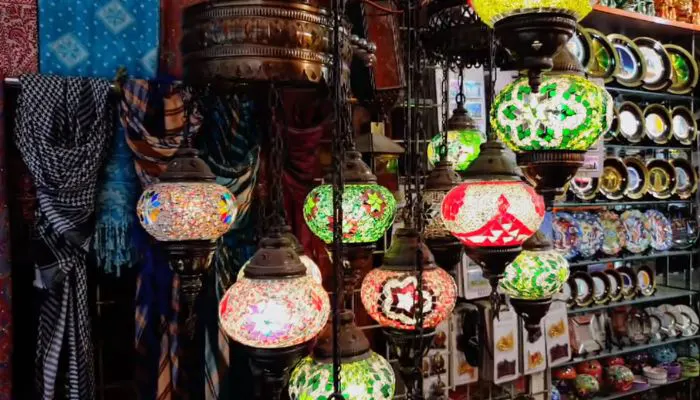 If you are searching for famous things to buy in Dubai, you should consider lanterns. The craftsmanship and work involved in manufacturing these lanterns are remarkable, and as a result, they make excellent gift ideas. A lantern made with little pieces of glass would be a great present and would make everyone feel unique and cheerful.
Brands: You can explore various options and get the best ones.
Location: Dubai UAE, Karama Souq, Street No. 18b, Dragon Mart, Al Awir Road, Dubai 7567, United Arab Emirates.
Pricing: INR 1,000 to 5,000
---
14. Aladdin Lamps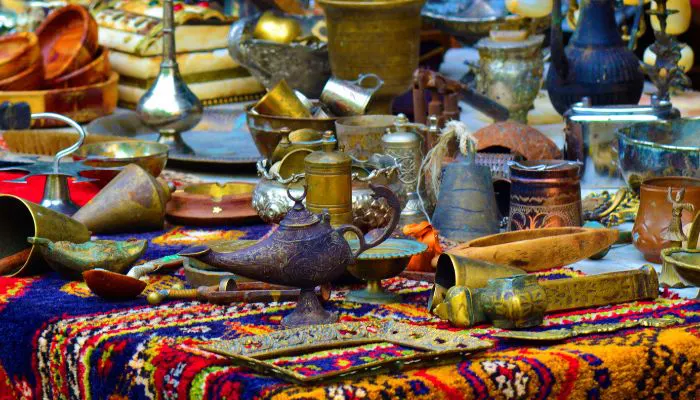 Want to bring home something that will beautify your home? One of the most excellent Dubai shopping items is an Aladdin lamp. Aladdin lamps, a traditional adornment in Emirati houses, are ideal keepsakes if carried properly.
Further, they are crafted from copper and tin with filigree work, and their exquisite designs enhance their attractiveness. In fact, These may be put on a table or hanging from the ceiling. Moreover, Aluminium and glass are used to make cheaper versions.
Brand: You can explore various options and get the best ones.
Location: Karama Souq, Street No. 18b, Dubai UAE; Al-Karama Market
Pricing: INR 500 – 8,000
---
15. Kava Pots & Coffee Sets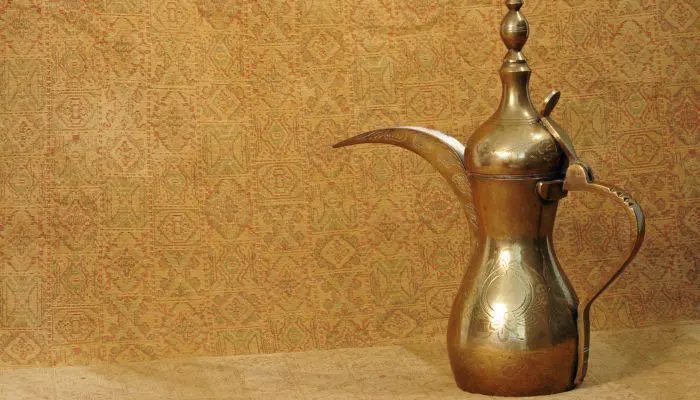 Kava is coffee in its purest form; a cup is as delicious as it gets. This is how locals love their coffee: black and intense. In fact, This coffee is significant in Arabic culture and is served in elegant pots and cups. Typically, kava coffee pots are lined with gold or silver, with semiprecious stones adorning the most valuable ones.
Moreover, these are beautiful presents and keepsakes to bring home from Dubai. This is one of the famous things to buy in Dubai.
Brand: Choose as per your taste and choices.
Location: Financial Centre Road, Dubai Mall, Downtown Dubai, Near Burj Khalifa
Pricing: INR 800 to 3,000
---
16. Precious Stones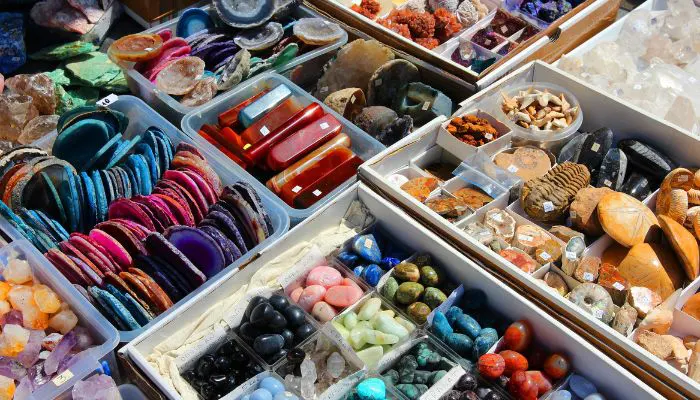 Gold, silver, and platinum rings or pendants are often inlaid with birth month-specific good-luck stones to bring good fortune to the wearer. The good news is that these gifts are suitable for both men and women. There are so many designs to select from that even the pickiest recipients will be delighted.
Moreover, Choose the finest quality precious stones by comparing various stores and sellers.
Location: Pearlicious in Covent Garden, Dubai Marina; Gold & Diamond Park
Pricing: INR 2,000 to 10,000
---
17. Arabian Shoes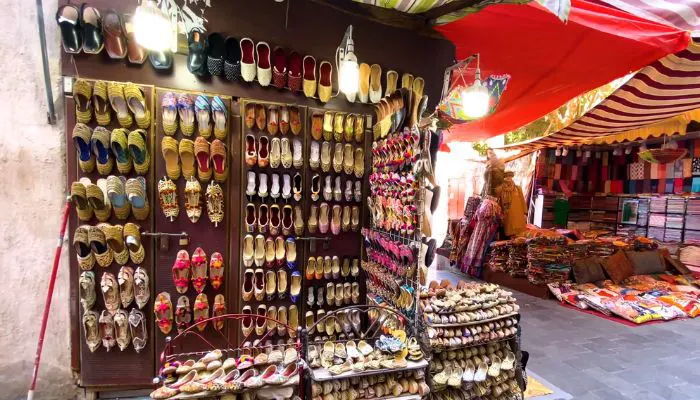 The last item on our list of best things to Buy in Dubai is Arabian Shoes. In fact, These shoes are typically slim-fitting, taper at the toes, and come in various colours.
From threadwork to beads, baubles, and fabric balls, these shoes are available in multiple designs to complement your attire and tastes. These classic shoes are either slip-on or entirely covered, depending on your preference.
Location: The Cloth Souk, Bur Dubai, Dubai
Pricing: INR 800 to 3,000
---
5 Cheap Things To Buy in Dubai
A few of the things you can buy from Dubai at cheap prices are:
Gold
Electronic Devices
Precious Stones
Camel Milk Chocolate
Spices
---
Things to Buy in Dubai for Ladies
High-end luxury bags, shoes, and clothing from the Dubai Mall or other outlets.
Jewellery
Perfume
Decorative pieces
Spices
Pashmina Shawls
---
Conclusion
From gold to spices, Dubai provides a wide variety of purchase-worthy goods. In fact, The city is renowned for its opulent shopping opportunities and souks. Here tourists can discover a vast selection of high-quality things to buy in Dubai at reasonable costs.
Mainly known for its artistry and exquisite designs, Dubai's gold market is a must-see for jewellery lovers. The spice markets, however, provide a unique sensory experience, where customers can discover an abundance of exotic spices, herbs, and perfumes that will excite their taste senses.
In addition to gold and spices, Dubai sells textiles, electronics, and fragrances, offering it a one-stop destination for all shopping requirements. Dubai's dynamic retail environment represents the city's rich culture and customs, making it a destination unlike any other for tourists from all over the globe.
So, if you plan to visit Dubai, you can consider the above things to buy. In case of any help regarding booking the best Dubai tour package and Dubai honeymoon packages, then Roaming Routes is there for you. Connect with our travel experts now.
---
FAQs on What To Buy in Dubai
Ques 1. What to buy in Dubai?
The famous things to buy in Dubai are Camel Milk Chocolate, Arabic Attar, Pashmina shawls, Gold and diamond jewellery, Oudh and Bakhoor, Dubai Dates and Dubai spices.   
Ques 2. Which is the best place to buy gold and jewellery in Dubai?
The best place to buy gold and diamond jewellery in Dubai is The Dubai Gold Souk, also known as Deira Gold Souk.
Ques 3. Where can I buy handmade carpets and textiles in Dubai?
Several shops across Dubai offer handmade carpets and textiles in Dubai. You can inquire about what they offer and choose the ones that align with your taste and preferences.
Ques 4. What are the cheap things to purchase in Dubai?
Cheap things to purchase in Dubai are Gold, Camel Milk Chocolate, Bakhoor, etc.
Ques 5. Which electronics items are cheap in Dubai?
Phones, laptops, and cameras are cheap electronic items in Dubai.
Ques 6. How to Reach the Dubai Shopping Places?
The best way to reach shopping places is the metro, taxi, tram and bus.
Ques 7. Is bargaining acceptable when shopping in Dubai?
There is nothing inappropriate about bargaining; shopkeepers are always prepared for it, maybe for perfume, leather products, clothing, and gadgets.
Ques 8. Are there any customs or restrictions on what I can buy in Dubai?
Personal items of passengers are granted entrance and are free from customs duties if the following requirements are met: The total value of gifts, fragrances, and personal baggage does not exceed AED 3000. The number of bags and presents must be in limited quantity and not for commercial purposes.
Ques 9. Can I get a tax refund on my purchases in Dubai?
Visitors and tourists may get a VAT refund on purchases bought during their stay in the United Arab Emirates. Moreover, payment recovery is only possible using a fully integrated computerized system that links shopkeepers enrolled in the "Tax Refund for Tourists Scheme" with all entry and departure checkpoints in the UAE.
Ques 10. How do I get my purchases back home if I'm travelling internationally?
To return your purchases to your home, retain your receipts and thoroughly record your purchases on paper. Further, state clearly that the products you are transporting are for personal use, and you can swiftly take back your purchases to your nation.
Ques 11. What currency should I use in Dubai for buying things?
You must use Arab Emirates Dirham (AED), or Emirati Dirham.
---
Other Dubai Packages
---