Dubai is heaven for travel enthusiasts and adventure seekers and is one of the most iconic travel destinations in the world. With marvellous architecture and infrastructure, spectacular skyscrapers, and many more, Dubai has much more to offer to its visitors. A helicopter ride in Dubai is one of those activities that will help you unwind and set free the wanderer within you. It will let you witness and embrace the most breathtaking views of Dubai.
A fun and exciting helicopter tour overlooking the stunning skyline is something one mustn't miss during the Dubai tour. Flying above the most iconic landmarks of Dubai, like Burj Khalifa, Palm Jumeirah, Burj Al Arab, etc., and soaring high in the air, creating memories is once in a lifetime experience. A helicopter ride in Dubai will give you a chance to soar high above the glorious views of Dubai. You can also go skydiving in Dubai to get the best sky view of Dubai.
A thrilling helicopter trip included in your Dubai packages for couples will provide you with a breath-taking bird's-eye perspective of Dubai's gorgeous skyline.
---
About The Helicopter Ride in Dubai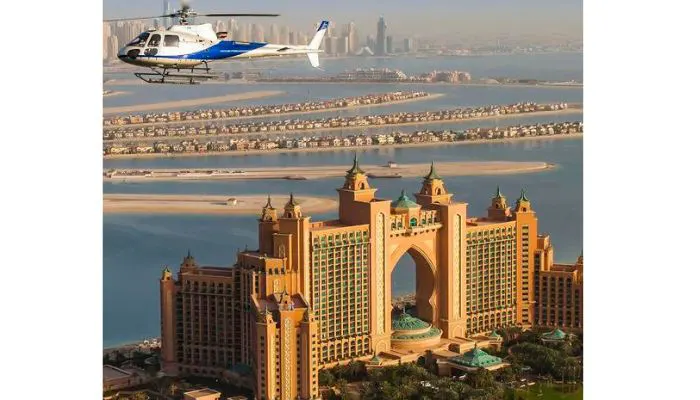 The Dubai helicopter ride is a major tourist activity providing a stunning aerial view of the city's most recognisable sites and attractions. The journey normally lasts between 15 and 25 minutes and passes by the Burj Khalifa, Palm Jumeirah, Burj Al Arab, Dubai Marina, and Dubai Creek, among other attractions.
Many tour companies in Dubai conduct helicopter rides, with pricing varying based on the time and route. Before boarding, passengers get a safety briefing and must wear a headset to speak with the pilot. The helicopter trip gives guests a different view of Dubai and is an amazing experience. A few other important details of the Dubai helicopter ride are as follows:
Operational Timings for Dubai helicopter tours
Falcon Helicopter Tour: 08:00 AM – 05:00 PM
Other tour operators: 08:00 AM – 09:00 PM
Take Off Point for various Dubai helicopter rides-
Falcon Helicopter tour: The Atlantis hotel
Other tour operators: Dubai Police Academy Helipad
Duration: 12 minutes, 15 minutes, 17 minutes, and 22 minutes
---
Duration of Helicopter Ride in Dubai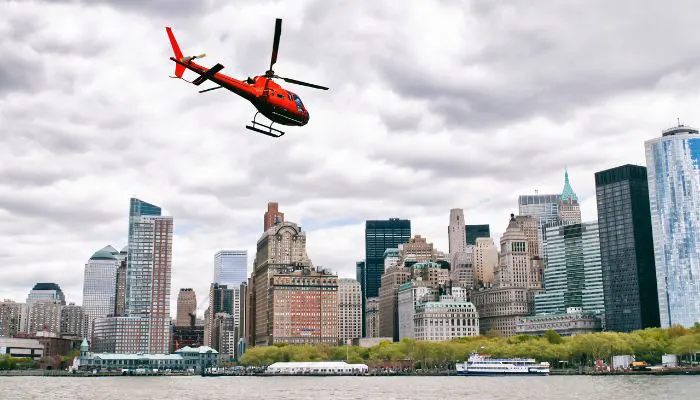 The duration of a helicopter ride in Dubai ranges from 12 to 22 minutes. Falcon helicopter pearl, Iconic tour, Falcon helicopter fun ride, palm tour, and vision tour are the various helicopter tours in Dubai.
Apart from the Iconic Tour Dubai, which originates at the Dubai Police Academy Helipad, most Dubai helicopter excursions all depart from Atlantis. The below section will mention what each trip offers based on its duration.
12-minute Helicopter Ride – This ride will give you magnificent views of Burj Khalifa, Downtown Dubai, Sheikh Rashid Palace, and more.
15-minute Helicopter Ride – To witness famous landmarks like Burj Al Arab, Aquaventure Water Park, Atlantis the Palm, Jumeirah beach coastline, and more while soaring high, take a 15-minute helicopter ride.
17-minute Helicopter Ride – This ride in Dubai will give you a beautiful glimpse of the panoramic coastline and majestic skyline. It will allow you to admire World Island, Burj Al Arab, and Jumeirah Beach coastline.
22-minute Helicopter Ride – For a fun and exciting adventure and experience, choose a 22-minute helicopter tour of Dubai Atlantis which will give you a glimpse of the most stunning skyline of Dubai covering Dubai Creek, Burj Al Arab hotel, and Atlantis the Palm Hotel, along with many other famous places.
---
4 Crucial Things to Consider Before Booking a Helicopter Ride in Dubai
1. Safety record: When scheduling a helicopter ride in Dubai, evaluating the safety record of the business you intend to fly with is essential. Also, look for a business with an excellent safety and maintenance record for its aircraft. Verify their credentials, licenses, etc.
2. Weather conditions: When scheduling your helicopter flight, be mindful of reviewing the weather forecast to guarantee the best flying conditions. Most companies will postpone or refund your reservation in bad weather.
3. Duration and Route: Consider the duration of the ride and the route that will be taken. Some companies offer short tours, while others offer longer tours that cover a wider area. Determine your preferences and choose the best option for you. Also, check if the route covers the attractions you want to see, and if you have any specific requests, communicate them to the company before booking.
4. Timing: Dubai can become quite hot during the summer, so it is vital to consider when you want to take your helicopter tour. At times it's best to travel early in the morning or late at night when temperatures are cooler.
Take a look at these Dubai costs from India before visiting Dubai.
---
5 Best Helicopter Tour Package Options
There are various Helicopter ride packages available in Dubai. Here are the best tour package options to consider:
1. Falcon Helicopter Pearl Tour Dubai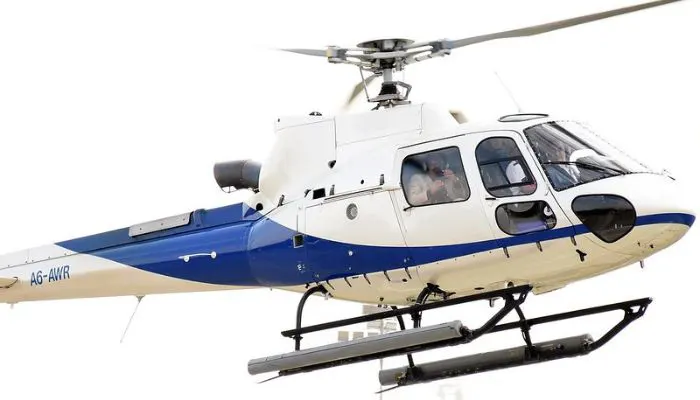 Falcon Pearl Ride is a 12 mins ride tour that will take you from Atlantis hotel to the Burj Khalifa while flying over iconic landmarks of Dubai like Burj Al Arab, and Burj Khalifa and give a glimpse of Dubai's coastline. The price of the Falcon pearl Helicopter ride in Dubai is INR 15,323 per seat.
---
2. Iconic Tour Dubai
Children of every age will be subject to adult pricing for the Iconic tour. The duration of this helicopter tour ride in Dubai is 12 minutes, and passengers can witness aerial views of Burj Khalifa, Sheikh Rashid Palace, Jabeel Palace, Dubai's historic creek and port Rashid, and Corniche. The price of an Iconic helicopter ride in Dubai is INR 15,186 per person.
---
3. Falcon Helicopter Fun Ride Dubai
This 15-minute helicopter tour of Dubai Atlantis will fly you over the Palm, Burj Khalifa, Aquaventure water park, Burj Al Arab, World island, and Jumeirah beach coastline. Falcon fun Dubai helicopter price is INR 19,734 per person.
---
4. Palm Tour Dubai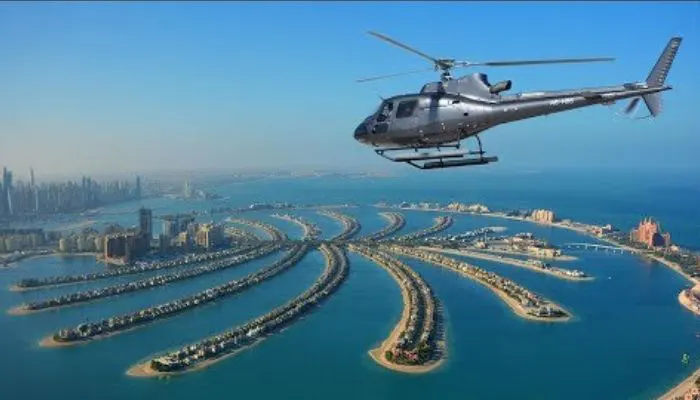 Palm tour Dubai offers you to sora in the sky for 17 minutes and witness the stunning skyline of Dubai and famous places of Dubai from a different perspective. The price for this helicopter ride in Dubai is INR 20,229 per person.
---
5. Vision Tour Dubai (22 minutes)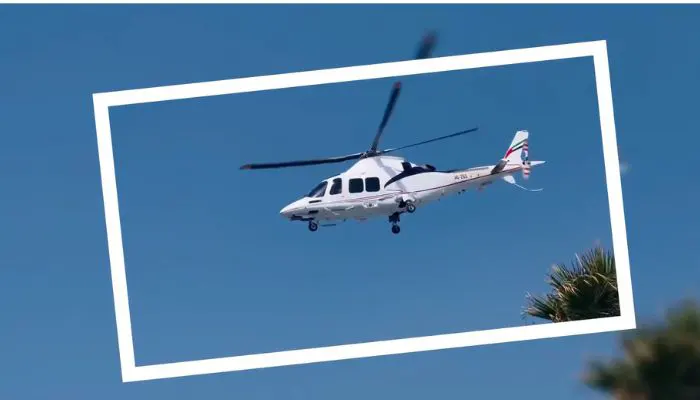 This 22-minute Dubai helicopter ride will give you a glimpse of Atlantis hotel, Burj Khalifa, Burj Al Arab, Dubai Marina, Downtown Dubai, Palm Jumeirah, World Island, Palm Island, and many more places. The price of a Vision helicopter ride in Dubai is INR 20,229 per person.
*All Dubai helicopter prices mentioned above are subject to change.
Roaming Routes offers the best Dubai tour packages that will make your vacation a lifetime memory. We have various packages and also offer customised packages based on your choices and budget.
---
Payment Policies Regarding the Helicopter Tour Dubai
Customers need to pay 100% booking amount before their Dubai helicopter ride date of booking.
Customers will receive the confirmation mail within 24 hours of the final payment and successful booking of their first helicopter ride in Dubai. In case of time slot unavailability, the alternate slot will be given as per the customer's preference, and a confirmation email will be sent.
Customers can cancel their booking before confirmation to get a full refund.
There are no refund policies.
The cancellation policy for the helicopter ride is as follows:- 15.0% of the total cost of the reservation will be applied as cancellation charges if the reservation is cancelled 30 days or less prior to the date of the helicopter flight.
– 25% of the cost of a Dubai helicopter flight will be levied as cancellation charges if the cancellation is made 15 to 30 days prior to the date of the ride.
– If a reservation is cancelled between 7 and 15 days prior to the date of a helicopter ride, a 50 per cent cancellation fee will be applied.
– 100% of the cost of a Dubai helicopter trip will be levied as a cancellation fee if the reservation is cancelled between 0 and 7 days prior to the flight.
---
Things Travelers Must Know Before the Helicopter Ride in Dubai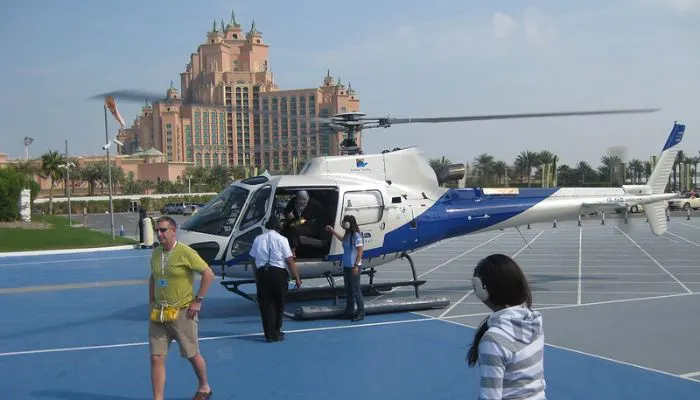 A booking confirmation number is essential at the time of entrance for the Dubai helicopter ride.
Children below two years of age aren't permitted for the Helicopter Ride in Dubai. Also, parents or guardians must accompany children below 18 years of age.
Passenger for a helicopter ride in Dubai is insured in agreement with UAE Civil Aviation Authorization rules and regulations.
Food, beverages, and smoking are not permissible on a helicopter ride.
All helicopter tour Dubai Atlantis rides are subject to visibility and weather conditions.
The time slot for the helicopter ride depends on availability. Once confirmed, the location will be shared.
Flight duration and routes depend upon the Air Traffic Control regulations and are subject to change. Other conditions like visibility and weather conditions also decide flight routes and time.
If a ride is cancelled, it will be rescheduled as soon as possible at the booked party's convenience.
Visitors must bring valid government ID proof or passports to present at the Helipad area for check-in. A valid contact number is also requested.
Any footage captured during a helicopter tour is not permissible for commercial purposes. Personal camera lenses should not be over 400 mm lens.
Children of 04 years and over, weighing at least 16 kgs and above, can board a helicopter ride in Dubai. Infants are not permitted to do this activity in Dubai.
100 kg per person weight is permissible on a helicopter tour in Dubai activity. Guests weighing over 100 kg will have to buy additional seats payable to the ground staff at the helipad.
Also read: Places to visit in Dubai
---
Expert Tips to Enjoy Your Helicopter Tour To the Fullest
Pick the proper time of day: The most suitable time for a helicopter tour in Dubai is either early morning or late afternoon, whenever temperatures are lower, and the lighting is ideal for getting great photographs.
Dress appropriately: Dress appropriately and follow the weather. Preferred are loose attire and comfy footwear.
Select the appropriate trip package: A variety of tour companies in Dubai offer various tour packages. Moreover, select the one that best meets your needs and budget.
Be on time: You must arrive at the helipad at least thirty minutes before your scheduled flight time.
Follow the directions: Before takeoff, pay close attention to the pilot's safety briefing and adhere to all directions provided during the flight.
Take a camera: Carry your camera or smartphone with a full battery and sufficient storage to capture the breathtaking views over the city.
Note the weight and capacity: Each helicopter has a limited capacity, so be careful to observe it. Notify the tour operator if you have specific needs or are transporting heavy equipment.
Enjoy: Remember to unwind and appreciate the experience! It is a once-in-a-lifetime opportunity to experience the city from a different point of view and make amazing memories.
---
Helicopter Ride Dubai FAQs
Ques 1. Why should I choose the Dubai helicopter tour?
The helicopter tour of Dubai will give you a chance to witness the iconic landmarks from glittering dunes to calming seas and will offer you once in a lifetime experience to share with friends and family.
Ques 2. What will I experience on the helicopter ride?
Passengers can witness many sights while soaring high above in the sky. From flying over iconic landmarks in Dubai like Burj Al Arab and Burj Khalifa to stunning landscapes of the Arabian Gulf Sea and golden dunes of the desert, the ride will give you the mesmerizing sight of famous places in Dubai.
Ques 3. What is the cheapest helicopter ride in Dubai?
The cheapest helicopter ride in Dubai is the Iconic Helicopter Tour, starting at Rs 15,200 for 12 minutes.
Ques 4. From which place does the helicopter ride in Dubai start?
All helicopter ride in Dubai either starts from the helipad at Dubai Police Academy or the Atlantis hotel.
Ques 5. Is a helicopter ride worth experiencing?
Although helicopter trips are pricey, they are rewarding. The only way to truly enjoy Dubai is from the air. Hence, don't miss this exciting opportunity to witness Dubai from the air.
Ques 6. Is it safe to take a helicopter tour in Dubai?
Indeed, Dubai helicopter rides are perfectly safe. You can admire the magnificence of Dubai from above on any of the available helicopter rides. The ride is entirely secure and safe since it is provided by a well-trained and professional crew.
Ques 7. Which is the best helicopter tour in Dubai for groups?
Groups can opt for the Palm Dubai tour which is a 17 mins ride. When flying from Atlantis The Palm towards Burj Khalifa, see Aquaventure Water Park, the Jumeirah Beach coastline, the striking Burj Al Arab, and The World Islands.