Meena Bazaar is a busy and lively market in Dubai, United Arab Emirates. This old market has been a favourite shopping destination for decades, both among residents and visitors, due to its vast selection of textiles, apparel, jewellery, and spices. With its small lanes and bright stores, Meena bazaar provides a genuine peek into the rich culture and customs of the Middle East.
Meena market is a must-see if you're planning a vacation to Dubai and want to experience the city's dynamic retail culture. There are stores and vendors selling anything from handcrafted textiles to elaborate gold jewellery, so there is something for every budget and preference.
"Meena Bazaar in Dubai is a bustling shopping district where you can find a diverse range of goods, from traditional textiles and Jewelry to modern fashion and electronics, making it a perfect destination for couples to explore during their Dubai honeymoon packages."
This post will cover everything about Meena Bazaar, how to reach it, what and where to shop, timings and a few of the finest hotels and restaurants to dine in.
---
What is Meena Bazaar in Dubai?
Meena Bazar in Dubai is a popular bazaar known for its affordable South Asian-inspired fabrics, jewellery, handicrafts, and food. You can discover some of the city's earliest gold and textile businesses here. Further, it is also a popular shopping destination for traditional apparel. It is situated in Bur Dubai between Al Fahidi Street and Khalid Bin Al Waleed Road.
Meena Bazaar's colourful stores and vistas of the old Dubai Creek bring you to the past. It's frequently described as "Bur Dubai's Little India."
It recalls a shopping neighbourhood in Delhi, India, where Meena is a famous regional girl's name. Traditionally, the word refers to a yearly fair for women organized by Akhbar, the Mughal emperor. The appropriately-named Bur Dubai market is popular with customers for its traditional fashion fabrics.
The market is well-known for its lively environment, brilliant colours, and extensive product selection. Moreover, tourists may enjoy bargaining with vendors and discovering one-of-a-kind souvenirs.
Meena Bazaar provides:
A variety of eating choices.
Featuring local street food, Indian, and Pakistani.
Middle Eastern cuisine.
Determining the exact number of shops available in Meena Bazaar Dubai is impossible since it is a dynamic market where new shops are continually open. Yet, various businesses vary in size, from small stalls to huge retail establishments.
Hence, for a great shopping experience, head out to Meena Bazaar Bur Dubai.
---
History of Meena Bazaar in Dubai
The history of this popular retail complex extends back to years when it was originally known as Cosmo Lane. Due to its similarities to Delhi's Meena Bazar in terms of its crowded streets, textile market, mannequins on display, street sellers, etc., cab drivers began to refer to it as Meena Bazar. This name has since gained widespread popularity.
The Meena Bazaar title became popular when a shop owner changed his shop name from Shradha Trading to Meena Bazaar.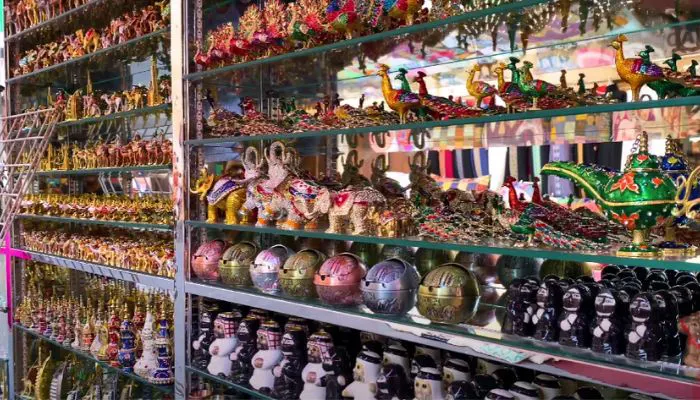 ---
How To Reach Meena Bazaar Dubai?
The easiest way to reach Dubai's Meena bazaar is by using a cab or the nearby Sharaf DG Metro Station. The region is also accessible by car. However, parking along congested streets is troublesome.
Dubai RTA runs a vehicle every ten minutes between Airport Terminal 3, Metro Station 2 and BurJuman Metro Station 2. Tickets cost between Rs 100 and 150; the trip takes 14 minutes.
Alternately, Dubai RTA Bus offers a service every 15 minutes between Airport Terminal 3 and Baniyas Square Metro Bus Stop. The cost of tickets ranges from Rs 75 to 90, and the ride duration is 33 minutes.
---
Timings of Dubai's Meena Bazaar
The timings of Meena Bazaar in Dubai are from Saturday to Thursday from 08:00 to 23:59 Gulf Standard Time and Friday from 14:00 to midnight.
Daily during lunch break, which typically lasts 30 minutes to one hour. During Ramadan, working hours in the United Arab Emirates are shortened by two hours daily.
The time necessary to explore Meena Market may vary according to your interests and buying demands.
Typically, it takes around two to three hours to visit the Meena bazaar and see everything it offers. If you want to shop extensively or dine at one of the area's numerous restaurants, you might have to spend more time there.
---
What to do in Dubai's Meena Bazaar? Shopping to Dining
A few of the best things to do in Dubai's Meena Bazaar are as follows:
1. Jewelry Shopping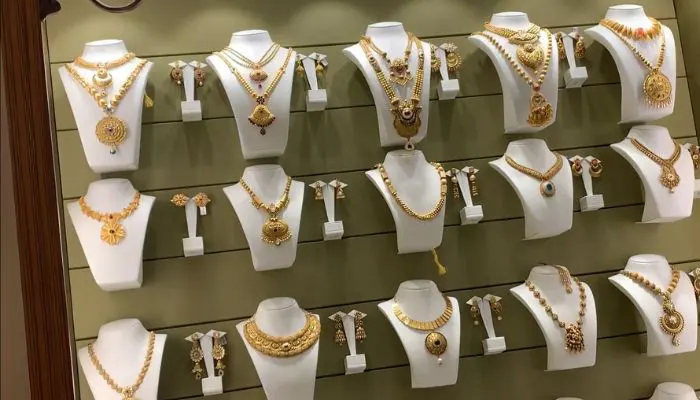 The Meena Bazar is well-known for its magnificent gold and diamond jewellery. Among the greatest locations to purchase jewellery in Meena Bazaar are:
Malabar Golds and Diamonds: Malabar golds and diamonds is a well-known brand with branches in all Arabian and South Asian nations. In addition to shopping for a traditional variety of intricately carved diamonds, antiques, and silverware, you can also purchase a customized item.
JJ and Sons: JJ & Sons is a unique jewellery business best recognized for its authenticity and superior customer service. Moreover, they offer stunning gold and platinum jewellery, wristwatches, gemstone rings and earrings, writing tools, souvenirs, and antiques.
---
2. Buying Traditional Clothes from Indian to Pakistani Suites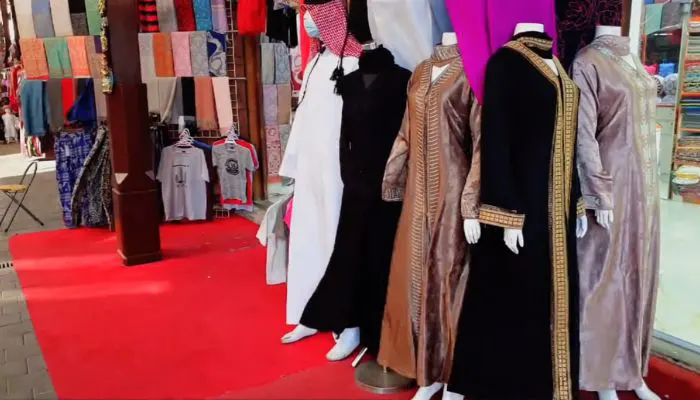 Meena Bazaar is also well-known for its selection of traditional apparel, particularly Indian and Pakistani outfits. You may visit Bareeze. This is among the most elegant places to get exquisite Pakistani embroidery and take home gorgeous presents for dear ones.
For unbelievable costs, tourists may discover an abundance of goods, including semi-stitched and readymade clothing, exquisite chiffon fabrics, exquisite hand needlework, and a vast array of colour schemes from which to pick.
---
3. Exploring the Famous Textile Market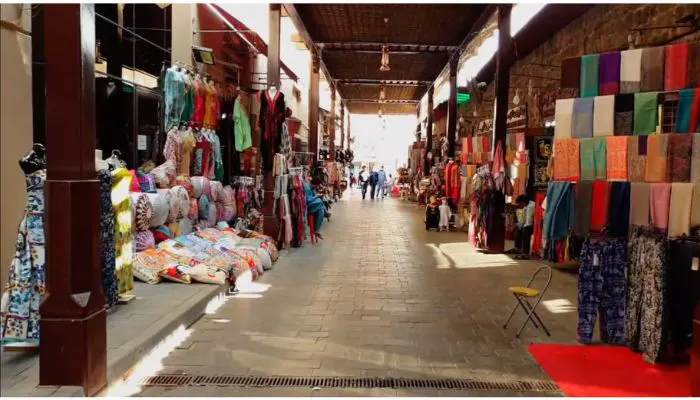 The Textile Souk is a spot where an unremarkable row of stone shops with wooden roofs sells the highest quality textiles. If you like fashion, you will adore this location. This historic souk in Dubai has an extraordinary assortment of silks, patterns, and fabrics.
Moreover, Regal Fabrics offers a range of textiles. This incredible brand has spread to all Arabian nations and is well-liked for its imported fabrics, artistically created patterns, and astounding rates. Browse for fashionable Indian attire, comfortable footwear, readymade and semi-tailored clothing, sarees, and clothes for children.
---
4. Dining at the Best Restaurants in Meena Bazaar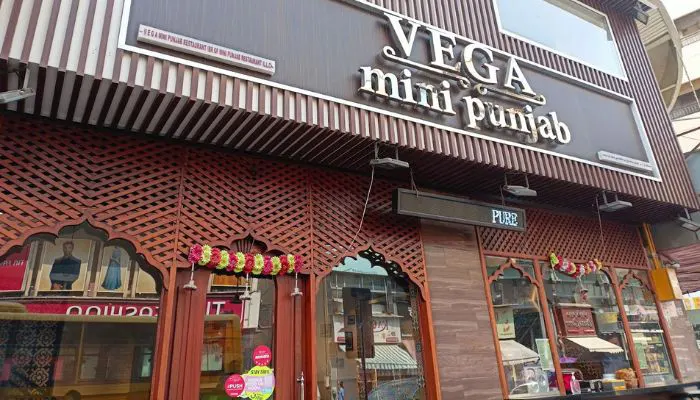 Meena Bazaar, with its roadside restaurants serving Indian street food, offers a unique take on south Asian dishes. Moreover, you may get spicy vada-pav, jalebis, golgappas, and samosas on the streets of Meena Bazaar as you shop.
Indian flavour has been added to Meena Bazaar by the food and retail establishments with their desi atmosphere. Meena Bazaar is home to various delectable Indian cuisine establishments, including the well-known eateries Mumtaz Mahal Indian Speciality, Puranmal Vegetarian, and Bombay Masti.
---
More Things You Can Buy in the Famous Meena Market of Dubai
Numerous shops in Meena Bazaar offer electronics such as smartphones, laptops, and cameras. The latest iPhone Models and the most recent electronics are available at reasonable costs.
Further, it is an excellent location to get Indian and Middle Eastern spices and herbs. A selection of fresh and genuine spices is available at reasonable pricing.
Many businesses in Meena Bazaar offer both traditional and contemporary carpets and rugs. You may select unique styles and patterns to bring personality to your house. In addition, there is a vast selection of perfumes featuring Arabian ouds and designer fragrances.
Meena Bazaar in Dubai is also an excellent spot to purchase souvenirs and presents for loved ones. You may discover traditional Arabic arts and crafts, apparel, accessories, and contemporary souvenirs.
You can also purchase goods from Dubai's Meena bazaar through online shopping.
---
Hotels Near Meena Bazaar Dubai
Royal Ascot Hotel
This luxurious Dubai hotel has eleven restaurants, huge massage facilities, and a rooftop pool with city views. The recently remodelled rooms for the guest of the Royal Ascot Hotel include improved amenities, including a flat-screen television with satellite channels, a fruit basket, and a tea and coffee maker.
It is located a 5-minute drive from Burjuman z1Mall and is easily accessible by the Metro or a short drive to Dubai International Airport, Dubai World Trade Centre, Downtown Dubai, and Burj Khalifa.
Gateway Hotel
The gateway hotel provides excellent luxury rooms in the Dubai city centre. Their 188 large guest rooms and suites are excellent for both business and leisure tourists seeking a fantastic hotel in Bur Dubai.
Furthermore, there is a seamless transition from absolute tranquilly to world-class dining, lively nightlife in Dubai, and boutique shopping at your doorstep. The hotel provides the best prices, international cuisine, and a variety of other exciting perks.
Astoria Hotel
The Astoria Hotel in Dubai is a distinctive location for visitors. The hotel rises towering above Dubai's heritage market and attracts travellers day and night.
Astoria is the greatest hotel in its category because it carries on a long tradition of superior service and outstanding hospitality. This hotel is one of the oldest and most renowned hotels in Dubai.
The Astoria Hotel in Dubai has a long tradition of hospitality, excellence, and goodwill, attracting tourists, families, and businessmen.
Majestic City Retreat Hotel
The Majestic City Retreat, a four-star luxury hotel in Bur Dubai, is a paradise of peace. Situated in the heart of Dubai's rich, historic, and bustling urban landscape.
Majestic City Retreat has recently finished a complete makeover of its 262 guestrooms and suites spread across 28 storeys. Wi-Fi and parking are always free, allowing you to remain in contact and come and go as you wish. The hotel's strategic location in Bur Dubai facilitates access to and closeness to local attractions and landmarks.
Also check out the Unique Underwater Hotel in Dubai.
---
Restaurants near Meena Bazaar of Bur Dubai for Authentic Cuisine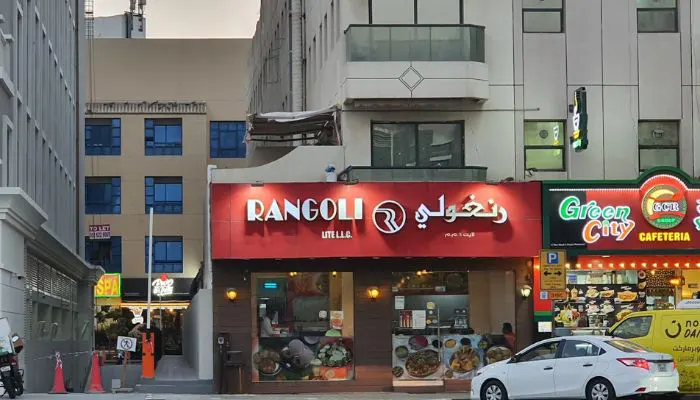 1. Rangoli Restaurant: Located in the heart of Meena Bazaar, the renowned vegetarian restaurant Rangoli is ideal for vegans and anyone desiring Indian cuisine. Moreover, the restaurant serves delectable Gujarati and South Indian meals besides fresh juices. The location is great for vegetarians to enjoy their meals.
2. Bastakiah Nights: Bastakiah Nights are not to be missed when strolling through the small alleyways of Al Fahidi Heritage District. Moreover, this is the greatest restaurant in Bur Dubai to sample true Middle Eastern cuisine. It is a fairly classic location with a contemporary touch, providing a peek at ancient Dubai.
3. Gypsy Chinese Restaurant: Those craving some finest Chinese cuisine can head to this restaurant. You will get both non-veg and veg options.
---
Famous Attractions Close to Meena Bazaar Dubai
These are the must-see attractions near Meena Bazaar Dubai that you must include when shopping here:
Wall of Old Dubai: The Wall of Old Dubai is only a few minutes away on foot from Meena Market. This historic wall was constructed in the 1800s to defend the city from attackers. Nowadays, it is a renowned tourist attraction that looks into Dubai's illustrious past.
Deira Creek: Located a short distance from Meena Bazaar, Deira Creek is a famous tourist and local destination. A typical abra (water taxi) trip down the stream provides breathtaking views of the city's cityscape and historic structures.
Shiva Temple: Located in Meena Bazaar, the Shiva Temple constitutes one of the city's oldest Hindu temples. On festivals like Shiv Ratri, one of the holiest occasions commemorating Lord Shiva, they arrange special celebrations.
Suggested read: Places to visit in Dubai
---
Tips to Know Before Going to the Meena Bazaar
The following tips can make your visit to Meena Bazaar hassle-free and enjoyable.
Most shops in the market do not take cards or UPI payments, so you should have sufficient cash.
Remember to bring additional shopping bags to this market since the merchants do not supply them.
At the busy market, pickpocketing, theft, and fraud are fairly widespread, so keep hold of your cash and other valuables.
Due to the high humidity and heat in the busy market in Dubai, it is important to stay hydrated.
Check out these Dubai costs from India for a better experience of your visit to Meena Bazaar Dubai.
---
What Travellers Say After Visiting Meena Bazaar in Dubai?
A few of the reviews of visitors who had visited Meena Bazaar Dubai are as follows:
It's the best place in Dubai for shopping by Indians and others. You will get the latest gadgets, fashionable clothes, cosmetics, perfumes, consumer goods, electronics gold, and many more. All this at a very reasonable price. However, while shopping at this place, you should have bargaining skills to arrive at the right price to pay. There are many Indian and Asian restaurants in the vicinity where you can have a delicious meal.
Its an amazing place for electronics and its accessories, GOLD, PERFUMES, BAGS, DRY FRUITS, CLOTHES, mainly Indian/ Pakistani materials, etc. Many options for eating, from snacks to proper meals. Things are dispersed, so pinpointing a specific location here is difficult. It's an EXPERIENCE of fun outside Mall shopping.
Place to get souvenirs, spices, ittar, date chocolates, and textiles at a very cheap price. Date Chocolate is approximately 25AED per KG, small pouches 5AED per piece, and approximately 5-10 AED per souvenir ( small size la ke keychain, magnets, etc.)
---
Book Your Customised Dubai Trip with Roaming Routes
Roaming Routes provides an extensive selection of Dubai vacation packages to accommodate the requirements and interests of every traveller. Their customized Dubai vacation packages include lodging, sightseeing, transportation, and other amenities to make your trip to Dubai convenient and unforgettable.
Furthermore, the Dubai tour packages of Roaming routes feature a wide range of activities, such as visiting Dubai's contemporary cityscape, experiencing the local culture, participating in exciting adventure activities, and indulging in luxury shopping.
In the Dubai Tour Package, travellers will also get to indulge in a Dubai Desert Safari and experience a beautiful night along the Dubai Creek or Dubai Marina. Also, some packages offer access to Underwater Zoo and other attractions like water parks in Dubai. You can also visit Abu Dhabi in some packages and explore the Ferrari world.
---
Frequently Asked Questions
Ques 1. Is there any advance booking to go to Meena bazaar?
No, you do not need a booking to enter Meena Bazaar since it is not a closed market but a retail-focused area in the city's old Bur Dubai district.
Ques 2. Which is the nearest metro station to the Meena Bazaar?
The nearest metro station is Al Fahidi, and the Meena bazaar Dubai is within walking distance.
Ques 3. What are the things to buy in the Meena Market of Bur Dubai?
Visitors can purchase imported fabrics, hand-embroidered and semi-stitched garments, jewellery made from genuine gold and rare gemstones, prominent tailor shops that stitch and prepare customized apparel, and more available to tourists. Further, visitors can also indulge in electronics shopping and explore spice souks and other locations.
Ques 4. What do Indians buy in Dubai?
Usually, Indians prefer buying electronic gadgets and jewellery items as they are cheaper than in India.
Ques 5. What is the distance between Meena Market and Gold Souk?
The distance between Meena market and Gold souk is 8.1 kilometres, which takes approx 21 mins.
Ques 6. What are the famous tourist places around Meena Bazaar?
Some tourist attractions near Meena Bazaar are Dubai Museum, Bastakiya Quarter, Dubai Creek, Jumeirah Beach, Sheikh Saeed Al Maktoum House, etc.