The luxury and comfort that Underwater Hotel in Dubai offers have received widespread acclaim. There are several hotels offering unusual lodgings where you can sleep beside fish from all over the world. When we consider Dubai, which is renowned as the "country of miracles," we can imagine how contemporary and glamorous the underwater hotels are, giving the impression of living a regal lifestyle.
Every underwater hotel in Dubai has advanced and elevated to the top of its list of attractions for many travellers. All thanks to their cutting-edge engineering, architectural design, and gracious hospitality. The city of magnificent underwater hotels, Dubai offers the ideal possibilities for anyone looking to have a good time and create treasured memories.
The client experience at Dubai hotels with underwater rooms has been carefully crafted to suit everyone's needs and desires. The majority of hotels feature distinct rooftop bars from which visitors can get a look at Dubai's renowned underwater hotel.
Also Check: Things To Buy In Dubai
---
About Underwater Hotel
The underwater hotels in Dubai, like Atlantis The Palm, are the first choice for tourists who wish to have a luxurious vacation with a wide variety of unique foods. All of these hotels provide a variety of regional and global cuisines as well as drinks from across the world.
Visit Dubai's underwater hotel, where you can discover everything, to revitalize your body and unwind.
If you want to have a memorable experience while visiting Dubai, be sure to reserve a room at the underwater hotel Dubai. Through this blog, you will learn all the specifics on how to get there, when is the ideal time to go, and other important information.
It is the Best underwater hotel in Dubai, where couples can enjoy romantic moments underwater. So if you are planning to visit the Underwater Hotel in Dubai, then Book the best Dubai honeymoon Packages from Roaming Routes.
To directly jump onto a particular section, click on the link below;
---
Atlantis Underwater Hotel – Best Underwater Hotel In Dubai
If you ever want to explore undersea life, the Atlantis resort provides everything. Select from two unique underwater suites, the Neptune and Poseidon Underwater Suites at Atlantis, which face the Ambassador Lagoon — an 11 million-litre habitat for 65,000 aquatic species.
The floor-to-ceiling windows offer spectacular views of The Ambassador Lagoon with over 65,000 aquatic species, including sharks and stingrays.
The suites here feature several amenities, including the following:
Private butler service, 24 hours a day
Access to the Imperial Club Lounge includes complimentary continental breakfast, afternoon tea, and evening canapés.
Free airport shuttles to and from Dubai International Airport
Entrance to Aquaventure Waterpark and The Lost Chambers Aquarium at no cost
Entrance to the Imperial Club's private beach
Entrance to The Kids Club and The Zone for one session each stay
Entrance to The Kids Club and The Zone for one session each stay
Unique dining experiences served in-room
Access the ShuiQi Fitness Centre and wet amenities at no cost
50 AED in gaming credit for youngsters at Warehouse
Get discounted discounts on marine animal excursions.
Also, Check: Shopping in Dubai
---
Atlantis Underwater Hotel's Prices & Bookings
The prices of the Underwater suites start at Rs 6,00,000/night, excluding applicable taxes. The prices differ depending on the dates you book. You can either head to the official website or other booking platforms to book the suites. For better assistance, you can contact the Roaming Routes team. It is also essential to note the cancellation policies and other regulations.
In Dubai, the renowned and beautiful Palm Jumeirah Island is where you'll find the Underwater Hotel Dubai. The distance to the Lost Chambers Aquarium will take approximately three minutes on foot.
Throughout the week, visitors may check in at any time to the Atlantis Underwater Hotel in Dubai.
Travellers can book their Dubai tour package with Roaming routes for an easy, affordable and hassle-free trip.
---
How To Reach the Underwater Hotel in Dubai?
To reach the Atlantis Underwater Hotel in Dubai, first, you need to travel to Palm Jumeirah Island. It is around 25 kilometres separating palm island from Dubai's urban core.
In approximately 20-30 minutes, you may conveniently commute to the palm islands using any urban transport option. Once you arrive at Palm Islands, you may proceed to the hotel's underground landing station and ride the elevator toward the lower floors.
The cherry on top is the large floor-to-ceiling screens that let you see aquatic wildlife from your bed. The rooms' views of multiple marine species in the Ambassador Lagoon aquarium give the impression that they are underwater, even though they are not.
Also Check: Meena Bazaar Dubai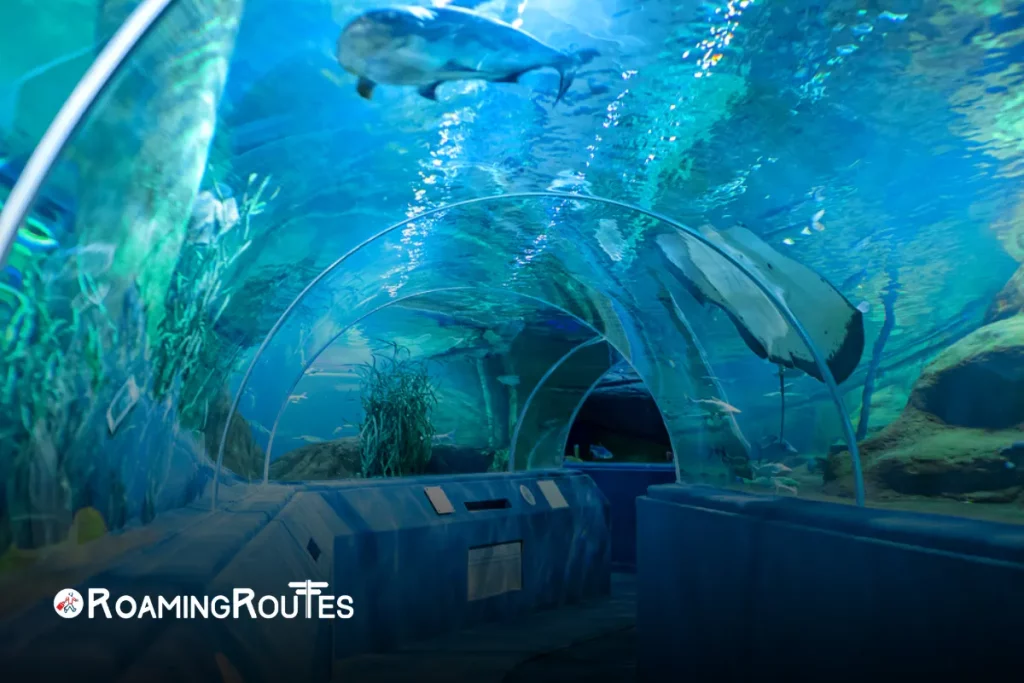 ---
Best Time To Visit
Depending on the time of year you have available for vacation, you might visit the underwater hotel Dubai. All year long, Dubai is an extremely bustling country.
All of the tourists receive wonderful service from them. They will warmly welcome you and provide you with a memorable experience that you should treasure for the rest of your life.
Due to its climate, there is no particular best time of year to visit Dubai. But the summers are unbearably hot. From November to April, the Palm Jumeirah Islands are a favourite destination for travellers. Please visit the Dubai underwater suits during this period because the weather is cooler than in summer.
Additionally, the crowds at the Underwater Hotel of Dubai continue to be heavy, especially in the winter months of January to February. So it is the right choice of time to see marine life nearby.
Also Check: Skydiving in Dubai
---
Essential Information
Before making any travel arrangements, careful planning and knowledge of some crucial facts are required. So that your time and money will be well spent while you are on vacation.
When considering an underwater hotel in Dubai, you should study before travelling there, like what you will see there, where you will stay, their prices, when they are available, bookings, etc.
With all these things, check your health also. After checking into the Dubai hotel with underwater rooms, go diving in an aquarium, take a boat ride, or swim with dolphins at dolphin bay. You must be physically fit to participate in all of those activities.
Here are a few key details that will enable you to develop an effective plan for getting to Dubai's underwater hotel.
Also Check: Dubai Travel Requirements
---
What Underwater Hotel Rooms in Dubai Offer?
The personnel at a hotel in Dubai with underwater rooms will allow you to sleep beside the lovely aquatic creatures, giving you the impression that the underwater suites are a haven of peace and calm. The information about staying the night at a Dubai hotel with underwater rooms is provided below.
From the Atlantis underwater suites, you can see marine life from your bed through big floor-to-ceiling windows.
You can see numerous live marine animals straight through that enormous ceiling, which is more fascinating and exhilarating.
Also, you can see a variety of fish, including sharks, swimming around your bed while lying in bed. Moreover, you can still watch this and get a restful night's sleep.
A private elevator will take you to your underwater suite's opulent and private salon.
You can enjoy a wonderful cocktail while gazing at the crystal-clear, blue waters.
The Dubai hotels with underwater rooms can improve your visit so romantic that you temporarily forget the stress of the outside globe and lose yourself in a cosy and beautiful setting with your dear ones.
Without having to engage in various underwater activities, reserve a hotel under the water in Dubai that offers underwater accommodations to enjoy the thrilling experience of sleeping underwater.
Travellers can also check the best 5-star hotels in Dubai to make their trip even more luxurious and memorable.
---
Fascinating Facts To Know About Underwater Hotels in Dubai
In Dubai, several locations draw visitors looking for a fun vacation. The underwater room of the hotel in Dubai is now one of the primary draws. The majority of individuals like the novel experience of viewing marine life through all the windows.
If you are considering staying in an underwater hotel in Dubai, you should be aware of a few other fascinating facts besides viewing animals.
The underwater hotel in Dubai is the planet's first underwater hotel. The biggest draw is a whole level submerged in water, where marine life can be seen from floor to ceiling.
The architect of the underwater hotel skillfully blended his love of the ocean and water into his design.
The hotel staff will meet you at your land station and assist you in taking the silent trains sung by the dangling cables to get to the hotel.
You can see the water from the hotel's bottom level. This Dubai's underwater hotel is the nation's biggest infrastructure project. According to estimates, the hotel's size is comparable to London's Central Park.
When any attack occurs on the underwater hotel, the hotel is equipped with a unique missile launch system that goes into action to defend both the guests and the staff.
It is said that the designer of the underwater hotel Dubai used the underwater hotel as a test run before maybe building a hotel in space.
Visitors yearn to stay here and enjoy its abundant amenities.
The Atlantis Hotel Dubai underwater rooms' price is reasonable, making it a good option for people looking to add excitement to their vacation.
When you view sharks from your bed, you'll feel wonderful.
Also check: Hotels in Palm Jumeirah
---
Some Handy Tips for Travellers
The employees of the underwater hotel will assist you in taking an elevator to the hotel once you arrive at Dubai's land station.
The air pressure outside is the same as the inside of the underground hotel. Therefore, there's no need to feel anxious or uneasy within the suites.
You will have wonderful underground world knowledge within the underwater hotel in Dubai.
If you have unease within the Dubai Hotel underwater room, you can contact the on-site pharmacy immediately.
Bring a camera with you so you can take pictures of different aquatic creatures while you are having fun in the underwater room. Every time you look at those images, you'll get memories of your enjoyable time at the underwater hotel in Dubai.
If you are making a plan to visit the best underwater hotel in Dubai, then check out the Latest Dubai Trip cost from India.
---
Conclusion
Every visitor will find the experience to be quite exciting for the underwater Hotel Dubai. Therefore, you should visit the underwater hotel whenever you like. Just grab your belongings and plunge into the ocean of romance and excitement. The Hotel Under the Water in Dubai offers excellent customer service and a wide variety of food. So make a plan and save up some money to stay submerged in the water at a hotel in Dubai. So, listed below are all the specifics of Dubai's underwater hotel.
---
Frequently Asked Questions
Ques 1. Which hotels in Dubai are underwater?
Atlantis The Palm Hotel has underwater rooms in Dubai.
Ques 2. What is the cost of staying in an Underwater hotel in Dubai per night?
It will cost you approximately $ 7300 to stay a night in the Underwater Hotel in Dubai.
Ques 3. How safe are underwater hotels?
Underwater hotels are entirely safe for travellers. The hotel management has taken all the necessary steps and precautions to ensure the safety of everyone.
---
Other Dubai Packages
---