In Dubai, there are lots of sites to see and things to engage in to have fun. Dubai is a famous tourist destination. Dubai has many fantastic water parks where everyone can have fun with their families, friends, and individuals of all ages. This location draws several tourists worldwide each year, which adds to its adventure and excitement.
The big slides, wave pools, and smaller rides with your loved ones can create happy memories that last a lifetime. One of the best ways to escape the day's sweltering heat in Dubai is to visit the water parks.
So, if you're planning a trip to Dubai, then don't forget to visit the top water parks in Dubai. After extensive research, Roaming Routes have curated the list of the 8 best water parks in Dubai for the year 2023.
8 Best Water Parks in Dubai with Prices
One of the best options for a fun outing with your loved ones is a trip to a waterpark. The city is well known for surprising visitors with its opulent waterparks. Some well-known water parks in Dubai include Aquaventure Waterpark, Wild Wadi Waterpark, Legoland Water Park, and Laguna Water Park.
The water parks in Dubai are renowned for their exhilarating rides, huge pools, and spectacular activities that will undoubtedly make your trip memorable.
If you are considering visiting Dubai, these are some of the top 8 water parks.
---
1. Atlantis Aquaventure Waterpark, Dubai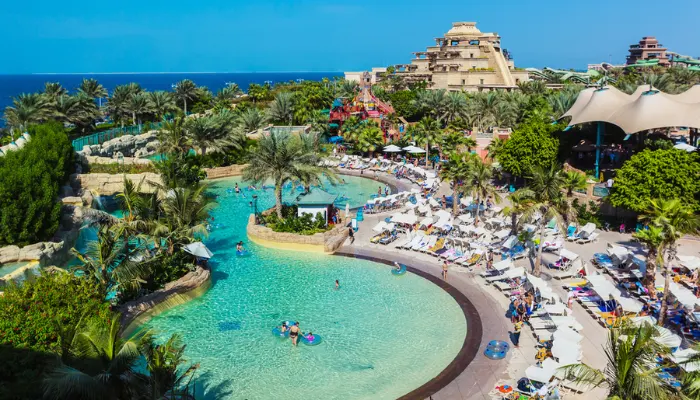 The largest water park and a famous place for water riders in Dubai are Atlantis Aquaventure Waterpark. The gorgeous palm islands of Atlantis are where you'll find this water park.
The Atlantis Aquaventure is the Biggest water park in Dubai. The biggest draw for many visitors to this water park is the chance to swim with sharks. You can swim with perfect confidence at our Atlantis Aquaventure Waterpark. The tall slides at this multi-award-winning theme park in Dubai, where among other things you may see real sharks. You can enjoy the water slides and rides in addition.
Totally this is a nice place to spend time with your children. There are numerous designated seating spaces in the park as well.
Location: Atlantis The Palm, Crescent Road, Dubai, UAE
Timings: 09:30 AM to 06:00 PM – Sunset
Ticket Price: Rs. 6700 for adults and Rs. 5600 for kids.
Check out more about the Atlantis, the Palm Hotel in Dubai.
---
2. Wild Wadi Waterpark in Dubai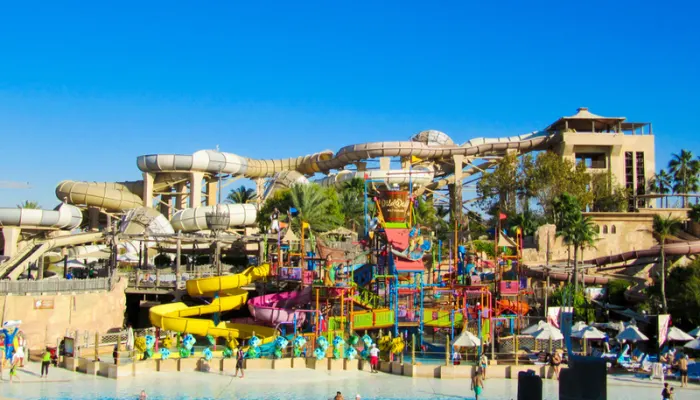 Don't forget to add the Wild Wadi Waterpark in Dubai to your list of tourist attractions if you're in Dubai. Close to the Burj AI Arab, you can enjoy fantastic rides and spectacular views at Wild Wadi Park.
Juha, the park's name, is based on the idea of Arabian folklore. This park was honored with a prestigious medal for its high caliber.
Jumeirah Sceirah water slides are well renowned for their 80 km/h free-fall slides, which are the highest and fastest in the world. This is the primary factor that draws more travelers every year.
Further, you can also swim in Breakers Bay. This Wild Wadi is one of the most liked water parks in Dubai due to the variety of attractions and slides available for all age groups.
Location: Jumeirah Road, Umm Suqeim 3, Dubai, UAE
Timings: 10:00 AM to 06:00 PM (Mon-Sun)
Ticket Price: Ranges from Rs. 2500 to Rs. 6000 (can change as per seasonality).
Interested in visiting Dubai? Explore the best and most affordable Dubai tour packages from Roaming routes.
---
3. Legoland Water Park, Dubai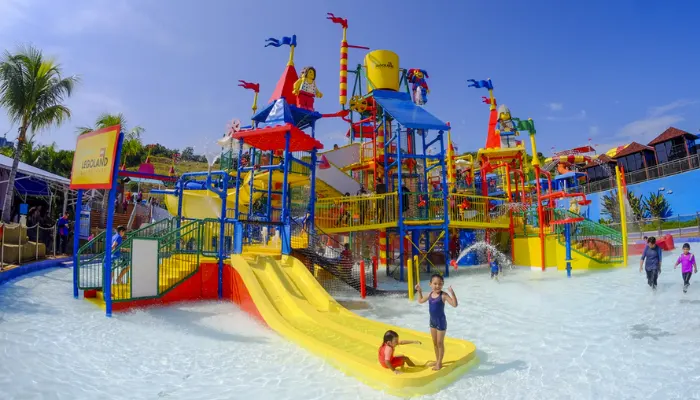 One of Dubai's most inventive parks is Legoland Water Park, which brings all of your childhood dreams to reality. It is the best water park in Dubai and the UAE, specially made for kids from 2 to 12 years old.
For tourists, the Splash Safari and Joker Soaker are major reasons for visiting. Also, you have a terrific opportunity to build your own watercraft at Legoland Water Park. Before navigating the wave pool, you can enjoy this by designing your own raft.
Location: Dubai Parks and Resorts, Sheikh Zayed Road, Opposite Palm Jebel Ali, Dubai, UAE
Timings: 10:00 AM to 06:00 PM
Ticket Price: Starting at INR 6,600
Also read: Dubai Travel Requirements
---
4. Splash N Party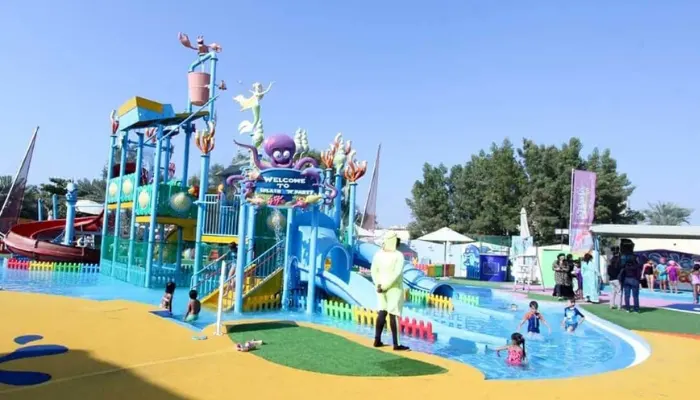 Splash n Party is Dubai's most entertaining water park. A Jumeirah villa has been renovated into a water-based playground for children, including slides, tunnels, a zip line, and a huge central splash and pool region. Children under 12 and their parents will have a fun-filled day at Splash 'n' Party, which is well-known for throwing spectacular parties and offering in-house catering for parties.
Location: Al Safa 2, Street 8A, Villa no.1, Jumeirah – Dubai – United Arab Emirates
Timings: 9:00 AM to 8:00 PM (Weekdays),
9:00 AM to 9:00 PM (Weekends)
Ticket Price: Prices start at around Rs 2,250 per child. There are also various packages for celebration.
Also Check: Shopping in Dubai
---
5. Laguna Water Park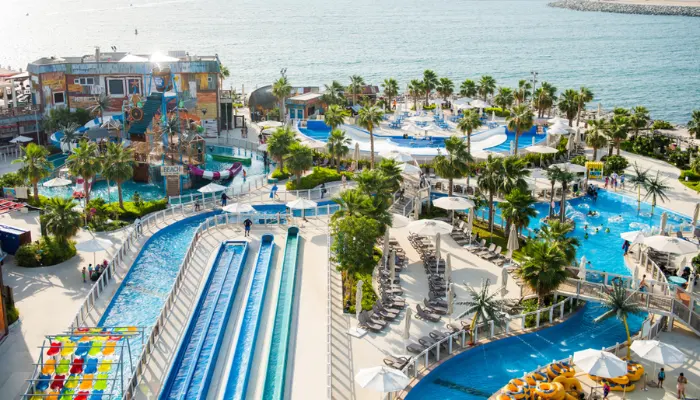 The La Mer Hotel in Dubai is home to the Laguna water park. This Laguna Water Park is well-known, with a private beach and some of Dubai's most exhilarating rides. There are four zones that make up this Laguna water park.
They are Splash, Slide, Surf, and Relax. All of its visitors have a nice time here. The waterpark is well renowned for its raft and surfing ride. One of only three rides in the world where you may test your surfing prowess.
Location: La Mer – Dubai – United Arab Emirates
Timings: 10:00 AM to 06:00 PM
Ticket price: Starting at INR 2,700
Also read: Beaches in Dubai
---
6. AquaFun Waterpark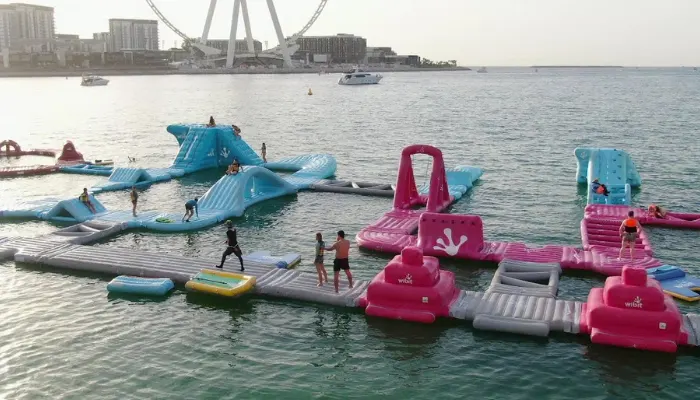 Aqua Fun Water Park is among the most distinctive and the world's biggest inflatable water parks! This water park has an area of 2,700 square meters and is situated on the Persian Gulf. The inflatable park is designed so that, when seen from above, it spells out "Dubai." The Aqua Fun Water Park has 74 exciting activities that allow you to slide, leap, and climb while having the most spectacular and exciting time.
AquaFun is the ideal location for children and adults to spend a day in the sun surrounded by crystal blue waters.
Location: The Beach, opposite JBR – Dubai – United Arab Emirates
Timings: 9 AM to 5.30 PM
Ticket Price: Pricing starts at Rs 3500 per person for singles and Rs. 2815 for a group buy (5 or more guests).
Also Check: Skydiving in Dubai
---
7. Yas Water-world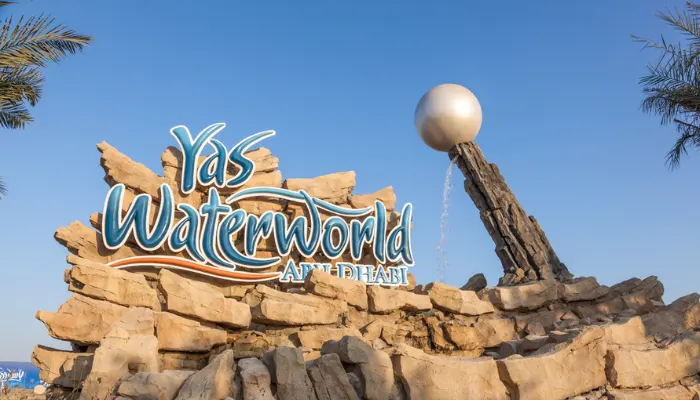 The Traveler's Choice Award on TripAdvisor placed Yas Water Park in ninth place, which makes this park more famous. This one is one of the most opulent water parks for adults and kids. With 45 different rides, this water park appeals to all age groups.
From the mountain's peak, drop into a pool of icy water while enjoying a ride inside a huge serpent. With this, you can spend some time browsing the neighbourhood shops and dining at the chic restaurant while sampling a variety of cuisines. The Yas Water Park is around 1 to 1.5 hours from Dubai.
Location: Yas Island, Abu Dhabi – United Arab Emirates
Timings: 10:00 AM to 6:00 PM (Monday to Saturday)
Ticket Price: Starting at INR 6000
Also Check: Meena Bazaar Dubai
---
8. Dreamland Aqua Park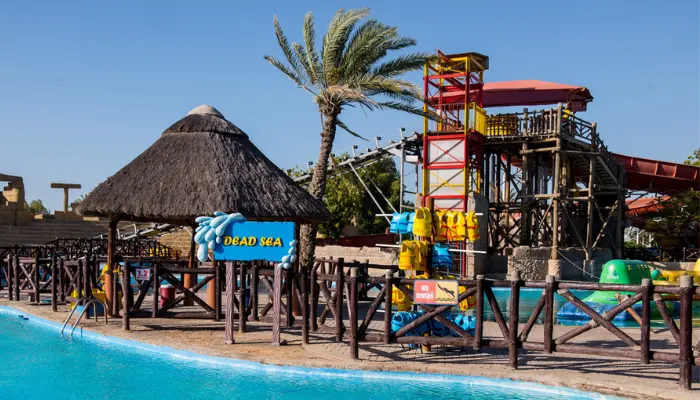 Dreamland Aqua Park, one of the biggest in the UAE, is the newest addition to the list of water parks in Umm Al Quwain. When you visit the Dreamland Aqua Park, you'll have the impression that you're on a planet filled with happiness and surprises. You can have fun there with your family and kids as well. The lush green surroundings and the vibrant rides and attractions will revive anyone's senses.
There are other additional attractions that draw a sizable number of visitors each year, including water slides, rides, a play area, a movie zone, and overnight camping. Thus, this location is ideal for a getaway during the holidays.
Location: Takes only a 50-minute ride from Dubai, Umm Al Quwain
Timings: 10:00 AM to 6:00 PM
Ticket price: Rs. 3600 for Adults & Rs. 2,250 for kids.
Also Check: Things to buy in Dubai
---
Conclusion
In Dubai, you can find wonder, technology, and experiences around every corner. Dubai is a fantastic location to pick whether you want to spend time as a couple, with your family, or with your kids.
Among the most famous is the Atlantis water park in Dubai, which provides a variety of activities, including shark swimming. You may spend more time shopping and enjoying the local cuisine in Dubai by visiting these theme parks. So, arrange a trip to Dubai with your loved ones and enjoy a great trip.
If you want to visit the Best water parks in Dubai then Check the latest Dubai Trip cost from India for Couples from Roaming Routes.
---
Frequently Asked Questions
Ques 1. Aquaventure Waterpark vs. Wild Wadi: Which Is Better?
Both the water parks, Aquaventure and Wild Wadi are distinctive in their own right and guarantee their guests a good time. The Aquaventure water park in Dubai does provide a significantly different experience due to its Palm location. Examine both, then make a comparison.
Ques 2. Which Dubai water park is the largest?
One of the largest water parks in Dubai is Atlantis Aquaventure Waterpark, which is renowned for providing its guests with the most thrilling and daring experiences. This water park in Dubai is well-known for having a good number of slides and luring guests with top-notch services.
Ques 3. What is the cost of entry at Yas Water Park?
Yas Water Park is well-known for its 40 distinctive water rides and is very well-liked by guests. The ticket cost is AED 270 for adults and AED 220 for children.
Ques 4. What is the reason that makes Yas Water Park more famous?
The 40 exhilarating coasters and slides at Yas Water Park are legendary and draw hundreds of tourists each day. Children can enjoy Yehal, Tot's Playground, and Cannon Point, among other popular attractions in this area. This water park is well-known throughout the world, not just in Dubai.
Ques 5. Which is the ideal time for visiting water parks in Dubai?
Although you can visit water parks year-round, there are several parks that are only accessible during certain months. For instance, January to October is the ideal month to visit Wild Wadi Waterpark.
---
Other Dubai Packages
---