Majestic City Retreat Hotel is a perfect pick for travellers who want to be in proximity to famous places and transportation services. It is a place to stay for travellers who want to soak in the sounds and enjoy the sights of Dubai. Its convenient location offers you plenty of time to explore all of Dubai and enjoy your vacation.
If you are planning a Dubai vacation any time soon, consider the Majestic City Retreat Hotel. On this page, we have mentioned everything you need to know about the Majestic hotel such as its amenities, prices, contact number, address, reviews, and famous nearby places.
---
About Majestic City Retreat Hotel, Dubai
Majestic city retreat hotel is a 4-star hotel, located near Dubai Terminal in Bur Dubai. All the services and amenities offered here ensure guests have a pleasant stay.
With free self-parking and valet parking, it makes sure you get comfort right when you enter in hotel. The free internet connectivity will let you stay connected with the outside world and loved ones at home throughout the stay.
24-hour desk service is to provide you assistance any time of the day. Getting the best tickets or reservations for the hottest restaurant is easy with tours and ticket services at Majestic City Retreat Dubai.
Majestic City Retreat hotel has a lot to offer to its guests. We've listed things and amenities you will enjoy here during your stay along with room types to choose from and hotel rules.
---
Majestic City Retreat Hotel Rooms with Prices
The 4-star family-friendly hotel has 262 rooms that are fully equipped and designed to provide comfort and luxury to hotel guests. All the rooms are equipped with basic amenities like a tea/coffee maker, air conditioning, LCD TV with satellite channels, a mini bar, a laptop-friendly working space, a seating area to sit and relax, and many other amenities.
Skyline Premium Room
Skyline Premium Room which is 38 sq. meters in size with 01 king bed. It is perfect for a family of four looking for a budget stay. It also has an inviting lounge area for special moments of rest. The price for a Skyline premium room starts at Rs. 10,500 per night.
Skyline Economy Room
Skyline Economy Room is a basic room of size 22 sq. meter with 01 king bed or 02 single beds. It can fit two adults. The cost of a Skyline economy room starts at Rs. 8,800 per night.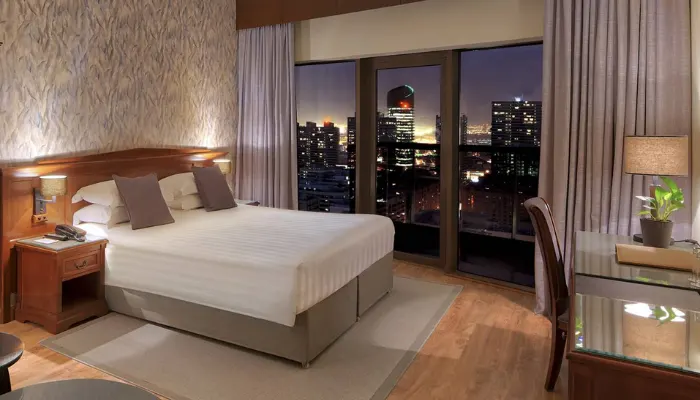 Family Suite at Majestic City Retreat Hotel
Family Suite offering a majestic city view is 76 sq. meters with 01 king-size bed, laptop-friendly working space, and seating area,` and fits four people. You can book a family suite for Rs. 13,000.
Premium Room
Premium Room is another room option for budget travellers. The room is 38 sq. meters in size and perfect for 04 people. The cost of a premium room starts at Rs. 9,500 per night.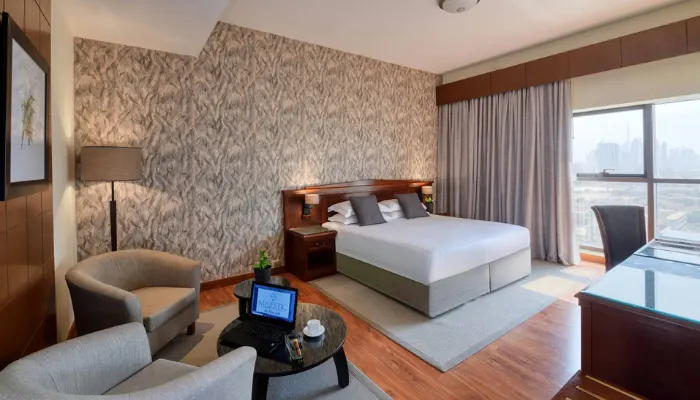 The Economy Room
The Economy Room is a perfect room for 03 people. The size of the room is 22 sq. meters and is equipped with 01 king bed and many basic amenities the hotel provides. Bookings start at Rs. 7500 per person per night.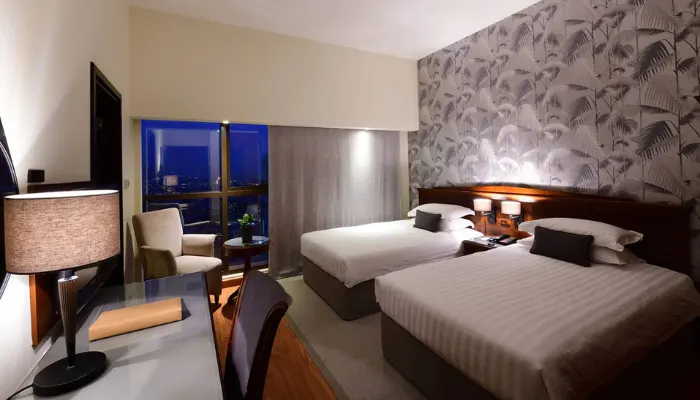 Junior Suite
The size of the Junior Suite of Majestic City Retreat Hotel is 61 sq. meters and offers many amenities which are wheelchair friendly. It has wheelchair accessible bathroom, low-height bed, worktops, sink, desk, door lock, viewport in the door, and more. Phone accessibility kit and wheelchair-width doorway accessibility are also provided in this room type. The booking for a Junior suite starts at Rs. 11,500.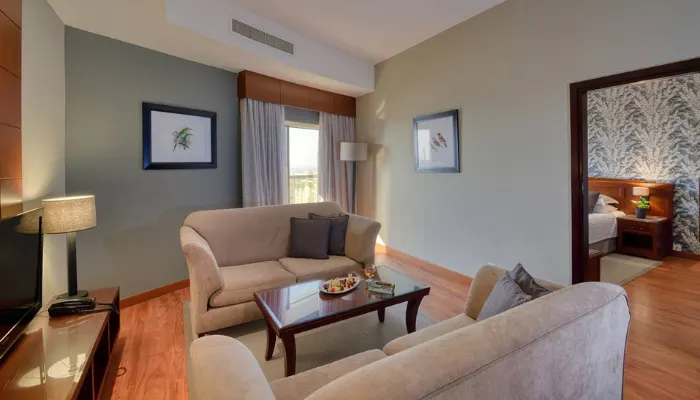 ** All the prices are subject to seasonability and bookings. We advise all travellers to cross-check the Majestic hotel room prices from the official website.
Travellers can check the Dubai Tour Packages from Roaming Routes for the best trip to Dubai.
---
Amenities at Majestic City Retreat Hotel
Food & Drink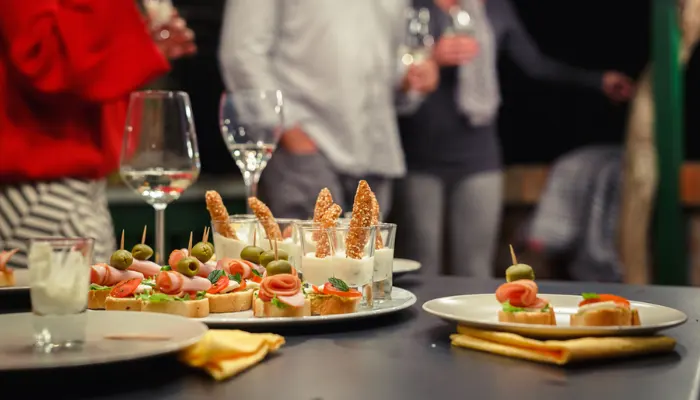 Majestic Hotel has a buffet breakfast every morning for guests available at an additional price. It is from 06:30 AM-10:30 AM. Property has 01 café/coffee shop and 04 restaurants on site, 03 bars/bars, 01 poolside bar, snack bar/deli, tea/coffee in common space, Barbecue grills, and 24-hour room service available. Elia Restaurant, Sundowners, and Barrels Sports Arena are restaurants available on the property.
The hotel also offers drinks & flavoured shisha from 6 pm to 3 am.
---
Internet, Parking, and Transport
There is free Wi-Fi available in some public areas in Hotel Majestic City Retreat Dubai. The hotel provides an on-demand airport shuttle, beach shuttle, 24-hour return airport shuttle, shopping centre shuttle, and theme park shuttle service at a surcharge. It has a wheelchair-accessible parking area and free self and valet parking on site.
---
Guest Services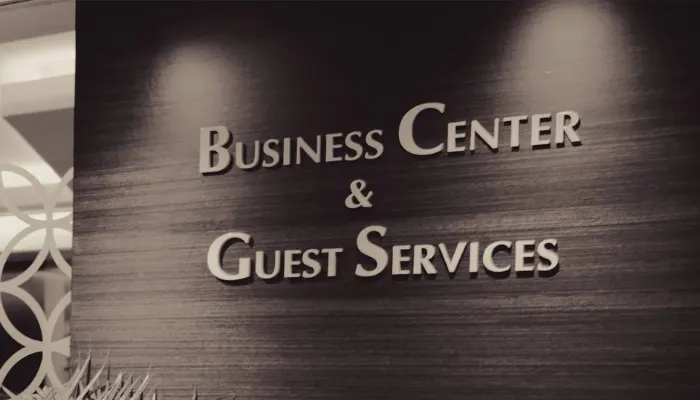 A 24-hour front desk service is available at Majestic City Retreat Hotel. Guests are provided comfort with daily housekeeping, dry cleaning, laundry, luggage storage, hair salon, ticket/tour assistance, multilingual staff, turndown, and concierge services. Majestic City Retreat Hotel in Dubai knows how to treat guests and make guests come back to them. Pool loungers, umbrellas, and on-site car rentals are also provided on demand.
---
Reception Services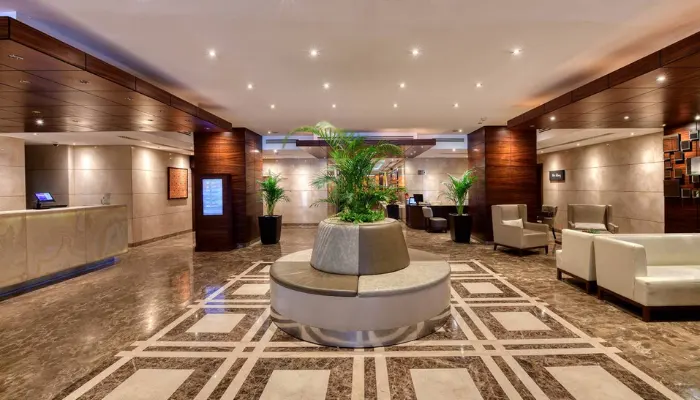 Majestic City Retreat Hotel offers a wide range of reception services to their guests so that they can enjoy their stay and vacation in Dubai at best. ATM on-site, currency exchange, tour desk, express check-in, and check-out, are a few of the basic amenities guests can enjoy at this hotel.
---
Safety and Security
The prime concern of Majestic Hotel Dubai is the security and safety of those who live with them and trust them. The hotel is well-equipped with fire extinguishers across the site. It has installed CCTV in the common area and outside the property. Smoke alarms, key card access, security alarms, 24-hours security guards, safety deposit box, etc., are there to make sure you and your valuables are safe within the premises.
---
Things to Do & Entertainment Amenities
Majestic City Retreat Hotel offers many entertainment options for free, like a games room, poolside, entertainment staff, billiards, darts, nightclub/DJ, evening entertainment, kid's club, children's pool, fitness centre, and more. One can also enjoy activities at a surcharge, like a cooking class, temporary art galleries, live sports events, live music performances, etc.
---
Room Amenities at Majestic City Retreat Hotel
Rooms at Majestic City Retreat Hotel are fully equipped to provide leisure to guests. Be it entertainment amenities like 55-inch LCD TV with satellite TV channels or to provide you with comforts like a home with a minibar, air conditioning, tea/coffee maker, iron, and many others, you won't be disappointed with your stay there. To make sure you sleep well during your stay there and aren't disturbed by the noise outside, rooms are made soundproofed with premium bedding, hypoallergenic bedding, blackout curtains, and more.
---
For Kids
If you are travelling with children, you get free babysitting or child services. It has a games room, children's pool, and picnic area to make sure your kids enjoy their stay there. Majestic City Retreat Hotel surely knows what kids and parents what.
---
Wellness Services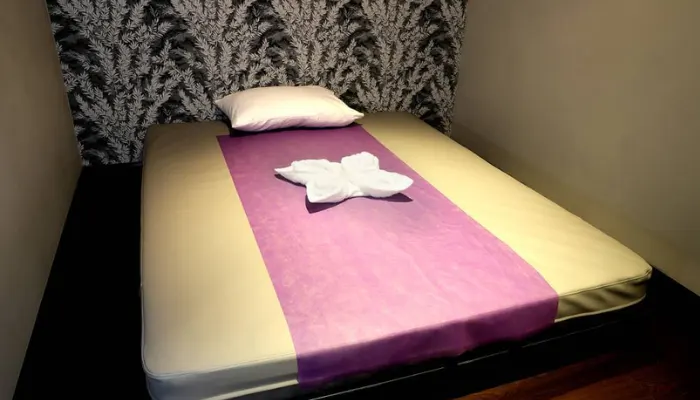 Majestic City Retreat Hotel in Dubai understands how health is our priority. They have equipped a property where you can give your body the relaxation it needs and requires after hectic travelling and exploring the city at the spa centre on site.
The property also has a swimming pool where you can enjoy and burn a few calories from that piece of cake. A fitness centre with locker rooms on the property is a perfect place to stay on your workout routine and stay active. The fitness centre and swimming pool come for free with your stay there.
---
Majestic City Retreat Hotel Location & Nearby Places
This luxury hotel is located in Bur Dubai on Mankhool Road. Bur Dubai is one of the neighbourhoods in Dubai and the shopping district. The contact number of the hotel is +971 4 359 8888.
The Majestic hotel is 7.3 kilometres from Dubai international airport and 24.1 kilometres from Sharjah International Airport.
The Dubai Mall is in the proximity of 6.2 kilometres from the Majestic City Retreat Hotel, and Dubai Creek is a distance of 1.4 km from the hotel. Other famous landmarks near the hotel are Dubai Aquarium & Underwater Zoo, Burj Khalifa, Dubai World Trade Centre, Gold Souk, Wild Wadi Waterpark, Dubai Fountain, Ski Dubai, Burj Al Arab, and more.
The location of the hotel makes it a convenient place to stay with family due to its proximity to landmarks and famous places to visit in Dubai.
Getting around Hotel Majestic City Retreat Dubai:
Dubai International Airport, DXB – 18-minute drive
Sharjah International Airport, SHJ – 43-minute drive
Al Maktoum International Airport, DWC – 54-minute drive
Burjuman Station – 18-minute walk
Sharaf DG Station – 8-minute walk
ADCB Station – 19-minute walk
Dubai Cruise Terminal – 29-minute walk
Gold Souk – 34-minute walk
BurJuman Mall – 7-minute drive
Dubai Creek – 12-minute drive
Dubai World Trade Centre – 5-minute drive
City Centre Deira – 13-minute drive
Dubai Aquarium and Underwater Zoo – 15-minute drive
Dubai Mall – 15-minute drive
Dubai Fountain – 9-minute drive
Burj Khalifa – 18-minute drive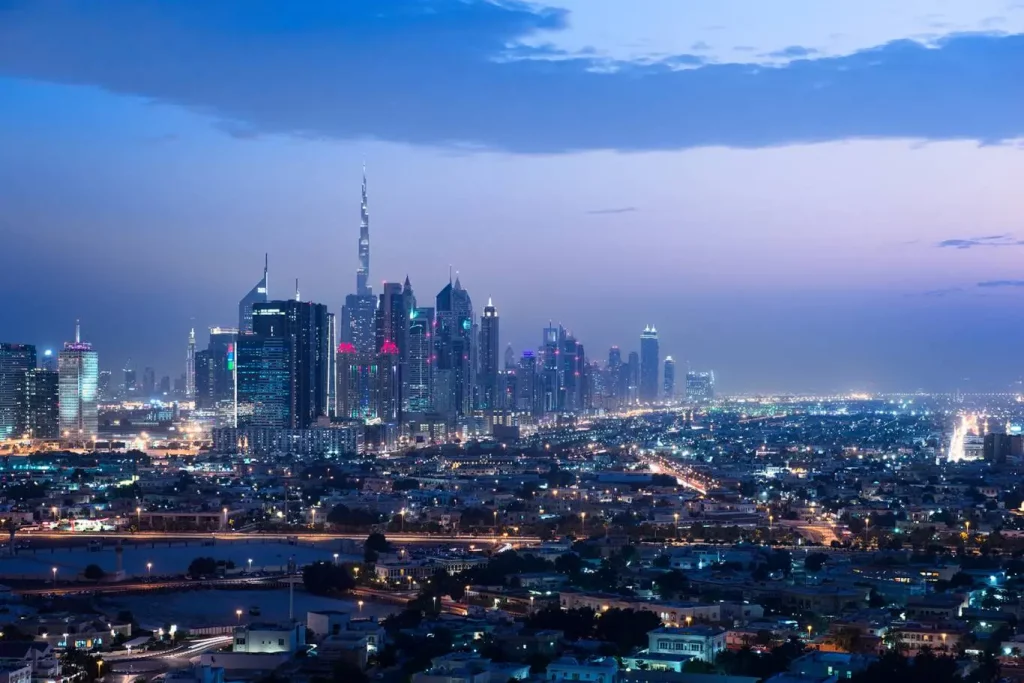 ---
Majestic City Retreat Hotel Reviews
Had a wonderful stay here. Breakfast spread was good. Mr, Sohail was very helpful during breakfast time. It is a very busy and happening hotel, especially in the evenings. Only con is the waiting time for the lift. Wish there were a couple of more lifts. They have only two at the moment. Overall very good hotel with good staff.
A perfect hotel, room size are good and everything is fine the only problem in this hotel is there are only 2 lifts in this hotel. It should be at least 5 lifts the volume of guests they have but It's adjustable
I got upgraded to the family suite from a standard city view room. While the suite was spacious, it was not well distributed. The bathroom was near the entrance and I had to walk across the living room area and dining table to get to it. While not a big deal, it was inconvenient. The view from the balcony gave a nice glimpse of the city.
I stayed here twice. Excellent location. Clean and comfortable rooms. Front desk needs improvment. Specially when welcoming a guest. Overall this is a very good place in Bur Dubai to stay.
Excellent hotel for stay at Dubai..the rooms are very spacious and clean..the Sundowners restaurant food is very delicious and with a good spread..the hotel staff behaviour is really amiable and service is very prompt..overall I will recommend stay at this hotel for travellers !!
---
Majestic City Retreat Hotel Rules Travellers Must Know
Check-in time starts at 03:00 PM, and early check-in is subject to availability. Check-out is at noon, and late check-out depends upon the subject to availability.
The availability of extra beds depends upon the room type you choose. Infants and Children from 0-3 years can stay for free and extra beds/ baby cots can be provided for free. Above 3 years, additional costs incurred.
Government-issued ID card is required for all guests at check-in.
A debit card, Credit card, or cash deposit is needed during check-in for incidental charges.
Smoking is only allowed in designated areas only.
---
FAQs About Majestic City Retreat Hotel
Ques 1. Which is the nearest metro station to Majestic Hotel?
The nearest metro stations to Majestic Hotel are Al Fahidi and Burjuman Metro Stations.
Ques 2. Does Majestic Retreat Hotel have an airport shuttle?
Yes, the hotel offers an airport shuttle. The cost is AED 300 roundtrip per vehicle.
Ques 3. What is the contact number of the Majestic City Retreat Hotel?
The contact number of Majestic City Retreat Hotel is +971 4 359 8888.
Ques 4. What are the names of restaurants near the Majestic Hotel?
A few restaurants near the Majestic Hotel are The Music Room, Yesterday Restaurant & Sports Lounge, Purani Dilli Dubai, Cantina Continental & Mexican Restaurant, etc.
Ques 5. Does Majestic City Retreat provide any business services?
Yes, it has a business centre, conference rooms, and a banquet area for your convenience.