The spectacular city of Dubai offers a range of interesting locations to visit and activities. Dubai is abundant with exciting and opulent amusement parks. This list of exciting theme parks in Dubai offers something for everyone, whether searching for the ideal family-friendly location or heart-pounding thrills (or both).
A vacation to Dubai's theme parks is among the most remarkable ways to spend a holiday there. These amusement parks provide various activities for guests of all ages, making them ideal getaways from the fast-paced atmosphere. Add water parks and thrilling rides; you have the perfect combination of adventure, relaxation, and pleasure. In this post, we bring a list of Dubai theme parks to ensure you have a great time here.
The Dubai theme parks are the best for couples who want to enjoy the best time together. If you want to enjoy the beauty of Dubai theme parks, then Book Dubai honeymoon packages from Roaming Routes.
---
12 Theme Parks In Dubai For A Great Vacation
The theme parks of Dubai will transfer you to a world of endless fun and thrilling adventures and bring you closer to some of the fascinating creatures. Theme parks are the best places to visit in Dubai. So here is the list of theme parks:
1. The Aquaventure Waterpark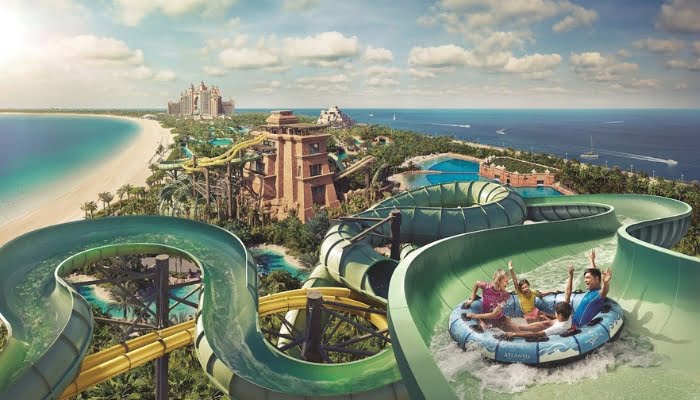 The Aquaventure Waterpark at the Atlantis, The Palm resort in Dubai, is among the most renowned waterparks. Further, this expansive waterpark is ideal for a day out with the family since it has various exhilarating water rides and activities.
The Tower of Poseidon, a towering structure with various high-adrenaline water slides, is among the most popular attractions at Aquaventure Waterpark. The Leap of Faith is a near-vertical drop that sends riders through a translucent tunnel into a shark tank. Neptune's Plunge is a high-speed slide with steep dips and tight curves.
In addition to these exhilarating water slides, Aquaventure Waterpark has a variety of calming attractions, including the Lazy River and the Wave Pool. The Lazy River is a winding stream that brings riders on a leisurely tour around the park. The Wave Pool is a big pool that makes waves, enabling guests to experience surfing without leaving the park.
Aquaventure Waterpark, among the must-visit theme parks in Dubai, is a terrific location for families and thrill-seekers alike, as it offers a wide variety of thrilling water rides and attractions in a lovely and spacious environment.
Timings: 09:45 AM to 06:30 PM
Ticket Price: Starting at 6700 INR.
Also Check: Skydiving in Dubai
---
2. Wild Wadi Waterpark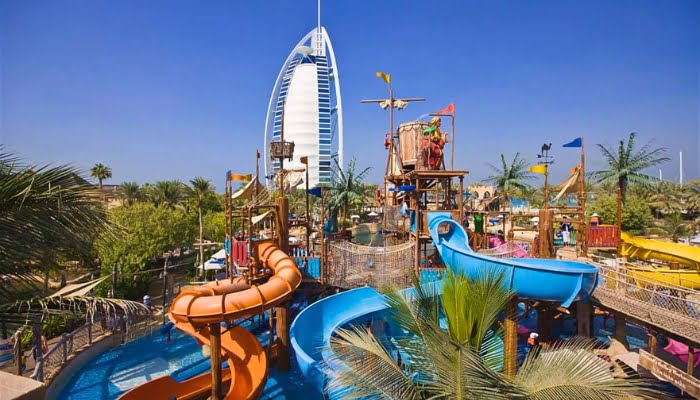 Among the theme parks in Dubai is the Wild Wadi Waterpark. Wild Wadi Waterpark is next to the Burj Al Arab in the Jumeirah neighbourhood.
The Jumeirah Sceirah, a water slide that drops riders into a pool at great speed after a sequence of twists and turns, is among the park's most popular attractions. Another popular attraction is Tantrum Alley, consisting of twisting water slides that plunge riders into a pool bottom. Additionally, Breakers Bay, one of the biggest wave pools in the Middle East, is another attraction.
In addition to its attractions and rides, Wild Wadi Waterpark has several dining choices, featuring fast food restaurants and a sit-down eatery with indoor and outdoor space. In addition, there are several places to rest and take in the sun, including cabanas and covered spaces.
If you're searching for a fun and adventurous way to escape the sun in Dubai, you must visit Wild Wadi Waterpark.
Timings: 10:00 AM to 06:00 PM
Ticket Price: Starting at 6000 INR.
Also Check: Things To Buy in Dubai
---
3. Laguna Water Park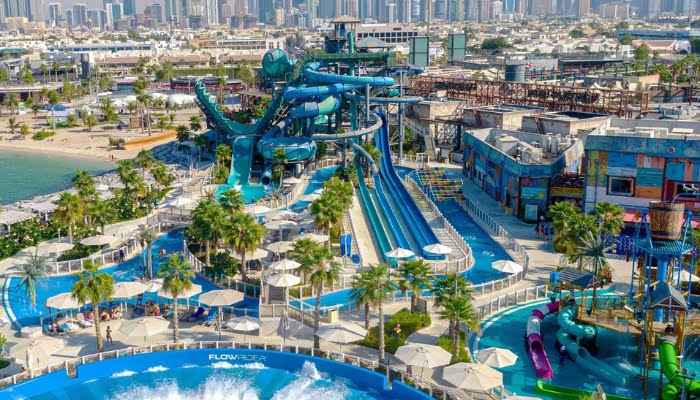 So the next Dubai theme park is the Laguna Water Park. Laguna Water Park, Dubai's aquatic wonderland, is set in one of Dubai's best beachfront locales, La Mer. It has a variety of exciting and exhilarating water rides for the thrill-seeker in you. In addition to water rides, you may enjoy shopping at retail stores and dining at establishments such as Zou Zou restaurant, Roti Rollers, and others.
For your enjoyment, the water park has world-famous rides overlooking the ocean. Along the oasis is a river that allows you to plunge, float on your back, or soak your feet wet. Additionally, you may relax in the Cabanas. There is an infinity pool that allows you to swim till you want. Moreover, there's something here for all age groups.
Timings: 10:00 AM to 6:00 PM
Ticket Price: Starting at 4300 INR.
Also Check: Shopping In Dubai
---
4. Ski Dubai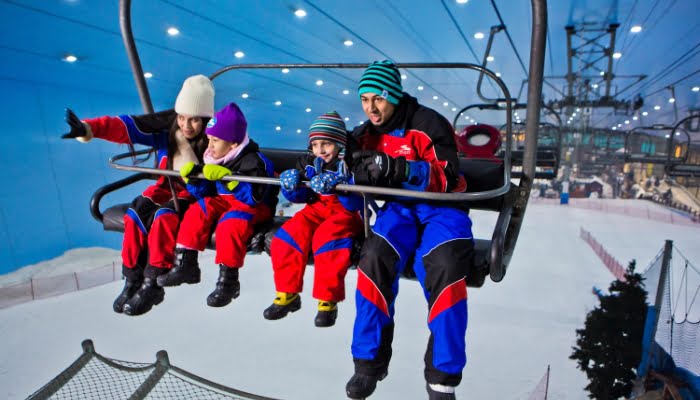 Ski Dubai is an indoor ski resort in the Mall of the Emirates. It is the first indoor ski resort in the Middle East, with 22,500 square meters of space.
The resort's 85-meter-tall mountain has five slopes of varying difficulty, including a beginning, intermediate, and three challenging slopes. In addition, there is a freestyle section for snowboarding and skiing stunts and a 400-meter cross-country skiing track.
Several winter sports, including skiing, snow tubing, snowboarding, and snowshoeing, are available to visitors. In addition to a chairlift and a magic carpet lift, the resort provides transit for skiers and snowboarders up the mountain. Further, a penguin interaction area allows guests to engage with the resort's indigenous penguins.
The resort is operational year-round, with a climate-controlled environment that maintains a snow temperature of -1°C. It provides a one-of-a-kind experience for people who want to try winter sports in Dubai's desert environment and is a popular theme park in Dubai.
Timings: 10:00 AM to 11:00 PM (Monday – Friday)
09:00 AM to 12:00 AM (Saturday & Sunday)
Ticket Price: Starting at 4000 INR.
Also Check: Meena Bazaar Dubai
---
5. IMG Worlds Of Adventure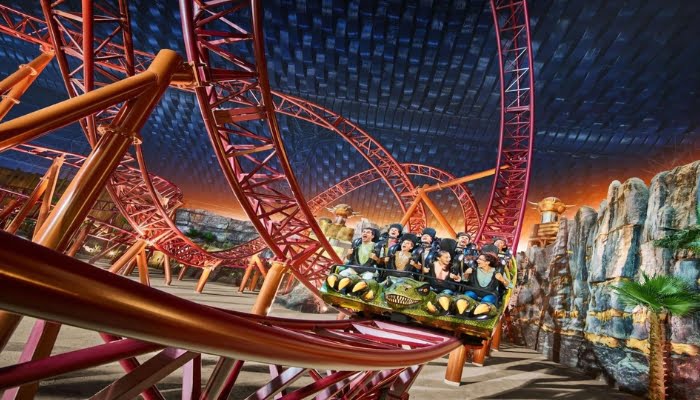 Among the best theme parks in Dubai, IMG Worlds of Adventure transports guests to Jurassic World. So this theme park in Dubai has over 17 kinds of adrenaline-fueled rides and adventure games inspired by well-known cartoon and comic book characters. The indoor park's space exceeds the size of 28 football fields and is available year-round in a climate-controlled setting.
The park has four adventure zones, which are dinosaur-themed and will transport you directly to the Jurassic Park universe.
Timings: 12:00 PM to 10:00 PM
Ticket Price: Starting at 4100 INR.
Also Check: Dubai Travel Requirements
---
6. Bollywood Park Dubai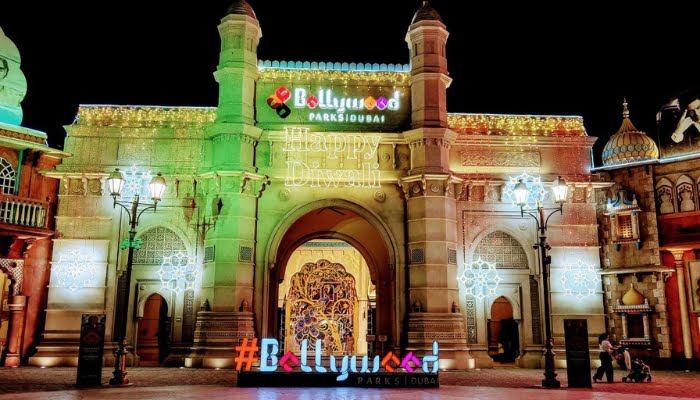 Among the theme parks in Dubai, Bollywood Park Dubai is the first theme park of its sort in the globe! Focused on the thriving Indian film industry in Mumbai, the theme park celebrates Bollywood and the stars who bring it to life. The park offers thrilling experiences of adventure, joy, romance, dancing, and action within its boundaries.
Within each of the five sections of this Dubai theme park — Mumbai Chowk, Bollywood Boulevard, Rustic Ravine, Royal Plaza, and Bollywood Film and Studios — you can experience a taste of Mumbai in the arid Middle East, enjoy live entertainment events, and encounter your beloved Bollywood celebrity in an action role.
Timings: 01:00 PM to 10:00 PM (Saturday – Thursday)
01:00 PM to 11:00 PM (Friday)
Ticket Price: Starting at 1860 INR.
---
7. Ferrari World Theme Park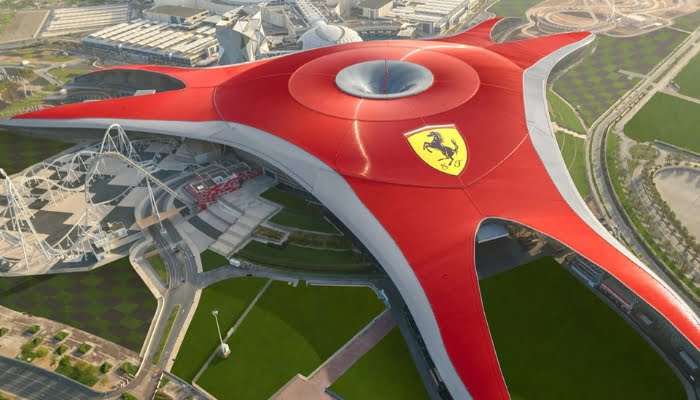 The world's largest amusement park is the Ferrari-themed Ferrari World Theme Park. Here, you can discover a new world of pleasures and thrills and spend your leisure moments excitingly. Moreover, this is among the best theme parks in Dubai for adults and kids alike.
It also provides a vast selection of adventure games for daredevils. Dubai's Ferrari World Theme Park offers a variety of activities for families with children. The Ferrari World Theme is among Dubai's most significant theme parks, where visitors may experience a new realm.
Timings: 12:00 PM to 08:00 PM (Thursday – Tuesday)
10:00 AM to 08:00 PM (Wednesday)
Ticket Price: Starting at 7330 INR.
---
8. Motiongate Dubai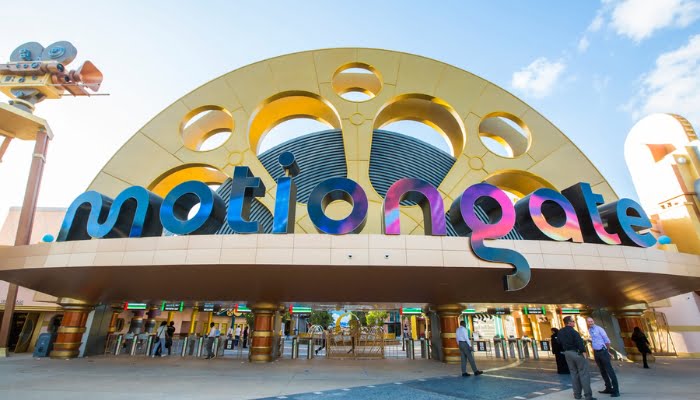 Motiongate Dubai, the city's most recent effort to become the entertainment hub of the globe, is aptly dubbed "Hollywood in the desert." The theme park is organized into four themed zones, each inspired by a major Hollywood studio, including Sony's Columbia Pictures, The Smurfs, DreamWorks Animation, and Lionsgate. Together, they comprise 27 attractions and rides that give families the ideal cinematic experience.
Timings: 11:00 AM to 08:00 PM (Sunday – Thursday)
11:00 AM to 09:00 PM (Friday & Saturday)
Ticket Price: Starting at 5500 INR.
---
9. Dubai Garden Glow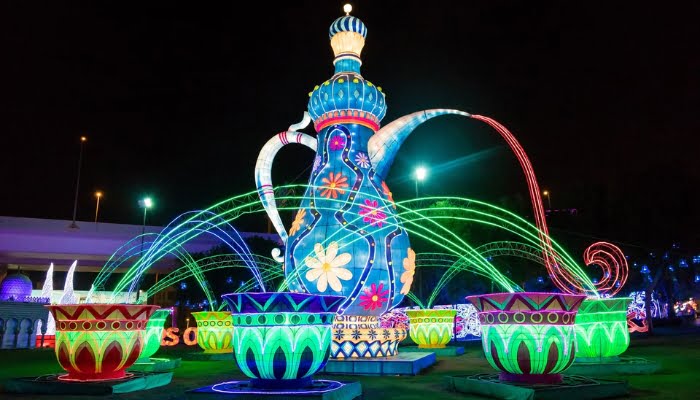 Dubai Garden Glow is the world's largest and only one-of-a-kind theme park with distinctive themes and a one-of-a-kind backdrop. The park sparkles with enormous statues, stunning exhibits, ice sculptures, illuminated sculptures, and animatronic dinosaurs made from recyclable materials. Annually, Dubai Garden Glow astonishes visitors with its unique inventions and creativity. Hence, it must be on the list of theme parks in Dubai.
Timings: 05:00 PM to 10:00 PM (Sunday – Friday)
05:00 PM to 11:00 PM (Saturday)
Ticket Price: Starting at 1500 INR.
---
10. LEGOLAND Dubai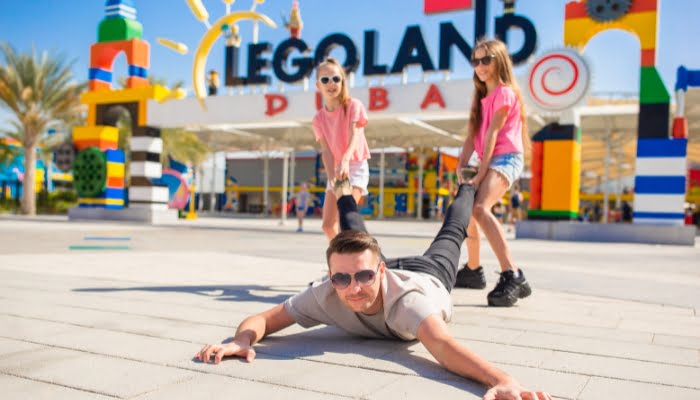 LEGOLAND Dubai, presented to you by the world's leading toy manufacturers, is among Dubai's most inventive theme parks. It includes a theme park and a water park in Dubai. Further, LEGOLAND is a unique destination with over 40 spectacular rides, family-friendly sights, and inventive play areas for children.
Timings: 10:00 AM to 06:00 PM (Monday – Thursday)
10:00 AM to 07:00 PM (Friday – Sunday)
Ticket Price: Starting at 5300 INR.
---
11. VR Park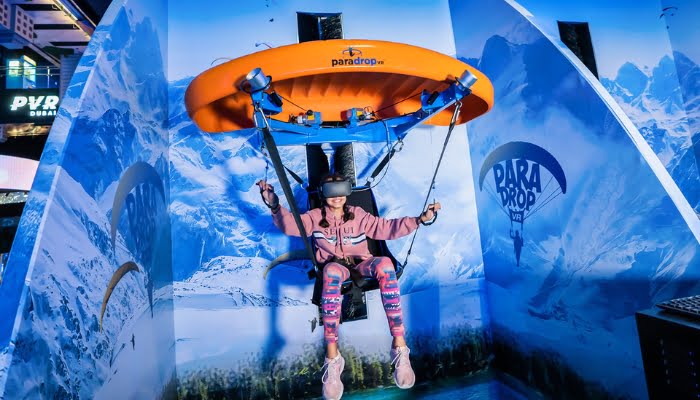 Compared to the other theme parks in Dubai, VR Park's bigger adventure has elevated the benchmark for other theme parks worldwide. Experience the VR Park Dubai, the world's largest indoor virtual reality park, and experience a world of fantasy built on the concept of escape.
Further, this legendary attraction was created with the intention of challenging reality by fusing perception and reality through insanity-inducing rides, games, and educational excursions.
Timings: 10:00 AM to 10:00 PM (Sunday – Wednesday)
10:00 AM to 12:00 AM (Thursday – Saturday)
Ticket Price: Starting at 500 INR.
Also Check: Festivals in Dubai
---
12. Dubai Dolphinarium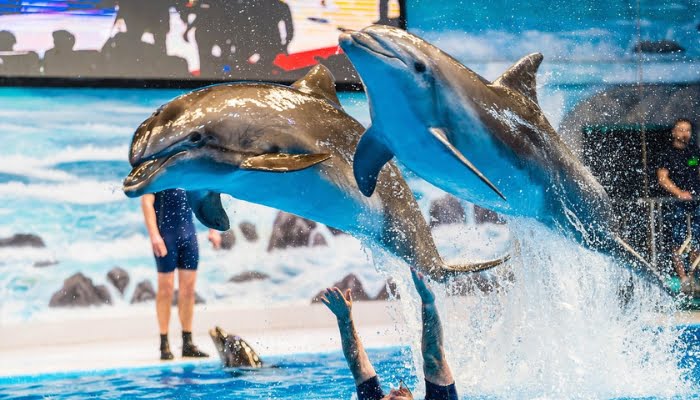 The Dubai Dolphinarium allows you to spend as much time as you like with the magnificent dolphins and seals. This Dolphinarium, once a distinctive family entertainment area and today one of Dubai's most popular tourist destinations, provides a fantastic journey with these aquatic mammals.
Timings: 10:00 AM to 07:30 PM (Tuesday Closed)
Ticket Price: Starting at 600 INR.
Also read: Dubai Shopping Festival
---
Conclusion
So these are a few of the best theme parks in Dubai that individuals must consider adding to their list. Further, booking tickets for all attractions in advance is advisable to avoid the queue and enjoy them. For more details, the Roaming Routes team can help you book Dubai tour packages.
---
Other Dubai Packages
---