Dubai is a renowned tourist destination that annually attracts millions of people. In addition to its well-known tourist attractions, such as Burj Khalifa, Palm Jumeirah, and Dubai Mall, Dubai is recognised for its excitement for extreme sports. If you search for the ultimate excitement, nothing compares to skydiving in Dubai.
Skydiving is among the most popular adventure activities in Dubai, attracting thrill-seekers from all over the world. Dubai has become a favourite destination for skydiving enthusiasts due to its ideal weather, breathtaking views of the cityscape, and world-class facilities. Every year, thousands of tourists go to Dubai to experience the excitement of freefalling at speeds of up to 120 miles per hour, and the skydive dubai height is about 13,000 feet.
The age of skydiving in Dubai is at least 18 years old and one needs excellent physical health to qualify. Before jumping, you will be asked to participate in a brief training program in which you will learn the fundamentals of skydiving, safety protocols, and how to utilize your equipment. Ensure you schedule your skydiving adventure with a reputable company with an excellent safety record.
With its breathtaking vistas, world-class facilities, and unique experience, skydiving in Dubai is an unforgettable activity. Let's explore more about skydiving in Dubai in this detailed post.
Skydiving in Dubai is a thrilling activity that is best for couples who want to experience the thrill together. If you want to experience skydiving in Dubai, then book Dubai honeymoon packages from Roaming Routes.
---
How's the Experience of Skydiving in Dubai?
Skydiving is a high-intensity sport that produces a substantial adrenaline rush. When you freefall towards the earth at speeds, you will experience the exciting sense of weightlessness and the rushing of the wind. This adrenaline rush is what makes skydiving so addicting for many individuals.
The amazing feeling of leaping out of an aeroplane and flying through the air is remarkable. You'll remember the surge of anxiety and thrill for a lifetime as you get ready to leap and begin to fall.
Dubai is renowned for its breathtaking skyline, and skydiving offers a unique city view. As you freefall, you will get a breathtaking panorama of the metropolis, along with the renowned Burj Khalifa and Palm Jumeirah. This perspective of Dubai from above is something few other activities can provide.
---
Types of Skydiving in Dubai
Before booking a skydive in Dubai, one must understand the types of skydiving. There are major two types of skydiving in Dubai outdoor and indoor.
Outdoor Skydiving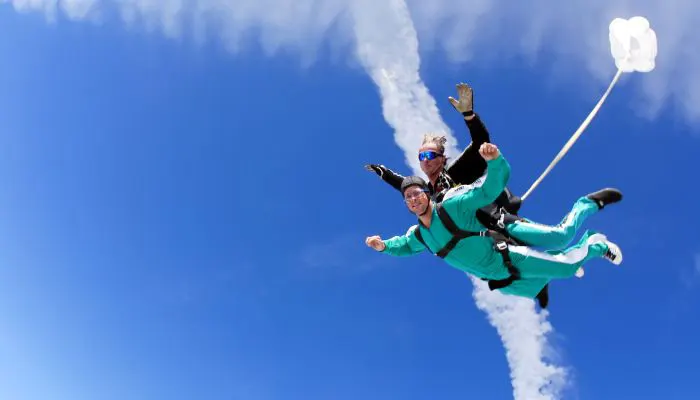 Outdoor skydiving involves flying to a considerable altitude, followed by a jump, with all safety procedures entirely in place. First-timers and novices mostly choose tandem skydiving, where they are securely attached to a trained instructor. And someone with a skydiving license may go for a solo jump.
The popularity of outdoor skydiving in Dubai has increased over the years. The city's world-class facilities, spectacular skydiving sites, and professional instructors have secured its position as one of the world's premier destinations.
Furthermore, outdoor skydiving allows you to experience real freefall and the excitement of leaping out of an aeroplane. It is a once-in-a-lifetime experience because of the stunning sights and the sensation of flying through the air. While enjoyable, indoor skydiving cannot fully capture the essence of outdoor skydiving.
There are two locations for outdoor skydiving, the Palm Zone and the Desert Zone, which we'll discuss later in this guide.
---
Indoor Skydiving
Indoor skydiving is a relatively new idea, but this, too, has gained interest all across the globe. Free fall conditions are simulated using different tools in a vertical tunnel used for indoor skydiving.
For those who want to try skydiving for the first time without taking any unnecessary risks, indoor skydiving is the best alternative.
---
Other Types of Skydiving In Dubai:
Tandem skydiving: In this type of skydiving, a professional instructor is tied to you with a harness while you dive in the air, which makes it a popular type of skydiving for newbies. Tandem skydiving, the most famous skydiving choice, costs from 1799 AED to 2500 AED.
Skydiving on a Static Line: In this type of skydiving, you will dive from the plane, and your parachute will open as soon as you dive. This is an ideal choice for people who are willing to try solo skydiving but are not trained properly yet for a freefall. The solo jump may cost 9,000 to 12,000 AED.
Accelerated Freefall (AFF): Accelerated freefall is an advanced kind of skydiving that includes diving out of an aeroplane with two instructors who will lead you through your freefall and parachute release. It is a great way to seek skydiving certification.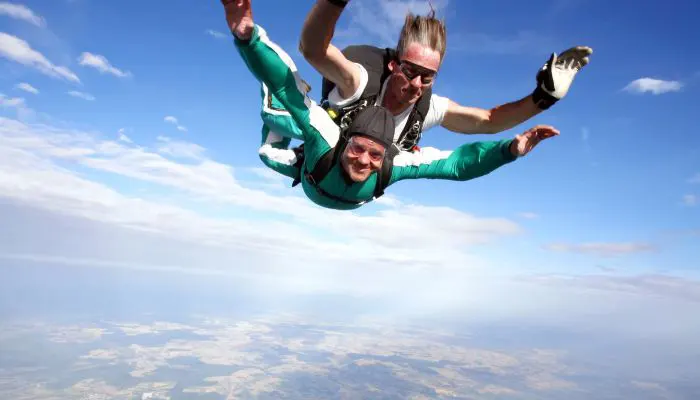 ---
How to Book Skydiving in Dubai With Skydive Dubai?
Skydive Dubai is a prominent skydiving operator in Dubai with years of expertise. They give the unique opportunity to freefall over the city's most iconic sites, such as Palm Jumeirah and the deserts.
They have highly experienced and trained instructors and use state-of-the-art gear and safety equipment to assure customer safety and a fantastic experience.
Follow these steps to book your skydiving with Skydive Dubai:
Visit the official website of Skydive Dubai and select Book Your Experience option.
Next, you will have to choose the zone for skydiving, Palm Zone or Desert Zone.
After choosing the location, select the date and time you want to experience skydiving. Skydive operates from 8 am onwards.
Then add the number of participants for reservation with their personal details.
Finally, proceed to the payment option and use your preferred one.
At last, you'll get an email with instructions and details regarding your skydiving adventure.
Contact Deatils of Skydive Dubai:
Mobile No. – +971 4 377 8888
Address – Al Seyahi St – Dubai Marina – Dubai – United Arab Emirates
For more details about skydive Dubai tickets or any other details, the official website of Skydive Dubai has all the necessary information.
---
How Much Does it Cost for Skydive in Dubai?
Outdoor Skydiving in Dubai Prices on Palm & Desert Zone
Palm Zone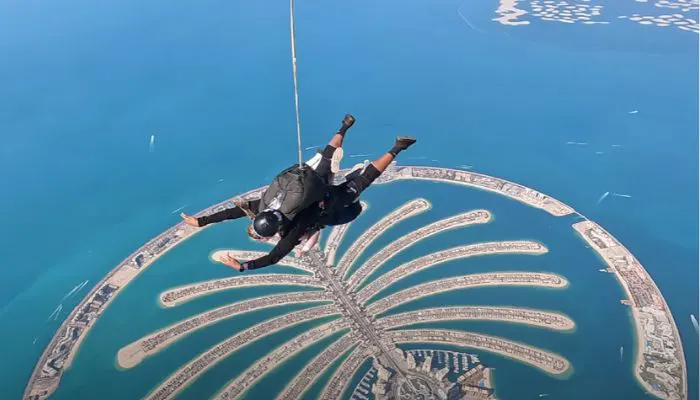 The Palm Zone, a more affluent spot, drops you just over the crystal-clear seas around Palm Island. Here, you can see the breathtaking Dubai skyline and well-known city landmarks including Palm Jumeirah Island, the Burj Al Arab, the Atlantis, the Palm Hotel, and more. If you are looking at how much skydiving costs in Dubai, the pricing is as follows:
Price- AED 2199 AED (INR 44,132 or USD 598.75)
Location: Al Seyahi St, Dubai
---
Desert Zone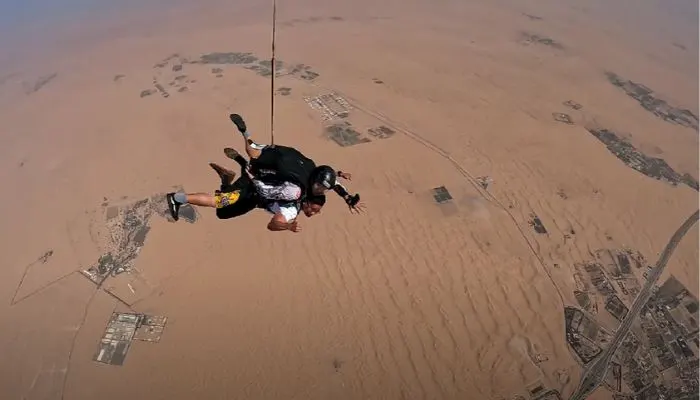 Experience an endless expanse of golden sand dunes and distinctive plants and creatures that can only be found in desert regions. As you dive from more than 10,000 feet in the air, Dubai's stunning surroundings will capture your attention.
Price- AED 1699 (INR 34,096 or USD 462.60)
Location- Al In Road
Note* – You have to pay an additional 100 AED for an Instagram-edited video.
---
Prices for Indoor Skydiving in Dubai
The indoor skydive Dubai cost and prices may vary from operator to operator. The approx costs by the major operators are as follows:
iFly Dubai – AED 149 for first-time flyers for two minutes; AED 1750 to AED 2250 for experienced flyers for 60 minutes based on various packages.
Inflight Dubai Indoor Skydiving – Cost: 240 AED 1 person two flights for first-time flyers.
---
Rules of Skydiving in Dubai
The minimum age for the skydiving driver is 18.
Nobody should be under the influence of alcohol or drugs.
A person should be in excellent health and disease-free.
The premium location of The Palm Zone in Dubai is where you may buy the Skydiving experience as a present.
The dive barely lasts 35 to 45 minutes, but the whole experience is supposed to last three hours.
Weight and BMI (Body Mass Index) must not exceed the maximum safety limits while wearing apparel and athletic shoes.
The required BMI and weight are as follows:

Woman – less than 90 kilograms (198 lb). Maximum BMI 27.5.
Man – 100 kgs (220.5 lbs) or less. Maximum BMI 30.
Indoor Skydiving Rules in Dubai
The minimum age of the diver must be 12 years.
Maximum weight – 115 kg
If under 18, parents' consent must be taken.
Pregnant women are not allowed.
3 or 4 people can fly together wearing helmets and other safety equipment.
---
Things To Know Before Skydiving in Dubai
A few of the things you must be aware of before trying Skydiving are as follows:
There are age and weight limits for skydiving in Dubai. The minimum age must be at least 18 and weigh less than 100 kg to jump in Dubai. These constraints aim to ensure your safety.
The atmospheric condition plays a crucial part in skydiving. When scheduling a skydiving adventure, keeping an eye on weather prediction is essential. Due to safety concerns, skydiving may be cancelled or postponed if the weather is unsuitable.
The duration of a skydiving session might differ based on variables such as weather, number of divers, and other logistical aspects. It is essential to allow sufficient time for the complete skydiving session, including check-in, the briefing, paperwork, and the actual skydiving.
Skydiving is a physically demanding sport. Thus, one must notify the skydiving operator of any medical concerns. Before permitting you to jump, the operator will demand you to present a medical certificate or confer with their doctor.
Skydiving requires the use of suitable attire and footwear. Sandals and loose attire are not advisable. The skydiving operator will offer all essential skydiving amenities, such as the jumpsuit, harness, helmet, and goggles.
Best Time to Skydive in Dubai
The best time for skydiving in Dubai is from the month of October to April when the weather is normal. In the remaining months, the rain and bad weather conditions might hinder your experience.
---
Tips to Prepare for Skydiving in Dubai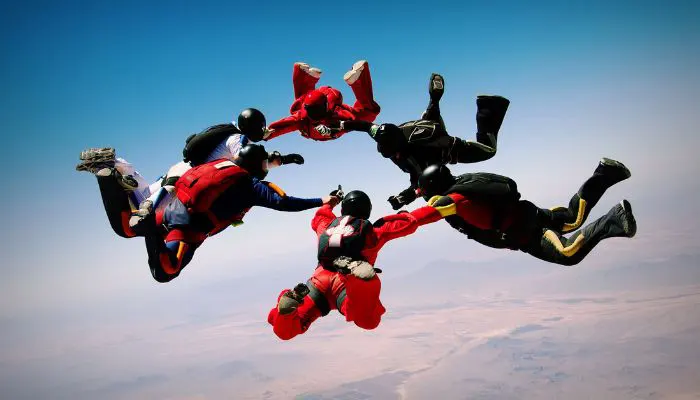 Check Weather Conditions a Day Before skydiving
The better solution to prepare for your first skydiving is to dress as you typically would for the conditions. Although ground temperatures and jump height might vary, basic clothing will work in normal circumstances. Wear anything that allows you to move freely.
If the weather is windy, check with the dropzone to verify whether operations are still scheduled for the next day. Inquire whether a wind limitation exists for tandem skydives and how rescheduled reservations are decided.
If it is predicted to shower the day before your skydiving, call the dropzone to determine whether it will still operate. Most dropzones have aviation weather tools, which are more advanced than standard forecasting software, so they may notice things you can't. Clouds do not necessarily prohibit jumping.
---
Tips for the Day of Skydiving
You can not enjoy skydiving if you are overeating or without eating anything. Ensure that you have a balanced diet before leaving for the dropzone. It will be a good option to bring some light food with you, just in case of a delay.
Drinking water is one of the ideal preparations you can make for your first skydiving! If you are well-hydrated, you will be less likely to have discomfort in the flight or dizziness when parachuting.
Under no circumstances should you drink alcohol before skydiving.
---
Be on Time
On your big day, you will not want to miss or be late for your appointment. The last thing you want to do is to be late for your appointment. This may lead to an anxious start to the day, which makes it much harder to enjoy the jumping experience. Arriving after the suggested time may delay your flight's departure and, very likely, that of others.
Most skydiving operators require newbies to come before the booking time to prepare properly. So this is to ensure paperwork and bathroom breaks.
---
Time You Arrive at the Sky Diving Zone
Relax as much as possible during the pre-jump procedure. The others around you are just as anxious as you are. Everyone on the skydiving crew remembers what it is like to be a novice. Remember that when you board the aircraft together, you are all SKYDIVERS!
Make a deliberate decision to embrace the experience, even if you are anxious (which is normal). Breathe deeply, smile, and have faith in the procedure. And click some photos for memories.
---
Height and Speed of the Fall of Skydive in Dubai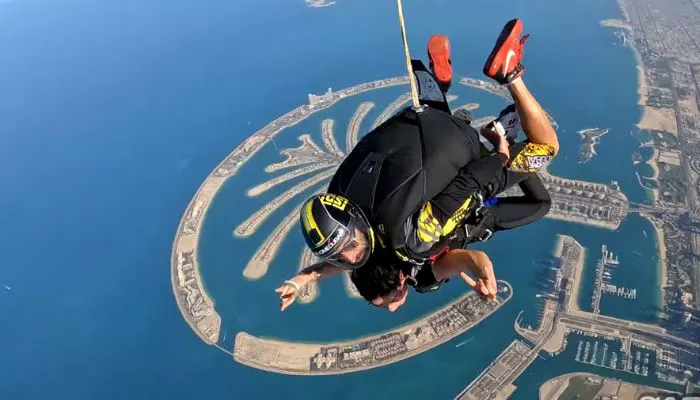 The details of the height and speed of the fall of Skydive and the process of reaching the drop height are as follows:
Head to the registration counter when you arrive at your designated check-in time.
You will be led to the area of boarding for a pre-boarding safety inspection and photographs.
Each member shall have high-quality safety equipment, and certified specialists shall supervise the activity.
Before jumping, the professional skydiving instructor will provide a 30-minute pre-dive instruction.
Once the instructor pulls the parachute's cord, you will experience a 60-second free-fall at a speed of 190 kilometres per hour from a height of approx 400 meters.
---
Conclusion
Dubai is an incredible location with something for everyone. Skydiving in Dubai is among the most thrilling activities, as it provides a breathtaking perspective of the city and its environs. This experience is a must-do for adventure fans and thrill-seekers because of its beautiful landscapes and perspectives.
If you intend to visit Dubai and partake in skydiving, you should arrange your trip through a reliable operator like Roaming Routes. They can assist you in organizing your vacation and ensure that you have a memorable and safe experience.
Dubai has more to offer besides skydiving, featuring world-class shopping, magnificent hotels, delectable food, and interesting cultural activities. It is a city that has something for everybody, and anybody who goes will be captivated by its splendour and charm. Choose Dubai tour packages from Roaming Routes for an incredible vacation experience, and also check Dubai costs from India..
---
Frequently Asked Questions
Ques 1. What is the minimum and maximum age limit for skydiving in Dubai?
The minimum age for skydiving in Dubai is 18 years and the maximum age is 70 years but with a doctor's consultation.
Ques 2. Can I Skydive under the Influence of Drugs and Alcohol?
No, you cannot skydive under the influence of Drugs and alcohol. It will prevent you from skydiving as the operators will cancel your appointment.
Ques 3. How Much Does Skydiving Cost in Indian Rupees?
The cost of skydiving in Dubai in Indian rupees is Rs. 27,000 – 35,000 for a tandem jump and Rs. 16,000 – 18,000 for a solo jump.
Ques 4. Is there any transportation cost for skydiving in Dubai?
There is no such transportation cost for skydiving in Dubai. You can reach the location through public transportation or a taxi.
Ques 5. Can I choose the gender for my jump companion?
No, you can choose the gender for the jump companion.
Ques 6. Can I dive without an instructor?
Yes, you can dive without an instructor if you chose solo jump.
Ques 7. I want to skydive on my birthday. What are the charges? Can I get any discount?
You can contact the operators for skydive Dubai offers.