Dubai is a gastronomic delights destination, with various eating alternatives to satisfy every palate. Dining out is among the greatest joys of every trip to this city, whether you're a resident or a visitor. It's time to investigate the best restaurants in Dubai that you must visit.
The Dubai restaurants provide amazing dining experiences, from breathtaking views and ambience to delicious dishes with various cuisines. Dubai is renowned for its rich food scene, where you can discover Italian, Japanese, Arabic, Indian, and other cuisines.
The Marina, Deira, and the Creek are among Dubai's most popular eating districts. Several of the city's most renowned restaurants, including those serving seafood, traditional Emirati cuisine, and foreign cuisine, are located in these regions.
Individuals often seek out restaurants in Dubai for various occasions, including romantic meals, family gatherings, corporate events, and a night out with friends. With so many alternatives available, selecting the ideal restaurant may be difficult. This is where we step in.
We've chosen the 13 best restaurants in Dubai for you to visit in 2023. Our selection criteria included meal quality, service, atmosphere, and cost-effectiveness. Also, we have assessed the food, location, overall eating experience and reviews.
This post provides comprehensive details on each restaurant, including what makes them unique, the food they serve, and their location. Further, we will also describe each restaurant's ambience, setting, and suggested cuisine. Whether you're a gourmet or just seeking an unforgettable eating experience, these 13 eateries will not disappoint.
---
13 Must-Visit Restaurants in Dubai 2023
1. At.mosphere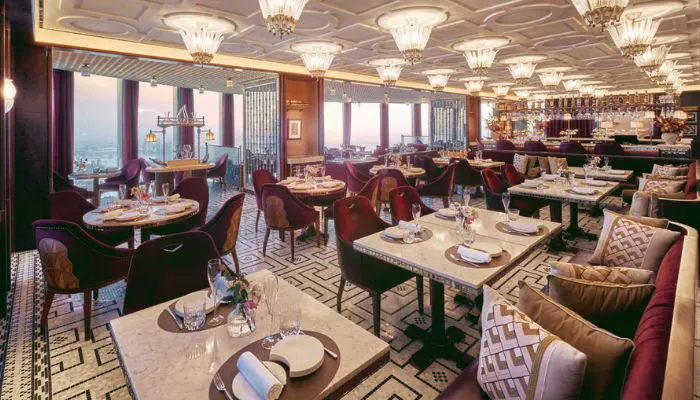 The atmosphere is positioned on Level 122 of the world's highest building and is only two floors below the building's summit. With Burj Khalifa Tickets, you may visit the observation deck of the architectural wonder Burj Khalifa and enjoy the awe-inspiring panorama depicted in the song "At the Top," which evokes just one word: "WOW."
In addition to offering the greatest eating experience in this high-rise, this restaurant holds the Guinness World Record for the highest restaurant from the ground.
Famous For – European Cuisine
Location – Level 122, Burj Khalifa, Downtown Dubai
Timings – 7–11 am, 1–4 pm, 5:30 pm-12 am
Contact Details – +971 4 888 3828
Also Check: Hotels in Palm Jumeirah
---
2. Pierchic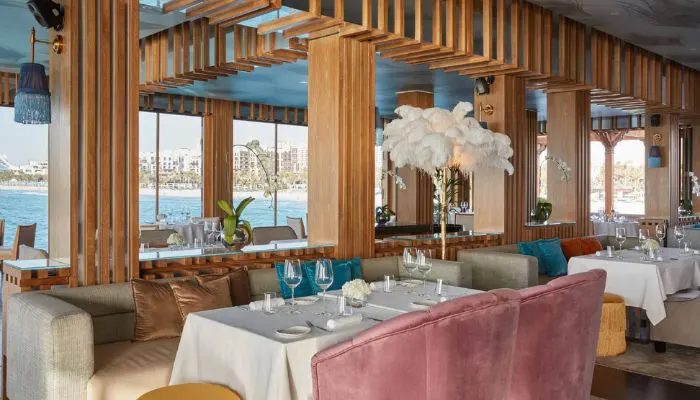 Pierchic, located on a decked pier extending into the Arabian Gulf, serves some of Dubai's best seafood. The pier is a lovely enclave, distant from the hustle of Dubai, with spectacular views of the turquoise Gulf.
Dine al fresco on contemporary European seafood meals while overlooking the Arabian Gulf at your table above the ocean. The restaurant is at the end of a dock at the exclusive Jumeirah Al Qasr hotel; guests will be taken there by rickshaw. Before dining on freshly caught seafood, drink cocktails at the elegant Pierchic Bar.
Famous For – Seafood
Location – Al Qasr at Madinat Jumeirah – Dubai – United Arab Emirates
Timings – 1 to 2:30 pm and 6:30–10 pm (Mon, Tue, Wed, Thur & Sun) and
1 to 2:30 pm and 10:30 pm (Fri & Sat)
Contact Details – +971 800 323232
Also Check: Dubai Food
---
3. Al Dawaar Revolving Restaurant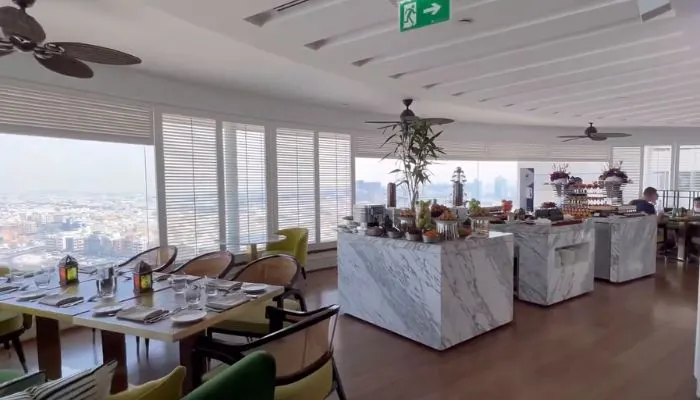 Appreciate Al Dawaar, Dubai's only rooftop spinning restaurant in Dubai. It blends culinary brilliance with a breathtaking view of the city's cityscape, the Burj Khalifa, the creek, and the sea.
In a beautiful, tropical colonial atmosphere, dine in a live kitchen while sipping a handcrafted cocktail.
Famous For – Singaporean Black Pepper Shrimp, Fine de Claire (French oysters) & Arabic Sweets
Location – Hyatt Regency Dubai Hotel Al Khaleej Road, Deira Corniche, Dubai United Arab Emirates
Timings – 6:30 pm – 11:30 pm (Mon-Sun)
Contact Details – +971 4 209 6887
Also Check: Dubai Travel Requirements
---
4. Sea Fu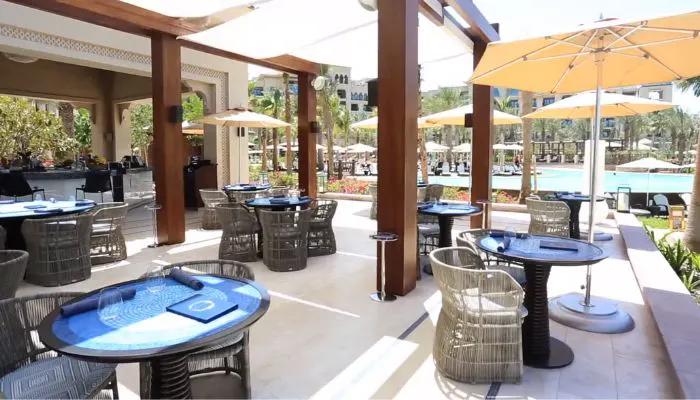 Sea Fu Restaurant at Four Seasons Dubai Jumeirah Beach presents a selection of fresh seafood influenced by Asian cuisine in a relaxed, lounge-like ambience with soothing breezes. It is among the best places to eat in Dubai.
This restaurant is renowned for serving the freshest seafood, and the luxurious and elegant atmosphere enhances your eating experience.
Throughout the day, this restaurant is one of the greatest places to experience traditional Mediterranean food. When evening approaches, Sea Fu is one of the best places to sip velvety wine while admiring panoramic beach views.
Famous for: Mediterranean, Asian, and Seafood
Location: 2 Jumeirah Beach Rd, Dubai
Timings: 12:30 pm to 12 am (Mon-Sun)
Contact Details: +97142707802
Also Check: Street Food in Dubai
---
5. Couqley French Bistro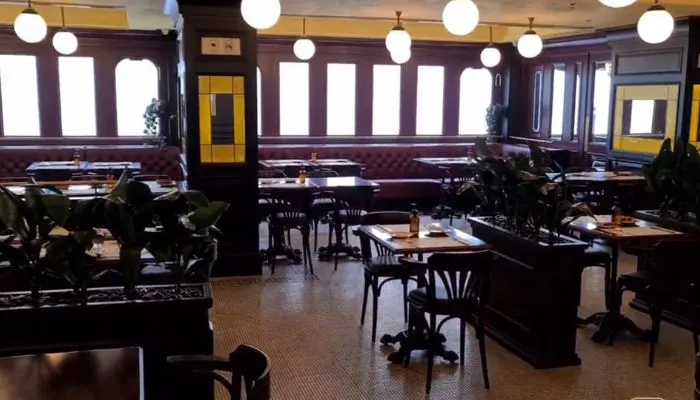 Among the most famous restaurants in Dubai, Couqley French Bistro is the ideal place to have a sophisticated dinner in comfortable surrounding. Couqley preserves the elegance of French cuisine with its soulful and delectable meals served in a family-style ambience. Moreover, this quintessential French dining experience is complete with red brick walls, grape leaves, and a pleasant atmosphere.
Furthermore, the restaurant offers a lounge area, a private dining room, and a tranquil indoor patio, making it perfect for a late-night meal or a pleasant lunch.
Famous for: Tuna tartare, steak frites, Truffle, and Mushroom Pasta
Location: Mövenpick Hotel – Cluster A – Jumeirah Lake Towers – Dubai – United Arab Emirates
Timings: 12 pm to 12 am (Sat-Wed) & 12 pm to 1 am (Thur-Fri)
Contact: +971 4 514 9339
Also Check: Things To Buy In Dubai
---
6. Stay Restaurant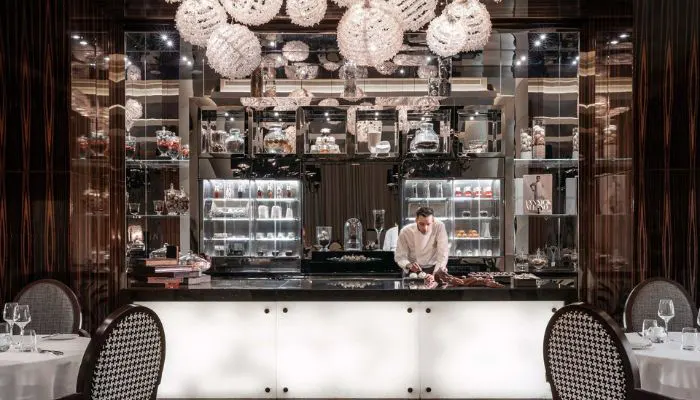 STAY by Yannick Alléno, located on the private island enclave of One&Only The Palm. It is one of only two restaurants in Dubai with two Michelin stars. A dinner at STAY is nothing short of an epicurean journey, with a series of surprise tasting menus showcasing the freshest ingredients and Alléno's distinctive interpretation of traditional French cuisine.
Famous for: French cuisine
Location: One&Only The Palm, Crescent Road (West) – The Palm Jumeirah – Dubai – United Arab Emirates
Timings: 7 to 11 pm (Tue-Sun) & Closed on Monday
Contact Details: +971 4 440 1010
Also Check: Shopping In Dubai
---
7. The Crossing, Near World Trade Center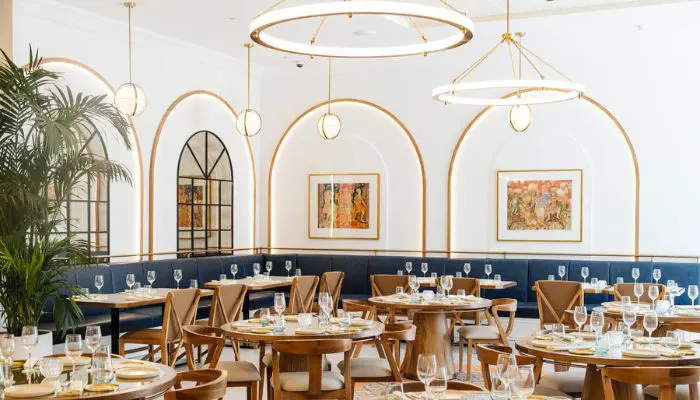 Indian food with a refined touch — that's why you're here! The Crossing celebrates the richness of the Indian subcontinent right here in Dubai. The menu features flavours, inspirations, recipes from all throughout India, and touches of nostalgia and jealously guarded Indian family traditions.
The Crossing emphasizes clean lines, minimalist furnishings, and neo-Indian architecture.
Famous for: Matze chicken, Gunpowder Prawns, Caribbean Goat Curry, Butter Chicken
Location: H Dubai – 1 Sheikh Zayed Rd – Dubai – United Arab Emirates
Timings: 12 pm to 1 am (Mon-Sun)
Contact Details:  +971 4 491 9695
Also Check: Meena Bazaar Dubai
---
8. Amritsr Restaurant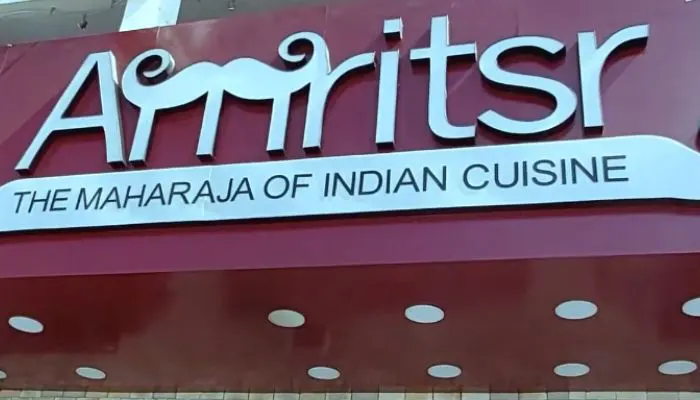 Amritsr Restaurant is a restaurant in UAE that caters to Al Karama and Al Nahda 2 and serves various Indian, Seafood and Curry dishes. Kadai Paneer, Chicken Tikka, Garlic Naan, and Sarson Da Saag are their most popular foods. Yet, they also provide a range of Indian, Seafood, and Curry options.
Famous for: Asian, Indian, Grill
Location: Al Karama
Timings: 12:00 am – 11:59 pm
Contact Details: +971 50 678 0096
---
9. Mint Leaf of London – Fine Dining Indian Restaurant in Dubai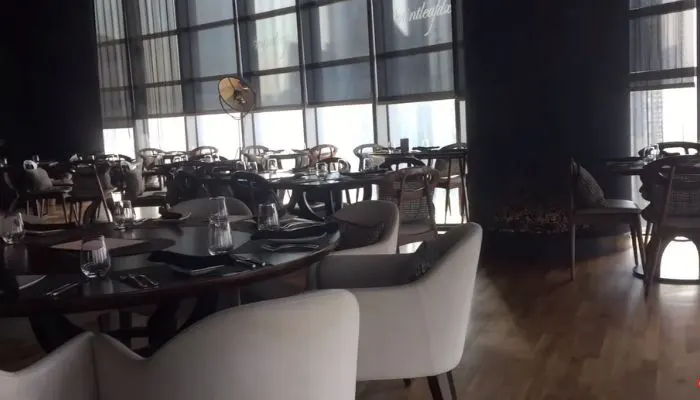 Mint Leaf of London, one of the most popular Indian restaurants in Dubai, provides an excellent dining experience with flavorful Indian food. The restaurant, placed on the fifteenth story of Emirates Financial Tower in Dubai International Financial Centre (DIFC), provides breathtaking views of the Burj Khalifa.
Further, the restaurant provides various options to meet any dietary restrictions. Traditional curries may also be prepared hot, vegan, non-spicy, and vegetarian. The freshly caught fish, organic veggies, and exotic meats elevate the meal to a whole new level of flavour. Sip on some refreshing drinks to set the tone for a fantastic evening in the lounge.
Famous for: Modern Indian Food, Finger Food, North Indian
Location: Emirates Financial Towers – 15th Floor, South Tower – DIFC – Dubai – United Arab Emirates
Timings: 12 pm to 1 am (Tue, Wed, Sat, Sun) & 12 pm to 2 am (Mon, Thur, Fri)
Contact Details: +97147060900
---
10. Eauzone Restaurant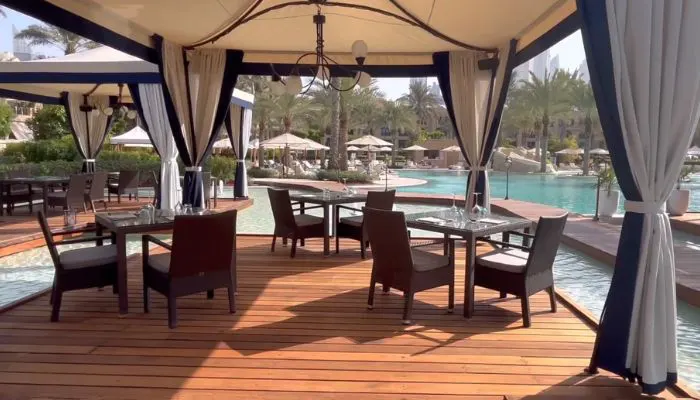 Eauzone is a location to enjoy the rhythm of ocean tides, and the setting sun since the blues of the sky and sea surround it. Moreover, if you are looking for the best restaurants in Dubai with a view, this must be your option.
On a beachfront encircled by palm trees, Eauzone includes covered wooden terraces and floating "Majilis" with views of the Arabian Gulf and a transparent pool.
Furthermore, the atmosphere is casual throughout the day and elegant after nightfall. When night falls, a clean, upscale restaurant serving contemporary cuisine with an Asian twist inspires a sense of intimacy.
Famous for: Asian, Regional Japanese Food
Location: Al Sufouh Rd, Jumeirah Rd, Arabia Courts, Opp Media City – Dubai – United Arab Emirates
Timings: 12–11 pm (Mon-Sun)
Contact Details: +971 4 315 2412
---
11. Thiptara Restaurant in Downtown Dubai
Thiptara should be at the top of your restaurant list in Dubai if you're seeking spicy Thai cuisine accompanied by breathtaking sights. This five-star Palace Downtown hotel restaurant is regarded as one of the most famous dining establishments in Dubai and is popular with tourists and locals.
Furthermore, the restaurant is renowned for its Royal Thai cuisine and Bangkok-style seafood. The chef gives an additional punch of flavour to all the classics, making for a memorable supper.
Famous for: Spicy roast red duck, beef Pang, green chicken
Located: Ground Level, Palace Downtown 9770 – Sheikh Mohammed bin Rashid Blvd – Dubai – United Arab Emirates
Timings: 6:30 pm to 2 am (Mon-Sun) & 12:30 pm to 4 pm (only Sat)
Contact Details: +971 4 428 7961
---
12. Moana Seafood Restaurant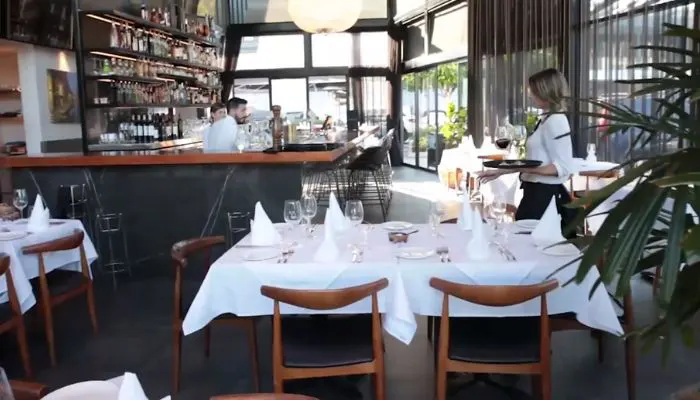 Among the famous restaurants in Dubai is the Moana Seafood Restaurant. Moana Seafood Restaurant is an amazing combination of Japanese and Peruvian cuisine from South American and Asian master chefs and is among the restaurants in Dubai.
This famed seafood restaurant in Dubai is located on Palm Jumeirah. Moana's turquoise interiors are flooded with natural light from the floor-to-ceiling windows, while the pergola-style outside patio gives calming views and sounds of the resort's lush vegetation.
You can also try an assortment of freshly made sashimi, nigiri, and maki rolls from the sushi bar.
Several Peruvian specialities include Street Truck Ceviche, Hokkaido Scallops Tiradito, Fish Criollo, and Grilled Chicken Anticucho. Moana also provides youngsters with seafood cuisine with Peruvian fusion, allowing the whole family to enjoy a unique dining experience.
Famous for: Japanese & Peruvian Cuisine, Vegetarian and gluten-free dishes
Location: The Palm Jumeirah, East Crescent Road
Timings: 6:30 pm to 11 pm (Mon-Fri), 12:30 pm to 2 pm (Sat-Sun)
Contact Details: +97144555656
---
13. Bait Maryam
The UAE-based restaurant Bait Maryam serves a variety of Palestinian, Lebanese, and Arabic foods. This lovingly operated "home" gives a warm welcome and delectable Levantine cuisine prepared in a home manner. Dine in the calm, quiet dining room or the lakeside patio encased by glass.
Famous For: Lamb Chops, Manakeesh, Zaatar falafel, etc
Location: Cluster D – Jumeirah Lake Towers – Dubai – United Arab Emirates
Timings: 10 am to 10:30 pm (Mon-Sun)
Contact Detail: +971 800 627926
If you want to enjoy these restaurants in Dubai, kindly check out these Dubai 1-week Trip costs from India for a better experience.
---
Top Dubai Restaurants for Special Occasions
If you are searching for the best restaurants in Dubai for celebrating your special day, then here are a few options:
Best Romantic Restaurants in Dubai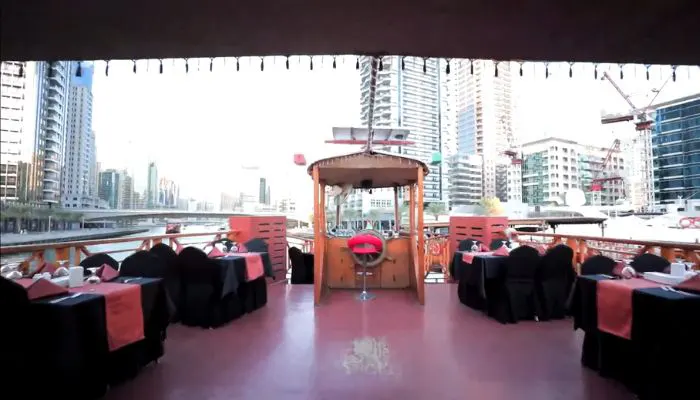 Dhow Dinner Cruise In Dubai Marina
Pierchic
Dinner in the Sky
At.Mosphere Burj Khalifa
Falcon Oasis Floating Restaurant
Also read: Skydiving in Dubai
---
Dubai Go-to Restaurants for Birthday Celebrations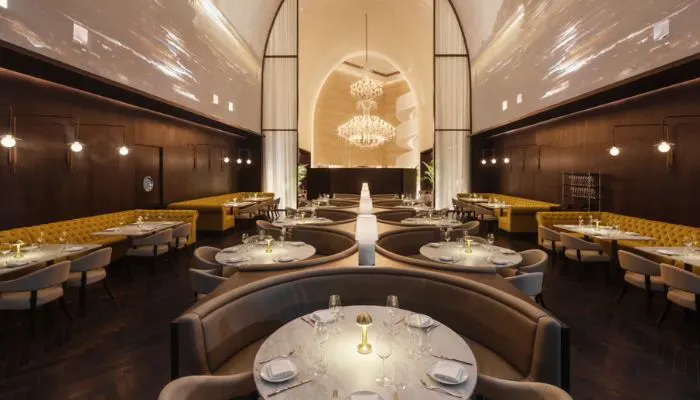 LMP Restaurant
Duomo Restaurant Dubai
Flamingo Room by Tashas
Amazónico Dubai
Zuma Restaurant Dubai
---
Best Restaurants Available In Famous Dubai Locations
In the following sections, users will find a list of the best restaurants in popular Dubai locations. Let's check:
5 Restaurants in Dubai Marina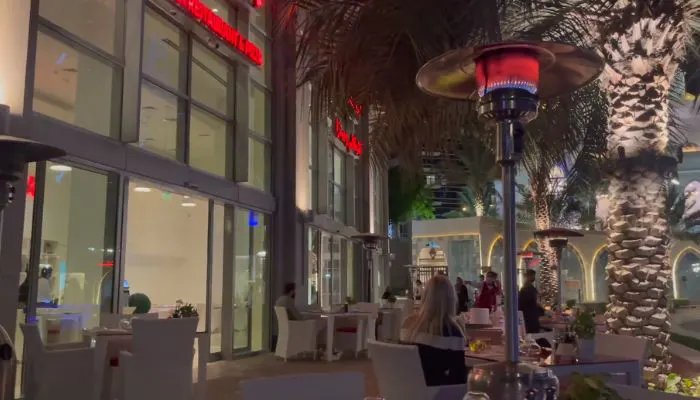 Massimo's Italian Restaurant
Itsu
The Kitchen Cafe
Layaly Beirut Restaurant And Cafe
Halla Mandi
Also read: Places to visit in Dubai
---
5 Restaurants in Dubai Creek Harbour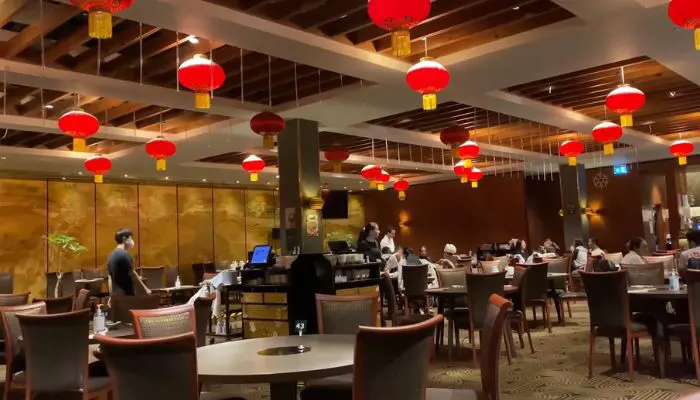 Arabian Tea House Restaurant & Cafe – Al Fahidi
Mumtaz Mahal Indian Speciality
XVA Cafe
Aden Restaurant
Golden Dragon Restaurant
---
4 Top Restaurants in Dubai Deira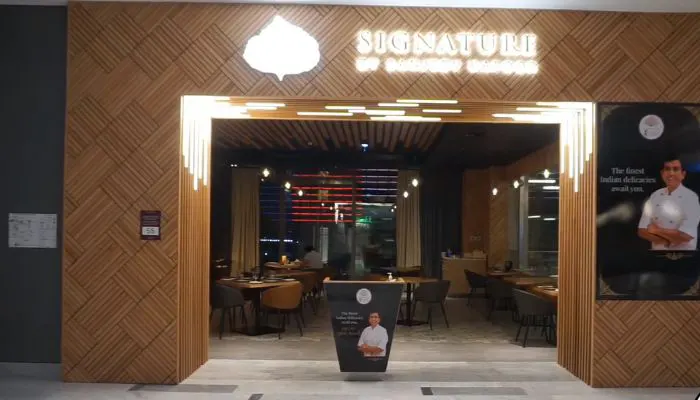 Al Dawaar Revolving Restaurant
Dine at Dhow Cruise
Shokudo Restaurant
Signature By Sanjeev Kapoor's
---
4 Restaurants in Downtown Dubai
The Grill Shack
Bombay Brasserie
Treehouse Dubai
La Serre
---
Want To Visit Dubai? Book The Best Package from Roaming Routes
If you want to book the best Dubai packages from India, then Roaming Routes is the best tour operator. Dubai is a favourite holiday destination among tourists, and there are numerous travel packages offered by Roaming Routes available to accommodate a variety of interests and budgets.
Booking your Dubai tour package with Roaming Routes takes care of your accommodations, sightseeing and transportation, activities to enjoy, airport transfers, and more. We also offer Dubai honeymoon packages at affordable prices and assure you of a romantic holiday.
You can customize your package with the choice of your hotel, whether you prefer a budget stay or looking for something luxurious. You can also request to take care of flight bookings and Visa requirements, and we will take care of everything.
If you are a budget traveller looking for a budget-friendly package, a honeymoon couple looking for a memorable honeymoon vacation, or a family looking forward to a vacation in Dubai, Roaming Routes has all to offer.
Check out this nightlife in Dubai to enjoy the best of Dubai's nightlife.
---
Conclusion
Dubai is a city that never stops to impress visitors with its rich lifestyle, magnificent sights, and delectable cuisine. The post lists the thirteen best restaurants in Dubai that you must visit in 2023. Moreover, these restaurants provide a variety of cuisines that are sure to tantalize your taste buds.
Visiting these restaurants is an excellent opportunity to see the cultural diversity of Dubai and sample some of the world's most delectable cuisines. Among the must-try foods are succulent shawarmas, juicy burgers, spicy curries, and delectable seafood.
If you want to experience Dubai's gastronomic wonders, Roaming Routes can be your ideal trip partner. We provide Dubai tour packages to help you get the most out of your visit to this magnificent city. With our expert guidance and tailor-made itineraries, you can enjoy Dubai's finest cuisine, culture, and attractions.
Hence, book your Dubai holiday package with Roaming Routes today and be prepared for a memorable trip.
---
FAQs about Top Restaurants in Dubai
Ques 1. Which food is most popular in Dubai?
A few of the most popular foods in Dubai include Harees, Thareed, Chicken Saloona, Luqaymat, Shawarma, Meat Biryani, etc.
Ques 2. What is the average cost to eat in a Dubai restaurant?
The average cost of eating in Dubai restaurants is 80-150 AED per person at a normal restaurant, and 500 AED at a luxury restaurant.
Ques 3. What are the best Indian restaurants in Dubai?
The best Indian restaurants in Dubai are Indigo by Vineet; Mint Leaf of London Dubai; The Crossing, Near World Trade Centre; Amritsr Restaurant, and Al Nahda.
Ques 4. What are the must-try foods to eat in Dubai?
Anda Parotta Roll, Kebab, Indian food, and Tea are the foods you must try in Dubai.
Ques 5. Do restaurants serve food in Dubai during Ramadan?
Restaurants are closed during fasting hours. However, most restaurants remain open to serve non-Muslims.
Ques 6. What are the best vegan restaurants in Dubai?
The best vegan restaurants in Dubai are Amala, The Noodle House, Akiba Dori, and Bounty Beets.
Ques 7. How many restaurants are there in Dubai?
There are approximately 13000 restaurants in Dubai.
---
Other Dubai Packages
---