Dubai welcomes thousands of tourists every year. It is a city with a perfect amalgamation of entertainment, culture, traditions, modernity, vibrant events, and festivals. It is one of the finest, richest, and most influential cities in the world, Dubai is also known for its festivals, traditions and cultural diversity.
Moreover, it is the city where almost everything is celebrated and will give you chances to see it while you are vacationing. From the Dubai Shopping Festival, where you can go for endless hopping to the Dhow Race that allows vacationers to witness the traditions and history of Dubai, the Dubai festivals have a lot to offer.
If you are planning to visit Dubai with your partner then take a look at our Dubai packages for couples that include flights.
Check out the list of the top 12 Dubai Festivals to attend in 2023.
12 Popular Festivals In Dubai You Must Experience
If you're visiting Dubai, then you must attend the festivals. Dubai shopping festivals, Dubai Marathon, Dubai Music Festival, and film festivals, are just a few on the long list of festivals. Moreover, lakhs of participants attend these festivals from around the world.
Dubai Shopping Festival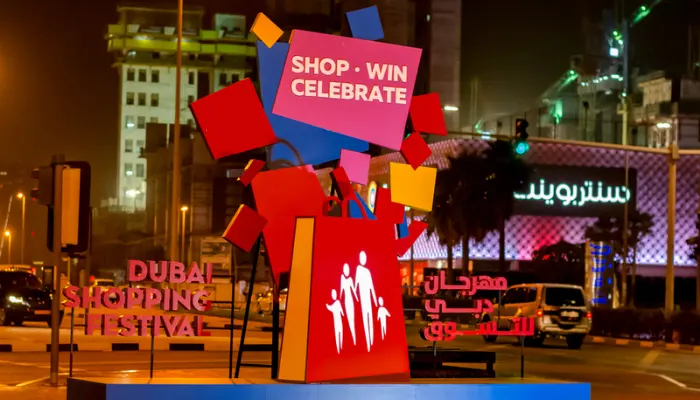 Dubai Shopping Festival is among the most exciting festivals. The festival was started in 1966 and happens every year in the first quarter of the year (in January or February). It showcases the extravagance of Dubai City and is heaven for shopaholics.
During the Dubai shopping festival, every store in every mall in Dubai offers unbelievable deals and discounts. Further, it allows everyone to "shop till you drop."
People can also enjoy food events, music, live performances, parades, etc., in malls during DSF with stunning firecrackers every night throughout the festival.
Location: All across the city.
Date: 15 December 2022 to 29 January 2023
Also Check: 5 Star Hotels in Dubai
---
Dubai International Film Festival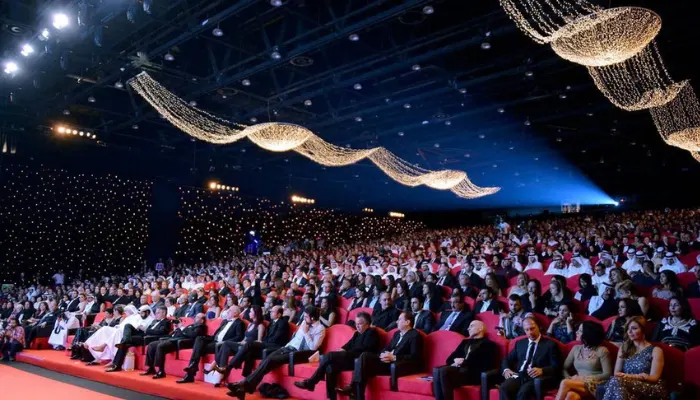 It is among the most popular festivals in Dubai. Since 2004, the DIFF has been celebrated in December each year to celebrate films. Not just Arab, but movies from across the world are appreciated here. This festival is quite popular among movie fans, and A-list Hollywood actors, directors, and producers come to be a part of this festival.
Held at various posh locations in the city, many volunteers, interns, cinephiles, celebrities, and viewers become part of this festival. DIIF is considered among the top film festivals in the world.
Location: To be announced
Month: December
Also Check: Skydiving in Dubai
---
Art Dubai Festival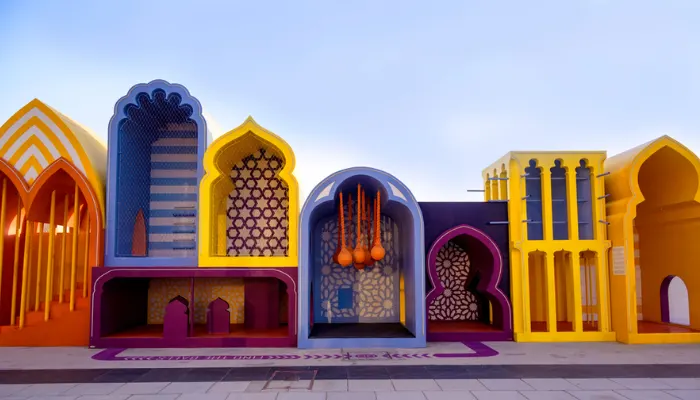 Established in 2007 under the influence of Sheikh Mohammed bin Rashid Al Maktoum, Prime Minister and Vice President of the UAE, Art Dubai is another must-attend event in Dubai.
Art Dubai festival is held in March and is one of the globally diversified art festivals established as young artists from across UAE and the world feature their talent.
It attracts over 28,000 visitors, which include curators, museums, art collectors, patrons, and institutions. Visitors here can appreciate the beauty of Residents, Contemporary and Modern arts. Art Dubai festival also holds the most significant conference in the Gulf, The Global Art Forum, where artists, curators, leaders, and writers from around the world take part.
Location: Madinat Jumeirah
Date/Month: March 1-5, 2023
Also Check: Things To Buy In Dubai
---
Dubai International Jazz Festival – Dubai Music Festival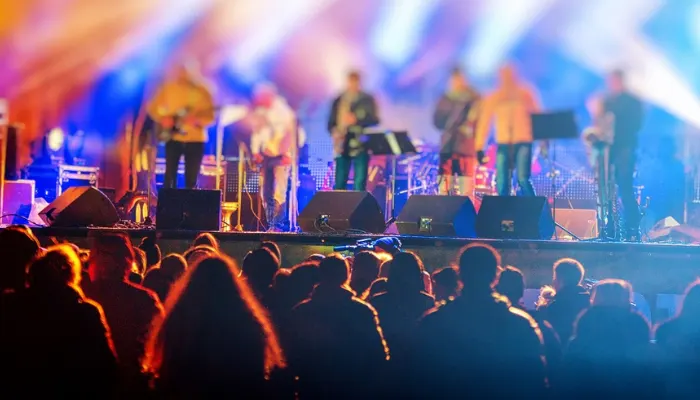 The annual music festival known as Dubai Jazz Festival is another famous festival in Dubai to attend, which first took place at Dubai Media City Amphitheatre in January 2003.
The sparkling Jazz festival will woo you over with stunning performances by the industry's Jazz artists and music performers. Over the years, the festival has grown its place in the list and now attracts nearly 5,00,000 visitors from around the world.
During the three-day course festival, famous jazz artists showcase their talent, and on this stage, we have even seen legends like John Legend, Duran Duran, and Ricky Martin. Dubai International Jazz Festival won the award for best music festival at the TimeOut Nightlife in Dubai Awards in 2010 and 2018.
Location: TBA
Month: February
Also read: Places to visit in Dubai
---
Dubai Marathon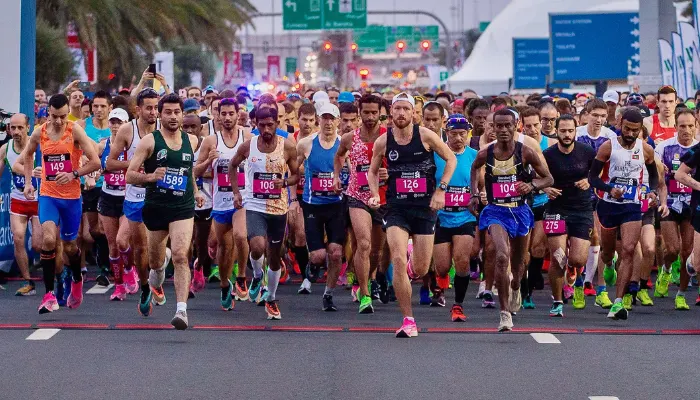 Dubai Marathon is an annual marathon that attracts thousands of runners and participants. The event started in 2000 and has been labelled as the richest marathon event in the world as it offers USD 1 million to those who set a world record and $250,000 to first-place winners (men and women category).
It is also the biggest mass event in the Middle East as 28,000 participants from worldwide become a part of it. 42.2 kilometres marathon begins for elite and wheelchair athletes at 06:00 AM and for masses at 07:00 AM. It also has 10 kilometres and 04 kilometres races. For more details about participation fees and timing, you can visit the official website.
Location: Madinat Jumeirah – Dubai – United Arab Emirates
Date: February 10th, 2023
Also Check: Shopping in Dubai
---
Dubai World Cup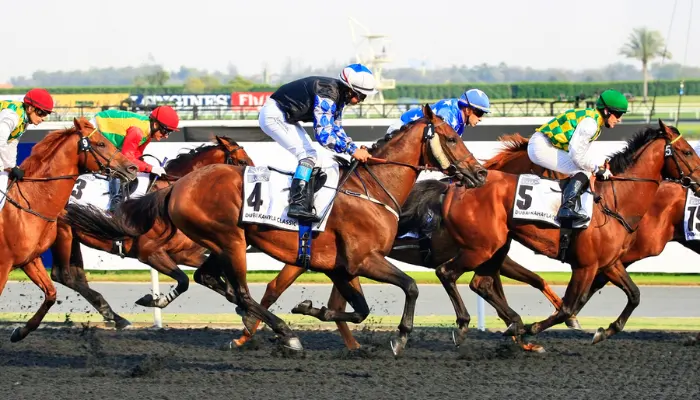 Dubai is one of the finest cities in the world, where you will see luxury and elegance everywhere. Maybe that's why you can witness some richest festivals, like one of the richest horse races in the world during the Dubai World Cup. Hosted for the first time in 1996, this festival in Dubai has become one of the most witnessed festivals over the years. It takes place in the presence of the world's best horses, jockeys, & trainers at Nad Al Sheba Racecourse.
Location: Meydan Racecourse in Dubai
Date: Expected Date is March 25, 2023
Also Check: Meena Bazaar Dubai
---
Taste Of Dubai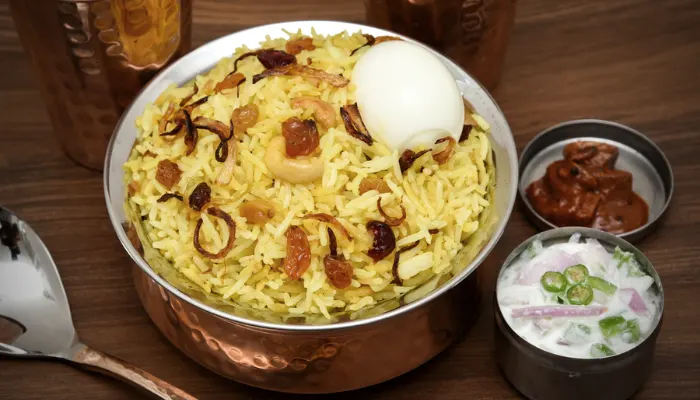 An unofficial food festival of Dubai, Taste of Dubai, is undoubtedly one of the best festivals you shouldn't miss. It's a paradise for food lovers and the most awaited event in the emirate.
First held in 2007, this food festival attracts gourmets and visitors from around the world, where they can savour dishes prepared by ambitious and established chefs. You can even see experienced and celebrity chefs live preparing dishes and demonstrating cooking instructions. There is a special kid zone and shopping area present on site.
Location: Amphitheatre, Dubai Internet City (location keeps changing)
Date: 3rd to the 5th of February'23 
Also Check: Dubai Travel Requirements
---
Dubai International Boat Show Festival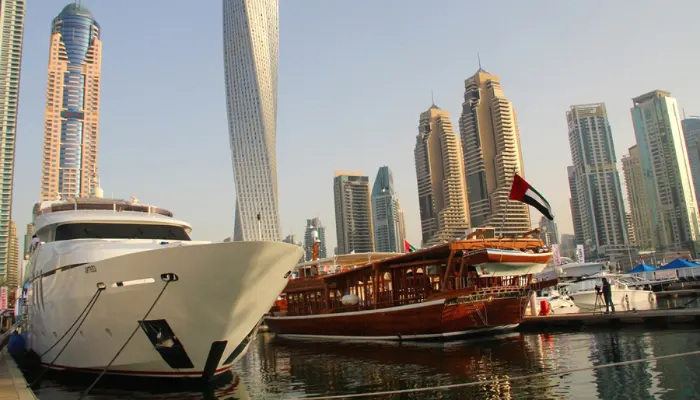 One of the prestigious events in Dubai, the Dubai International Boat Show, will give you a chance to witness and sail in luxurious yachts from around the world. The event exhibits luxury vessels from well-known brands. VIPs attending the Dubai boat show can see the Marina Art Gallery exhibition, where one can witness outstanding works from the most prestigious galleries in the world.
Visitors can enjoy live music and entertainment performances. The show timings are 3 pm to 11 pm at night.
Location: Dubai Marina – Dubai – United Arab Emirates
Date: March 1 to 5, 2023
---
Dhow Race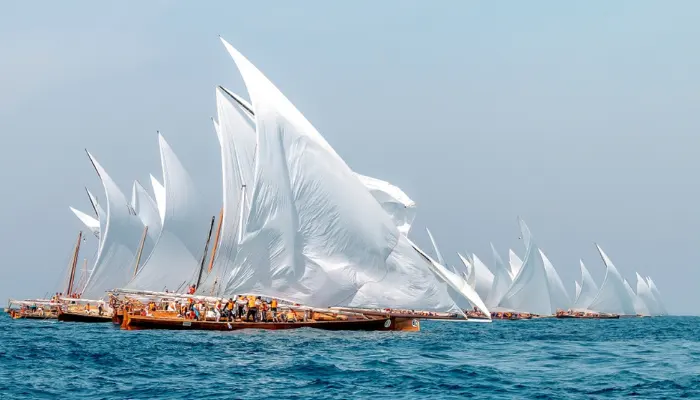 The event honours the past of the city and glorifies the principles of commercial activity, pearl diving. It is another festival in Dubai that you should attend during your Dubai trip.
The Al Gaffal Dhow Race is an annual festival where you can witness traditional Emirati boats, Dhows, which once were used by pearl divers to help the establishment of Dubai as a trading port. The event usually takes place in September.
Location: Sir Bu Nair Island to Mina Seyahi
Date: May 20 to 27, 2023.
---
Swim the Burj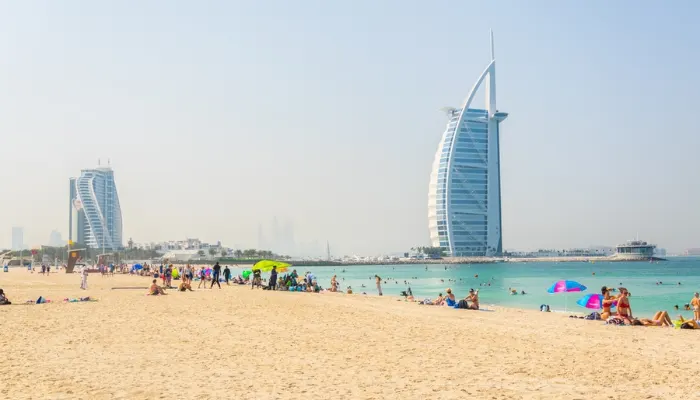 Burj Al Arab is one of the fascinating architectural marvels and iconic landmarks in Dubai, featuring many movies. Attend the Swim the Burj event to witness the beauty of Burj Al Arab from close. Held each year in March, participants can take part in the 800-meter race or 1600-meter race category of Swim the Burj. People over 16 years old can participate in this race. Further, proceeds from the event are donated to various charities and organizations at the end.
Location: The Dubai Holding Burj Al Arab Swim is a unique opportunity to swim around the landmark Burj Al Arab Jumeirah and is situated against a spectacular background.
Month: TBA
---
Awafi Festival in Dubai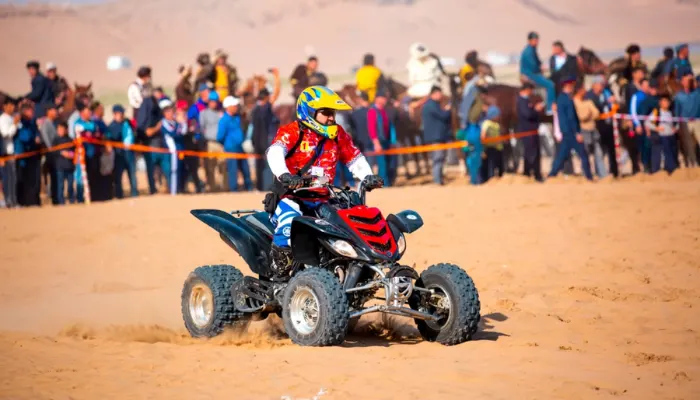 This unique festival in Dubai will include many entertainment, events and contests. Further, this celebration takes place in the desert of Ras al-Khaimah, where people can observe the merger of several nations. Several stalls and food courts during this event are undoubtedly among the most exciting in the UAE. Participate in the Awafi Festival to understand the city's culture thoroughly.
Location: Ras al-Khaimah
Month: January
---
EID
There are two Eid holidays every year: one begins on the 10th day of Dhu al-Hijjah, which last for four days, while the other marks the completion of the holy month of Ramadan, during which individuals fast for a month. Because of the initiatives of the UAE government, Eid in Dubai is especially spectacular. Further, it is a lot of joy to participate in each event that the government introduces and plans for the Eid season. Among the celebrations are live concerts and retail fairs. The majority of retail companies and stores around the nation also promote Eid sales.
When in EID during Dubai, enjoy the delicious delicacies too!
Location: All through Dubai.
Date/Month: Depends on the calendar.
Here is the list of the top 12 Dubai festivals to experience in 2023. Book your Dubai tour package Dubai vacation from November to April to enjoy some of the best festivals in the world and soak in the vibe of the Persian Gulf.
---
FAQs about Dubai Festivals in 2023
Ques 1. What is the best time to visit Dubai to enjoy festivals in Dubai?
November – April is the best time to visit Dubai to enjoy Dubai festivals. Climatic conditions in these months are favourable for indulging in sightseeing tours and outdoor activities and participating in festivals.
Ques 2. What are the best events tourists should see in Dubai?
Dubai Desert Classic, Emirates Airline Festival of Literature, and Dubai Marathon are three popular events where tourists can indulge in sports and know tits and bits about the beauty of literature.
Ques 3. What are the best festivals that are celebrated in Dubai?
Dubai hosts various events and festivals throughout the year. Some of the best festivals in Dubai to attend are as follows- Dubai Shopping Festivals, DIFF, Dubai Marathon, & Dubai World Cup.
Ques 4. Does Dubai celebrate Diwali?
Yes, Diwali is celebrated in many areas of Dubai.
---
Other Dubai Packages
---