Dubai is a photographer's paradise with a breathtaking skyline, unusual desert vistas, and gleaming cities. Everyone will find something to enjoy, from the renowned Burj Khalifa to the distinctive architecture of the Palm Islands. There are several wonderful sites to snap photographs in Dubai to capture incredible images and memories. The locations for photography in Dubai combine the finest of old and new, beautiful and modern, city and desert.
Dubai Desert, with its unspoiled dunes and ideal lighting for action photography, is among the most sought-after locations for photography in Dubai. The Dubai Main Beach continues to be a preferred spot for capturing the beachfront lifestyle. Moreover, you may go to Old Dubai to photograph the historical zone on the banks of Dubai Creek, which depicts the passage of time.
Enjoy these photography places with Dubai tour packages. Roaming Routes provides you with the best budget-friendly Dubai packages.
So if you are planning to visit Dubai, then make sure to visit these photography spots for taking gorgeous photographs. Keep scrolling till the end.
---
Top 10 Places in Dubai to Take Click-Worthy Photos
Here is the list of ten places to consider for photography in Dubai:
Dubai Desert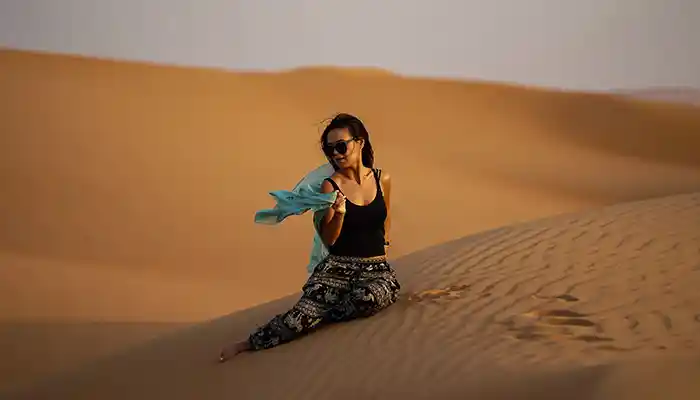 The Dubai desert is the first option for photography in Dubai. Dubai's desert terrain provides travellers with breathtaking vistas of large, stretching dunes that can be used to create gorgeous images with distinctive and unusual textures. Moreover, the desert also provides a spectrum of colours, from muted tones to brilliant oranges and reds, which may enhance the aesthetic value of a shot. If you are planning wedding photography in Dubai, don't miss the desert!
Additionally, the desert also provides abundant natural light, which is ideal for photography, as well as a variety of angles and viewpoints to capture breathtaking photographs. The enormous dunes are particularly tempting for wide views and an abandoned dune's magical textures.
You can head to The Dubai Desert Conservation Reserve, Sharjah, for some stunning shots.
Also Check: Festivals in Dubai
---
Burj Khalifa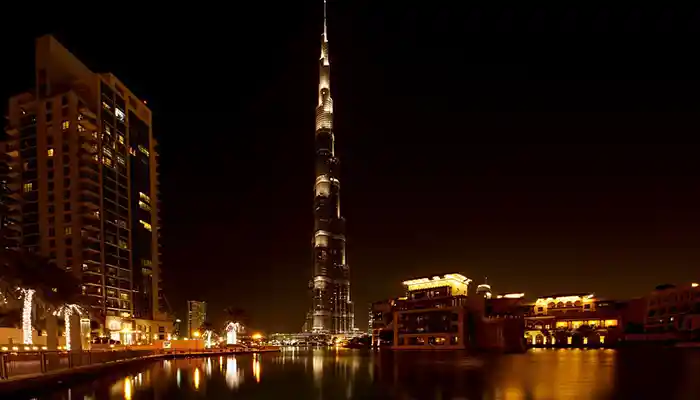 The world's tallest building, Burj Khalifa, offers breathtaking views over Dubai, the Arabian Gulf, and the neighbouring desert. Hence, this makes it ideal for photography in Dubai. Moreover, it is the ideal location for photographers seeking expansive panoramic images of the city and its environs.
The majority of tourists to Dubai wish to photograph Dubai's stunning skyline. One of the most popular photo spots is from the observation decks on the 124th and 148th levels of the Burj Khalifa. The observation deck atop the tower provides a birds-eye view of the city skyline, and you will capture great shots. For the most incredible opportunity to capture a good shot without haze, plan your flight after sunset, when the vistas are often clearest and the light is brightest.
Location – 1 Sheikh Mohammed bin Rashid Blvd – Downtown Dubai – Dubai – United Arab Emirates
Also Check: Things To Buy In Dubai
---
Old Dubai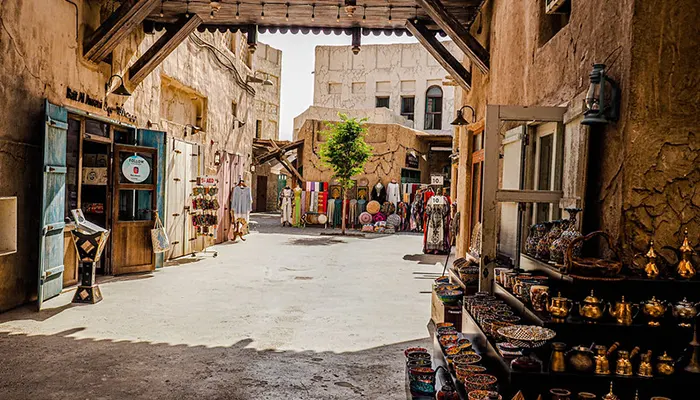 Shooting photographs in old Dubai is an excellent way to capture the city's traditional culture and vibe. Old Dubai is a far more traditional neighbourhood than the trendy and sophisticated global metropolis it has become. Moreover, it is a beautiful chance to capture the soul of the city, its people, and its culture in a manner that cannot be seen in the city's contemporary areas.
The structure of these locations provides a terrific background for taking unique photographs. Old Dubai's narrow streets and alleys provide excellent chances for street and candid photography, in addition to unique perspectives of the city.
Moreover, the brilliant and colourful souks are ideal for shooting captivating photographs depicting the city's history. Taking pictures in old Dubai is an incredible way to capture the city's inherent beauty and gain a unique look into its history.
A few of the places where you can consider clicking pictures are Dubai Creek, Bastakiya, Sheikh Saeed Al-Maktoum House, Al Fahidi Fort, The Gold Souk, etc.
Also Check: Shopping in Dubai
---
Dubai CityWalk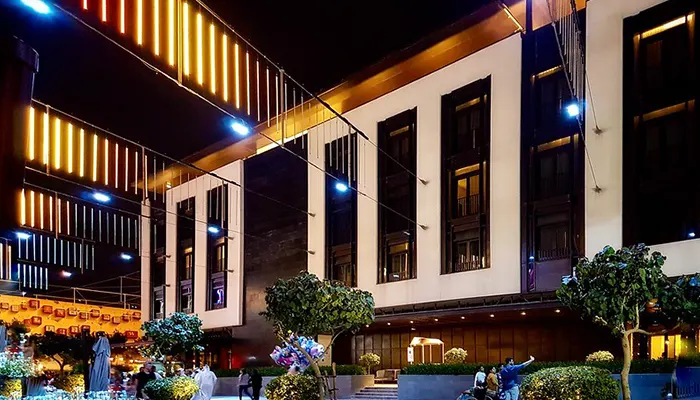 The next place where you can take memorable pictures is the Dubai CityWalk. This new route in Downtown Dubai is a community-like retail and eating district that feels more contemporary than the Dubai Mall.
Many open areas, fountains, textured walls, and bright facades provide incredible photo settings. It is intended to resemble a European town centre and is quite popular among locals. Indeed it is a fantastic location for a lively and colorful photoshoot with prominent towers as a backdrop.
Also Check: Skydiving in Dubai
---
Dubai Creek Harbour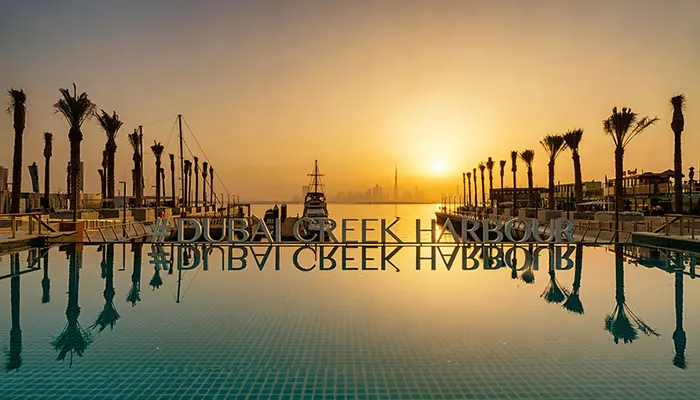 The next popular photography spot is the Dubai Creek Harbour, just 10 minute drive from Downtown Dubai. Experience the Dubai Creek Harbour, where gorgeous skyscrapers, restaurants, and walkways provide the ideal background for stunning Instagram posts.
A new waterside attraction in the city, one may explore the bustling paths of the contemporary creekside or uncover hidden beauties influenced by the rustic surroundings of Old Dubai. At this place, every view is a breathtaking panorama, making it one of the top photographic locations in Dubai.
Also Check: Meena Bazaar Dubai
---
Dubai Desert Conservation Reserve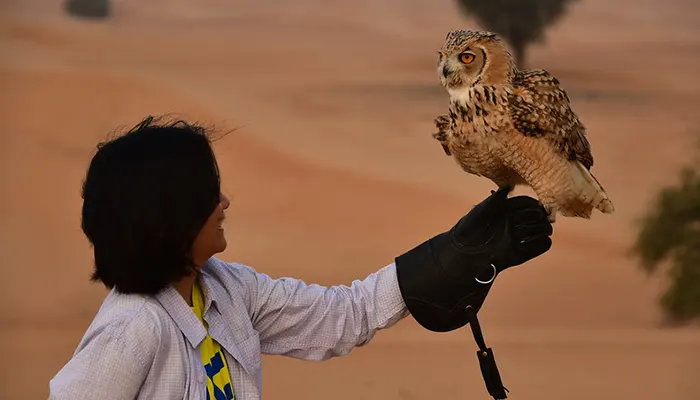 Dubai is a city known for its affluent lifestyle and progressive architecture. Further, the Dubai Desert Conservation Reserve will allow you to explore the gorgeous area and learn facts and history about this region. You can enjoy various treks, desert activities, and photography at Dubai Desert Conservation Reserve.
Location – Sharjah
Also Check: Dubai Travel Requirements
---
Dubai Miracle Garden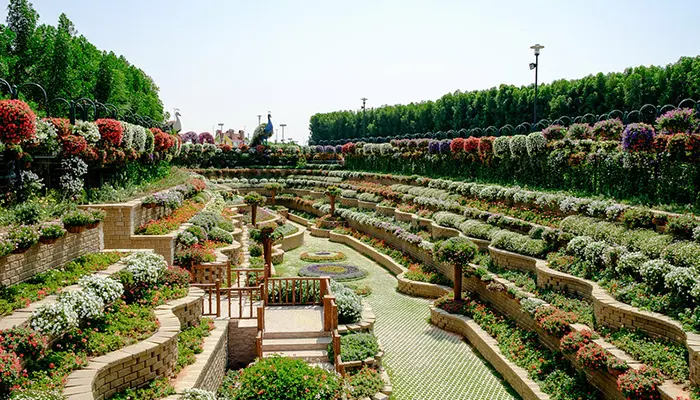 Dubai Miracle Garden is one of the most expensive and stunning flower gardens in the world. The garden is spread over 72,000 sq. meters and is the most extensive flower garden in the world in Dubailand. You can witness more than 42 million plants and flowers here, making it another popular Dubai spot for photography to put up on Instagram.
The place is sprawling with natural beauty and is heaven for city dwellers wanting to spend time in solace amid nature. The garden is open from mid-November to May for the public.
Location – Al Barsha South 3 – Dubai, UAE
---
Tolerance Bridge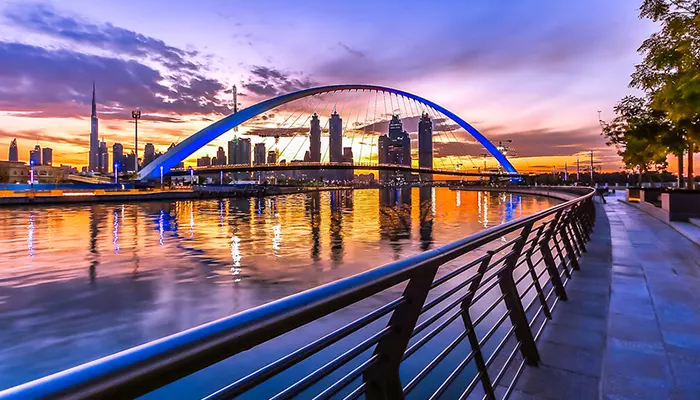 The tolerance bridge represents the bond between Dubai's rich heritage to its modernity. It serves as a getaway to old Dubai and new. The bridge doesn't only just connect opposing villages established alongside canals but is also a place that is popular for photography among Dubai travellers.
The bridge is the first clear-span suspension bridge in the country and Middle East region which was named to honour the International Day of Tolerance. It offers a 690-foot cycling and long walking path spread over the Dubai Water Canal.
Location – Al Safa, Dubai
---
Al Fahidi Historical District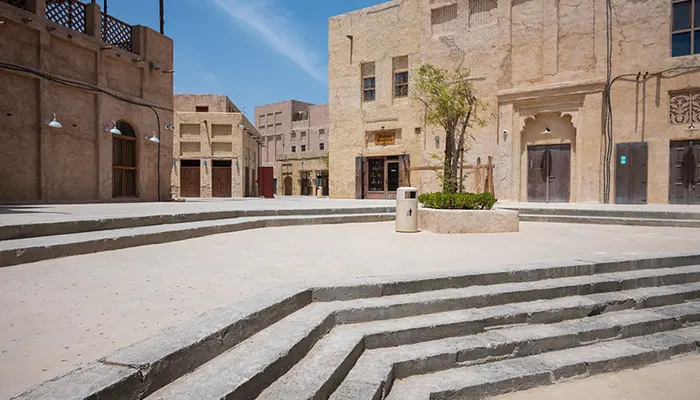 One of the oldest areas in Dubai, the Al Fahidi Historical District is a must-visit place to explore during a Dubai vacation. As you spend touring around Ruler's Court Mosque, a 19th-century wind-tower house, take a sip of Arabic coffee and experience the culture and traditions of old Dubai, You can also click some amazing photographs to post on social media. The place is perfect for history buffs as they get to walk along heritage architecture and discover centuries-old history.
Location – Bur Dubai- Al Hamriya, Dubai
Suggested read: Places to visit in Dubai
---
Jumeirah Beach Walk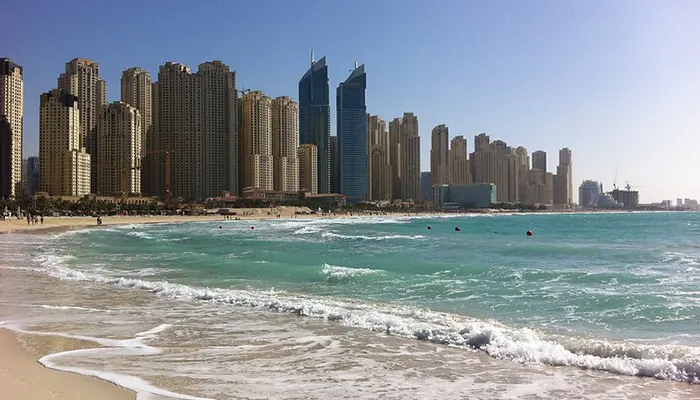 Another place to take amazing pictures in Dubai is the Jumeirah Beach Walk, which is famous amongst tourists for shopping, beach walking, dining, and beach sports. There are various boutiques, and fashion and handicrafts stores where you can shop for souvenirs to bring back home. Another thing Jumeirah Beach Walk is famous for is the stunning sight of Burj Al Arab and Atlantis hotel, which are must-capturing views.
Location – Jumeirah Beach Residence
Also, explore nightlife in Dubai for a better experience of photography at night.
---
Laws Related To Photography in Dubai
If you are working on a commercial campaign, possibly as part of your employment, you must get the necessary licenses to perform a shoot in a public area.
Avoid filming government organizations, political structures, and military facilities.
It is illegal to take photos of others without their consent. Additionally, it is unlawful to share this film without authorization.
Be respectful of the local culture.
Further, respect others' privacy.
Don't involve other individuals, particularly women, while clicking selfies.
---
Conclusion
Dubai is a photographer's dream because of its unique blend of culture, history, and modernity. Moreover, Dubai is an incredible place for amateur and professional photographers alike. With its spectacular skyline and expansive desert vistas, several options exist to capture amazing photographs. The options are limitless, from the ancient attractions of Dubai Creek to the gleaming skyscrapers of the contemporary city.
If you're travelling to Dubai, then go to these world-famous Dubai places to take fantastic pictures.
If you're planning to visit Dubai with your loved one then check out the latest Dubai honeymoon packages from Roaming Routes.
---
Frequently Asked Questions
Ques 1. Which beach is best for photography in Dubai?
Sunset Beach is probably the most popular location for beach-themed photoshoots due to the renowned dhow-inspired Burj Al Arab in the backdrop.
Ques 2. Is photography legal in Dubai?
Photographing or recording in public areas in Dubai and the UAE is not forbidden unless expressly stated. At most hotels, resorts, and public areas, authorization from management teams and authorities is necessary to take photographs or arrange photoshoots. Hence, it is always better to seek permission before clicking photographs.
Ques 3. Which are the romantic places to visit in Dubai?
A few romantic places in Dubai include Dubai Miracle Garden, Burj Khalifa, Dubai Fountain, Dubai Garden Glow, Jumeirah Beach, etc.
Ques 4. Can you take pictures of Burj Khalifa?
Yes, photography of Burj Khalifa is permissible. In addition, Burj Khalifa employs photographers to snap your pictures for a charge.
---
Other Dubai Packages
---