Desert Safari Dubai is a well-liked tourist activity that provides a thrilling experience in the Arabian Desert. Moreover, it is a must-try experience for all visitors to Dubai. The training consists of an exciting 4×4 journey through extensive dunes, accompanied by camel rides, sandboarding, and an authentic Arabic BBQ meal.
This post will explore more about the Dubai Desert Safari tour, the various packages offered, and a few other tips to note when participating in Desert Safari. Let's check the Best Desert Safari Dubai Price.
---
About the Dubai Desert Safari
Desert Safari Dubai is one of the must-do things during your Dubai vacation. This activity will offer you a unique experience, magnificent views, thrill, excitement, adventure, and memories to cherish forever. This region of Dubai is titled Pearl of the Gulf, with scenic vistas of shimmering dunes all day and night.
Dubai safari tour will take you on a journey to another part of Dubai where you won't find architectural marvels or artificial yet pristine beaches but just a stretch of golden dunes. It doesn't matter which safari type you choose; each one will give you the experience of the Arabian desert.
---
Different Types of Desert Safari Dubai Packages
Whether you are visiting Dubai with family or friends or on a honeymoon, Desert Safari in Dubai is the thing one must experience during a Dubai vacation.
This activity offers adventure, thrill, romantic moments, glorious views, and countless unique experiences. Here is Desert safari from which you can choose;
Morning Desert Safari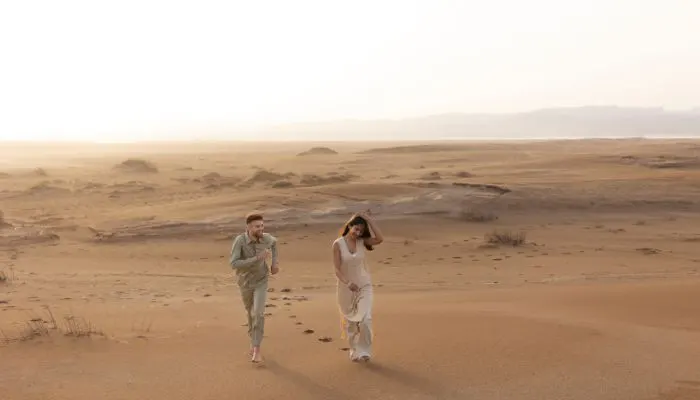 If you prefer mornings, this Desert Dubai safari tour is for you. Get ready before sunrise to experience some of the majestic sunrise views over the golden dunes of UAE.
A morning desert safari would be perfect to start your day with a refreshing experience when the desert is most relaxed. Capture the best shots and show some photography skills as you witness the sunrise while enjoying the serene surroundings.
Hit hard to rolling dunes as you indulge in some adventure doing dune bashing. You can also take up sandboarding, quad biking, and camel safari for extra fun.
Timings: 09:00 AM – 02:00 PM
Duration – 3-5 hours
Also Check: Photography Places in Dubai
---
Evening Desert Safari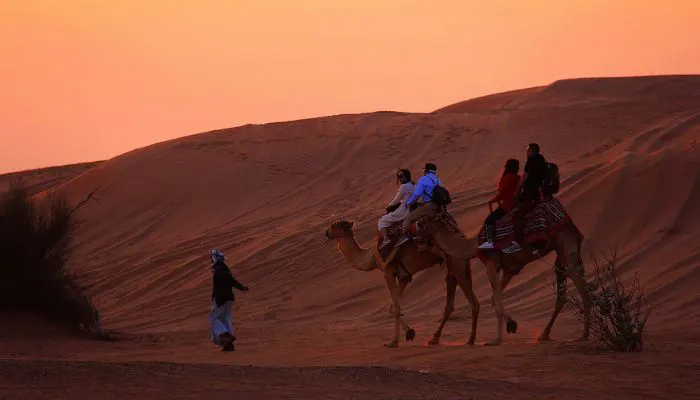 If you are not a morning person, then an evening desert safari tour is a perfect alternative for a morning safari. This Dubai safari tour will allow you to witness the setting sun views.
Starting between 02:30-03:00 PM, the evening desert safari will offer you to enjoy traditional shisha with some fun dancing and drinks, and you will be watching the glorious views of the sunset over golden dunes.
Enjoy sandboarding, dune bashing, camel riding, fire dancing, belly dancing, and more on this safari. You wouldn't realize when an evening desert safari will turn into a belly dance desert safari in Dubai with 07 remarkable performances by tenora dancers, including world-famous belly dance and fire dance.
Timings: 03:00 PM – 09:00 PM
Duration – 06 hours
Check out these best Dubai packages for couples offered by Roaming Routes.
---
Overnight Desert Safari
Overnight Desert Safari Dubai is another type of safari tour you can enjoy. It starts with a sunset and ends with a sunrise. Lying on cool sand under the open sky and gazing upon twinkling stars is one of the most enchanting experiences.
Don't you want to witness something magical like this? The duration of this Dubai safari tour depends from operator to operator, but the ideal duration is 10 hours. You will get to stay in a Bedouin camp, a traditional Arabian tent, experience local delicacies and watch spectacular dance performances.
Timings: 07:00 PM – 05:00 AM
Duration – 09-10 hours
Also Check: Things To Buy In Dubai
---
Desert Dubai Safari with Family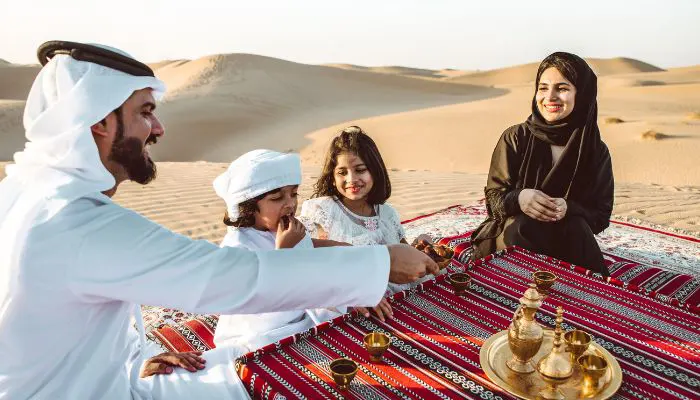 Desert Dubai Safari with Family is a specially designed desert safari Dubai package that includes adults and kids. This safari package has something to offer to everyone, especially kids. It will give opportunities for outdoor activities like sand surfing, playing the most giant sandbox in Dubai, camel rides, and more.
Duration – 06-07 hours
Also Check: Shopping in Dubai
---
Important Things To Consider Before Planning a Desert Safari Trip
Among the essential things to consider while planning a desert Dubai safari tour is the weather. As we know, Dubai experiences a hot climate. Therefore.,. November to March is best to indulge in this experience since these months have pleasant weather.
Another factor to consider while planning a safari tour is what time of the day is most suitable. We already know how the climate of the desert changes through the day and how hot they are during the day. Planning your desert safari in the morning or at noon is best. During this time, the climate is pleasant for experiencing the best desert safari.
Desert Safari Dubai package availability is also another factor to consider. It's best to book your safari package in advance hassle-free to avoid last-minute bookings and issues. Booking a safari package in advance will let you choose the activity you want to enjoy during the safari, as all slots might be already booked when you decide to book it at the last minute.
If you are making a plan to travel to Dubai, then check the Dubai 1-week trip cost from India.
---
Desert Safari in Dubai with Roaming Routes
Roaming Routes is one of the best travel agencies to look for Dubai Safari Tour packages. Be it a honeymoon or family holiday, they will cater to all your needs. Offering a wide range of Dubai desert safari packages starting from INR 45,000 per person.
The Desert Safari Dubai price doesn't only include a safari tour; it also offers a complete holiday experience in an affordable range. Hotel stays with buffet breakfast, visa, return flight, city tour, desert safari Dubai, Dubai Marina cruise, underwater zoo experience, travel insurance, and a lot more are included in the package. So, book your Dubai tour package with Roaming Routes now.
---
Travelling Tips For the Desert Safari Trip
Pets are not allowed on the Desert Safari Dubai.
Make sure your Dubai Safari tour is insured from pickup at the hotel till they drop you at the hotel.
Children below 03 years of age are not permitted on safari.
Wear light and comfortable clothes covering you completely. Carry sunglasses, sunscreen, and a hat/scarf to protect you from the scorching heat in the desert.
The safari incorporates adventurous activities, so pregnant women are not permissible.
Don't forget to pack your camera.
If a person has any physical issues that may be alleviated due to jerks or heat, please consult your doctor before taking Desert Safari Dubai.
Ensure that the 4×4 vehicle you are travelling with is in good condition for your safety.
Avoid activities like quad biking and sandboarding during the day as the desert gets extremely hot.
---
Experiencing the Adventure Activities in Dubai During Desert Safari
Wondering what has been included in desert safari Dubai? Below is a list of activities to do during your safari trip. Scroll down to take a look
Camel Ride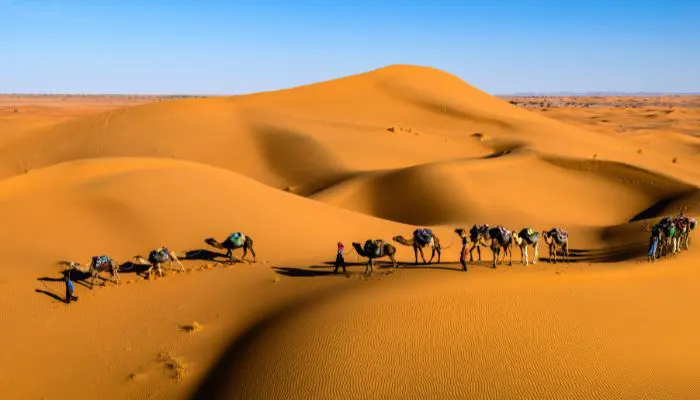 Be it any safari tour, camel rides and camel safari are some of the must-do activities on Desert Safari. Traditionally explore the desert on the ship of the desert. Make your dream of riding on camels back in a traditional Arabian outfit like a Sheikh come true with this activity.
Duration – 45 minutes to 01 hour
---
Dune Bashing
Dune bashing is a popular safari activity during a desert safari tour. A 4×4 land cruiser hitting golden dunes will give you the feel of a private roller coaster.
Don't worry; you will be assisted by a skilled driver on your dune-bashing adventure for your safety. In addition, they will stop atop a dune for you to capture some stunning desert photos. The best time to enjoy dune bashing is during sunset, as you can witness the various hues of the sky, from blue to orange and red.
Duration – 03 hours
Also Check: Meena Bazaar Dubai
---
Quad Biking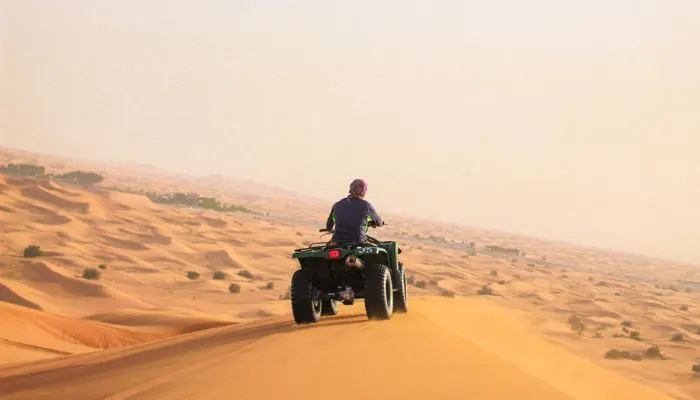 It is a must-do activity for people who love to drive or ride. Quad biking is often not included in the package due to the time it takes; you can still ask your operator to add it.
It will require you to follow strict instructions and guidelines for rough terrains of desert given by the instructor. You will also be provided with security measures that will allow you to control a programmed quad bike on the dunes of Dubai.
Duration – 06 hours
Also Check: Dubai Travel Requirements
---
Hot Air Balloon Ride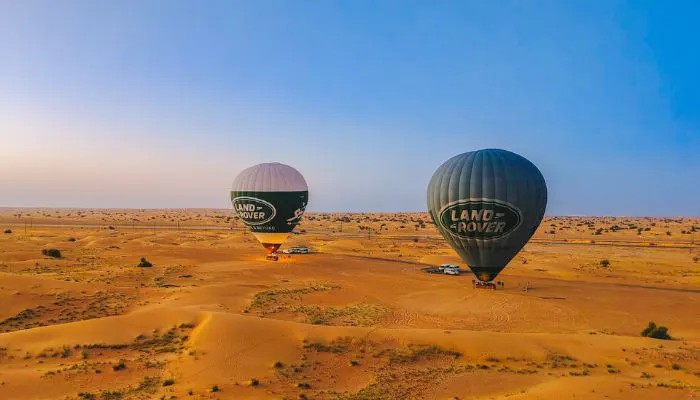 Witness the marvellous sunrise views as you float in Dubai and take a hot air balloon ride during your Morning desert safari. Not just for the tourist, this particular activity is also famous among locals. It is a perfect way to enjoy and explore the desert of Dubai in a leisurely way.
Location – Margham Desert, Sharjah
Time – 04:00 AM to 09:00 AM
---
Eventful Nights
If you choose an Evening safari or an overnight safari tour, my friend, you will have the night of your life. With traditional music, food, dance, and endless fun, safari nights are eventful.
You have the option to stay in Bedouin tents, a once-in-a-lifetime encounter. BBQ dinner desert safari Dubai will allow you to try delicious local delicacies, traditional Arabian smoking pipe, and Shisha while enjoying some fire shows, belly dance, and tenora dance performances.
Also Check: Skydiving in Dubai
---
Enjoying the Delicious BBQ Dinner in Desert Safari
Once you are done with all activity during your safari, comes a BBQ dinner as it is one of the exciting parts of the Night desert safari. While you enjoy henna art, belly dancing, and fire shows, stay in a traditional Arabian tent; not tasting authentic Arabian cuisine will be a crime.
BBQ dinner includes a lavish serving of veg and non-veg delicacies, which will surprise you with the thought, "How much delicious food can be available here in the desert". It also serves you traditional Arabian coffee and allows you to try Shisha, a traditional smoking pipe while sitting inside relaxing Shisha cabins.
Suggested read: Underwater Hotel in Dubai
---
How to Stay Safe During Your Desert Safari Trip?
Desert Safari Dubai is one of the most popular adventures for anyone to experience in this opulent city, but it isn't for everyone. Activities like Dune Bashing are challenging because dunes are bumpy and require travel on them at low and high speeds, which can impact the blood pressure of people with heart issues.
Also, it is inappropriate for pregnant women and young kids to try this activity during the safari. Asthma patients and people with breathing issues or severe dust allergies should avoid this activity.
Safety Tips in Desert Safari
Carry your first aid kit and prescribed medicine with you, along with some essential medications such as temperature contrast during day and night in the desert region.
Keep relevant documents with you, such as your passport and ID.
Do not go on safari without an experienced guide with you.
Keep the numbers of your fellow travellers and guides in your phone saved, just in case you get lost during the safari. Such incidents don't happen, but there is no harm in thinking practically.
Wear comfortable clothes for safari and avoid layering. Shoes should also be comfortable as you'll walk a lot during the safari and indulge in adventure activities.
---
Conclusion
It was all about Desert Safari Dubai, including various safari packages, timings, activities, things to consider, the best time, etc. We hope we have covered everything for you about the Desert Safari tour.
It is a once-in-a-lifetime experience that surely will enrich you with the Bedouins, the local people of Dubai, and the lifestyle of royals. Book your Desert safari package with Roaming Routes in advance for the best activity deals.
After an exhilarating desert safari experience in Dubai, relax and rejuvenate in one of the many 4-star hotels in Dubai.
---
FAQs Related to the Desert Safari Dubai Tour
Ques 1. What is the best time to visit Desert Safari in Dubai?
The best time to go for a Dubai safari tour is from November to March as the weather during these months is cold, and pleasant to enjoy this adventure activity in Dubai. Avoid desert safari in summer as you will be directly under the sun.
Ques 2. What is the location of Dubai Desert Safari?
There are several Desert Safari Dubai locations. The most popular places to enjoy it are the Liwa desert, Al Awir Desert, Dubai Desert Conservation Reserve, Al Lahbab Desert, Bidayer, Al Faya Desert, and Jebel Maleihah.
Ques 3. What to wear on the Dubai desert safari?
It is advisable to opt for comfortable clothes for a desert safari in Dubai. Consider loose-fitting clothes as you will be indulging in adventure. Avoid skin-tight clothing as they can come in between during sand skiing. Men can wear shorts or three-fourths and a t-shirt to keep it casual and comfortable. Pair your clothes with comfortable sandals with buckles. Avoid wearing shoes as sand can get trapped inside, making it difficult to walk.
Ques 4. What is the cost of the Dubai Desert safari package?
The package for desert safari starts from INR 10,000 per person that includes various activities such as quad biking, dinner, and dance. Furthermore, the cost will depend upon the safari type and activities you choose to include in it.
Ques 5. How to find a reputable tour operator to book a Dubai safari?
To find a reputable tour operator for your safari trip, you need to research online the web, check their websites, ask for recommendations, look at their package details and the services included, compare the various prices of various operators, and check online reviews and their services.
---
Other Dubai Packages
---