Kite Beach, Jumeirah Beach, Al Mamzar Beach, Nikki Beach, Mercato Beach, Sunset Beach, Al Mamzar Beach, and the list of beaches in Dubai goes on.
Beaches in Dubai add a ton of fun to the Dubai holiday. Dubai itinerary is never completed without exploring beaches. Despite the scorching heat and sun, the sandy aura and turquoise water will give you an otherworldly experience. As you land on the shore and your feet get drenched in rippling waves, the sense of calm will rush to you.
To help you select the best beach where you can surf, swim, dive, and have the fun of skiing, we have sorted out the 14 Best Beaches in Dubai to visit. In addition, you'll also know the important rules, tips, and fun activities to do there.
If you are planning to visit Dubai beaches with your partner, then book our Dubai packages for couples that include flights, luxury accommodations, and a stay in 4-star hotels in Dubai.
---
14 Best Beaches In Dubai
1. Al Mamzar Beach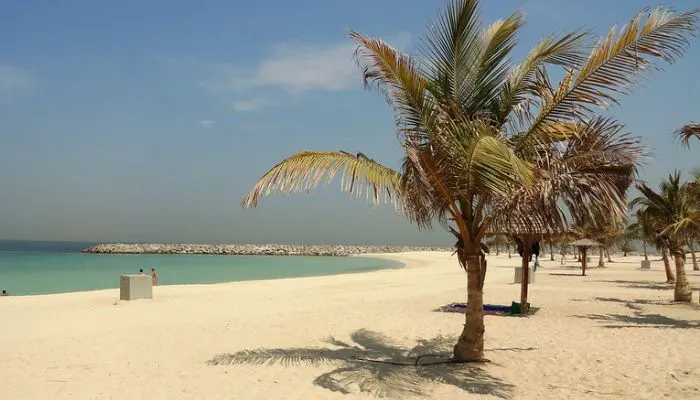 Loved by adventurers, honeymooners, and explorers, Al Mamzar Beach is one of the hidden gems of Dubai City that must be explored. Offering a picturesque landscape, the beach park is a beautiful place with a peaceful aura to spend some time, and appreciate the turquoise shades of water and fringed coconut and palm trees. Al Mamzar Park comprises 05 sandy stretches perfect for sunbathing, jet skiing, BBQ, swimming, picnics, and much more.
Location – Al Mamzar Beach Park, Dubai
Also Check: Things To Buy In Dubai
---
2. Marina Beach In Dubai
Marina Beach is one of the most popular beaches in Dubai. Energetic and scenic throughout the day, this place becomes more stunning once the sun sets. You can plan a day here, relaxing, basking under the sun, and indulging in multiple activities like cruising.
Besides cruising at night, Dubai's cityscape is another thing Marina Beach is popular for. White sandy beaches and turquoise water with tranquillity makes a perfect place to stay in one of the Dubai beach resort.
Location – Dubai Marina
Also Check: Dubai Tourism
---
3. Jumeirah Beach Dubai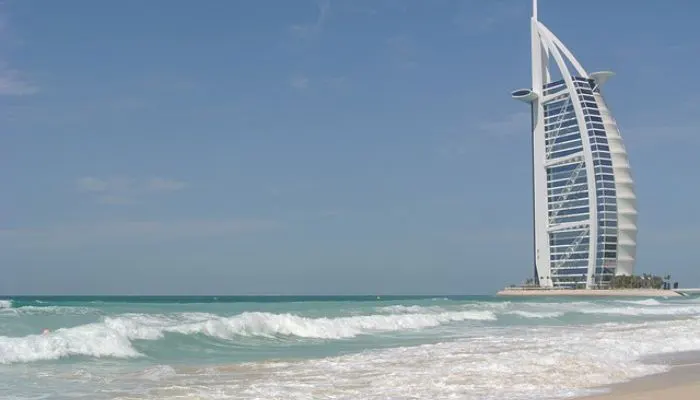 One of the best beaches in Dubai, Jumeirah Beach attracts tourists from across the world due to its stunning sight of the Persian Gulf. It is also one of the famous places to visit in Dubai and is known for its majestic view of Burj-Al-Arab, a seven-star hotel, and white sand that together makes it a marvellous sight to behold.
The best time to visit Jumeirah beach is during sunset when the sand turns into a deeper hue of gold, and the water is warm. Spending time here would be a perfect date idea and give you the vibe of a tropical holiday.
Location: Jumeirah District
Also Check: Photography Places in Dubai
---
4. Mercato Beach
Are you someone who is looking to laze around sandy beaches and read some good books? If you are, Mercato Beach is a perfect place for you. With a library on the beach with bean bags and benches, it will allow you to laze around, choose a book, and admire the stunning views of the sea while reading your favourite reader.
If you want something to eat, go to Mercato Mall to grab a cup of coffee and snacks. It is also a place where you can run or jog in the morning to start your day with some activity.
Location – Jumeirah Beach Road, Jumeirah 2, Dubai
Also Check: Hotels in Palm Jumeirah
---
5. Al Sufouh Beach
In the list of quiet beaches in Dubai, Al Sufouh Beach tops. Also known as "Secret Beach," it is a perfect spot to spend some time alone with yourself or a romantic time with your lover. The tranquil Al Sufouh beach is one of the city's hidden gems, where you can witness the stringed palm trees hiding the beach from the vibrant city.
The sandy shores and white waves will make you feel energized and give you a moment to spend time in a tranquil environment with some stunning sights of Palm Jumeirah and Burj-Al Arab.
Location – 44 33a Street, Dubai
Also Check: Shopping In Dubai
---
6. Sunset Beach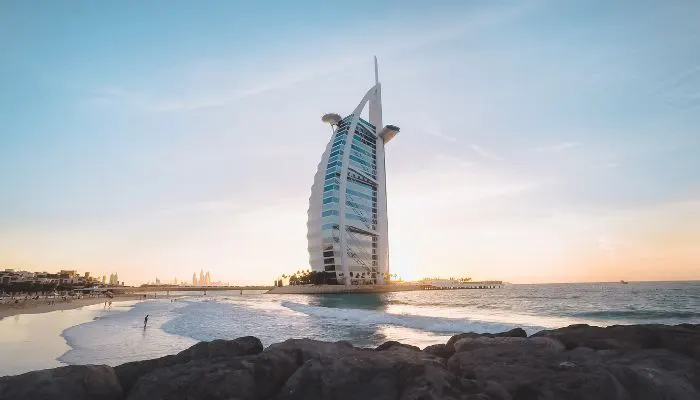 Sunset Beach in Dubai is for folks looking to go sunbathing on a majestic stretch of golden sand and spend their day on the beach. This beach is also known as Umm Suqeim Beach.
The place is famous for breathtaking sunset views of the Arabian Sea. It is well-known among locals and tourists as a place where you can go to take a stroll while enjoying stunning sunset views and even a morning jog, just to start your day with activity.
Location – 22, Al Sagi Street, Sunset Beach, Dubai
Also Check: Skydiving in Dubai
---
7. Kite Beach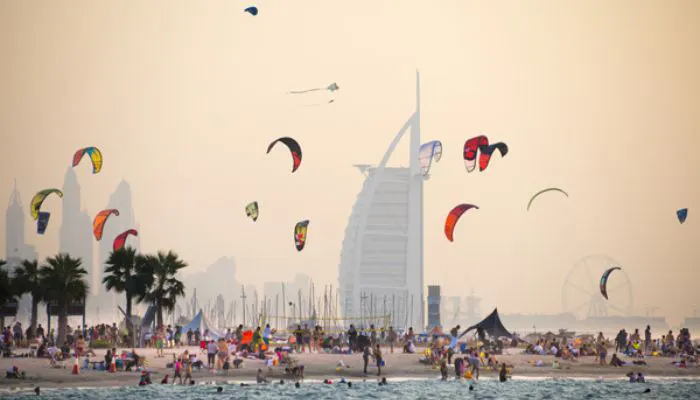 Another beach in Dubai you should visit is Kite Beach, across the Al Manara Road junction. This Dubai beach is famous for extreme water sports and is visited by thousands of tourists annually. Those who visit here participate in kite surfing, and it is where the beach got its name.
Perfect to visit with friends and family, you can also try kayaking, beach volleyball, soap football, beach tennis, and many other activities. On Friday and Saturday, a seaside market is hosted from where you can buy art and craft items.
Location: 35 A St, Dubai
Also Check: Meena Bazaar Dubai
---
8. Burj Beach
One of the most enchanting public beaches in Dubai, Burj Beach Dubai is a must-visit place with family. As you take a relaxing walk with the cool white sand padding your feet, hear the gushing sounds of the waves, and witness the enchanting views of the Burj Al Rab, you will be completely lost in a new environment. This beach is known for swimming, surfing, wakeboarding, skiing, and many other water activities.
Location – 35, 2B Street, Dubai
Also Check: Dubai Travel Requirements
---
9. JBR Beach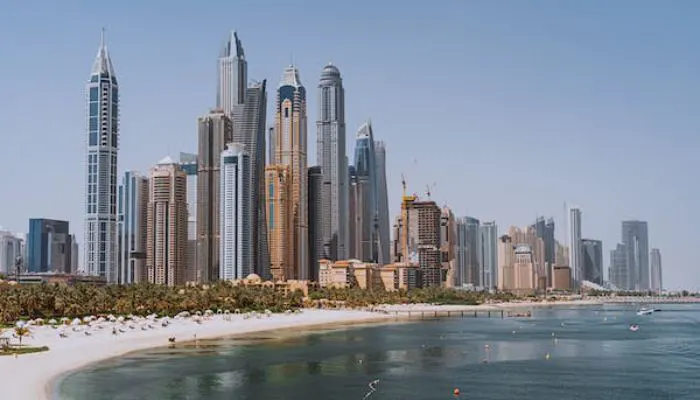 Another beach to visit in Dubai is JBR Beach. Jumeirah Beach Residence, JBR Beach is a place to enjoy the calm shoreline of the city, settled in Dubai Marina. It is one of the largest private beaches. There are over 30 buildings, including the best boutique beach hotels in Dubai. Tourists can enjoy many activities here, like banana boating, parasailing, wakeboarding, and even camel rides.
Location – JBR beach, opposite Dubai Marina, Dubai
---
10. Open Beach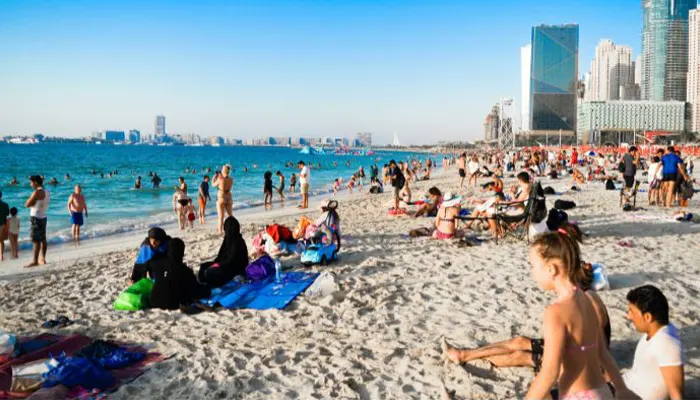 There is another beach on the list, Open Beach, which you must visit during the Dubai holidays. Also known as Jumeirah Open Beach or Russian Beach, it is a place not to miss in Dubai. Adjacent to Palm Strip Mall at Beach Road, it is famous among men and gets very man-substantial during weekends. You can also see many joggers, cyclists, roller-skaters, strollers, and swimmers.
Location – Jumeirah Road, Dubai
---
11. Public Beach Dubai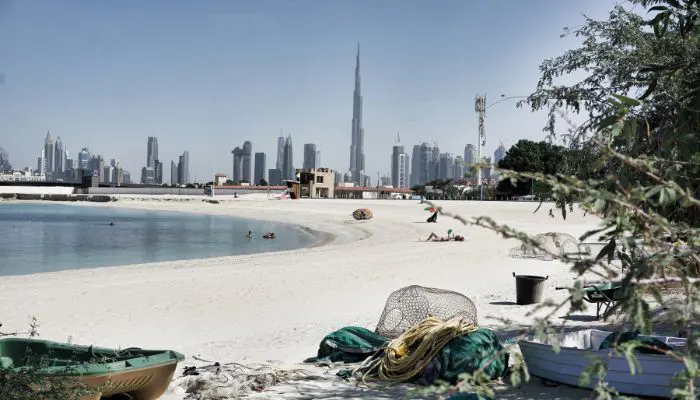 Jumeirah Public Beach is another beach in Dubai that is popular amongst locals and tourists alike. Whether you are on a honeymoon or a family vacation, it is one of the beaches in Dubai that guarantees exciting and fun-filled experiences while offering an extensive range of activities and facilities. To get the best experience, visit this man-made beach during sunset to get spectacular views of architectural marvels.
Location – Jumeirah District
---
12. La Mer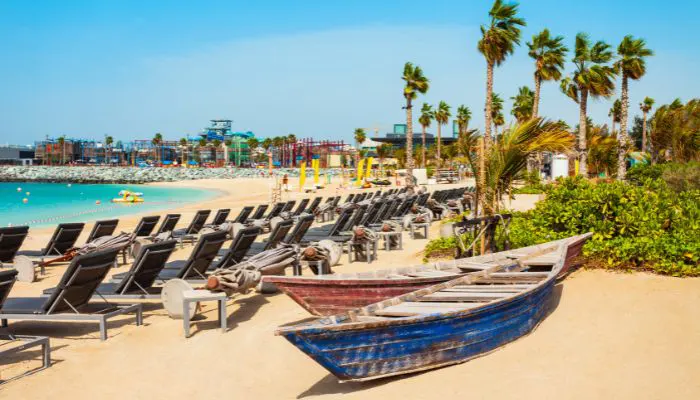 La Mer Beach Dubai is one of the chicest beaches in Dubai to kick back and relax while staring at the Arabian Gulf and enjoying scenic shores. Bordered by fringed palm trees, La Mer beach is a perfect place to lie on white sand and take a dip while grabbing a bite of local seafood and admiring the art of this modern beach in Dubai.
You can swim here from sunrise to sunset and enjoy boating or sailing. Once the sun goes down, enjoy shore bars, Stars N' Bars, and MASTI.
Location – Jumeirah 1 District
---
13. Nikki Beach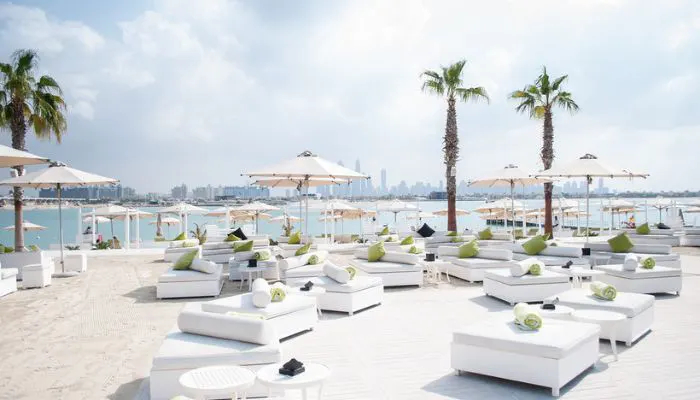 Head to Nikki Beach Dubai if you want to explore and enjoy the blue waters and exciting panoramic views of the Arabian Gulf. As a part of Nikki Beach & Spa, which is the first club in Dubai, this beach in Dubai is a golden gravel spread and offers you numerous beach experiences.
From mouth-watering cuisine to fun beach parties and adventurous water sports like windsurfing and canoeing, Nikki Beach offers a lot to visitors.
Location – Pearl Jumeirah Waterfront, Dubai
---
14. White Beach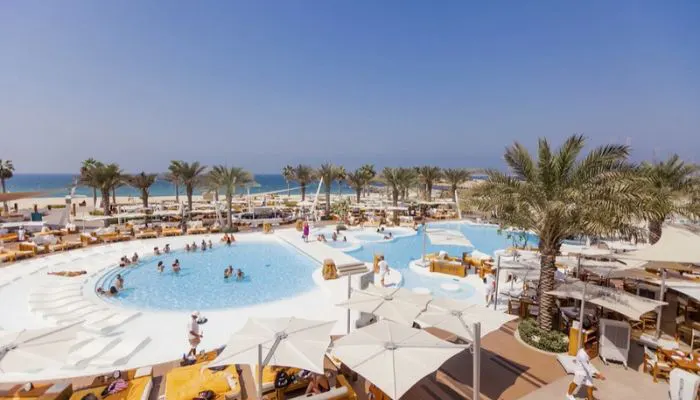 White Beach is not a beach in Dubai but a private beach club, offering its white sandy beaches in Atlantis Dubai Beach Resort. Located on Palm Jumeirah Island's outer rim. The beach is open through the day, and you can enjoy soaking in the sun and seashore views of the island.
Location – the Palm Jumeirah Island, Dubai
---
Top Activities to Do in Dubai Beaches From Skiing to Surfing
Beaches in Dubai offer tons of activities to enjoy the best of it. Whether you are on honeymoon or an adventurer, try these activities when visiting Dubai beaches.
Jet Skiing
A jet ski is a fun and adventurous activity to try while visiting beaches in Dubai. Nemo Water Sports, located on Umm Suqeim Beach, is a famous place to try this activity on Dubai Beach.
Average Cost – INR 7000 for 30 mins, INR 14000 for 60 mins, and INR 20000 for 2 hours.
---
Flyfish
One of the highly demanded activities on the beach in Dubai is flyfish. The best place to enjoy this activity is on JBR Beach Dubai.
Average cost – INR 3800 per person for 15 minutes.
---
Kite Surfing
Kite surfing is another favourite activity on Dubai Marina beaches, and you can see many surfers in the air, tied to their waterboards. It's one of the activities which you can master in a few lessons. Tandem kitesurfing is also offered by Kite Zone which is ideal for kids.
Average cost – INR 4800
---
Diving
Diving is one of the best experiences you can have during your visit to Dubai vacation. Jumeirah Beach is the ultimate place to enjoy this adventure activity.
Average cost – INR 3500 per person
---
Swimming with Dolphins
Dubai offers some exciting water activities, and one such is swimming with dolphins. You can enjoy it at Dubai Creek Park and Dubai Dolphinarium.
Average Cost – INR 950
---
Tips for Travellers Before Visiting Beaches in Dubai
1. Dress code and beach rules – Dubai is a city of culture and traditions. Make sure to pack decent clothes. Women should wear clothes that cover their shoulders and knees and are not revealing. For men, carry clothes that cover the chest and knees. Even for beach wear, try packing ones that are decent.
2. Sun protection – Sunscreen is the most essential thing to carry when visiting beaches in Dubai to stay protected from the heat and sun of Dubai.
3. Water safety – Brush up your swimming skills before you plan your visit to Dubai beaches. Make sure not to get close to the water if you don't know how to swim.
4. Best time to visit – The best time to visit beaches in Dubai is either in the morning or evening, as the temperature during the afternoon is unbearable.
Check out the best time to visit Dubai before planning your vacation, and also check the Dubai 1-week Trip cost from India before visiting Dubai.
---
Dubai Beaches Rules You Must Know
There are a few rules to be followed while you are exploring Dubai beaches. Take a look below-
No lighting fires, barbecuing, smoking shisha, or camping on the beach.
Photography is prohibited on some beaches in Dubai.
Overnight sleeping on beaches is not allowed.
Dress according to local customs and traditions.
Swimming costumes are only allowed on the beach.
Is there any beach that we have missed like your favourite ones from the list of beaches in Dubai or activities to enjoy? We would love to hear from you. If we have covered everything, then what are you waiting for? Pick dates, pack your bags, and go to Dubai.
If you are searching for a travel agency to plan your trip to Dubai, then here we have got you covered. Book your Dubai tour package with Roaming Routes, which is specially customised for you and will fit your budget. Also, check out the Dubai Desert Safari on your Dubai honeymoon package.
---
FAQs about Beaches in Dubai
Ques 1. What are the best beaches in Dubai for couples?
Black Palace Beach, Umm Suqeim Beach, and Al Mamzar Beach are the best beaches in Dubai for couples.
Ques 2. Why Dubai beaches are famous?
Dubai beaches are famous for offering magnificent views of the Persian Gulf. Each beach in Dubai offers something special and unique to tourists.
Ques 3. Are Dubai beaches free?
Even though most of the beaches in Dubai are owned by well-known hotels and are kept private, there are still plenty of beaches for free to choose from like Kite Beach and La Mer beach.
Ques 4. What is the appropriate dress to wear on Dubai beaches?
Tourists visiting beaches in summer can choose to wear loose-fitting clothes made of lighter fabric, but they should not be revealing. Men should wear clothes that cover the chest and knees. Swimwear is only allowed at the swimming pool and beach.
Ques 5. Are the beaches in Dubai natural or artificial?
Most of the beaches in Dubai are man-made, which is why they are wide and flat and have soft white sand. Dubai has only 01 natural beaches.
Ques 6. Can you swim on Dubai beaches?
Umm, Suqeim Beach, Jumeirah Public Beach, and Al Mamzar Park are the beaches where you can swim in Dubai.
---
Other Dubai Packages
---