Dhow Cruises in Dubai are becoming a must-do for all visitors visiting Dubai. It is an enjoyable approach to discovering Dubai's ancient and modern sides. A Dhow cruise in Dubai is a great option to view the skyline and canals of Dubai. These cruises are accessible from Dubai Creek and Dubai Marina and provide a variety of packages and rates, as well as supper, sightseeing, and entertainment choices.
Some cruises operate throughout the day and night, while others provide classic dinner cruises. The dhow cruise departs from the Creek and travels through the ancient city and waterfront, visiting the famous Spice Souk and other landmarks.
With stops at Palm Jumeirah, Marina Walk, and other attractions, the Marina will allow you to explore the contemporary skyline. With the dhow cruise Dubai marina or the Dubai Creek, you will feel the air on a classic wooden sailboat as you observe the sunset over Dubai's waters.
If you are searching for the best Dhow cruise packages in Dubai, this post will bring the best Dhow Cruise in Dubai options for Dubai Creek and the Dubai Marina. So let's explore!
---
About Dhow Cruise Dubai
Generally, dhow cruises focus on traditional dhow boats. Moreover, they are a fascinating way to experience Dubai's maritime history. They often blend lavish buffet banquets with traditional Arabic culture.
Surprisingly, there are no natural water bodies or oases in Dubai. Yet, Dubai has an artificial canal city known as Dubai Marina.
The Dubai Creek, where several wonderful dhow tours depart, is a natural inlet. The Marina and Dubai Creek are the primary places for dhow cruises for visitors. While eating a delicious dinner meal and appreciating the beauty of the Dubai skyline, cruising in a classic wooden dhow boat is an unforgettable experience. Let's have more details about the Dhow Cruise in Dubai and which ones to book.
Enjoy a romantic evening aboard a traditional dhow while taking in the stunning views of Dubai's skyline, followed by a comfortable stay in one of the many 4-star hotels in Dubai that are scattered throughout the city.
Experience the ideal romantic getaway on a Dhow cruise in Dubai with our special Dubai packages for couples, where you can enjoy beautiful skyline views while indulging in a sumptuous dining experience.
---
Two Major Types of Dhow Cruise Dubai
In Dubai, there are two primary kinds of dhow cruises: Dhow Cruise Creek and Dhow Cruise Marina. The dhow cruise Marina is the most sought-after as the Marina area is regarded as the most contemporary and exciting. Also, it is advertised the most by trip operators.
Yet, the dhow cruise on Dubai Creek provides a glimpse into the city's past. The only differences between a dhow cruise in Creek and a tour in Marina are the location and the attractions you will witness. In all cases, though, the whole dhow cruise encounter is similar.
Also Check: Things To Buy In Dubai
---
How to Reach Dhow Cruise?
Dhow Cruise Dubai is located along the Persian Gulf in Dubai, United Arab Emirates. Dhow Cruise Dubai Marina and Dhow Cruise Dubai Creek are Dubai's two most popular dhow cruises. Each vessel is named after the region it cruises and departs from.
The Dhow Cruise Marina departs from the vicinity of The Palm Islands in Dubai Marina. On the other hand, Dhow Cruise Creek departs from Dubai Creek, the historic district of Dubai, often known as Old Dubai.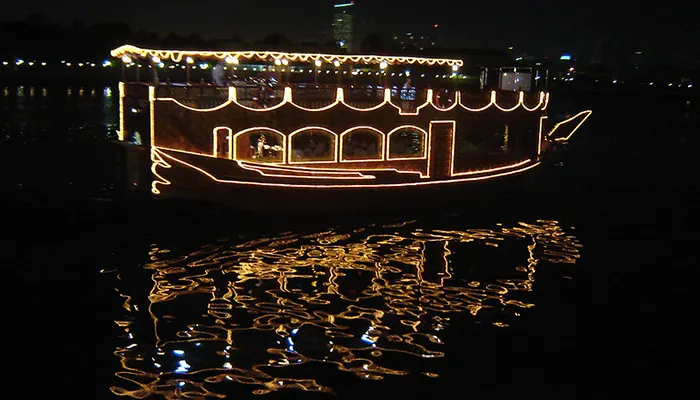 The site is accessible via the Dubai tram, Dubai metro, and Dubai bus.
1. By Tram
Jumeirah Lakes Towers is the tram stop nearby to Dhow Cruise Dubai. The tram stop is 901 meters away, or a 12-minute walk.
2. By Metro
Jumeirah Lakes Towers Metro Station is near Dhow Cruise Dubai's metro stops. For reaching the closest metro station to Dhow Cruise Dubai, one may use the M1 metro line, part of the Red Line, to get near it.
A pedestrian bridge over Sheikh Zayed Road connects the Jumeirah Lakes Towers Tram station and the Jumeirah Lakes Towers metro station.
3. By Bus
Bus-88, Bus-8, and Bus-F55A are the bus ways that have stops close to Dhow Cruise Dubai.
Also Check: Shopping in Dubai
---
Best Dhow Cruise Packages in Dubai
Now, have a look at the finest package options for both dhow cruise dinners in Dubai Marina and Dubai Creek.
1. Alexandra Dhow Cruise Package in Dubai Marina
This 2-hour dinner cruise allows guests to explore the waters of Dubai Marina. Board the Dhow Alexandra, a rebuilt wooden Arabic ship transformed into a high-end floating eatery in Dubai Marina.
This dhow cruise Dubai marina package includes an international buffet with salads, entrees, soups, desserts, water, beverages, tea, and coffee.
In addition to beer, red wine, and white wine, there is entertainment and a breathtaking view of the city skyline from the waters.
The sightseeing options include Dubai Marina, JBR, Dubai Eye, and Blue Water Island.
The Alexandra dhow cruise in Dubai marina offers package options with two choices that include transfers and transfers.
With transfers, the pricing starts at approximately Rs. 4,784, and you will get shared transfers.
Without transfers, the pricing starts at Rs 3,949.
This dhow cruise Dubai Marina timings and other details are as follows:
Timings: 8 PM to 11 PM
Boarding Time: 8.30 PM
Activity Duration: 2 Hours (Approx.)
Starting & End point: Marina Promenade; the nearby location is 'Masjid Al Rahim Mosque' & 'Signature Hotel Apartments & Spa Marina. 
Also Check: Dubai Travel Requirements
---
2. Dhow Cruise Creek
Have a great evening aboard, this cruise as you travel down the elegant Dubai Creek. In addition, enjoy Dubai's rich culture and history while admiring the city's beautiful nighttime views from the clear waters of Dubai Creek. The package inclusion is as follows:
90 minutes cruising close to Bur Dubai and Deira Creek region
Have access to the completely air-conditioned lower deck and the open-air top deck so that you can effortlessly get sight of the enchanting body of water.
Witness the special Tanura Dance.
Welcome drinks, coffee, tea, etc.
Enjoy delectable meals served buffet-style, with both vegetarian and non-vegetarian selections.
The Dhow Cruise Creek offers package options with two choices inclusive of a 3-star buffet that includes transfers and without transfers.
With transfers, the pricing starts at approximately Rs. 1,971, and you will get shared transfers.
Without transfers, the pricing starts at Rs. 1,211.
The dhow cruise Dubai creek timings and other details are as follows:
Timings: 09:00 PM to 11.00 PM
Boarding Time: 08.15 PM
Activity Duration: 2 hours (Approx.)
Starting & End point: Cleopatra Dhow Creek
Explore the best of the nightlife in Dubai when you visit.
---
3. 5-Star Dhow Cruise Dinner with Shared Transfers in Dubai
This evening cruise sails around the Dubai Marina under the lit city skyline. Enjoy your buffet listening to background music and witness prominent attractions like the Cayan Tower, Marina Mall, and a man-made island. Since this 5-star Dhow Cruise dinner includes shared transfers, this is a great option for first-time travellers.
Further, the package includes the following:
Pick up and drop off sharing from your Dubai accommodation
Cruising
5-star buffet dinner accompanied by unlimited soft drinks
Music on board
Bottled water
Coffee and/or Tea
The locations you will pass through are Dubai Marina, Dubai Marina Yacht Club, Dubai Marina Mall, Cayan Tower, and Ain Dubai.
Timings are as follows:
Timings: 8 PM
Activity Duration: Approx 3 hours
Pick-up time depends on the operator, but approximately 7-7.30 PM.
The dhow cruise Dubai price starts at Rs 8,500.
---
4. Musandam Dibba Tour
During a spectacular excursion to the Musandam Dibba, you will discover the most astounding secrets of the Arab world. Moreover, this location is ideal for nature enthusiasts due to its stunning terrain, formidable Hajar mountain ranges, spectacular shoreline, and pleasant temperature. You may see dolphins, cruise across the beautiful Musandam Inlet, and travel by Haffa Beach and Haffa Village. Further, during this cruising experience, you will participate in water sports, explore caves, and savour a delectable continental buffet lunch with beverages and snacks.
The package pricing starts at Rs 10,700 with private transfers inclusive or else it will cost around Rs 6,600.
The package is inclusive of:
Buffet lunch with refreshments
Sightseeing
Fishing
Banana Boat Ride
Swimming
Snorkelling

Entrance Permit for visiting the Musandam for Dibba Day Trip.
The timing details are as follows:
Activity duration: 10.30 AM to 5.30 PM
You would be picked up from a specified Dubai or Sharjah location. Typically, pick-up occurs between 07:00 and 08:30. At 09:30, reach the Dibba dock beside the Lulu hypermarket (for self-drive options).
Reach the port between 4 PM and 4.30 PM after the cruising experience, and you will head towards the Dubai hotel.
Also Check: Meena Bazaar Dubai
---
5. Dubai Marina Dinner Cruise with Live Music
Enjoy a luxurious and unforgettable five-star dining experience during your luxury cruise! Further, you will enjoy breathtaking views of Dubai Marina at sunset or evening by travelling on a contemporary glass houseboat.
After receiving a welcome drink upon arrival, you embark on your marina tour. In addition to this international buffet, there is a vast range of desserts and unlimited soft drinks. Also, you will admire the lights of Dubai's world-famous skyline the whole time, making it a romantic and pleasurable experience.
The package is inclusive of:
International Buffet dinner
Individual seating
Unlimited Juices, Packaged Water, Tea, and Coffee
Welcome drink on arrival
Live Pasta preparation stations
Free wifi on deck
Live Music
The timings are:
Activity duration: 1.5 hours
Locations covered include Dubai Marina, Bluewaters, Jumeirah Beach Residence, Skydiving in Dubai
The pricing starts at Rs 4,410.
---
6. Dhow Sightseeing Cruise
Go aboard a classic wooden dhow boat down Dubai Creek and see Dubai's dazzling lighting from the water. When on board, prepare for an excellent international buffet meal and live entertainment featuring Arabic dance, a Tandora, and a puppet show. Hence, the package will include the following:
Traditional dhow excursions around Dubai Creek
Incredible vistas of Dubai's lit skyline
On-board supper buffet and live entertainment
Soft drinks, tea, water, and coffee
The timings are:
Activity duration: 2 hours
The pricing starts at Rs- 2,500.
---
Dhow Dinner Cruise Dubai
Dhow Cruise Dubai brings you to Dubai's "other side" of enthralling and awe-inspiring charm, apart from the city's skyscrapers and lavish shopping malls.
Do not miss the chance to witness Dubai on a dhow cruise, whether you like to discover the historic Dubai Creek or experience the ultramodern scenes of a dhow dinner cruise in Dubai Marina.
Deira's souks and neighbourhoods may be seen from the water when cruising around Dubai Creek. In addition, the international buffet includes Arabic delicacies and an endless supply of soft beverages. On your option of a 3, 4, or 5-star cruise, you will see the nighttime illuminations of downtown Dubai. Also, you may experience a traditional Tanoura performance.
If you are making a plan to travel to Dubai, then check the best Dubai Trip cost from India.
---
Crucial Details About the Dhow Cruise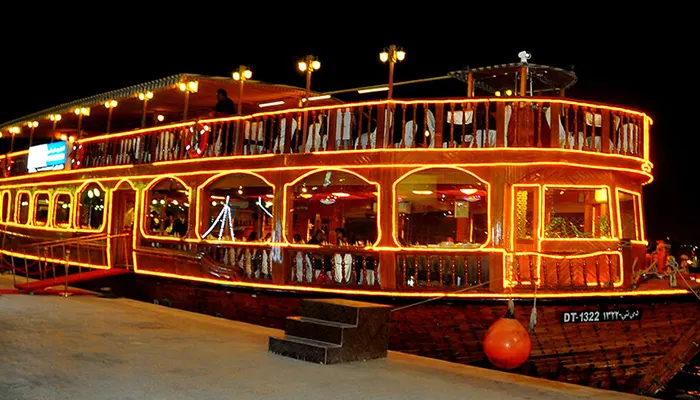 Various cruise operators have different cancellation policies. But you will mostly get a full refund if you cancel the booking before 24 hours of cruising time. You won't get a refund if you cancel in under 24 hours.
You will get the booking confirmation at the time of booking.
If you opt for packages with transfers, verify the regions with which the tour operator will offer transfers. Some major operators don't opt for transfers in a few areas like Al Maha desert resort, Al Furjan, Expo city area, Silicon oasis, Jebel Ali, Bab al shams, Jumeirah Village Triangle, or any place not in the city's central boundaries. Hence, prior to booking, confirm this information.
At times, the booking may get cancelled due to weather issues.
According to UAE regulations, there is going to be no entertainment or alcohol served on board during Ramadan.
The precise pickup time will be determined upon reconfirmation. Hotel pickups begin around 30 to 60 minutes before this time.
Passengers must bring an original form of identification (passport, Emirates ID, or driver's license).
Participants must be at the site at least 30 minutes before the given time slot. The timing must be rigorously adhered to since the activity is time-sensitive.
Participants must refrain from bringing sharp objects, lighters, baggage bags, alcoholic beverages, knives, etc.
Any damage or loss of an object will be invoiced at the cost of replacement.
The dress code is smart casual.
No wheelchair access
Children must go with an adult.
At all times, participants must be cooperative and patient.
Suggested read: Places to visit in Dubai
---
Conclusion
Whether you're looking for a romantic dinner cruise, a lively party atmosphere, or a peaceful and serene setting to admire the stunning city skyline, there is a dhow cruise experience to suit everyone's tastes and preferences. These dhow cruises in Dubai offer a range of packages and prices to cater to different budgets and group sizes.
From the traditional wooden dhows to the more modern and extravagant yachts, each cruise promises an experience of a lifetime with spectacular views, delicious food, and exceptional service. So, if you're planning a visit to Dubai, don't miss out on the opportunity to embark on a Dhow Cruise in Dubai and make some unforgettable memories!
Roaming Routes is offering various Dubai tour packages that are budget-friendly. If you're planning to visit Dubai, check out our packages.
---
Frequently Asked Questions
Ques 1. Which are the top Dhow cruises in Dubai?
A few of the top Dhow Cruises in Dubai are Alexandra Dhow Cruise in Dubai Marina, Dubai Marina Luxury Cruise w/ 5 Star Buffet Dinner & Transfer, Creek Royal Dinner Dhow Cruise, etc.
Ques 2. What is the menu of Dhow Cruise?
The menu of the Dhow cruise features both non-veg and veg options. A few options include 3-star meals, and others also include 5-star meals. It also includes tea, coffee, welcome drinks, dessert, salad, etc.
Ques 3. What are the best Dhow cruises with the least crowds?
You can opt for Dhow Cruise in Dubai creek to skip the crowd.
Ques 4. What is the starting point of the Dubai Dhow cruise Marina?
The Dhow Cruise Dubai Marina departs from the vicinity of The Palm Islands in Dubai Marina.
Ques 5. How is the experience of the Dhow cruise?
There is nothing like taking a dhow boat cruise, whether you are a visitor or a resident. These dhows are antique sailing vessels that have been used to cruise the seas of the Gulf for generations. One of the nicest aspects of a dhow tour is soaking in the breathtaking surroundings. Dhow Cruises will offer a delectable dinner so you may enjoy the scenery while dining. Frequently, several dining choices are offered, allowing everyone to find something they like. In addition, dhow cruises often include live music or a DJ so guests can dance while they travel across the Gulf. Also, there are live performances like the Tanura show onboard.
---
Other Dubai Packages
---