Dubai Aquarium & Underwater Zoo is a prominent tourist attraction situated inside one of the world's largest shopping malls, Dubai Mall, in Dubai, United Arab Emirates. It is among the largest indoor aquariums worldwide, with over 140 kinds of marine species, including sharks, rays, and a wide variety of fish.
The Underwater Zoo, situated on the second floor of the Dubai Aquarium, allows visitors to explore several natural zones, such as the rainforest, rocky shore, and live ocean. The zoo also provides interactive activities such as shark dives, cage snorkelling, and more.
Due to its remarkable size and unique experiences, Dubai Aquarium & Underwater Zoo has become a popular tourist destination in Dubai. Moreover, it receives millions of tourists annually.
If you are looking to make a plan to visit the Dubai aquarium and underwater zoo, then check the Dubai 1-week Trip cost from India for a better experience.
In this post, we will explore everything about the Dubai Aquarium & Underwater Zoo including things to do, timings, bookings, prices, location, amazing facts, and more. So, let's check.
---
About Dubai Aquarium & Underwater Zoo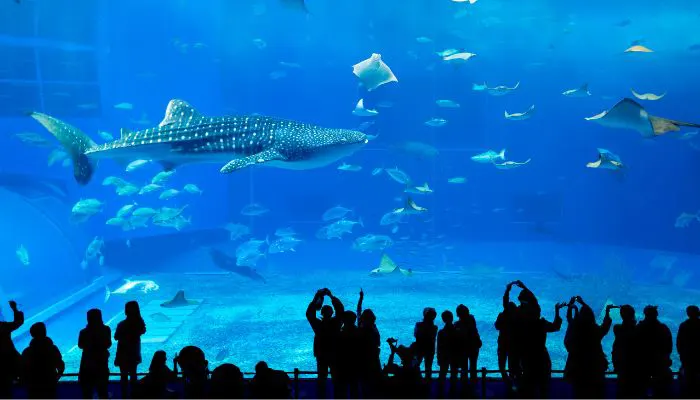 The Dubai Aquarium & Underwater Zoo by Emaar Entertainment was motivated by "The Underwater Paradise" and was designed by Peddle Thorp.
The aquarium at The Dubai Mall displays over 300 kinds of marine life, including sharks and stingrays. During the 2012 Images RetailME Awards, the aquarium received the "Certificate of Excellence" and was awarded "Images Most Admired Retailer of the Year – Leisure & Entertainment."
The 10-million-litre Dubai Aquarium tank on the Dubai Mall's Ground Level is one of the world's biggest suspended aquariums. Moreover, it is home to hundreds of aquatic creatures featuring over 140 species. Also, this tank has over 400 Sharks and Rays, which includes among the largest collections of Sand Tiger Sharks globally.
The Underwater Zoo is a distinct section of the aquarium with various interactive displays and activities. Several natural zones, such as the Rocky Shore, the Rainforest, and the Living Ocean, are accessible to visitors. Moreover, there is a big touch tank where visitors can engage with marine animals such as starfish, sea urchins, and crabs.
The Dubai Aquarium is home to tens of thousands of aquatic creatures comprising hundreds of marine species. Yet, the Underwater Zoo, on Level Two above the Aquarium tank, guides guests through several underwater settings, such as touch ponds, rainforests, and nocturnal UAE species.
The Dubai Aquarium & Underwater Zoo is a wonderful place for couples wishing to explore interesting marine life, and couples can enjoy a memorable experience together with Dubai honeymoon packages for 7 days.
---
Things to Do in Dubai Aquarium & Underwater Zoo
When visiting this place, here are a few must-experience things:
Shark Diving Experience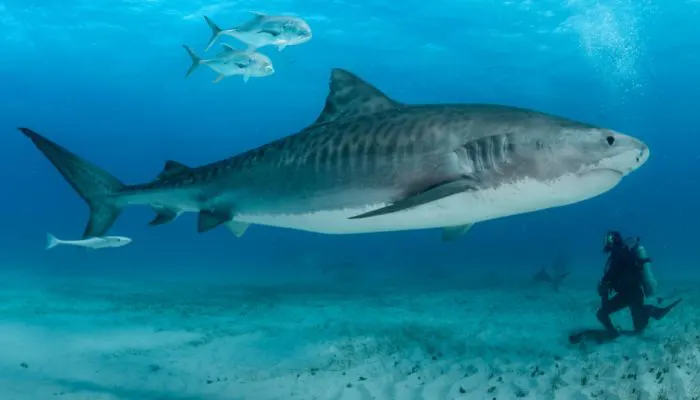 Are you a daring adventurer in search of exhilarating, memorable experiences? At the Dubai Aquarium, all that is needed is a dive into a 10 mil liter aquarium tank.
An exciting shark diving adventure at Dubai Aquarium & Underwater Zoo will bring you face-to-face with some of the ocean's greatest feared creatures.
Moreover, the amazing thing about this shark dive is that certification is not necessary. In the Dubai Aquarium & Underwater Zoo, anybody from Dubai and the rest of the globe may dive in without a diving certification. Of course, you will have all the safety gear and the professional team with you!
If you want to stay underwater, you can go to the underwater hotel in Dubai.
---
Experience the Cage Snorkelling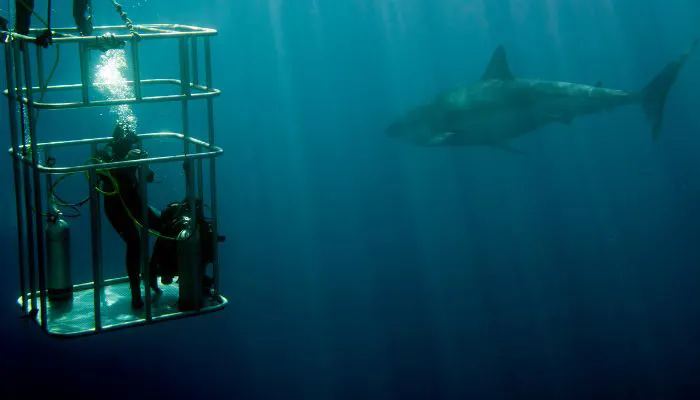 If you find shark diving a little dangerous, consider Cage snorkelling. The Dubai Aquarium & Underwater Zoo also provides a cage snorkelling experience that lets you get close to thousands of aquatic species simultaneously. Moreover, you will be dropped into the shark tank in a cage to see the sharks swimming around you.
Moreover, you will have a closer view of these magnificent animals without putting yourself in danger. However, for this risk-free thrill, you must put on the snorkelling gear, enter a cage, and plunge into a tank full of aquatic creatures, including sharks and stingrays.
Also Check: Shopping In Dubai
---
Scuba Diving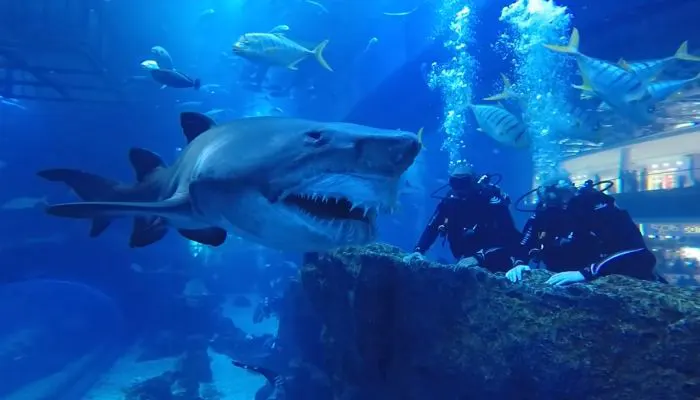 Are you interested in scuba diving but unsure whether you're prepared to undergo a full certification course? Then you may consider the PADI's Discover Scuba Diver program for you. With Al Boom Diving, you can experience Dubai Aquarium's marvels.
Discover Scuba Diving is available at the magnificent Dubai Aquarium and Underwater Zoo. Before venturing into the aquarium for your dive, the Dive Instructor will train you in the fundamental safety requirements and expertise in a cage. And that would be the most memorable and thrilling moment for you!
Also Check: Dubai Travel Requirements
---
Meet and Greet with Penguins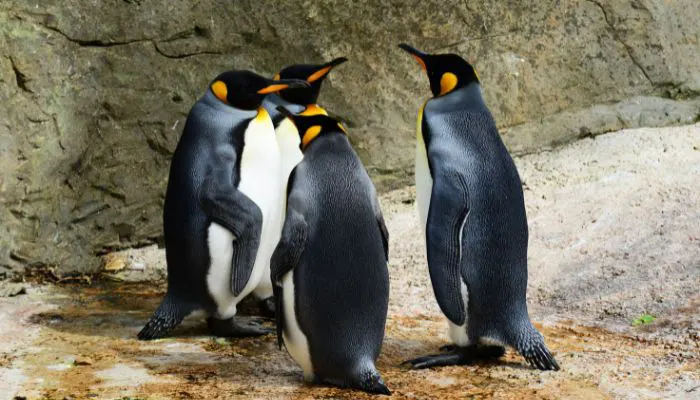 In 2010, Dubai Aquarium & Underwater Zoo introduced Gentoo penguins to the region for the first time. Gentoo penguins live in a colony at the Underwater Zoo, where visitors may engage in a meet and greet.
You will get to view penguins up close and learn about their environment and way of life. Further, you may also see them waddling and swimming in their pool.
Also Check: Things To Buy In Dubai
---
Amazing Facts about Dubai Aquarium & Underwater Zoo
The World's Largest Indoor Aquarium
Dubai Aquarium & Underwater Zoo features the largest aquarium worldwide with 51m x 20m x 11m. Over 33,000 aquatic creatures from over 200 species, including sharks and rays, reside in the aquarium's ten-million-liter-capacity tank.
World Guinness Record
The aquarium's acrylic panel, weighing over 2,45,000 kg and spanning 32.8 m x 8.3 m x 750 mm, was listed in the 2010 version of the Guinness Book of World Records as the largest of its type in the globe.
The Glass Bottom Boat Riding
There is another technique for feeding and carefully observing your favourite aquatic creatures. The magnificently built glass-bottom boat, which can seat up to 10 passengers, will transport you on a 15- to 20-minute tour of the ten million-liter water tank.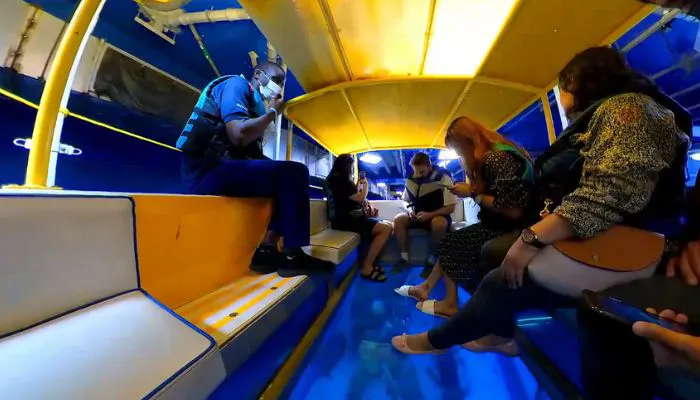 Diversified Zones
There are three distinct biological zones in the Underwater Zoo: Rainforest, Rocky Shore, and Living Ocean. Wall Mounted Glass Displays, Insect Wall, Burmese Python Enclosure, Iguana Enclosure, and Tree Snake Enclosure are the categories for the Underwater Zoo's exhibits devoted to creepy crawlies.
Aquarium Tunnel
The 48-meter-long walk-through tunnel at the Dubai Aquarium and the underwater zoo is a fascinating opportunity to see the thrilling world of aquatic life and photograph it.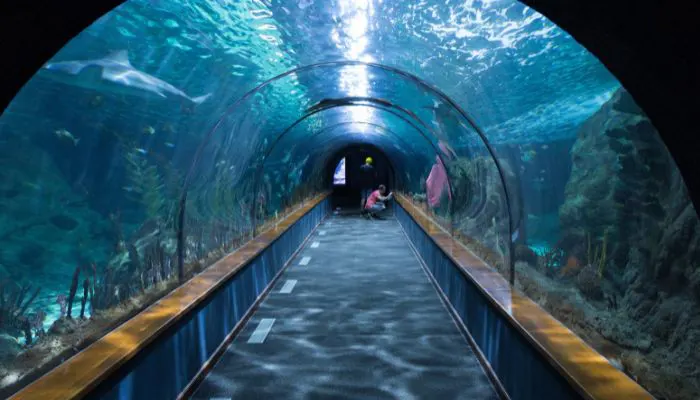 Extraordinary Experiences
Although it is a pleasure to wander around the Dubai aquarium and underwater zoo, you should enjoy the most of your experience by participating in unique activities such as Diving with Sharks, Cage Snorkeling, Cage Diving, Shark walking, King Croc, Scuba Diving, etc.
If you choose to engage in scuba diving, PADI will provide you with the instruction and accreditation you need to do so anywhere globally. In addition, there is glass-bottom boat riding, which provides a sight of the aquatic life in the water tank while travelling in a glass-bottomed boat.
Introducing King Croc
Meeting the world's largest reptile, weighing more than 750 kilograms and 5 meters in length, is an incredible opportunity. When you see this magnificent species in its regulated home, you encounter an array of sensations.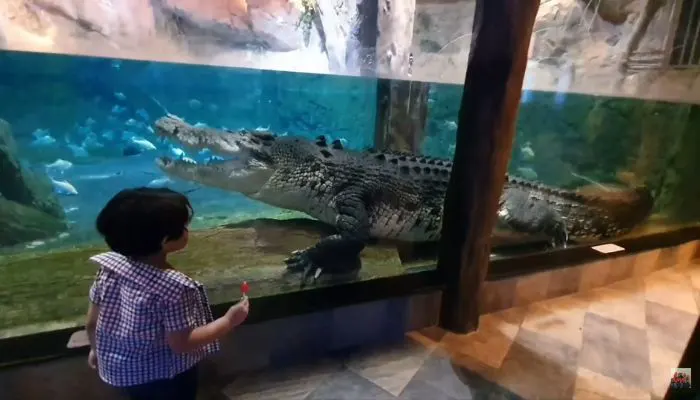 Behind the Scene Tour
This tour is necessary if you are keen on learning about the varied parts of everyday management of the aquarium's 33,000+ aquatic creatures, such as feeding, caring for distinct species, and cleaning. Moreover, guests will have the opportunity to witness and study such sections of the aquarium as its food processing facility, quarantine section, and laboratory as a part of the tour led by a highly skilled staff.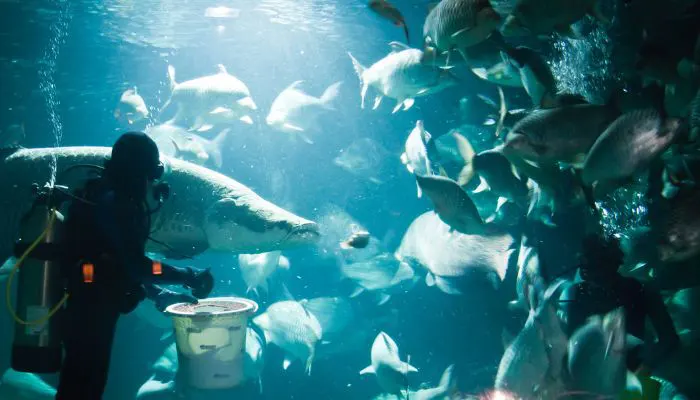 ---
How Can You Plan a Visit to Dubai Aquarium & Underwater Zoo?
An incredible adventure awaits you and your children amid the city's fanciest retail centre – Dubai Aquarium and Underwater Zoo. The Aquarium Tank is on the ground level, and the Underwater Zoo is on the second level.
Although the Aquarium & Zoo is open year-round, the ideal period for visiting Dubai is between November and March. The weather is warm during this period and ideal for all activities throughout this time.
You may encounter lengthy lines at the check-in desks throughout this peak season. If you find yourself in Dubai during the summer, explore the Dubai Aquarium and Underwater Zoo in the afternoons to escape the sweltering heat. It is packed with people any day of the week, especially between 5 and 6 p.m. It is less congested in the early hours of the day and the evening.
After marvelling at the stunning marine life in the Dubai Aquarium, unwind and recharge at one of the many comfortable 4-star hotels in Dubai.
---
Dubai Aquarium & Underwater Zoo Location
Dubai Aquarium & Underwater Zoo, The Dubai Mall, Doha Street, Off 1st Interchange – Sheikh Zayed Road, Dubai, U.A.E.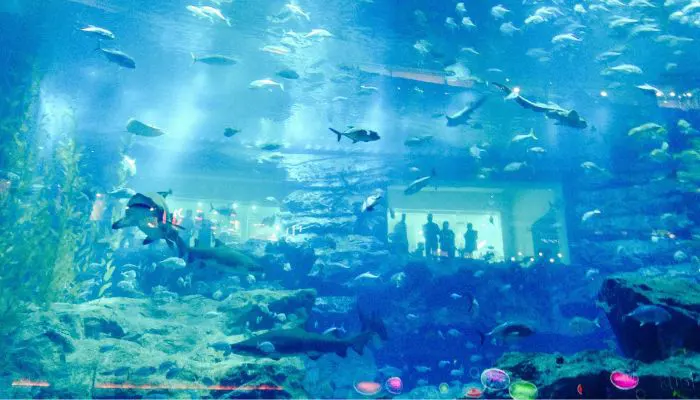 ---
How To Reach Dubai Aquarium & Underwater Zoo?
Wondering how to reach the Dubai Aquarium and Underwater Zoo? So, the theme park in Dubai Mall is easily accessible through public transit. Here are your options:
Via Metro: The metro is among the simplest and most convenient methods to reach the Dubai Mall. The closest station is the Dubai Mall station or the Burj Khalifa station, from which it is possible to go to the mall via a glass tunnel. The tunnel is completely air-conditioned and a delight to go in.
By Bus: If you want to reach by bus, you may take either Route 27 from the Deira Gold Souk station or Route 29 from the Ghubaiba bus terminal. Moreover, after every 30 minutes, these buses will leave you at the Dubai Mall's entrance.
By Car: You may also drive to the Dubai Mall from several locations inside Dubai. Along the entire stretch of roadway, clear signs indicate how to access the Dubai Mall. Moreover, you may also get a taxi that will drop you off at the mall and pick you up at a convenient spot.
Also Check: Skydiving In Dubai
---
Dubai Aquarium & Underwater Zoo Tickets
Dubai Aquarium Underwater Zoo: Basic Experience Ticket
So the Basic Experience Ticket costs Rs 3,266 and offers admission to the Dubai Aquarium Tunnel and the Dubai Aquarium Underwater Zoo.
Dubai Aquarium & Penguin Cove Tickets
So the Dubai Aquarium & Penguin Cove tickets start at Rs 4,167 and offer entrance to the Aquarium Tunnel and Underwater Zoo and the Penguin Cove.
Dubai Aquarium Explorer Pass
The Dubai Aquarium Explorer Pass starts at Rs 4,167 and offers access to the Aquarium Tunnel, Zoo, and Glass Bottom Boat Tour. Infants aged 0 to 2 are admitted without charge but are not allowed on the Glass Bottom Boat; children aged 3 to 15 are charged the child rate.
Note* – You may purchase tickets at the counter, or you may avoid the ticket line and purchase tickets in advance online.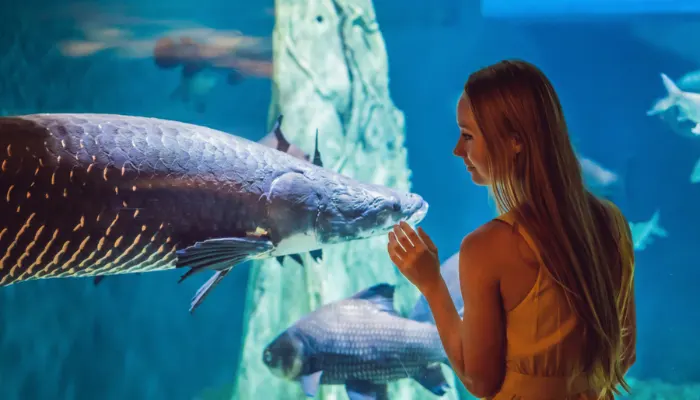 ---
Payment Policies
100% booking amount needs to be paid before the date of visiting the aquarium and zoo. To get a confirmed booking of a Dubai Aquarium & Underwater Zoo ticket, 100% payment should be done at the time of booking.
Confirmation Policy
The customer will receive a confirmation email within 01 hours of booking a ticket. But, if the slots are not available, an alternate schedule according to customer preference will be provided, and a new email will be sent with confirmation details. Customers can cancel the booking before confirmation, and a refund will be processed.
Cancellation Policy
Cancellation can be done without any cancellation fee if cancellation is done before 01 days of travelling. If the cancellation is done on the day of the visit, 100% ticket booking cost will be charged as cancellation fees.
Refund Policy
There is no refund applicable once the booking is confirmed.
Also Check: Meena Bazaar Dubai
---
Important Things to Know Before Booking Dubai Aquarium
Always carry a valid ID proof to show upon arrival.
Pregnant women and kids ages 0 to 2 are prohibited on the Glass Bottom Boat.
The service provider assumes no responsibility if a portion of an attraction is inoperable for technical or weather-related reasons.
The same charge applies to both children and adults for tickets.
There is no refund for partially consumed services.
The Basic Pass Combo includes entrance to facilities such as the Aquarium Tunnel and the Dubai Aquarium and Underwater Zoo. In contrast, the Explorer Pass Experience includes everything included in the Basic Pass Combo plus Glass Bottom Boat Tour.
At the point of arrival, every visitor must show identification.
The facility offers wheelchair and stroller accessibility (except for the Rays Encounter and Penguin Encounter sections).
Adults must accompany kids of 12 years or less.
A ticket is required for every visitor from 02 years and above.
One should arrive 10-30 minutes before the scheduled time of booking.
The Aquarium is open from 10 AM to 10 PM on Sunday to Wednesday and 10 AM to 12 AM on Thursday to Saturday.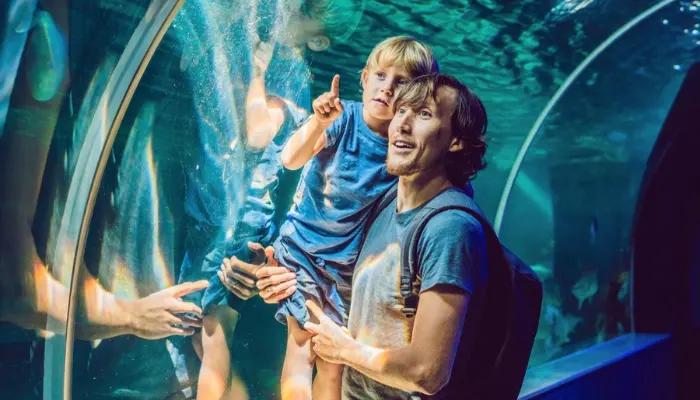 ---
Rules for Visiting Dubai Aquarium & Underwater Zoo
There are a few rules visitors need to keep in mind to have a wonderful experience at Dubai Aquarium & Underwater Zoo, which are mentioned below-
Visitors must be careful while taking photographs inside. There mustn't be any sort of harm to animals. Also, in a few places inside the place, flash photography is not permissible to prevent any harm to animals and to ensure they don't get scared.
The entry ticket is valid for one-time entry only and isn't valid for re-entry.
Also, visitors should avoid shouting on the premises as animals might get scared.
---
Nearby Attractions And Places To Visit
A few of the nearby attractions and places to visit in Dubai that you may visit following your visit to the Dubai Aquarium and Underwater Zoo are as follows:
Burj Khalifa
Dubai Fountain
Dubai Opera
Museum of the Future
At.Mosphere
Planning to visit Dubai? Book your Dubai tour package with Roaming Routes. We are trusted by hundreds of travellers, and we'll guide you from arrival to departure.
---
FAQs
Ques 1. Is Dubai Aquarium & Underwater Zoo worth visiting?
Yes, it is worth visiting this place in Dubai. This location will provide you with experiences that you will never forget. It will allow you to witness beautiful marine life and moments of learning. Also, it would be one of the most mesmerizing places you will visit in Dubai.
Ques 2. What is the cost to visit Dubai Aquarium & Underwater Zoo?
The basic ticket for the Aquarium and Zoo starts from AED 120 per person, which includes the Dubai Underwater Zoo and Aquarium tunnel experience. However, if you want to explore more, the price of the ticket is AED 175.
Ques 3. Is there any specific dress code that I need to follow while visiting the aquarium?
There is no set dress requirement. However, smart casual attire is recommended. Men should wear a collared shirt, pants or good jeans, and closed shoes. Dresses and skirts (long or short) with pants and a decent top are acceptable attire for women.
Ques 4. Are there any age restrictions for visiting the Underwater Zoo?
There are a few age restrictions. Children younger than 16 must be with an adult at all times. Further, the Glass Bottom Boat Ride (Explorer and VIP Explorer Experiences) is unavailable to pregnant customers or youngsters under 2 years old.
Ques 5. What are the timings of Dubai Aquarium & Underwater Zoo?
From Monday-Thursday, the timings are 10 am–11 pm and from Friday-Sunday, the timings are 10 am-12 am.
Ques 6. Can I take photographs at the Dubai Aquarium & Zoo?
Yes. Guests can permission for photography and videography at the Aquarium & Underwater Zoo. Also, Professional photographic service is also available during the voyage. Yet, flash photography is not permissible in some displays due to the animals' health and safety.
Ques 7. Are food and drink allowed inside the aquarium?
No. But there are food options within the premises.
Ques 8. What are the safety measures taken by the aquarium for visitors?
The Aquarium takes all the necessary COVID-19 precautions for its visitors including strict sanitization and other hygiene practices. Also, the staff at the aquarium takes all the necessary precautions for the safety of the visitors.
Ques 9. How long will it take to explore the Dubai Aquarium and underwater zoo?
The average time to explore Aquarium Tunnel is around 40-50 minutes and to explore the underwater zoo is around 45 minutes to one hour. Dubai Underwater Zoo is located on level 02. So, the total time to explore the Dubai Aquarium and Zoo is around 2 hours.
---
Other Dubai Packages
---