Are you searching for the ultimate Dubai travel guide to help you plan your Dubai vacation? Then this post will help you with everything to know about Dubai. So this includes places to visit, things to do, and their prices. Also, read this blog till the end since we will bring a few Dubai Travel tips on saving money on your Dubai trip if you are on a budget trip. Let's get started.
Dubai is an exemplary city renowned worldwide for its rich past and warm hospitality. Annually, millions of business and leisure travellers flock to Dubai, which is often ranked first among travel destinations. And why not? Dubai has so much to offer. White sand beaches, expansive desert dunes, old city neighbourhoods, many of the world's biggest retail malls, electrifying amusement parks, an abundance of outdoor and adventure sports, breathtaking skyscrapers, and much more.
Additionally, Dubai is often the first place that Indians consider while planning a short break. The flight duration between the two locations is less than four hours and with Roaming Routes'Dubai tour packages, planning a budget trip becomes easy. So, here is a Dubai guide to ensure you get all the most important things to see and do.
Dubai Travel Guide For Your Next Vacation
Dubai offers everything: magnificent buildings, vast dunes, breathtaking beaches, top-tier resorts, the world's biggest shopping centre, and much more! Although the city provides lots of excitement and entertainment, a little planning may go a far when visiting. This Dubai travel guide will look into the major attractions, landmarks, and activities that make Dubai among the most sought-after vacation destinations.
---
Things To See & Do In Dubai
1. Burj Khalifa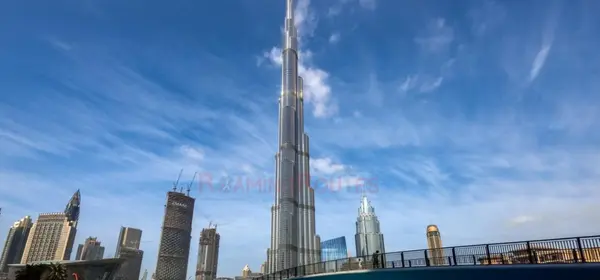 Nothing epitomizes Dubai more than its iconic Burj Khalifa, which soars to a height of nearly 828 meters. Burj Khalifa, the world's tallest structure, has 163 stories. It gives visitors a once-in-a-lifetime chance to see the Persian Gulf from the highest outdoor viewing deck.
With its offices, residential apartments, ultra-luxurious eateries, and breathtaking observation decks, Burj Khalifa is always bustling with residents and visitors. Since the Burj Khalifa is among the most popular attractions in Dubai, it often has long lines. Hence, as an essential tip of the Dubai travel guide, consider purchasing your tickets online to save around one hour.
To appreciate all the Burj Khalifa has to provide, you must enter one of its observation decks. The Burj Khalifa has two observation decks, one on the 124th and 125th floors and the other on the 148th level. Your Burj Khalifa tickets will grant you access to the 124th and 125th levels or the 148th floor (including access to the 124th and 125th floors).
Ticket Pricing: The tickets range between 3,800 INR to 8,999 INR, depending on your chosen observation platform.
Also Check: Things To Buy In Dubai
---
2. Dubai Frame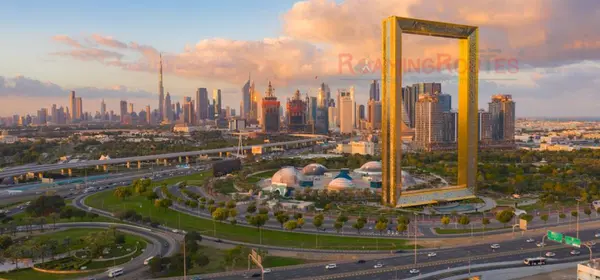 The next destination on the Dubai travel guide is the Dubai Frame. Dubai Frame, an architectural marvel, consists of two 150-meter-tall skyscrapers united by a 93-meter-long bridge at the top and a central gap rising from Dubai's Zabeel Park. The landmark Dubai Frame structure provides stunning views of both New and Old Dubai. The Frame was created to "frame" Dubai's transformation from a small fishing village to the sparkling cosmopolitan metropolis it is today.
From the height of Dubai Frame, you can simultaneously overlook Dubai's history, present, and future. Day or night, the Dubai Frame offers spectacular city views, with the glass bottom walkway being the highlight for both adults and children.
Pricing: The pricing for adults is INR 1,120, INR 450 for children between 3-12 years, and free entrance to infants under three and People of determination and 2 Companions.
Also Check: Shopping In Dubai
---
3. Museum of the Future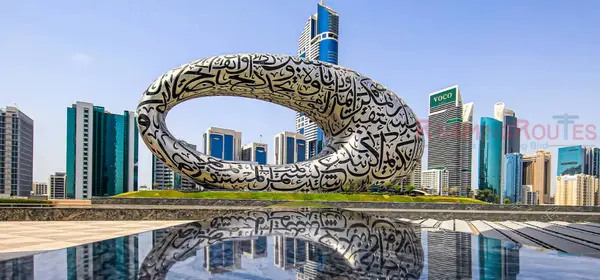 The inventive and one-of-a-kind Dubai Museum of the Future is an intriguing attraction to the Dubai skyline and is a must on this Dubai travel guide. This futuristic museum, recognized as among the world's most inventive buildings, is set to become among the city's most fascinating tourist attractions. Further, it provides visitors with valuable insight into the future of human innovation and technology via exhibits, installations, and creations that have yet to be introduced to the global populace.
At the Museum of the Future, you may glimpse humanity's potential and what the world may look like in the next few generations. The facade is distinguished by enormous steel panels featuring Arabic inscriptions, making the museum as recognizable as the Burj Khalifa and Dubai Frame.
Ticket Pricing: Per person, the entry fee is 3,300 INR. Yet, the tickets for People of Determination and children under the age of 4 are free.
Also Check: Skydiving in Dubai
---
4. The Lost Chamber Aquarium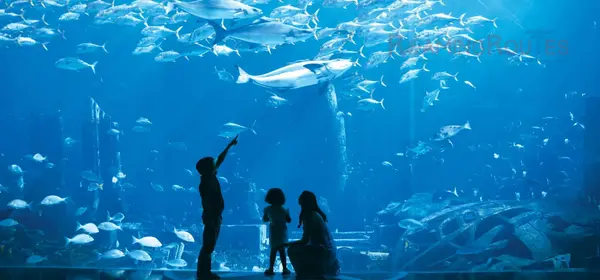 The next thing to do in this Dubai guide is to visit the Lost Chamber Aquarium. At the Lost Chamber's Aquarium in Dubai, walking through the glass passages to view the water right in front of you perfectly and in great detail will no longer be a dream but a reality. This is a once-in-a-lifetime chance to interact with sharks, stingrays, piranhas, sea horses, and other aquatic species.
Snorkelling or scuba diving are available here. Additionally, there are other activities also available. So choose accordingly.
Ticket Pricing: Per person, the entry fee is 3,490 INR. It may vary. So check the website for the exact pricing.
Also Check: Meena Bazaar Dubai
---
5. Dubai Creek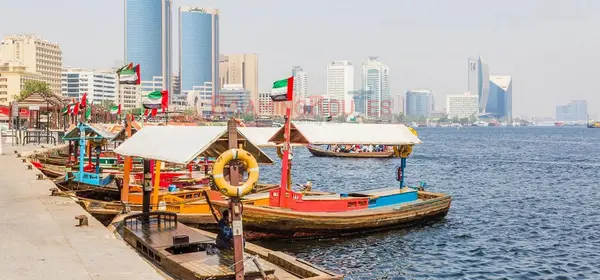 Dubai Creek is a saltwater creek that runs through the city's centre. As one of the most popular tourist destinations in Dubai, it attracts thousands daily visitors. Those who have come here have discovered Dubai's traditional and contemporary cultures. To get the most out of your visit to Dubai Creek, reserve a seat aboard a traditional dhow that offers day and night cruises. As you leisurely float along the river, you may get dazzling vistas of the sprawling, majestic cityscape.
Ticket Pricing: Entrance to Dubai Creek is free; however, if you participate in some activities or get special access to specific attractions, you will need to pay a fee.
---
6. Desert Safari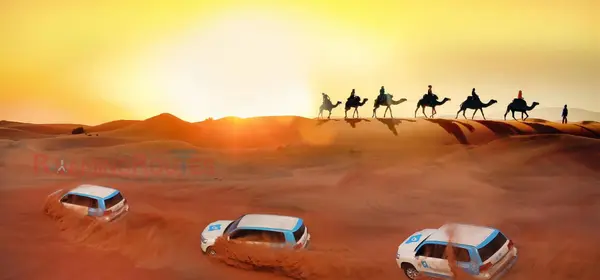 The Dubai desert safari is among the must-do activities in this Dubai travel guide. Avail of the guided Dubai tours and enjoy an entire day in the desert. Furthermore, there are various places in Dubai where desert safari takes place.
The safari package is jam-packed with activities like Dune bashing, riding a camel, sandboarding, driving a quad bike, and flying in a hot air balloon. In addition to the adrenaline-pumping activities such as dune bash, sand boarding, etc., you may immerse yourself in Arab customs and traditions via camel rides, Shisha smoking, and other activities.
---
7. Ski Dubai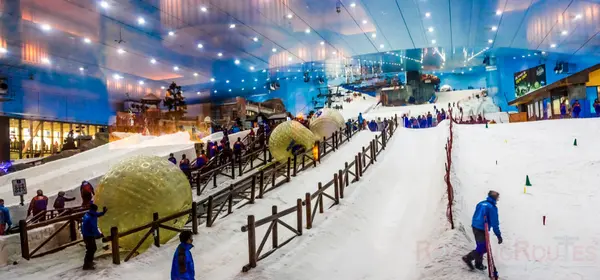 Ski Dubai is the UAE's winter paradise, where you can escape Dubai's scorching heat. Experience the Middle East's premier indoor ski resort. Ski Dubai is in the Mall of the Emirates and includes 22,500 square meters of real snow year-round. Moreover, the park houses King and Gentoo penguins and provides various opportunities for people to engage with these remarkable creatures. After your fill of snow play, stop by the renowned Avalanche Cafe for a cup of hot chocolate to warm up.
Ticket Pricing: The ticket price ranges from 4,400 INR to 6940 INR depending on your chosen package. Each package offers various activities. Check the website for more information.
---
8. Aquaventure Water Park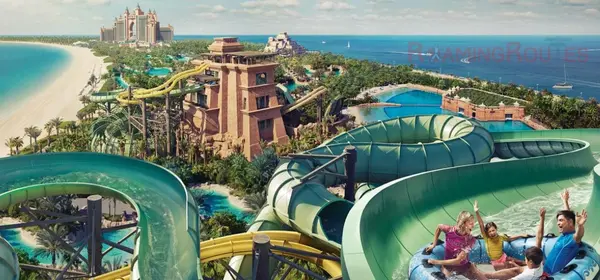 Whether travelling with family, solo, or with a significant other, you should visit Dubai's water parks. Aquaventure is one of the popular water parks in Dubai, known for its thrilling water slides and attractions. The Aquaventure at the Atlantis resort is the coolest and a must on this Dubai travel guide. Prepare to witness heart-pounding water slides, massive drops, back-to-back turns, and relaxing on the lazy river. There are designated locations inside the water park where one may have enjoyable moments. This entails petting cow nose rays, interacting with sea lions, and engaging in an experience with friendly dolphins.
Further, there are several designated countries where children may participate in various leisure activities. This includes swimming in lazy rivers, climbing towers, and engaging in other recreational pursuits.
Ticket Pricing: For adults, the pricing is 6,738 INR; for children, it is 5,610 INR. For pricing information and other details, visit the website.
---
9. Explore the Dubai Gold Souk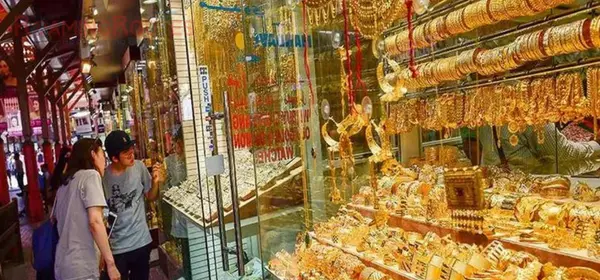 A journey to Dubai is incomplete without a stopover at the legendary Gold Souk, among the emirate's oldest and most unique traditional marketplaces. Hence, this is a part of the Dubai travel guide.
So the Gold Souk is situated on the Deira side of Dubai Creek, within easy reach of other lively souks and abra stations. Whether touring or actively searching for even the tiniest quantity of pure gold, you may discover great designs with a range of carats in the sparkling Bazaar. Further, the government of Dubai rigorously regulates every merchandise to ensure its authenticity and quality.
You may be sure that your purchases are authentic. In addition to gold, keep an eye out for diamond-encrusted jewellery, pearl strands, platinum, and silver. Also, shops are more than willing to provide discounts if you offer reasonable pricing.
---
10. Sky Views Dubai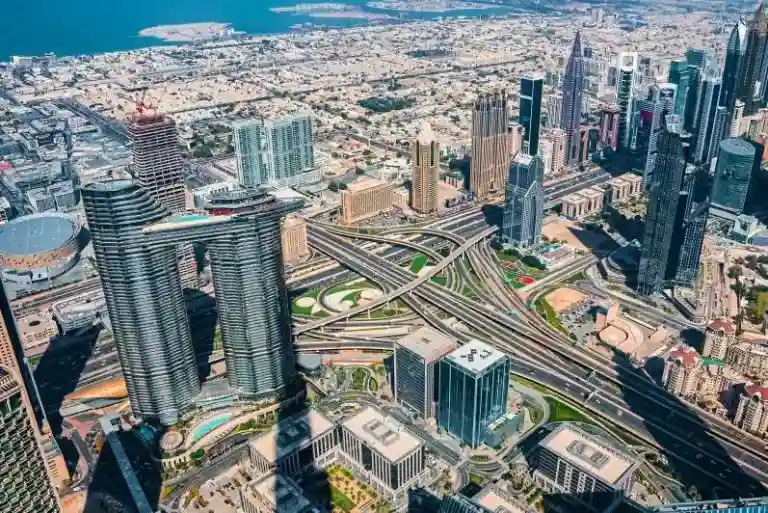 Sky View Dubai is a new experience attraction in Dubai and a must-experience activity in this Dubai travel guide. Further, this facility provides three adrenaline-pumping events: the Sky Observatory, Sky Edge Walk, and Sky Glass Slide. Visit this fascinating place to fight against fraud of heights.
Moreover, Sky Views Dubai is unlike Dubai's other observatories. Furthermore, you may enjoy a breathtaking view from 219.5 meters and ride down a glass slide.
Sky Views Edge Walk is for the adventurous. Using helmets, clothes, and harnesses, you may walk the building's corners without barriers. Walking hands-free along the 53rd-story ledge boosts your adrenaline.
Sky Views Dubai is considered one of the top observatories in Dubai, from which you can see the skyline and Burj Khalifa.
Ticket Pricing: The ticket pricing ranges from INR 1,570 to INR 11,350. Check the website for more details.
Also read: Places to visit in Dubai
---
Dubai Visit Rules
Dubai is an enjoyable and relaxing location for travellers. But it can also be a strict destination if you do not obey or breach the regulations as a tourist. So in this Dubai travel guide, we share a few rules which are coming in Dubai travel requirements to note:
Always dress appropriately when in public.
No PDA.
There are restrictions during the Ramadan months. Hence, plan your visit accordingly.
No loud music.
Respect their culture.
Carry your drug prescription.
Carry tourist visa
Carry passport
Don't drink in public.
Don't click photos without permission.
Avoid using swear words.
---
Tips On How To Save Money
The most important part of the Dubai travel guide is about Dubai Trip cost from India and saving money during your Dubai trip. Despite being among the world's most costly destinations, several methods exist to save money. So here are they:
1. Plan during summers
If you can handle the heat, visiting Dubai over the summer will get you discounts and excellent deals. Dubai Parks & Resorts, an enthralling maze of amusement parks, restaurants, and shopping, routinely offers summer promotions that virtually halve costs. Additionally, you may save money at hotels because it is the best time to plan a trip.
2. Use the metro
Instead of cabs, use the city's metro system. Moreover, the city's rail system is ideal for commuting since it is inexpensive and dependable.
3. Select accommodations close to the metro
Ensure that your hotel is close to a metro station. So this ensures that you don't have to walk too much during sunny hours and avoid taxis to commute.
4. Carry a refillable water bottle
Dubai's tap water is safe to drink, so carry a refillable water bottle to limit your dependence on single-use plastics.
5. Visit accessible beaches
Dubai has several beaches. The majority, though, have been occupied by resorts and hotels, which have recently imposed entry fees. Fortunately, there remain a few beaches that are free of charge. Visit the magnificent Kite Beach in Umm Suqeim and save money. Also, Jumeirah Beach is one of the public beaches in Dubai.
6. Hop-on, hop-off bus service
With 1, 2, or 5-day passes, you may ride air-conditioned double-decker buses to explore the city of Dubai at your own pace. Further, choose to remain seated for the 90-minute journey or jump on and off at any of the 20 stations along the two itineraries.
Also, the trip includes sites along two well-planned routes: the Red Route is a city tour, while the Blue Route (Beach Route) consists of the Dubai Marina. Further, they have other bonuses too. So check the website before booking.
Planning seems easy; however, taking care of your budget can be a headache once you start. So, why not choose a Dubai trip package for couples from Roaming Routes? We have budget tour packages, and with this Dubai travel guide, you can customize your package by adding other destinations or activities of your preferences. So, contact us today.
---
Other Dubai Packages
---