Dubai is among the world's most incredible honeymoon locations, where couples can relish in elegance and explore brand-new attractions together. A honeymoon in Dubai for newlyweds is ideal because of its opulent hotels, custom luxury, and regal atmosphere. When picking Dubai for your honeymoon, one thing you are sure of is that it'll be exotic, wealthy, and glamorous. Begin your honeymoon in Dubai at one of the city's unique beach resorts before moving to fine dining establishments for romantic meals, spa retreats, or thrilling excursions. It is the best part of Dubai packages for couples.
Couples planning a honeymoon may also arrange an exclusive sightseeing tour of the UAE designed for elite tourists who want to see exciting Dubai and the surrounding area, particularly Abu Dhabi and the stunning Arabian Desert.
Dubai is a genuine romantic city, providing everything a newlywed could want, from adventures to retail to cruises. Dubai is a gigantic metropolis, yet its brilliant colours and extravagant amenities make it seem like a dream world. Further, this Arab city is undeniably appealing whether you visit for an adventurous vacation, a romantic beach retreat, or a desert escape. It has Street food in Dubai.
Roaming Routes will transport you to Dubai through this post on things to do and honeymoon destinations in Dubai. Check out this post and select your destination and favourite activities to customize your honeymoon in Dubai Tour packages from India.
Places To Visit In Dubai For Honeymoon
Places To Visit In Dubai For Honeymoon
Here is a list of the 7 best places to visit in Dubai for your honeymoon.
1. Burj Khalifa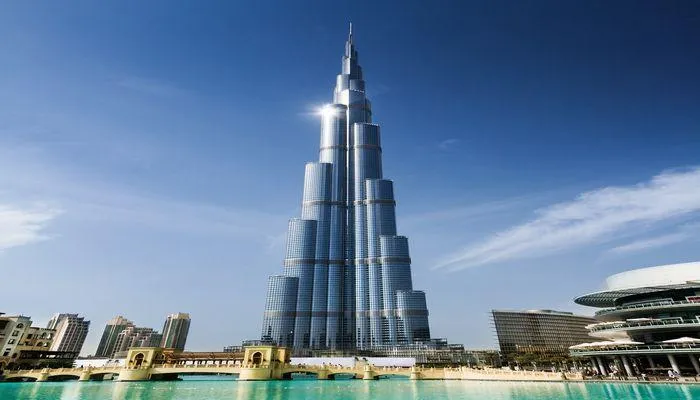 The Burj Khalifa, the world's tallest structure and a renowned landmark, is among the first honeymoon destinations in Dubai. So this building, a true technical marvel, symbolizes Dubai's creative hub and essence.
This majestic building stands 828 meters tall. Furthermore, it is close to The Dubai Mall. It has attracted tourists from all across the globe since its inauguration in 2010. The two-story At the Top on the 124th and 125th floors is also one of the tallest viewing platforms in the world (555m) on the 148th level, providing unrivalled views of the Burj Khalifa.
A thriving food and entertainment centre is accessible around the foundation of the impressive tower. It includes The Dubai Mall, the musically orchestrated Dubai Fountain, and several other tourist hotspots to keep you occupied.
Also Check: Hotels in Palm Jumeirah
---
2. The Dubai Fountain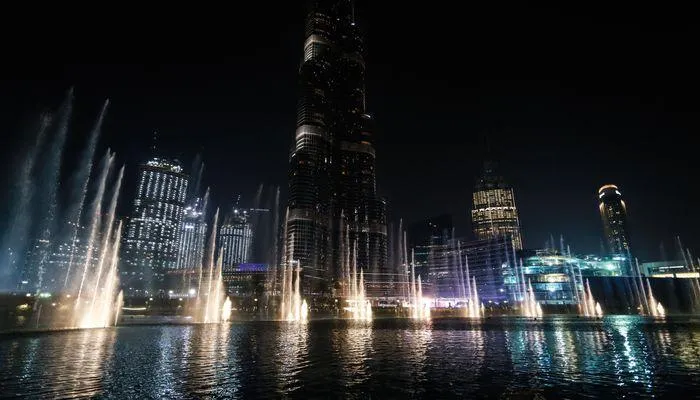 When you tour Downtown Dubai for your Dubai honeymoon, you may see the highest-performing fountain globally. The Dubai Fountain offers a once-in-a-lifetime chance to immerse oneself in fascinating water, music, and light extravaganza. Hence, it is one of the best things to do in Dubai for a honeymoon.
At the base of The Dubai Mall, in 30-acre Burj Lake, there are two football fields worth of solid water jets perfectly placed throughout the lake. At any moment, the fountain can shoot up to 22,000 gallons of water 140 meters into the air. Every day at 6 o'clock, the fountains start to operate every 30 minutes. Furthermore, these vibrant lit jets will mesmerize you as they sync with various musical selections.
Also Check: Dubai Tourism
---
3. Dubai Miracle Garden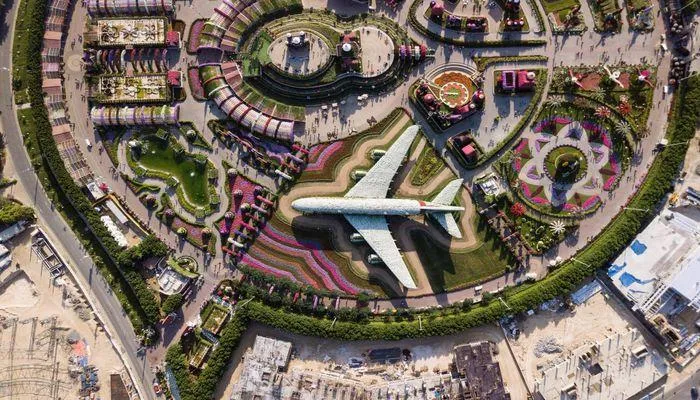 Have you ever visited a flower paradise with breathtaking floral arrangements that captivate your heart? If not, you should go to the Dubai Miracle Garden for your honeymoon in Dubai. The display spans around 72,000 square feet and seems like a small universe of floral marvels.
Over 50 million flowers growing to relish this lovely concept's grandeur adds to this flowery paradise's uniqueness. The most popular ones are petunias, geraniums, and marigolds. This beautiful plot of land needs a lot of upkeep since it is in Dubai, which is not the optimal location for blooming flowers.
Moreover, a group of skilled and knowledgeable horticulturists nurtures the floral splendour you see presently. You must schedule your visit appropriately since the park is accessible during winter.
Also Check: Things To Buy In Dubai
---
4. Dubai Aquarium & Underwater Zoo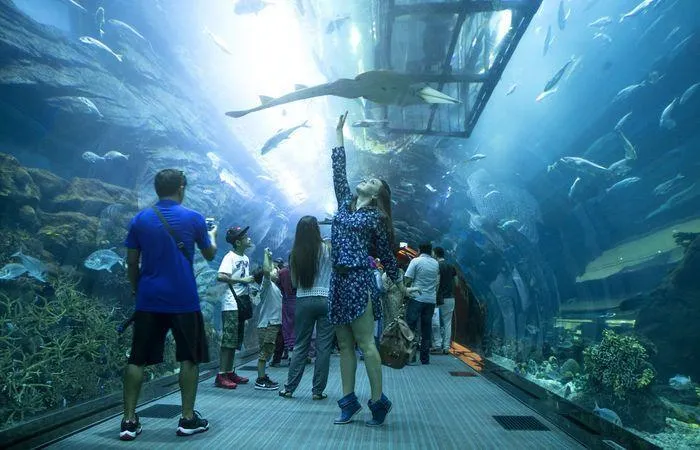 Do you want to experience the world's biggest and most beautiful aquariums? At the Dubai Aquarium and Underwater Zoo, don't skip the enormous 10-million-litre tank with over 33,000 aquatic creatures and the world's most significant population of sand tiger sharks. Furthermore, it is also one of the world's biggest suspended aquariums.
The aquarium, situated at the Dubai Mall, is among the honeymoon places in Dubai that house 140 different types of marine life and provide many excellent opportunities to explore the underwater world. So wander through a 48-meter tunnel as the aquarium surrounds you. It is a complete fish-eye perspective with stingrays and sand tiger sharks gliding above. This place is a major attraction in Dubai and is included in Dubai packages.
Also Check: Cheap Shopping In Dubai
---
5. Jumeirah Beach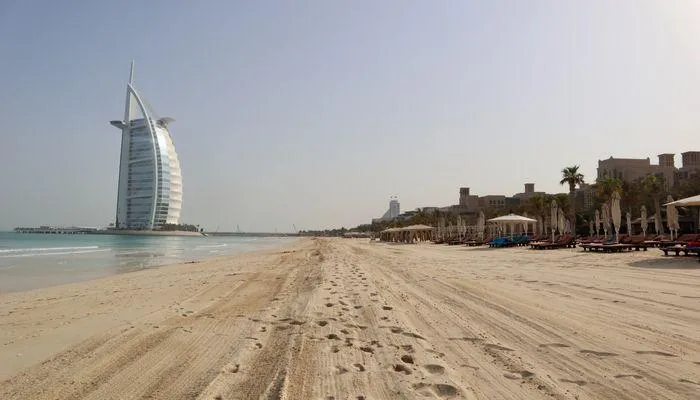 Jumeirah Beach, one of the public beaches in Dubai, is a must-visit place during a honeymoon in Dubai. Furthermore, this lengthy, white-sand beach stretches down the Persian Gulf shore and is a popular vacation spot for Dubai tourists.
While water sports lovers enjoy the Persian Gulf's tranquil blue waters, sunbathers flock to this vibrant coastline to bask in Dubai's dazzling sunlight. The most famous theme parks in Dubai are located on Jumeirah Beach.
Exotic luxury hotels, fine dining establishments, nightclubs, and other entertainment venues flank Jumeirah Beach. Alongside Jumeirah Beach are the well-known Wild Wadi Water Park, the Burj Al Arab (Arab Tower) Hotel, the Underwater Hotel in Dubai, and the Jumeirah Beach Hotel. Furthermore, there is a new boardwalk, a jogging and walking track, and eateries and restrooms along the route.
Also Check: Meena Bazaar Dubai
---
6. Dubai Mall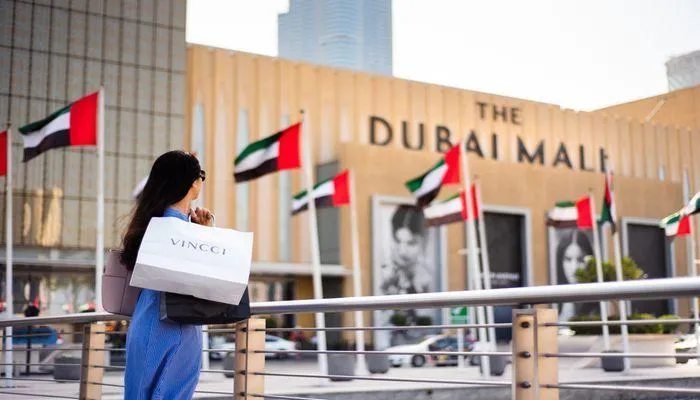 One of the biggest shopping malls globally, the Dubai Mall is widely renowned as the location of the Dubai Shopping Festival and spans more than 500,000 square meters. Moreover, this is a must-visit for your honeymoon in Dubai. Featuring over 1200 businesses, a sizable walk-through aquarium, a top-notch ice rink, 14,000 parking places, and many fun activities for customers. The mall also has a gaming area and a movie theatre complex, bringing all leisurely pursuits under one roof.
Also Check: Festivals in Dubai
---
7. At.Mosphere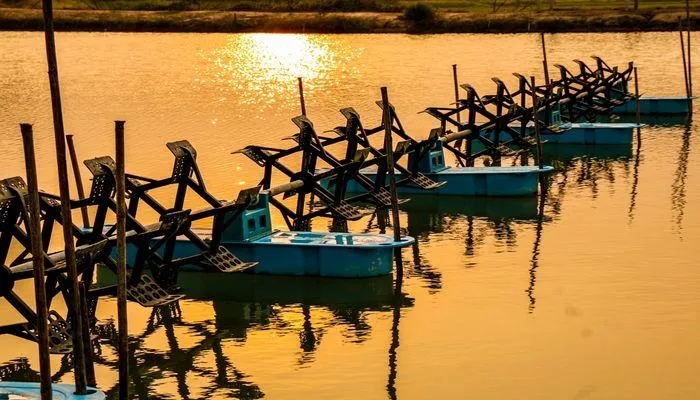 At. Mosphere, known for being the world's tallest dining suite, is among Dubai's most charming restaurants. So during your honeymoon in Dubai, ensure that you visit here. Furthermore, you'll want to return for the breathtaking vistas of the metropolis, its skyscrapers, and the breathtaking Arabian Gulf panorama.
High tea and light lunches are available here, and the dining dinner service is excellent, with various delectable foods.
Also Check: Restaurants in Dubai
---
Things To Do In Dubai For Honeymoon
During your honeymoon in Dubai, you will get a chance to indulge in various adventurous activities in Dubai.
1. Dubai Marina Dinner Cruise
A dinner cruise is among the must-do activities for a honeymoon in Dubai. Further, fresh dates and Arabic coffee will greet you on the boat, taking you past the stunning Dubai Marina. Enjoy the 3-course buffet spread's delectable Arabic and foreign specialities while taking in the breathtaking view of the city's illuminated skylines.
Also Check: Dubai Travel Requirements
---
2. Desert Safari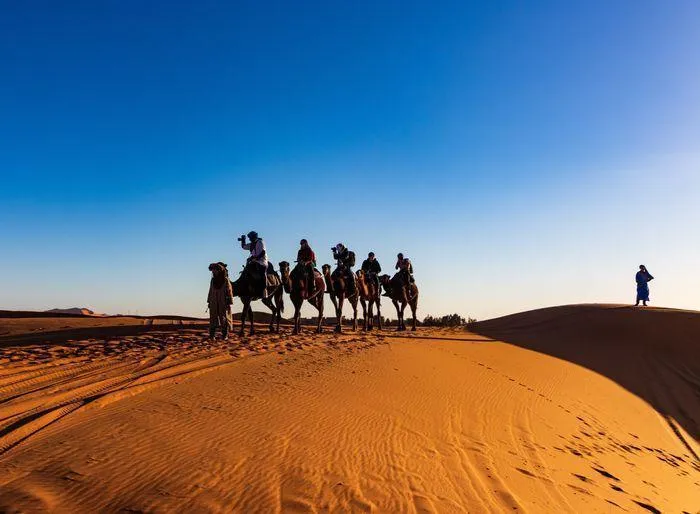 On a half-day fun desert adventure, escape the metropolis of Dubai and experience thrilling activities during your honeymoon in Dubai. Enjoy the sun falling over the dunes as you enjoy a 4×4 dune bashing over the dunes. Additionally, enjoy a great BBQ and a variety of fun desert activities. Exploring the wonderful desert life on a safari.
Additionally, take advantage of sandboarding (surfing across the dunes) and photograph the natural beauty. You'll see the stunning and mesmerizing desert sunset. Enjoy the most incredible live performance at night while comfortably seated on vintage Arabic carpets. Tanoura dance performances take the stage in the middle of the evening's festivities, and you will enjoy a delicious BBQ meal.
Also Check: Photography Places in Dubai
---
3. Enjoy Hot Air Balloon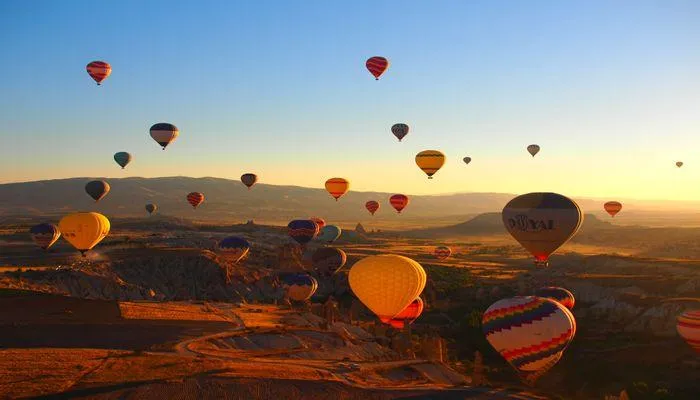 One of the most exciting and entertaining things to do for your honeymoon in Dubai with your partner is to see Dubai from a hot air balloon. Travel over Dubai's magnificent deserts, board a sizable hot air balloon with your significant other, and see Dubai unlike never before.
---
4. Enjoy Skiing In Ski Dubai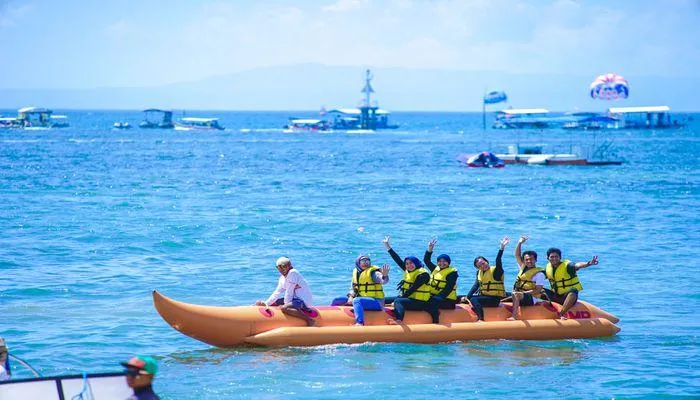 A day spent hand-in-hand ice skating is ideal for partners in Dubai, whether you're experienced or a newbie.
Although there are several ways to enjoy a winter wonderland in this desert metropolis, Ski Dubai is the best place to experience it.
---
5. Take a Seaplane Flight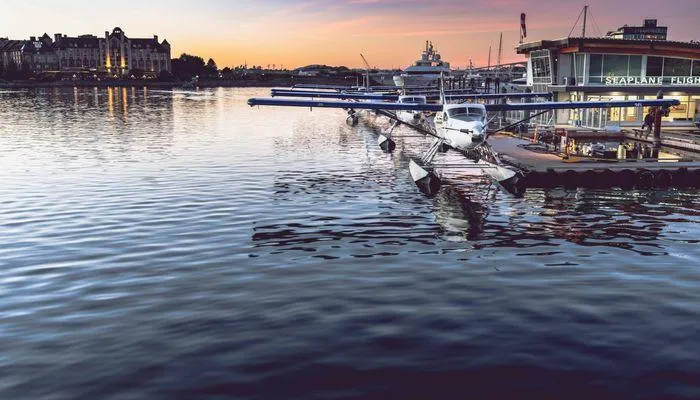 You may get a birds-eye perspective of Dubai's stunning structures by taking a seaplane trip there. The Burj Al Arab, Burj Khalifa, and Palm Jumeirah are among Dubai's most famous sites that you can see during this 20-minute trip. With your significant other, witness the plane's distinctive takeoff and landing during your honeymoon in Dubai.
---
6. Skydiving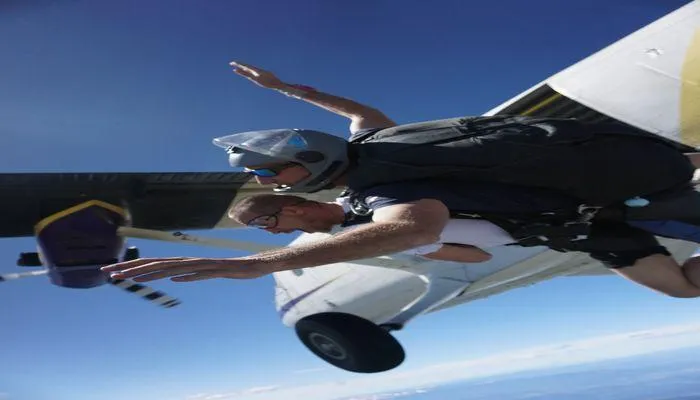 In Dubai, you have two options for skydiving – indoor and outdoor.
During the outdoor skydiving in Dubai, you will experience skydiving in the open.
Skydiving outdoors is done in the open. If you are a novice, you will participate in tandem skydiving, which entails being attached to an experienced diver during your leap. Only after you get a skydiving license can you jump alone.
You will be lifted into the air at an altitude of 13,000 feet after you have registered, received all the necessary safety equipment, and thoroughly explained the procedure.
For the initial 60 seconds, you will fall freely, and your parachute will open immediately as you attain a height of 6000 feet. Then, before you descend to the bottom, take in the fantastic view from up for the next four to five minutes (safely).
---
7. Enjoy a waterpark during your honeymoon in Dubai
Dubai has many other attractions, but the waterparks draw the most visitors. They include enormous slides, wave pools, and even kid-friendly miniature coasters. Everybody is sure to have a blast. For a unique experience packed with Adventures in Dubai, visit the Aquaventure Park. Or you may head to Wild Wadi Water Park, an Arabian-themed water park in Dubai.
---
Conclusion
So this is a short list of the best romantic places and things during your honeymoon in Dubai. Get the best honeymoon package at the best prices from Roaming Routes. Our Dubai honeymoon packages are customizable. So contact us and plan your Dubai honeymoon with us.
---
Other Dubai Packages
---