Dubai is a metropolis that never stops to astound visitors with its awe-inspiring architecture, rich way of life, and spectacular attractions. Among Dubai's numerous attractions are the Dubai Islands, which have become some of the world's most popular tourist destinations. From the world-famous Palm Jumeirah to the lively Bluewaters Island, these islands offer a unique combination of luxury, excitement, and adventure.
This comprehensive travel guide will take you to seven of Dubai's most renowned islands. Further, you can find an overview of each island, its distinctive features, and the must-see locations. From the renowned Burj Al Arab to the breathtaking Atlantis, The Palm, you will see each island's most luxurious hotels, restaurants, and entertainment facilities.
Couples can indulge in the ultimate romantic getaway on Dubai Island, with a plethora of Dubai honeymoon packages for 7 days available to make their dream honeymoon a reality.
Dubai Island is a stunning destination with crystal-clear waters and luxurious 4-star hotels in Dubai that offer exceptional hospitality and breathtaking views of the city's skyline.
So let us explore the Dubai islands and what to expect during your time here.
---
7 Must-Explore Dubai Islands During Your Dubai Tour
1. Deira Island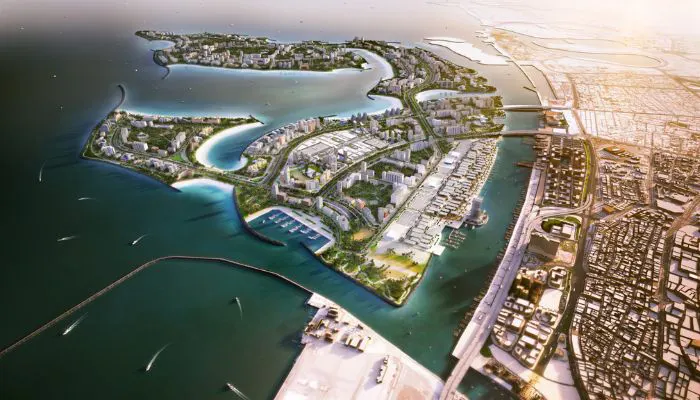 Deira Island is among the top Dubai Islands where you can discover distinct authenticity with a sense of culture and history. It is a notable landmark due to its proximity to Sharjah and Dubai Creek. Deira was originally the commercial hub of Dubai, but due to urban expansion in surrounding communities, it is now the second oldest town in Dubai.
Visitors may ride traditional cargo boats across Deira Creek, which is notable for its various souks and is a wonderful pastime for people who enjoy exploring. Further, the Spice Souk and the Gold Souk are well-known marketplaces that have attracted tourists from all over the globe.
With a total area of around 745,000 square metres and 80,000 employment opportunities created by restaurants, cafés, leisure, sporting activities, and other aspects, the island is a popular destination in Dubai.
You can choose Centara Mirage Beach Resort Dubai or Hotel Riu Dubai if you want to stay options. Additionally, several constructions are going on that will bring remarkable entertainment, retail, and living destinations.
The entry is free, yet you need to pay for your activities.
Location: Off the coast of Deira, Dubai
Also Check: Meena Bazaar Dubai
---
2. Palm Jumeirah Island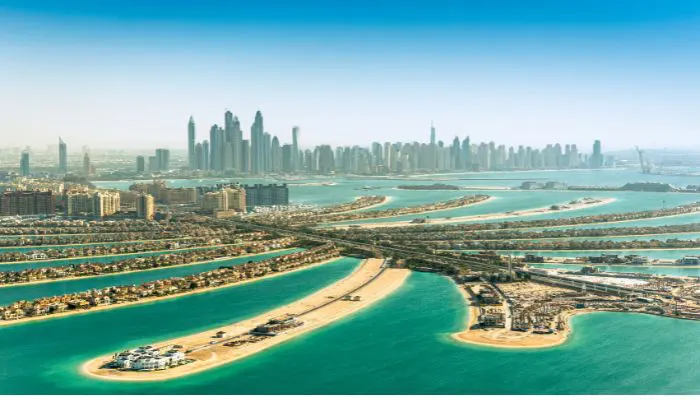 Among the most famous Dubai man-made islands, Palm Jumeirah Island is a must-visit. The tourist destinations are the beautiful beaches and the opulent ambience of the landscape.
This Dubai Islands has the best resorts, such as Atlantis, The Palm, Jumeirah Zabeel Saray, FIVE Palm Jumeirah Hotel, One&Only The Palm, & many others. Over 80 restaurants, lounges, and other venues, including Nobu and 101 Dining Lounge, offer exceptional fine dining alternatives.
In addition, it is home to some of Dubai's most popular tourist attractions, including Aquaventure Waterpark and the Lost Chambers Aquarium. Several hotels and private venues provide beach access and swimming pools. If you're not a hotel guest, you will have access to a selection of deals, including day passes.
Also, access to Palm Jumeirah Island is easy. With a network of highways, tunnels, and public transportation choices like the Palm Monorail, accessibility is simple. The rail service has stations at Atlantis, The Palm, and Nakheel Mall and a free parking lot at the Palm base.
Location: Jumeirah coastal area of Dubai
Also Check: Hotels in Palm Jumeirah
---
3. The World Islands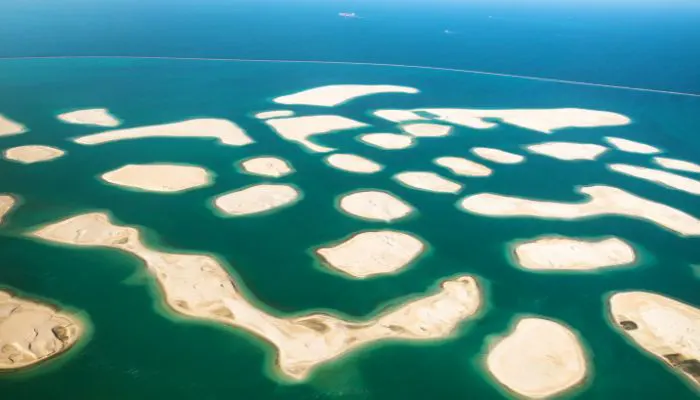 Among the Dubai Islands are the World Islands Dubai, the man-made utopia on Earth is a collection of islands designed to represent a globe map. The notion is novel and unheard of, which gives this incredible place its edge.
The World, a group of 300 man-made private islands built into the shape of the globe, is a unique development project undertaken by the Nakheel development firm. The island has various luxury hotels & restaurants. It includes all seven continents, making it a remarkable must-see in this area.
A 15-minute boat journey from The Palm will take you to the resort's home on Clarence Island. Further, you will find luxurious beachfront accommodations and outdoor restaurants. Also, the Island beach club on Lebanon Island provides sophisticated beach areas, pools, and glimpses of Dubai's imposing skyline.
World Islands Dubai is free to enter. If you like to participate in the group sightseeing experience by boat and aeroplane, there is a fee, depending on the activities.
Also Check: Dubai Tourism
---
4. Jumeirah Bay Island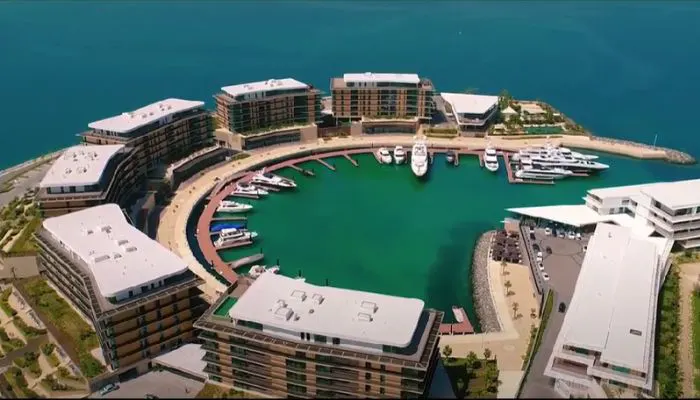 Off the coast of Jumeirah, Jumeirah Bay Island is an elite residential development in the city. This Meraas complex has 6,300,000 square feet and is fashioned like a massive seahorse. Jumeira Bay Island, the Bulgari Resort & Residences Dubai site, provides exquisite villas, freehold apartments, and townhouses. By use of a road bridge, the neighbourhood is linked to Jumeirah.
Travellers can stay at Bulgari Resorts Residences, which features 101 rooms, luxurious suites, 20 hotel villas, and dining establishments. Also, the 300-meter-long bridge offers a convenient way to the island.
You can reach the island using the Dubai RTA bus or the Dubai Metro. Also, the island is free for public access. For shopping, head out to the Dubai Mall, just 14 minutes away. Also, you can go to the Dubai Shopping Festival for a better shopping experience in Dubai.
Location: Jumeirah 2 – Dubai – United Arab Emirates
Check our detailed guide on shopping in Dubai to get the most out of your budget.
---
5. Bluewaters Islands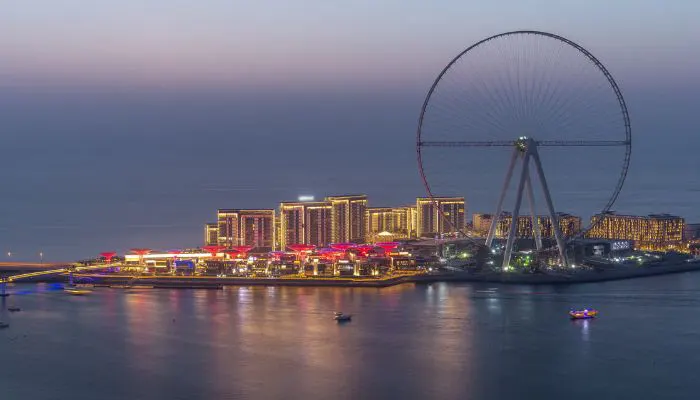 Bluewaters Island in Dubai is famous for its lavish residential structures, incredible waterfront lifestyle, and waterfront vistas. This island in Dubai is across the water from the Marina and is divided into retail, entertainment and leisure, residential, hotel, and beach club sectors.
Moreover, the record-breaking Ain Dubai observation wheel is the focal point of the lifestyle attraction. It features over two hundred retail and dining concepts. Moreover, you may visit Madame Tussauds, which is close to Bluewaters Island.
You can dine at the Cove Beach Lounge or the Hell's Kitchen by Gordon Ramsay, where visitors gather for sunset socializing and entertainment.
A direct exit off the superhighway Sheikh Zayed Road leads directly to the island, making access to the island simple. Alternatively, opt for the pedestrian connection bridge from Jumeirah Beach Residence to go between The Beach and Bluewaters through a short, pleasant walk of fewer than 300 meters.
Location: 500 meters off the Jumeirah Beach Residence coastline
Also Check: Things To Buy In Dubai
---
6. Dubai Harbour Island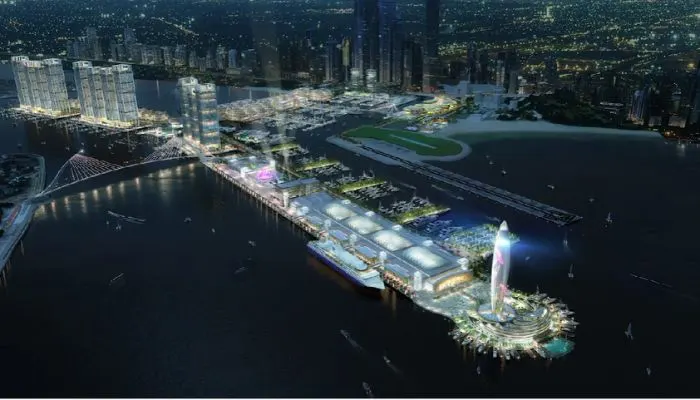 Dubai Harbour is among Dubai's residential islands, providing a variety of residences with opulent facilities and breathtaking views. In addition, it is a seafront neighbourhood in Dubai Marina with the region's most modern cruise port and largest marina.
The world-class maritime location near Palm Jumeirah and Bluewaters Island can accommodate up to 700 luxury yachts and boats and is now available to the public. However, new hotels, cafés, retail stores, and restaurants will come in phases.
The Italian restaurant L'Amo Bistro Del Mare stands out due to its famous seafood dish and the breathtaking ambience of the Arabian Gulf and Dubai Marina cityscape.
Location: Dubai Marina
Also Check: Indian Restaurants in Dubai
---
7. Pearl Jumeira Island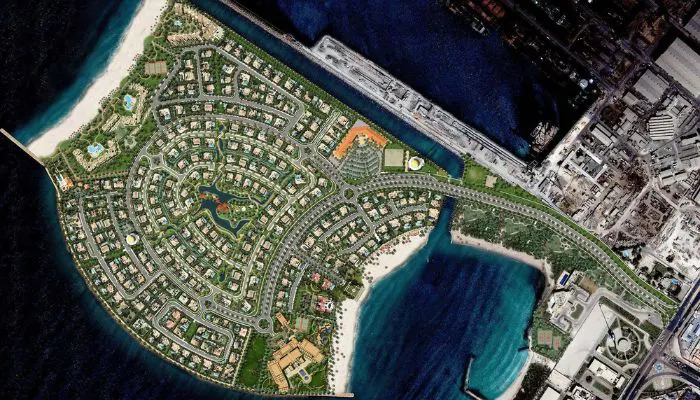 The 8.3-million-square-foot Pearl Jumeira is situated just off Jumeirah Beach, adjacent to Dubai Maritime City. Pearl Jumeira is home to three Nikki Beach facilities, including Nikki Beach Residences, Nikki Beach Resort & Spa, and Nikki Beach Restaurant & Beach Club. Nikki Beach Resort has several cafés, fine dining establishments, and casual lounges, like Cafe Nikki, Key West Bar and Grill, and Soul Lounge.
Further, Pearl Jumeira Island in Dubai has easy access to Jumeirah Beach Road, which connects it to Dubai's transportation hubs through Sheikh Zayed Road, Diyafa Road, and Sheikh Rashid Highway.
Moreover, these roads provide access to the key commercial districts and Dubai International Airport. The community has excellent access to public transportation. There are several bus stops along Diyafa Road. The island is approximately 12 minutes from the Max Fashion Metro Station, the closest station. Mercato Mall in Jumeirah is the closest shopping option to this Dubai Island.
Location: Just off the Jumeirah coastline
Also Check: Skydiving in Dubai
---
Best Time to Visit Islands in Dubai
The best time to visit Dubai Islands will depend on your tastes and planned activities.
For example, suppose you want to participate in water sports like swimming, snorkelling, or scuba diving. In that case, the optimal time to visit Dubai's islands is between November and March, whenever the temperature is pleasant and the climate is ideal for outdoor recreation.
Instead, if you're hoping to relax in the sun and at the beach, the ideal time to visit Dubai's islands is between April and October during summertime. At this period, temperatures can approach 40 degrees Celsius; thus, taking care and keeping hydrated is essential.
It is important to note that some of Dubai's islands are privately owned and may have visitation restrictions. Hence, verifying with the island resort you choose to visit regarding their regulations and availability is important.
Also read: Places to visit in Dubai
---
Experts' Tips to Plan a Trip to Dubai Islands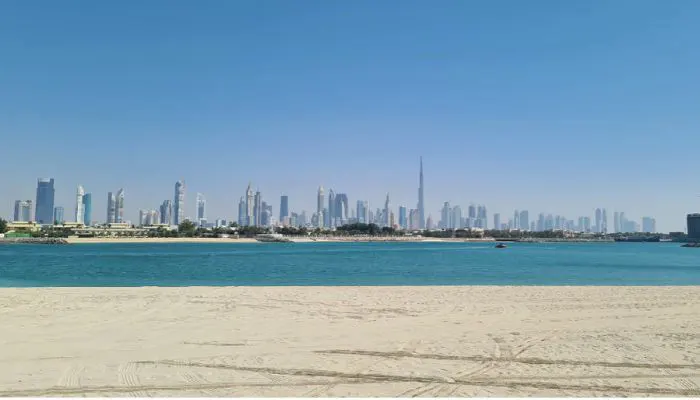 1. Research About Dubai Islands
When planning a visit to the islands in Dubai, explore the available alternatives and select the one that best meets your tastes. The World Islands,  Palm Jumeirah, and Bluewaters Island are the most prominent islands in Dubai. Each island provides a distinct experience; thus, you should research and select the island that best suits your interests.
Also Check: Dubai Travel Requirements
---
2. Choose Accommodation As per Your Needs & Budget
While planning a visit to the Dubai Islands, it is important to choose your accommodation carefully. There are several options, ranging from opulent resorts to budget-friendly hotels. Select the one that best fits your needs and budget. Choose a beachfront home to enjoy the blue oceans and the lovely beaches in Dubai.
---
3. Book in Advance to Avoid Last-minute Hassles
Dubai Islands is a popular tourist location, so reserve your lodging, flights, and excursions in advance. Hence, this will save you money, ensure you receive the greatest discounts and minimize last-minute hassles.
---
4. Pack Appropriately for Your Trip to Dubai Islands
Dubai's climate can become rather warm, so be sure to prepare properly. It is advisable to bring lightweight, breathable clothing, as well as sunscreen, a hat, and sunglasses. Be certain to carry clothes that conceal your shoulders and knees if you intend to visit mosques or religious sites.
---
5. Explore Activities From Water Sports to Luxury Spas
The Dubai Islands provide abundant activities, ranging from water sports to luxury spas. Ensure your agenda includes the activities that most fascinate you. Jet skiing, parasailing, paddleboarding, and beach volleyball are well-liked pastimes on the Dubai islands. If you choose a more relaxing experience, enjoy a spa treatment or a yacht cruise at sunset.
---
Conclusion
These 7 islands in Dubai provide an unsurpassed luxury and adventure vacation experience. From the renowned Palm Jumeirah to the calm Deira Island, each island has a distinct appeal that appeals to various interests and tastes. Further, the Dubai Islands provide something for everyone, including world-class eating and shopping, sunbathing on gorgeous beaches, and exploring unusual aquatic life.
In 2023, a trip to these islands will be an absolute must for anybody visiting Dubai. Dubai provides a unique experience with its year-round good weather, superior amenities, and kind residents. If you desire a hassle-free vacation, we strongly suggest ordering a Dubai tour package with Roaming Routes. We offer personalised itineraries tailored to your needs, providing a delightful and stress-free holiday.
In 2023, don't miss the chance to see the beauties of the Dubai Islands. Plan your trip today to encounter the peak of luxury travel.
---
FAQs About Islands in Dubai
Ques 1. How are Dubai Islands built?
Dubai's islands are built by a process of reclamation which includes dredging sand from the ocean floor of the Persian and Arabian Gulfs.
Ques 2. How many islands are there in Dubai?
There are over 10 islands in Dubai.
Ques 3. Are the Dubai Worlds Islands finished?
So far, only two projects have been completed for the World Islands, while one is currently under construction. Lebanon Island was the sole finished island at the time the project was halted in 2008, and it included a pool, beach club, eateries, and beaches.
Ques 4. What things to do in Dubai Islands?
There are many things you can do during the trip to Dubai islands such as visiting beaches, shopping, sunbathing, water sports, and enjoying food in restaurants.
Ques 5. What are the family-friendly activities to do in the islands of Dubai?
A few family-friendly activities you can do are enjoy Dubai Desert Safari, attend cultural events, and water sports and visit theme parks in Dubai. 
Ques 6. What is happening with the Dubai Artificial Islands?
The sand used for building the Dubai Islands is slowly flowing back to its origin and the islands are sinking. As of 2021, only a little development had taken place on the islands after the 2007-2008 halt because of financial crises.
---
Other Dubai Packages
---